Ehsan Fazili/Srinagar
In a recent video posted on social media, an elderly Kashmiri made a poignant appeal to the authorities - get his (drug addict) son arrested to prevent him from harming any member of his family or others under the influence of Charas (Cannabis).
His appeal shows the helplessness of the families, most of whom are not able to help their children get rid of drugs. Drug use has become an epidemic in Kashmir with the number of users increasing gradually and drugs including the costliest heroin being available.
There are about ten lakh young men and women in Jammu and Kashmir, who are consuming various psychotropic substances. This information comes from the Ministry of Social Justice and Empowerment to the Lok Sabha on March 30, 2023, in response to a question raised by Justice (Rtd) Hasnain Masoodi, MP from J&K.
The ministry said that 1.08 lakh males and 36,000 females were using cannabis, 5.34 lakh males and 8,000 females were using opioids, and 1.6 lakh males and 8,000 females were using various sedatives. A significant number of males and females were addicted to cocaine, Amphetamine-Type Stimulants (ATS), and Hallucinogens.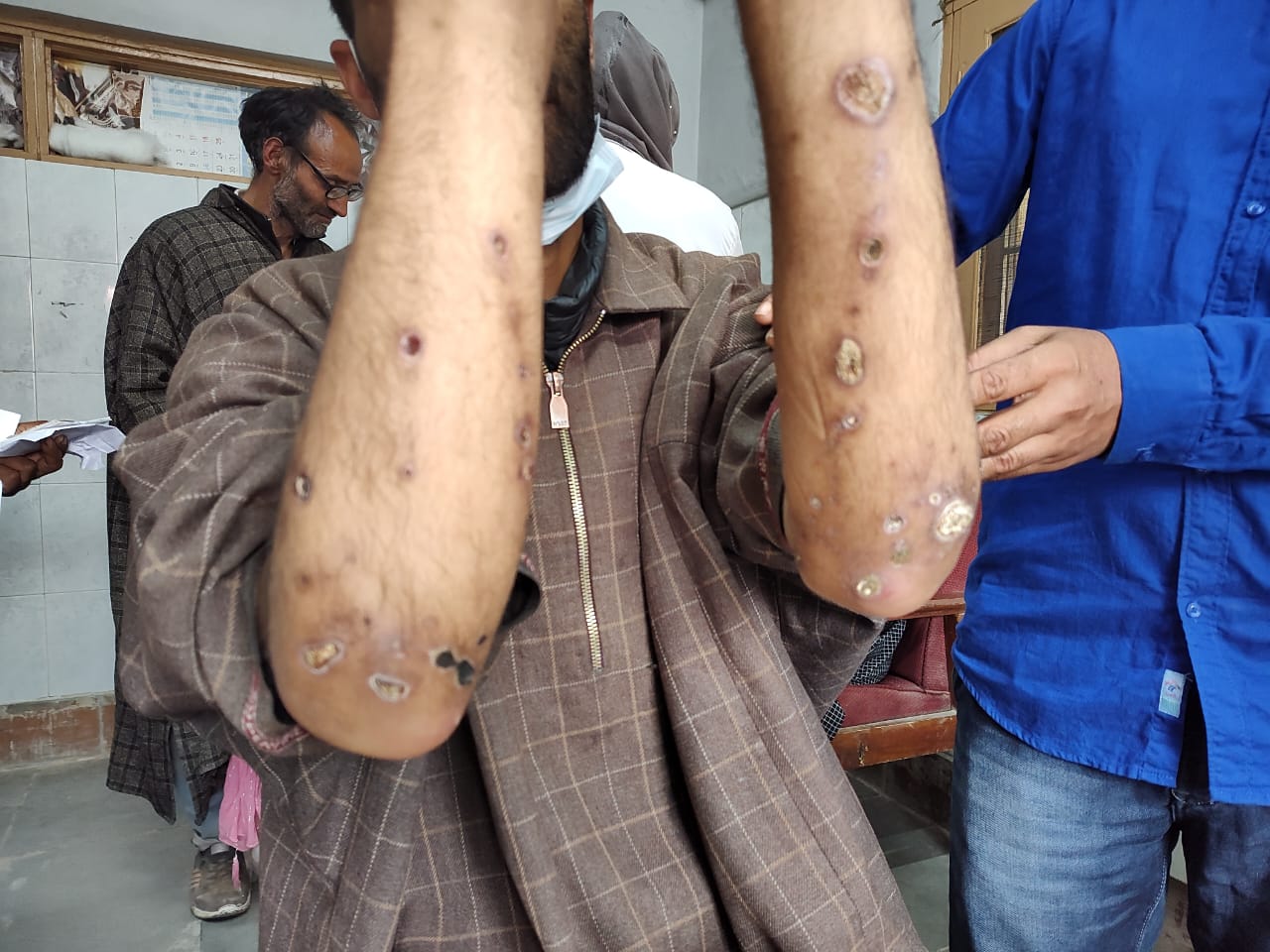 A Drug users showing festering wounds caused by injections
What caused the old Kashmiri man to go public about his fears about his son is the rising cases of aggression shown by the addicts in Kashmir. He also revealed that his parents had suffered a "brain hemorrhage" because of their grandson's addiction.
Kashmir has seen three cases of matricide by drug users turning aggressive. Doctors say this behavior happens due to "drug craving, restlessness" or other related causes.
A woman was killed by her drug addict son in Baramulla on March 29. A drug addict killed his mother and two others in the Aishmuqam village on December 22, while another addict killed his mother in Kehribal in October last year. Both these incidents happened in south Kashmir.
"Heroin that is being injected is today a challenge… we have seen a rise in the number of these patients", Dr Abdul Majid, Prof and Head of the Department of Psychiatry at SKIMS Medical College, Bemina told Awaz-the Voice.
He said also rising is the Hepatitis B and C infection among the addicts who use syringes to inject heroin. "It is a killer disease", he says. He remarked, "Many young people have been lost to the conflict; I wonder how many are in the making to be lost as this drug menace continues, nobody knows".
However, Dr. Majid has not lost all hope. He admits that he is seeing a "decreasing trend of patients of drug abuse" coming for treatment in phases. Sounding caution he says the falling numbers, although transitory, are due to the efforts of parents, families, and Health Services. Also, he feels the Police helped "tighten the screws on drug suppliers".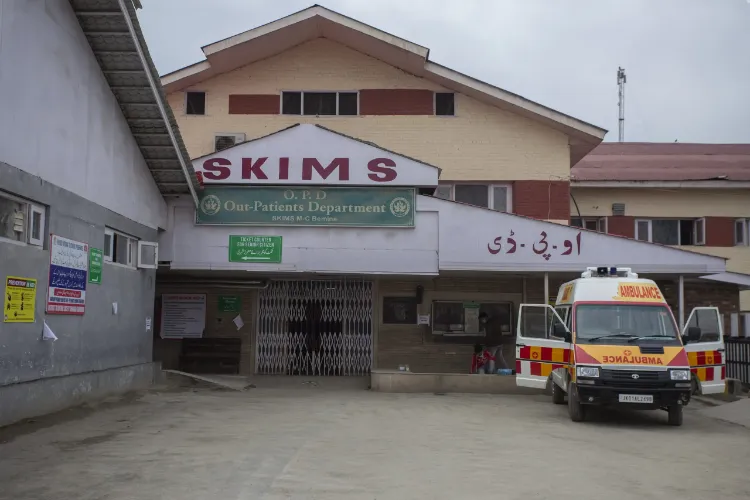 SKIIMS, Bemina, Srinagar
He says today on average the inflow of patients remains the same or at times it has even fallen.
"This could be largely due to the Union Ministry of Social Justice and Empowerment opening Addiction Treatment Facilities in most of the districts of Jammu and Kashmir," he says.
Looking back, Dr. Abdul Majid says alcohol never became a problem in Kashmir mainly because it was not socially approved in our religion-based culture.
He said likewise, dealing with the drug menace is the responsibility of the Health and Education Departments; Media, Law enforcement agencies, NGOs, and religious leaders. "Religious leaders and preachers have to talk about it", he said. Patients who have been detoxified through medical treatment could be rehabilitated due to the efforts of the Youth Services and Sports Department, Skill Development institutes, and the Department of Social Welfare.
"Rehabilitation has to be given a priority…Prevention, Treatment, and rehabilitation are the cornerstones for the successful eradication of drug menace".
While a Drug Treatment Centre (DTC) set up by the Government of India at the SKIMS Medical College, Bemina, exists since 2019, due to the rising incidence of drug addiction, an Addiction Treatment Facility (ATF) was inaugurated in February.
"Before 2018 we would occasionally see a couple of these cases because there was no such facility at all for such patients", said Prof Majid. The Medical College hospital has treated around 1500 patients during the last two and a half years.
"Nearly a hundred patients including two or three new cases visit the Centre daily", Dr Abdul Majid told Awaz-the Voice.
Addiction Treatment Facility (ATF) Centr is one of the 10 such centers in the UT and its objective is to bridge the gap between "drug abuse victims and the treatment facility".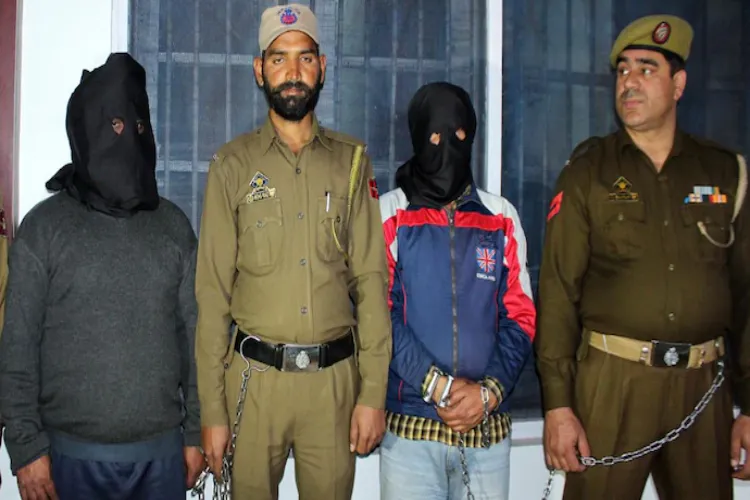 A Drug Peddler being arrested by Kashmir Police
At least 40-60 percent of the patients have either secondary Medical or psychiatric problems, said Dr Abdul Majid. He told Awaz-the Voice that out of 1700 patients registered at the ATF, 600 (30 percent) are suffering from Hepatitis C or B.
Besides, a drug treatment center in collaboration with SKIMS has been functioning in the Central Jail, Srinagar, where out of 320 drug addicts, 80 are suffering from hepatitis.
In Kashmir, he says, there are 10 categories of drug use, including tobacco, which is regarded as a "gateway to drugs". A study conducted by Dr. Abdul Majid early in 2003-04 has observed a changing pattern of substance abuse in the valley. "It showed that cannabis dominated in the decades of eighties and nineties. Then it shifted to medicinal Opioids and Benzodiazepines like Corex, Proxyvon, Alpax, Ativan, etc,"
During militancy and social chaos of 1990-2002, due to stress, the youth indulged in using painkillers, while inhalants and solvents took over by 2013-14. Opioids, Chhitha (powder), foils, etc. took over by 2016-17. Of late, it is injectable heroin.
The National Survey on the magnitude of substance use conducted by NDDTC (National Drug Dependence Treatment Centre) AIIMS, New Delhi, in collaboration with the Department of Psychiatry, SKIMS Bemina, Srinagar, showed a confirmed the worrisome trend on Heroin. It was followed by a similar finding in the IMHANS, Kashmir.
The Department of Psychiatry has submitted a proposal for the establishment of modernized Drug Addiction Treatment at SKIMS Medical College Bemina Srinagar and Dr Majid is hopeful of getting approval soon.
He says the government is very serious about tackling the menace of drug addiction.
The 30-year-old Abul Mannan, (name changed) from a Srinagar locality, has been getting treatment at the Centre for the past eight months. Today after having used drugs for about 15 years, his life has changed.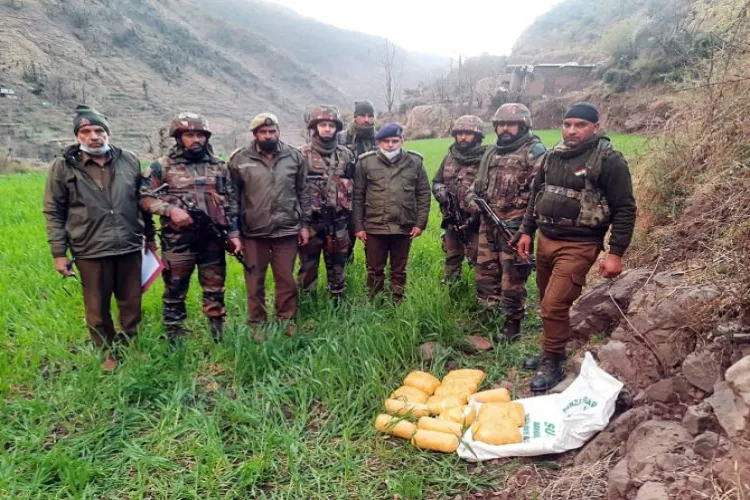 In Kashmir Army with recovered narcotics
"I fell victim when I was in 4th standard only when a friend from outside (the school) was a habitual drug user", he told Awaz-the voice.
He said he and three other classmates started bunking the school and were introduced to "fluid" (correction fluid). "Later, I started purchasing the substance…it all continued for two years. Then I got the company of boys older than me, who were used to medicines like Corex, capsules, or Charas. I would take two capsules or four against a full strip consumed by the seniors in a day".
This continued for the next three years. He used to consume two or three bottles of Corex daily for about three years and had left the school.
Mannan, subsequently, got addicted to the use of foil and cigarettes, which led to the "disturbed state of his mind" and by then he was turning his twenties.
His parents sent him to a rehabilitation center in Jammu telling people around he had a problem of "Memory loss". The social stigma attached to drug users and their families is dominant. He recalls consuming drugs that cost him from Rs 800 to 1500 to 3400 per day.
Mannan has been drug-free for two years, mainly due to the efforts of his family. Though his body pained a lot initially, he managed. "I ran a hotel, and it was easy for me to get money for drugs. Now my younger brother has taken charge after the family lost trust in me", he revealed. He is privy to the death of one of his partners in the locality because of the injectable substance.
He revealed that the "youth are getting it (substance) from other youth like me" including students. He disclosed that students buy it from Punjab or other States. When asked to give a message to the youth falling prey to drug abuse, Mannan said: "You should not get attached to drug addicts, because life becomes zero. Even my brother remained safe, who has taken over all the responsibilities at home".
ALSO READ: Kashmir's dark secret: How drugs are destroying a place once known as heaven on earth
He has since resolved to lead a normal life and get married. His younger brother married a year ago; Mannan is planning it after his treatment is completed.