Shaista Fatima/New Delhi
It was on a day during the peak of the first wave of Covid-19 Farheen Naaz and her brother Sufiyan were distributing rations in a locality of West Delhi when a woman who had received a ration kit asked her, "Do you have an extra sanitary pad?" Farheen was startled, for it was the least expected question.

She apologized and told the woman that each kit was equipped with one packet of sanitary napkins. The woman probably didn't hear and remarked, "everyone is distributing ration but no one is distributing sanitary pads, we have no money for food, how can we buy sanitary pads…"
While speaking with Awaz-the Voice, Farheen says, "These lines sent shivers down my spine and I thought, "Why not think about this on a larger scale?" She says, "That day after coming back home I sat with my brother to discuss the way ahead when he remarked: "Aapi (Sister) you have always been associated with the NGO's and have experience as a menstrual hygiene instructor, why don't you take an initiative."
This is how her NGO We the Change came into being .
Though a certified menstrual hygiene instructor, Farheen was working as an administrator with an educational institution and was associated with a few NGOs. She said, "I wanted to be an IAS officer but ended up working in the education industry for 13 years. During this time I volunteered for social change initiatives."
She says growing up in a middle class Muslim family of Old Delhi in late 1980's she had no knowledge about menses or the correct measures that need to be taken when puberty strikes. She reminisces, "The Dussehra holidays had just begun, and it was the first day of the 10-day long vacation, I remember waking up and seeing blood while I urinated." The 14-year old Farheen went to her mother for help. Like many Indian mothers hers' too gave her a list of many do's and don'ts, "I was asked not to play, stay away from my father, my brother, avoid eating sour foods and if possible rest."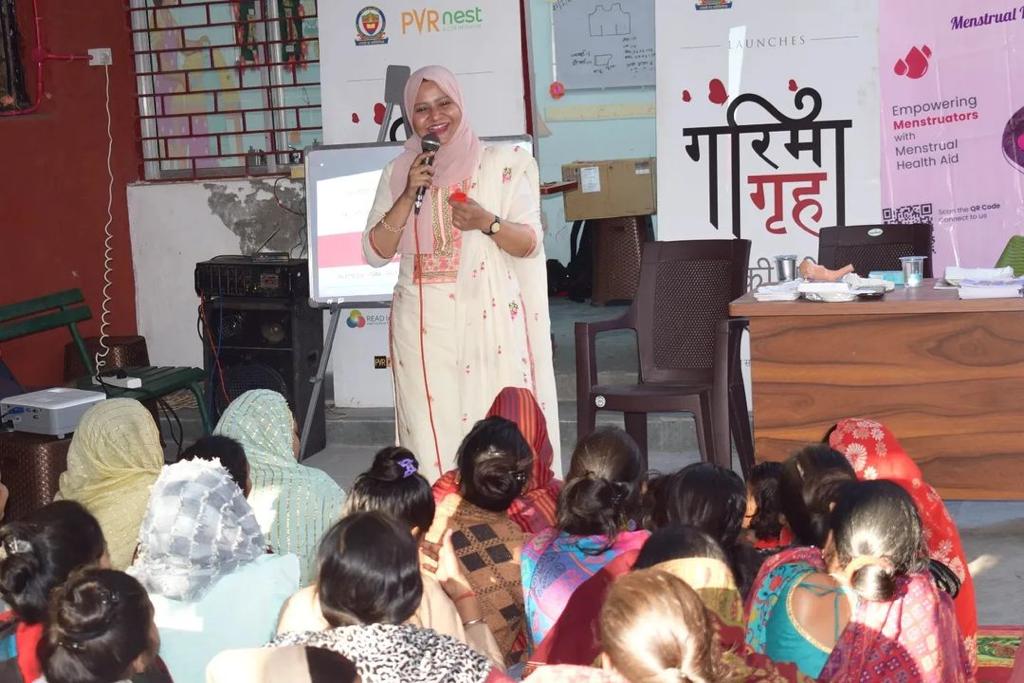 Farheen holding a camp

Later on, when she started having complications during her periods her mother took her to a gynecologist and to her surprise the doctors asked her to choose between motherhood and cure, "This was absurd and later on when I developed leucorrhoea, the gynecologist told my mother to marry me off." This was illogical for a 17-year old.
Farheen says her childhood trauma inspired her to help others and spread awareness about the biological processes in a woman's body, "I want every woman to understand that our bodies are made up of hormones and it is okay to bleed every month."
Her initiative We the Change works towards normalizing periods and educating both men and women. The NGO uses the term "menstruator" as an umbrella term to reach out not only to women but trans men and the ones who associate with non-binary gender. Farheen says "Initially, we decided to raise 5 lakhs rupees to prepare a sanitary napkins kit for 1000 menstruators that would last them for six months. The cost was estimated to be Rs 500 per head."
Farheen started this initiative in collaboration with Purani Dilli Walon Ki Batein, an established portal on Old Delhi's culture; the funds were easy to come. She says she was forbidden to speak about her menses with her father. "One day I broke the barrier, my younger sister was menstruating when my father asked her to read namaz and she said okay. She was half dead with abdominal pain and lay on the bed, when our father returned and chided my sister for not praying, I stood up and said daddy she is having periods…my father just said "Achcha" (ok) and from that day he has been more aware and cooperative during our menses days…" Gradually she started calling her brother to ask him to buy sanitary pads.
Today We the Change works in collaboration with the leading organisation Menstrupedia which is pioneer in the field of menstruation. Menstrupedia has also created a comic strip on menstrual health, hygiene and waste management.
Farheen says her NGO is in charge of distributing this book where ever they have footprints. "We take this book in our every drive and have donated the same to various libraries, schools, NGO's and colleges", she adds.
Recently Menstrupedia has circulated a mini comic book which is now distributed for free to everyone the NGO meets, "This 10 page booklet covers the major parts. Till date we have distributed 15k books in all the states, they are available in 10 different languages."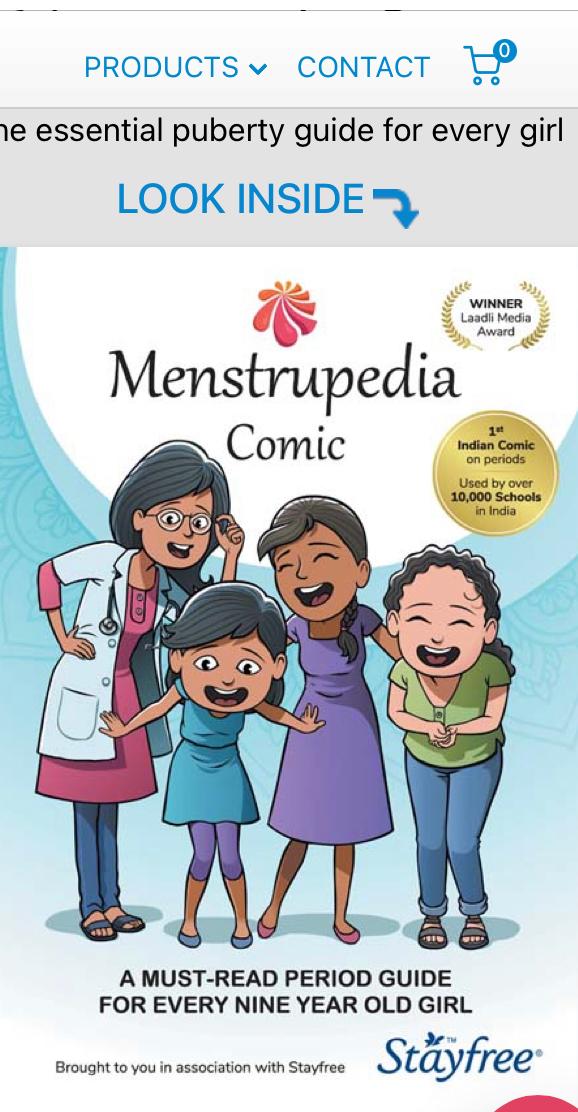 The comic book on Menstrual hygiene

After starting their work in Delhi, We the Change went to the northeastern states of Manipur and Nagaland, mostly inhabited by tribes. To her shock, Farheen says they found that 80 percent of the people who attended the camp were seeing a sanitary pad for the first time. Obviously they had not used one.
Farheen says that before starting her drive in a new locality the first question her team asks those attending it: "What is their community status, their hygiene measures and what pads were they using" She says that she was overwhelmed to know that the menstruators in Manipur still use cloth pads stuffed with shreddings of wood, mud, ashes, dried leaves, sand and so on,
"It pained my heart to see them using such harsh items on their intimate parts, we use brands and yet we get rashes just imagine what they went through; thus I decided to work more in the tribal areas."
When the world started entering the postcovid era, she started engaging more with the tribal areas. Currently her NGO focuses on the rural regions that do not have education and awareness about menstrual hygiene. They have so far covered states like Jammu & Kashmir, Haryana, Gujarat, Nagaland Uttarakhand, Bihar, Maharashtra Tamil Nadu, Nagaland, Manipur and now slowly they are expanding it in Jharkhand, "I wanted them to be aware so that they may use the sanitary products. We only cater to slums and shelters in urban settings else we work in rural areas".
Farheen told Awaz-the Voice that once the things were set in motion she started looking for oxo biodegradable pads as sanitary napkins waste disposal is a bigger hazard that needs to be taken care of, which currently is being neglected, She says, "On an average the first ever batch of disposed plastic pads would take around 1000 years to decompose whereas the oxo biodegradable ones takes around 5 to 6 years, thus my next step is towards sustainable development."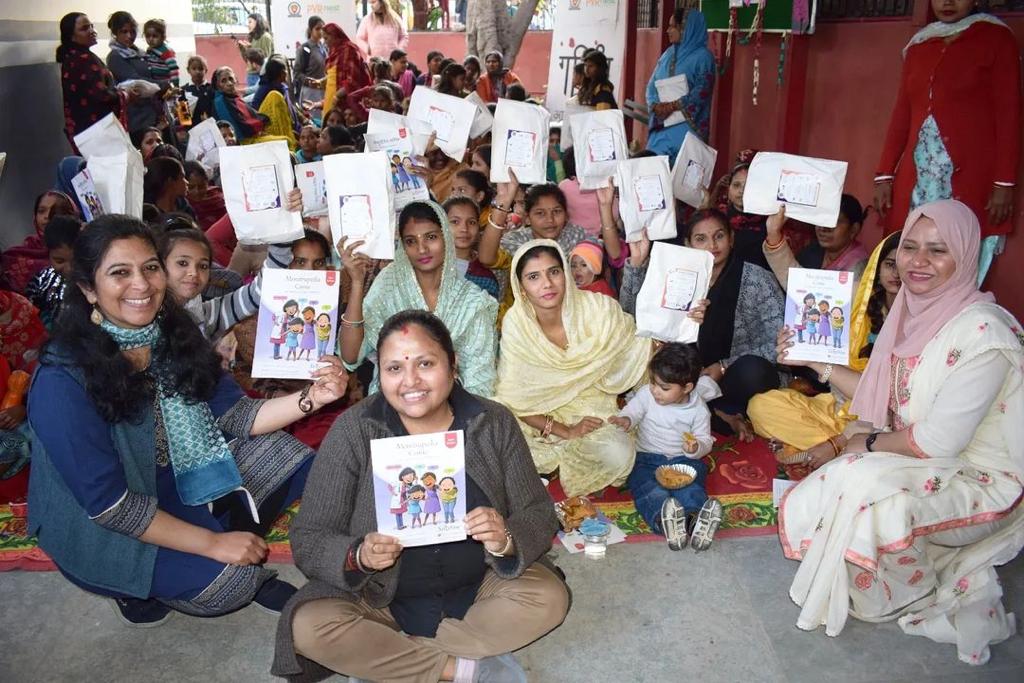 Women with the comic book in their hands

Through her friends she came to know about Jan Aushadi Kendra that had reached different villages where the pads by the name Kishori were being distributed, priced at 1 rupee each. Before preaching about a product Farheen herself uses the product, "from cotton pads to biodegradable napkins to tampons to menstrual cups to period panties, I have used them all and I distribute either the Kishori or the napkins that are my latest discovery." With this she pulled out a napkin from her bag and said, "This pad is made from Bamboo pulp, has zero chemicals and the best part is it turns into khaad (manure) within 6 months of disposal."
She says she discovered these Bamboo sanitary pads during her drives in the North East, "My company BeMe is into producing sustainable products and we are working in collaboration to bring the products into the market, a packet of 10 units would cost 120 rupees." Sharing her experience while carrying out the drives she says, "At Rabia Girls School of Old Delhi, a student asked "does a menstrual cup affect the virginity of the woman?"I was both intrigued and happy by the question." She went on to explain to the girls that while menstrual cups are made of grade 6 Silicon thus are absolutely safe on the skin and are nowhere linked to virginity but using the correct length of the cup is where the trick lies, "if the cervix is one index finger long then I recommend a large size cup, if it is until the second mark of the index finger then a medium size cup and if it is till one mark of the finger then small size would suffice." She says that one has to be watchful while re-inserting the cup, "We have to be careful in cleaning it and make sure it is without blood while reusing."
She herself switched to a menstrual cup some six months back when her friend from Florida sent her a cup for her research, "The first time I saw my period blood without any clots I felt relieved that all was okay inside my uterus." In another incident she says once a lady in Manipur shared her experience of placing the pad upside down and leaking profusely and how this trauma stayed with her forever. This inspired Farheen to add some details in her awareness drive, "Overseas the trainers have a session where children are taught how to put on the pad, I started the same from Nagaland, where some 250 kids were present and I called upon a boy to place the napkin on the undergarment, though he was laughed at in the beginning but later on supported by another boy volunteer."
It often takes a push to cross the threshold, the same happened when in a small tribal village of Nagaland We the Change were giving the session but the women were reluctant and not opening up. That is when a man stood up, he supported the women by saying "hardly anyone comes to help or educate but today they are here so speak up", when Farheen's translator told her that she felt it was all about speaking up and educating.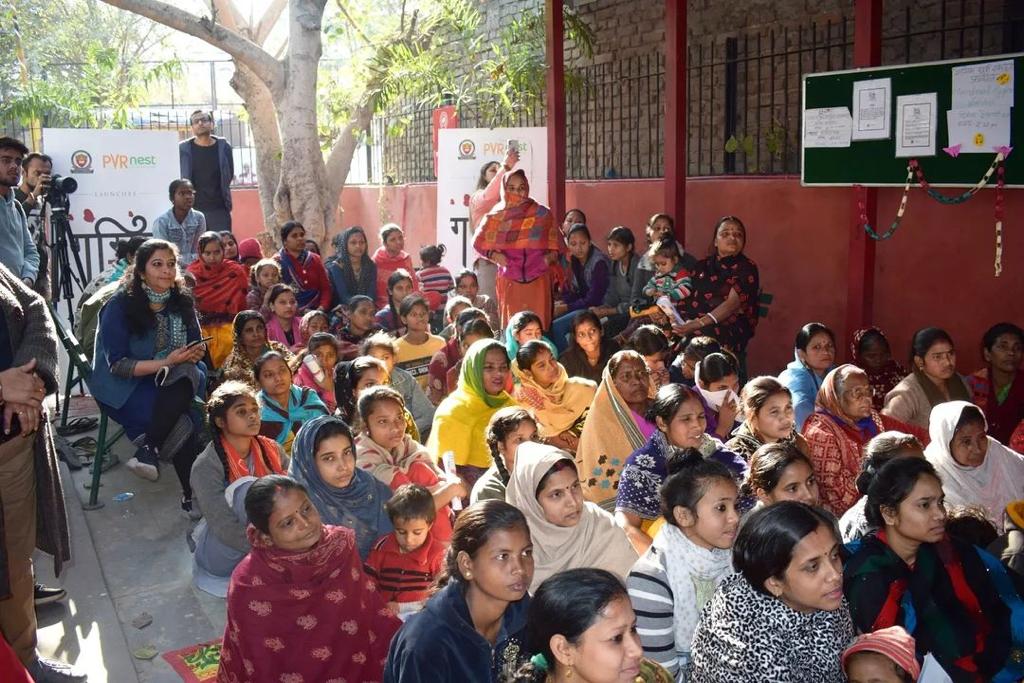 A camp organised by We the Change in progress

She says how menial information like "putting the pad's small size on the front and the bigger part towards the end" is luxury for the uninformed. The NGO requested the heads of Kashmir's nomadic tribes in Pahalgam's Laganbal areas for an informative session, "they go to the hills in summers and come down on plains during the winters, they travel light." "While educating them I asked them how long do you use a pad, when do u change it? The women there replied two days later."
"This gave me goosebumps as that was 6 times more than the required time.." The tribals then told her that they do not use sanitary pads as the nearest shop was 7 kms away and since they were nomads they lived on bare minimum thus cannot buy clothes every month. She says, "Reusable pads need to be dried in the sun in order to kill the germs but nobody dries the cloth in the open environment, thus I am against the use of reusable pads unless sun dried."
Farheen says on an average the menstrator needs to understand that as soon as the blood comes out and contacts the air it starts generating bacteria and soon becomes infectious over the period of time. Thus if a sanitary pad is kept for more than 8 hours, this bacteria penetrates back into the vagina and causes cancer.
She says, "Normally the disposed sanitary pads are kept with the regular waste which is lethal for the sanitation workers who while separating the wet and dry waste have no idea about the sanitary napkins and end up touching the exposed blood stain pads, this exposure leads to cancer among the workers."
The NGO thought about the lives of the sanitation workers and is currently giving them drives as to how to take care of the biohazard waste. To sustain and ease the disposal of the biohazard waste her venture BeMe has come up with an envelope shaped disposal bag that has a red dot, "the red dot indicates that the waste is dangerous and is prone to spreading infection thus needs to be separated from the regular waste, we tell them that the red dot means a pad and thus not opening them protects them from getting exposed." She feels her initiative is also making the mentrustors responsible, "We have a project called mohe rang do laal, or paint me red under which we are distributing biodegradable napkins and are trying to make people switch to a sustainable way of living."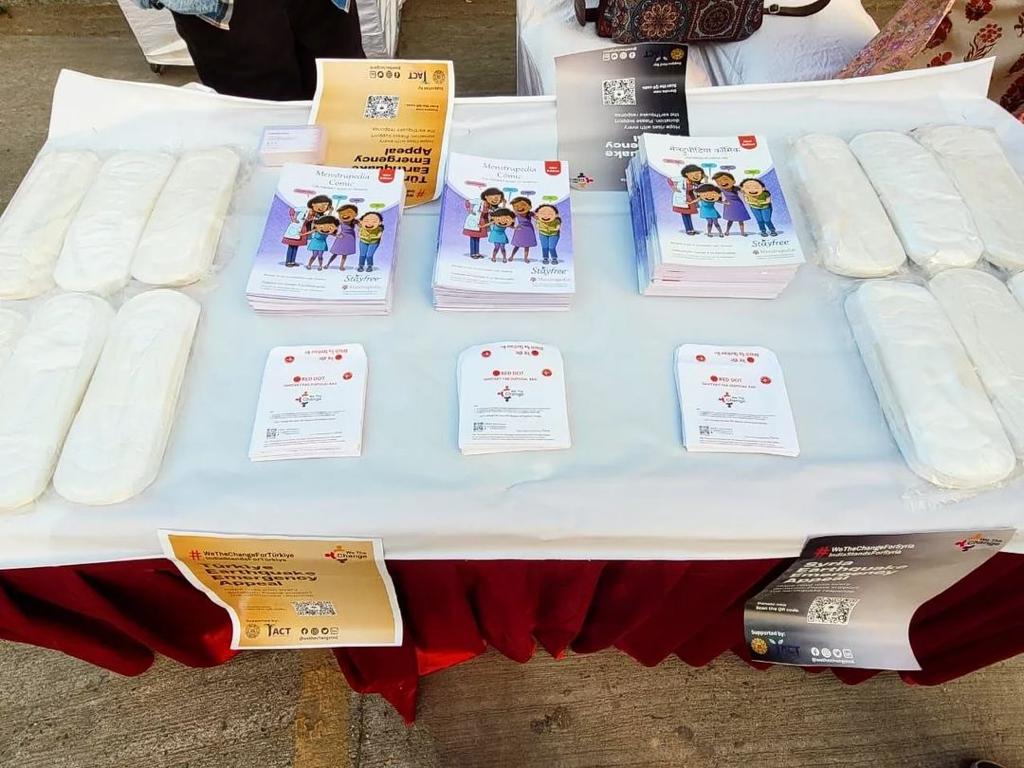 The counter of We the change at one of the social events

She says that the plastic pads are not only dangerous for the environment but also when kept for more than eight hours can lead to complications like Poly Cyst Ovary Disorder (PCOD) and cervical cancer, "In India the second highest death rate is due to cervical cancer, various gel based technology and plastic material interact with our body, and if not changed regularly the bacteria enters our cervix which leads to cysts and cancer." "Misinformation is the same everywhere, women don't even know what to eat during periods or why iron and vitamin C is so important, as iron is the carrier of oxygen in our blood, thus our body does not have energy when bleeding and we end up feeling fatigued", she adds.
Just like charity begins at home Farheen was able to break the barrier in her family, "Today terms like PMSing, mood swings, hormonal changes are no more a taboo.." she breaks into a laugh and says "one day my younger sister was fighting with my brother when Sufiyan blurted "Are you PMSing" and they both laughed out loud…while Sufiyan still got a handful from her." Sufyan often carries home dark chocolates for her two sisters. Farheen says she is becoming more and more vocal about menstruation, "At times when I am on my periods and some of my friends call, I tell them blatantly I am down and please bear with my mood swings and my over-emotional behavioral changes."
She says her NGO keeps sharing these small small tips and tricks with menstruators. Her awareness drives have made her realize that one need not be a doctor to save lives rather one can save lives by educating and spreading knowledge.