Chayya Kavire/Pune
According to Hinduism, every woman on the earth possesses the energy that saw Maa Durga exterminate the haughty Mahishasura as he wanted to disturb the power equation in the Universe. The story is played out with devotion, fanfare, and religious fervor during the just concluded nine-day festival of Navratri or Durga Puja.
However, many women are so strong that they can also unleash the Shakti within them to cleanse society of villains and modern-day demons. Shabana Shaikh, Assistant Police Commissioner, of the Maharashtra Police, had famously unleashed her innate power against the underworld of the Dongri area of Mumbai, which was infamous for criminal gangs and terrorism.
Shabana's story is fascinating,
She was known as the only salwar-kurta-wearing girl in the Fergusson College, Pune.
Shabana Sheikh was born in a large joint family in the Akole taluka of the Ahmednagar district. She is the third child among nine siblings - seven sisters and two brothers. At that time, girls' going to school was almost prohibited; they were not allowed to listen to the radio or read newspapers.
However, her parents decided to send all their children to school.
"We are seven sisters," says Shabana. That's why the grandparents felt that there should be a 'light of the house'. So after seven sisters, I had two brothers, but my parents never discriminated between us. When my elder sister started going to college, no Muslim girl in Akole went to college.
After completing her graduation, she wanted to do her post-graduation, but there was no college close to the village. Her father simply forbade her from going to college in a city. Shabana joined a correspondence course.
Going down memory lane, Shabana says, "Girls were not allowed to talk to outsiders. I used to go to and return from college quietly. Talking to boys was prohibited."
She says when boys from colleges visited her home to seek her support for election; she would sit on the terrace to evade them. Her father spoke to them and told them his daughter would vote for them.
She said this irritated her and she fought with her father on this issue. "Later, I stood in the college elections as student representative (LR) and won," she said.
Shabana says, "At that time only courses like D.Ed, MA, and B.Ed were offered, but I had no interest in them. We didn't have information about competitive exams, but due to my passion, I managed to get information."
She was studying for the competitive examinations along with her MA course studies. "I wanted to do something different. That's why I chose this field. Society had a negative attitude towards girls' education. But our father's outlook was positive. However, the environment around was not supportive and this was felt constantly."
Therefore, somewhere she felt these barriers on women must be broken. At that time, information was not as easily available as it is now. I used to read a newspaper every day.
She read newspapers to study and also to check advertisements and notices for competitive examinations.My hard work bore fruit and I met Captain Avinash Kolhatkar Sir. He used to run classes for competitive examinations. At that time a postcard was worth fifteen paisa. I used to send postcards to Sir to seek information on dates and schedules of competitive examinations."
In response to the letter, Sir used to say, "Shabana, I will tell you as soon as the advertisement comes." One day Shabana received Sir's letter.
Shabana says, "I told my father that I have to stay in Pune for further studies. Abbu became very angry. They were never against my studies but worried about how would I stay alone. He refused to permit me to leave for Pune. He didn't want to listen to any of my pleadings. I knew I had to do something to make my father proud. I also realized that my bold step would open the gateways for growth for many other girls."
Shabana hardly slept in the night. One day, Shabana again told her father, "Abbu, I have to study at any cost, no matter how many difficulties I face. If you don't permit me, I will leave on my own." She explained that she would go at any cost and it was up to him to decide.
Soon, Shabana's father was helping her prepare to leave for Pune. She was to stay with relatives in Pune.
Shabana joined the coaching classes of Captain Avinash Kolhatkar Sir in Pune. Shabana says, "I had not met Kolhatkar Sir, but I always felt that he would support me."
Kolhatkar Sir is from Pune where he ran a coaching institute after retiring from the army. Shabana studied there for one year.
Shabana used to get nervous seeing the environment of the city. In the city, boys and girls used to talk to each other and eat food together. Ignoring Sir's instructions to wear track suit for the morning physical training she would come in Salvar-kameez.
Sir would get angry at Shabana for this as he told her giving up inhibitions was necessary for a career.
"Sir used to ask her about the tracksuit every day and Shabana would say, "Sir, I forgot to bring the tracksuit. I will wear it tomorrow."
Shabana used to carry a tracksuit to the ground every day but felt shy to wear it.
Shabana says, "Sir used to say, 'Wear track pants, wear shorts... this will open your legs and you will be able to run well,' but Shabana did not have the courage." The ground exam came closer. That day I decided to wear a tracksuit but didn't any member of my family about it."
After Shabana wrote her written examination, she had a lot of time. She decided not to go home. She says, "Many people in the village had come to know that I had gone to Pune to become an officer. If she went there people would raise questions."
Finally, she left for her village after she had cleared the examination. "I didn't move out of my house."
One day I got a call around 8 in the morning from Kolhatkar Sir. He said, 'Shabana, you have been selected for the post of PSI (Police Sub Inspector)!' her joy knew no bounds.
It triggered celebration at her home. "My photographs were published in the newspaper as 'the first (Muslim) female police officer of the district'. Even those who had opposed my studies respected me. My younger sisters celebrated by bursting crackers" recalls Shabana.
During her coaching and training in the Police academy, she also completed an MA and then an LLB.
Shabana joined 'Maharashtra Police' in 1992. Her younger sister also joined the police in 1995. Another sister is a teacher.
Shabana has completed 30 years of service in the police department. Shabana has two daughters and her husband is the vice president of Deutsche Bank. One of his daughters has completed an MBA and currently lives abroad. The second daughter is in school.
What was the most mentally challenging case in your entire career? I asked her.
Shabana says, "I have never had mental weakness. I had decided that whatever the case may be, we have to work honestly."
"The work we have to do is legal. While guiding people here, I also say the same thing, 'Don't follow anyone's illegal orders. Even if you have seniors or someone else, work only after getting legal permission from them. Therefore, I never felt that I was in trouble in any case."
Talking about the biggest case she has handled so far, Shabana says, "I was a PI in Nagpada police station. In the two cases given to me there, the accused was sentenced to 10 years imprisonment. In the third case, a punishment of one year and eight months was given."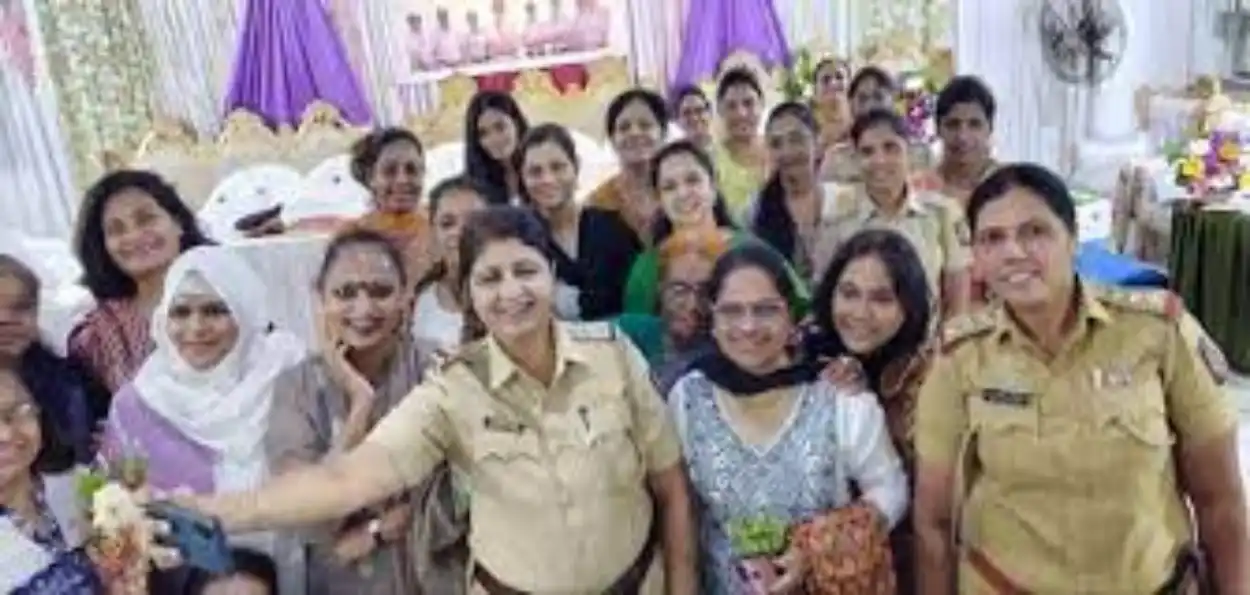 "In some cases, the accused did not come out at all. Those who went inside did not even get bail. Sometimes there is social and political pressure while performing the duty, but at that time the cases have to be handled diplomatically and tactfully. In such times, I do only what is legal."
Asked about her work in the Dongri area, Shabana says, "People of different castes and religions live in Dongri. People find the Dongri area communal, but if we talk to the people here, they cooperate."
"Umarkhadi is a Hindu area; Muslims are in majority in Palagalli, Charnal, and Dargah Gali. Buddhist people live in the area named Lal Chaal. I always go to these areas. I like to communicate with the people there; it feels good. Everyone there has my mobile number. They can contact me anytime in case of any problem."
She says in the early years of her career, she dealt with drug availability. "Now people say If Shabana Tai comes to know (of drugs in the area), she will show no mercy! I have to eliminate the trace of drugs from here. The biggest cache of drugs ever caught in Mumbai was in February 2021. It weighed 25 kg MD drugs priced at Rs 12.5 crores."
She says, "Irrespective of the caste or religion of the accused if he has committed a crime, I will not leave him unless I see that he will be punished." There is no caste in the police. Police are our caste. Till now I have never received any threats from anyone.
Aamir Kazi, 28, who has come to study in Dongri, said, "All the Bhai (underworld dons) of Dongri are afraid of Shabana Tai...!" But, whatever the 'dhansu type image' outside, Shabana As a mother, is sensitive towards her family.
Regarding this, she says, "We should remain mentally and physically healthy so that we can concentrate on work also. This is my logic! Therefore, I pay attention to the diet of my family members. I cook for my children and husband.
This story of Shabana who broke many boundaries is very inspiring. While talking, there is a smile on her face and a glimpse of victory in her eyes. When I spoke to her, her positive energy seeped into my mind
ALSO READ: Nafisa as Goddess Durga inspires interfaith unity, tolerance
Shabana is currently posted as Assistant Police Commissioner, Criminal Investigation Department (CID).