Munni Begum/Guwahati
Raham Cheni, a Muslim weaver from Assam had lost everything including her house to the rage of the Brahmaputra River 37 years ago. Today, she was ushered into the enclosure meant for special guests at the Red Fort and saw Prime Minister address the nation from the ramparts of the historic Red Fort, Raham had tears in her eyes.
The honour of being invited as a guest of the government of India for the 76th National Independence Day Function in the capital comes from her 37 years of personal struggle and yet her commitment to saving the ancient weaves of Assam.
Today, Raham Cheni knew her struggle has been recognized.
It was in 1986, that a stoic Raham Cheni saw her house and her everything being swallowed by the surging Brahmaputra. She remained calm, composed, and determined to continue her struggle.
In a few years, she became economically self-sufficient by weaving clothes. She rose to become the provider for her family as her husband had no work after his agricultural land was washed away by the river in Mukalmua in western Assam's Nalbari district.
After the floods, Raham Cheni and her family shifted to Narayanpur in the same district.
"My husband lost his agricultural land in erosion. We were left with nothing and had to start from scratch. Though my husband started working as a daily wage earner, he hardly earned enough to support our family of two sons and a daughter. So, I had to shoulder the responsibility."
She started working as a weaver with the Barkhetri Development Committee. Every year her income started rising," Raham Cheni told Awaz-The Voice Assam.
She lost her husband eight years ago which meant more responsibility for this 59 year woman.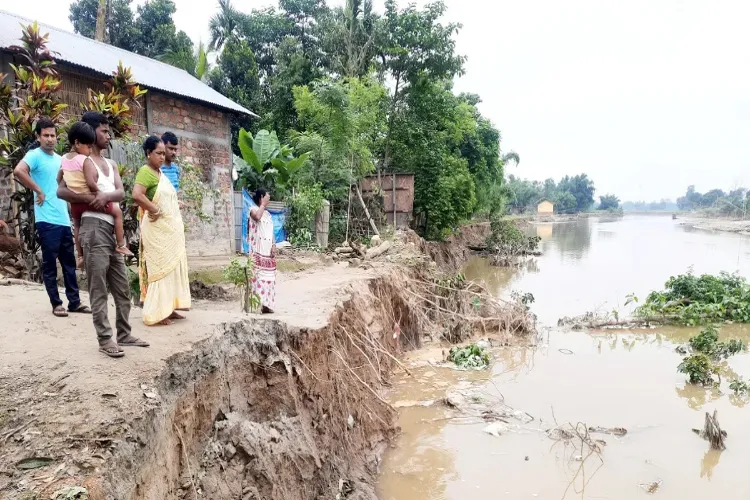 Raham Cheni watches the Bramhaputra River in spate
Raham Cheni weaves traditional Assamese clothes and gamoshas. She weaves 6 meters of clothes daily. She also weaves Khadi clothes.
The Khadi and Village Industries Commission selected her as a special guest for the Independence Day parade in New Delhi on August 15. She represented the Khadi sector in the parade.
Raham Cheni's voice choked and tears rolled down her eyes when she heard the news of being selected as special guest to the Independence Day parade. "I never thought of getting such recognition. I am always to the Almighty for giving me immense patience and willpower to face all challenges in life," she left for New Delhi on Sunday.
She also received the Best Artisan Award from the Khadi Board in 2021-22.
The Barkhetri Development Committee's secretary Mukul Medhi told Awaz-The Voice Assam that the development committee was established in 1975 to help the flood victims in Mukalmua. The development committee gave the women spinning and weaving jobs to make them self-reliant. Since 1980, under the Khadi and Village Industries Commission, the development committee has started training artisans and local youth in various jobs like clothing, spices, beekeeping, etc.
ALSO READ: India at 77 years: We have Miles to go before we sleep
"Raham Cheni has become an inspiration for many weavers for her brave battle with life. Despite losing everything in flood and erosion she never gave up weaving. She is a role of positive energy in life for others. Assam is proud of artisans like Raham Cheni," Medhi said.