Munni Begum / Guwahati
Sabina Sarkar, the chairperson of the Rural Welfare Society, an NGO working towards creating awareness in the rural and remote areas of Assam about menstrual health and hygiene says the incidence of cervical cancer is very high.
"To create awareness about health conditions arising out of the lack of hygiene during menstruation, I visited many parts of the state with a team of doctors and organized health check-up camps for women. Two or three out of every 10 women were diagnosed with cervical cancer," Sabina said.
One of the reasons for cervical cancer is the lack of hygiene during periods.
A resident of Guwahati, Sabina, has been visiting remote areas of different districts of Assam since 2011 for her campaign. She targets both men and women to impart information about menstrual health and hygiene and also create facilities for the women for those five days of the month.
Sabina gained experience while working with the Red Cross Society in Delhi. She quit in 2009 and started social work in her home state.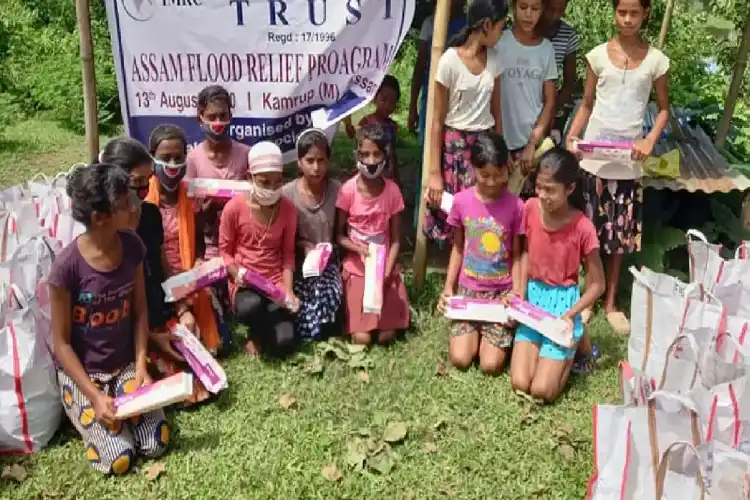 Sabina Sarkar distributing sanitary pads to women during the flood

She says she has observed the trend among women especially those belonging to religious minority groups falling for outdated beliefs and superstitions about menstruation.
"In many areas where people don't even know what a sanitary pad is, women used clothes and their management of those five days can best be described as very unhygienic," Sabina told Awaz-the Voice.
This causes various skin diseases, vaginal and uterine infections, PCOD, etc. She says that some of the conditions left untreated can even lead to cancer.
Although Sabina, who was born with a sense of helping others, started social work in 2002 and scaled it up after 2011.
Since her younger days, Sabina has been visiting the fields to enquire about and educate everyone about women's health and education.
Initially, she funded her campaign and later others who felt inspired by her work came forward to help her financially and logistically.
"There are many women who keep themselves busy with their families, husband, children, etc. They don't have time to think about their health etc. Most women suffer from excessive menstrual bleeding, excessive post-menopause bleeding, excessive abdominal pain, etc. These are common uterine cancer symptoms. But, they simply ignore these and continue with their life."
Sabina first went to the slum areas of Guwahati to create awareness about menstrual health and hygiene. She then visited some parts of the flood-prone areas of Chandrapur, Kamrup, Dhubri, Goalpara, Nagaon, Morigaon, and Bangaigaon districts. Initially, Sabina faced a lot of financial and social constraints, but now everything is going well.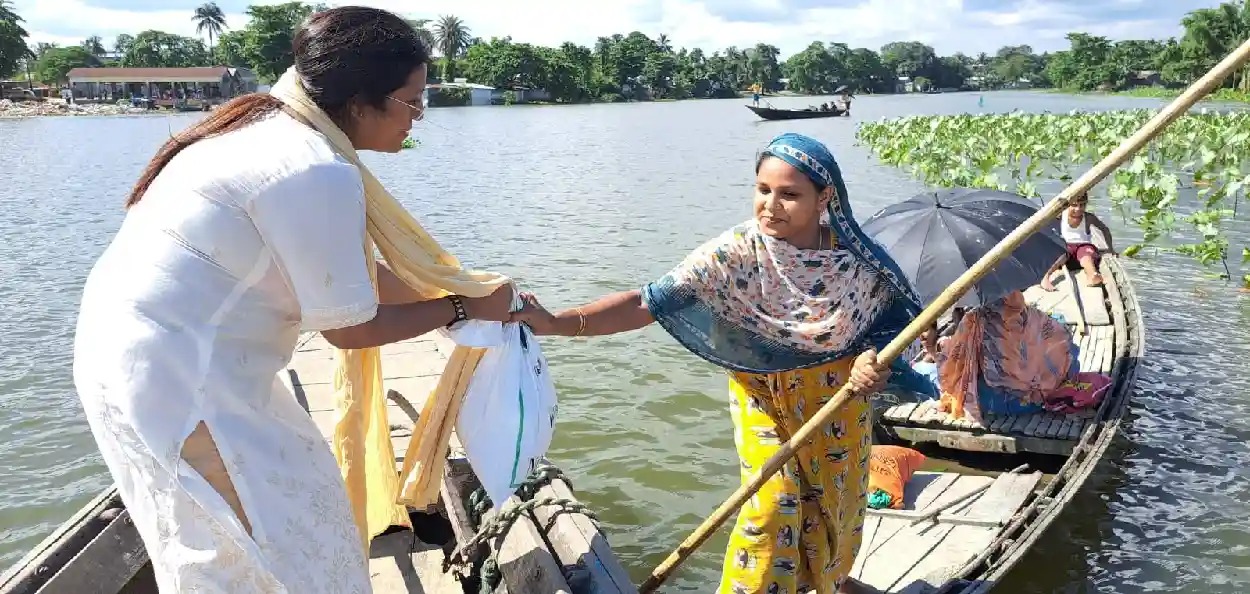 Sabina Sarkar riding a boat to reach a far flung area for her campaign

Crusing on a boat to reach women"During the floods, I went to many places where houses were completely submerged. Women in those areas live in very poor conditions. Some are sheltered in the water, some in boats and others on the roadsides. In those circumstances, women cannot practice hygiene during menstruation. They have to live in a very unhealthy environment in the water. I went to such areas by boat and distributed sanitary pads among women," the social worker said.
She plans to continue working on women's health in the future and has been working in association with a foreign trust called IMRCR and NGO Sahayita Foundation. Doctors at Narayana Hridalaya, Guwahati Eye Hospital, and Prarthana Super Speciality Hospital have also provided a lot of assistance to Sabina.
"Now I like to think that when I first went to such areas and told people about menstrual health and hygiene, people would not come forward to listen because people thought it was a taboo. But when they learned about the seriousness of it from the doctors and experts who went with me, slowly people started coming forward and listening to me."
ALSO READ: Dr Sania Siddiqui's tagline on menstruation : Periods are not shame; it's our capacity
Today, she says both men and women in those places are more aware. "Nowadays, women have started taking care of themselves during those 5 to 7 days of menstruation. Men also take care of the women in their families," Sabina said adding that 50 per cent of those people are now aware of importance of good food and hygiene.