Ehsan Fazili/Srinagar
For four months, Shahida Khanum has been trying to teach a group of young girls from her community – the Gujjar tribe - of the Aragam village, Bandipore, in North Kashmir how to do Sozni, Embroidery, knitting and tailoring, and making handmade exquisite jewelry which is traditionally worn by the Gujar tribeswomen and might face extinction in the deluge of modern machine-made fashion attire and accessories.
Shahida, a graduate in social sciences, seeks to revive the traditional attires comprising colourful dressed of women, embroidered caps, and elaborate bead jewelry. All these could easily make a fashion statement and yet have never been markered as commercial items.
Her center Noor has attracted a good number of young Gujjar girls, most of whom are graduates learning the art of making intricate designs with needles, knitting sweaters, socks, and caps, a trademark of the community's identity.
The Gujjar population of J&K speaks the Gojri dialect and mostly lives in hilly areas across the Union Territory.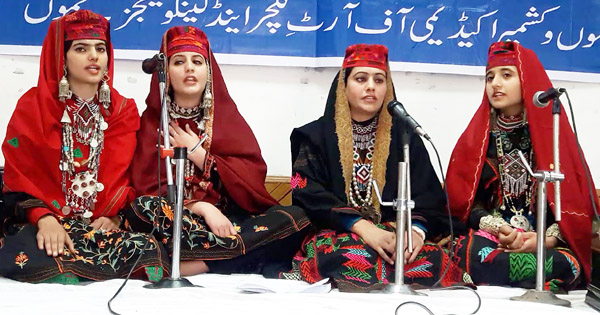 Gujjar women of J&K in their traditional attire
Shahida Khanum was married a year before she completed her graduation in social sciences from the Government Women's College, Srinagar. With due support and encouragement from her matrimonial family, she opened the Noor Centre in her village in December.
Her center attracted the attention of officials from the Panchayat to the state level. It may be recalled that tribal communities including Gujjars are getting benefits of national schemes for the welfare and preservation of their culture across J&K for the first time after the abrogation of Article 370.
The government is too eager to provide support to the Noor center run by a Gujjar woman.
The number of trainees at the Noor Centre has grown from 30 to 50 in this short period of four months.
"I had no formal training in the field, but I learned these skills from my family members including my mother and a sister-in-law", Shahida told Awaz-the voice. She said that while she learned Sozni from her mother, she learned embroidery, tailoring, and knitting from her sister-in-law, who had learned all these from a skill/training center in Srinagar.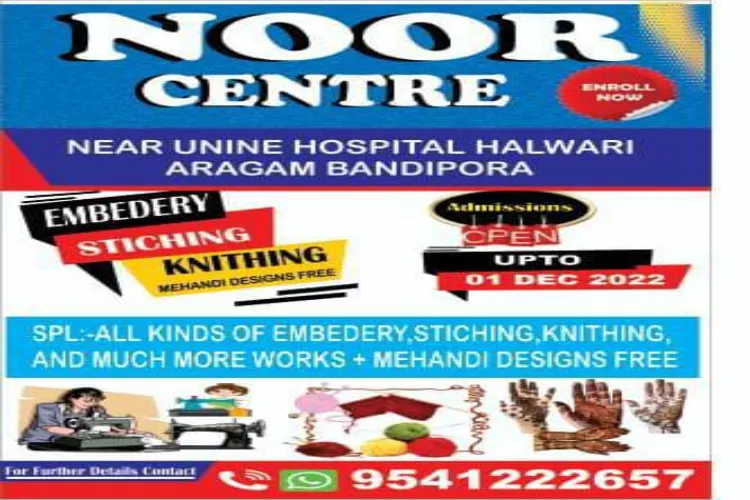 Poster of the Noor Center

"We are focusing on our traditional (Gujjar) attire, which was fading away with the adoption of modern dress styles, mostly among the young and educated lot", she said.
The trainees at her center are young girls, most of whom are graduates and some have already completed their Class X and XII examination. Shahida said. "Initially we were providing training for three to four hours daily, the duration has been increased to six hours now. The center remains open from 10 a.m to 4 p.m., with at least one-hour training in each of the skills", she added.
"We are reviving and promoting our own culture", Shahida Khanum told Awaz-the Voice. She added that many young girls in the tribal community of the area are not educated and there was a need to create awareness amongst them to learn the crafts and earn their livelihood".
"I am doing this for my culture", she commented.
The Noor Centr is going to benefit a vast population of the Gujjar community in more than five villages located between Nadihal and Ajas, for seven km on the 57-km Bandipore-Srinagar road.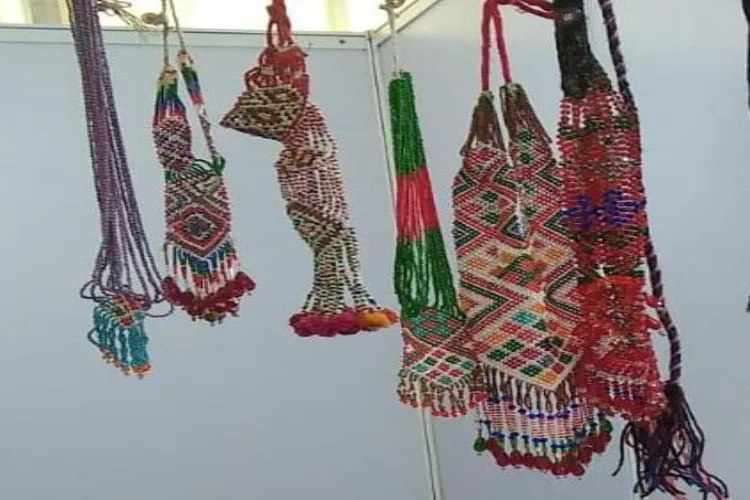 Exquisitepieces of jewelry made by trainees of Noor center

The area has a population of over 2000 Gujjar tribesmen. Aragam village overlooking Asia's largest freshwater lake, Wular, is surrounded by Chithebandy and Garoora villages and is located at a distance of about 8 km from Bandipore.
Dr Ghulam Mustafa, District Development Council (DDC) member from the area, who inaugurated the Noor Centre said that young members of the tribal community in the area were highly talented.
"Instead of going out to learn these skills, it's better for them to be trained here. The center is going to benefit many with employment."
He, however, lamented that there is little support from the administration for further development of the training center.
Dr. Ghulam Mustafa, who is the first tribal scholar from the area, got his Ph. D in Urdu from Hyderabad and worked as a Government college teacher for about seven years. Due to his popularity as an active social worker, he was elected as a DDC member in the 2020 elections.
Shahida's father, Abdul Majeed who is a Government employee, is the main force behind his daughter's venture and dream of becoming self-employed. "I advised (Shahida) to start her venture in the field (with something different) so that she is financially independent and can provide jobs to others as well", he said.
He told Awaz-the Voice that he offered the space in his house for setting up the Noor Centre. The hall can easily accommodate 50 to 60 trainees and an office chamber. He also paid for the six sewing machines for the center.
ALSO READ: Mumkin turns Kashmir's job-seekers into employers
Shahida, who got married in the nearby Garoora village in 2019, has high hopes to further develop her skills and provide training to young girls for self-employment. The locals are also appreciating the hope that it would help the youth in getting jobs and keeping them away from vices and social evils.