Seraj Anwar/Patna
Sherghati, a small town in the Gaya district of Bihar which till recently was known for the Naxal insurgency is in the news for good reason. Three daughters of a local artist Imran Ali - Bushra, Saadia, and Anam – are studying to become doctors.
The three sisters are perhaps the first ones from a middle-class Muslim family in the district to have achieved this distinction.
In the recent NEET examination Bushra, the youngest of Ali's daughters was declared successful and she followed in the footsteps of her sisters, Saadia and Anam, and joined the Medical College.
Aman Imran, the firstborn of Imran Ali and Zareen Kausar, is pursuing her doctorate from the National Institute of Homeopathy (NIH), Kolkata, one of the country's top medical colleges. The second daughter Sadia Emala is studying in her final year of degree course at Mahesh Bhattacharya Homeopathic Medical College and Hospital, Kolkata.
Bushra Kausar has also been admitted into the Government Homeopathy Medical College and Hospital. The sisters have chosen homeopathy.
People in Sherghati are proud of the three sisters and everyone speaks about them.
Imran Ali and Zareen Kausar live in the Urdu Bazaar locality. On May 21, Imran Ali was awarded the Rajiv Gandhi Global Excellence Award 2023 in New Delhi.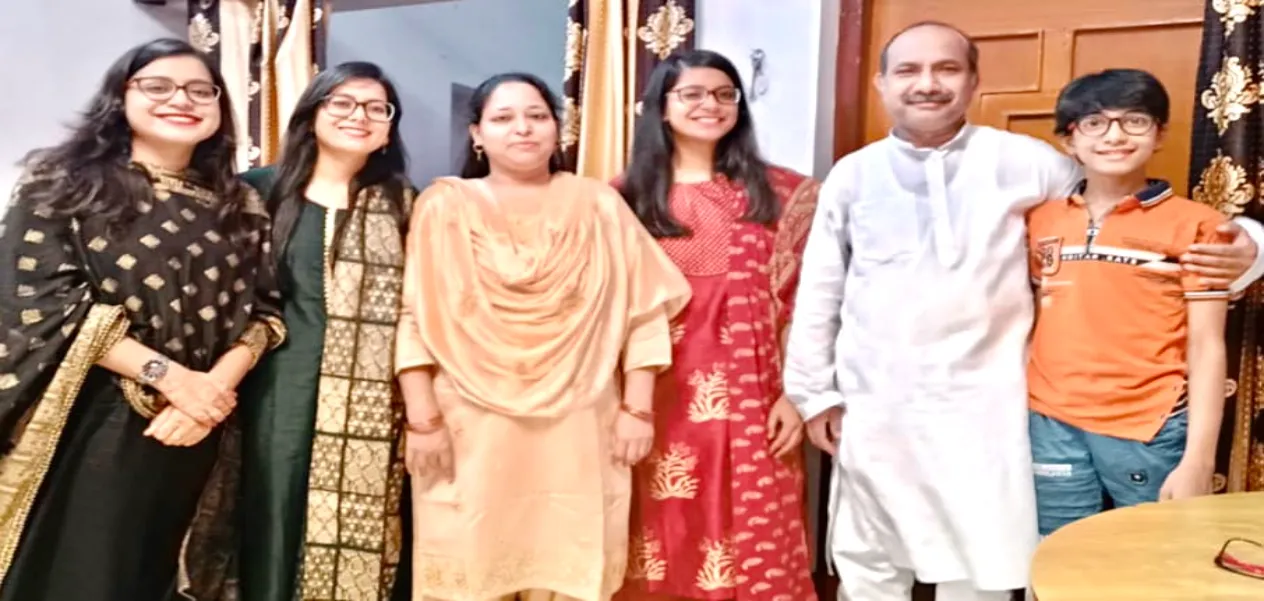 Imran Ali and Zareen Kausar withtheir daughters and son

He runs an advertising agency and undertakes projects for publicity painting and advertising flex hoardings.
He is also a musician and given his music for the Bhojpuri films. He also performed the official functions on Republic Day and Independence Day for two decades.
Anam, Saadia, and Bushra grew up in a middle-class family, and through hard work reached this position.
The Sherghati sub-division was once highly infested with Naxal violence.
While studying at DAV, Bushra Kausar became the state topper in the inter-school slogan writing competition and was awarded ₹ 10,000 by the then Deputy CM of Bihar Sushil Kumar Modi.
She cleared her medical entrance examination on her second attempt and got admitted into the Medical College. She is planning to sit again for NEET to join the MBBS course in a medical college.
Imran Ali and Zareen Kausar believe that daughters are born to lucky parents.
ALSO READ: Diwali: The light that is, and will be
Zareen Kausar said that along with becoming doctors, her daughters have set their eyes on the civil services. "You should not ignore your daughters but give them enough opportunities to move forward," she said.