One of the members of the Bahrain Bikers' Group starting the expedition in Kashmir (Twitter)
Ehsan Fazili/Srinagar
As Kashmir launched its ambitious plan to boost adventure tourism, a group of 18 bikers from Bahrain –Bahrain Bikers' Group - completed their expedition from Leh, Ladakh through an arduous journey via Zoiji la, and breathtakingly beautiful barren landscapes, and the freezing night temperatures, to Srinagar.
This is the next step in engaging the Muslim countries in promoting the economy of Jammu and Kashmir and their citizens visiting the UT after the abrogation of Article 370 of the Constitution.
Secretary Tourism Sarmad Hafeez, flagged off the bikers on Srinagar outskirts for downtown for a cultural and sightseeing tour on Thursday after their arrival from Leh. The event was organised by the Kashmir Chamber of Commerce and Industries (KCCI),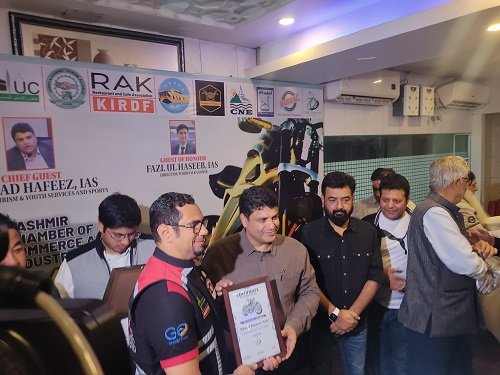 Bahrain Bikers' Group members with leaders of KCCI
Speaking on the occasion, Ali Ansari, leader of Bahrain Bikers said he was pleased with the hospitality and generosity of the people of Ladakh and Kashmir and all his team members have received love and affection from the locals.
The Bikers moved around in Ladakh and visited the remote Nubra Valley, known for its apricots, and returned via Sonmarg. They visited Pahalgam in South Kashmir later.
Sarmad Hafeez said the biking expedition of Bahrain Bikers is a positive sign for Kashmir's Tourism. The department and stakeholders like KCCI had been working on this project for a long time and it's only now that efforts are showing results.
Hafeez told media persons that the bikers "will have wonderful experiences that they cannot get anywhere else." He said this event would push adventure tourism in Kashmir and open it to international adventure lovers.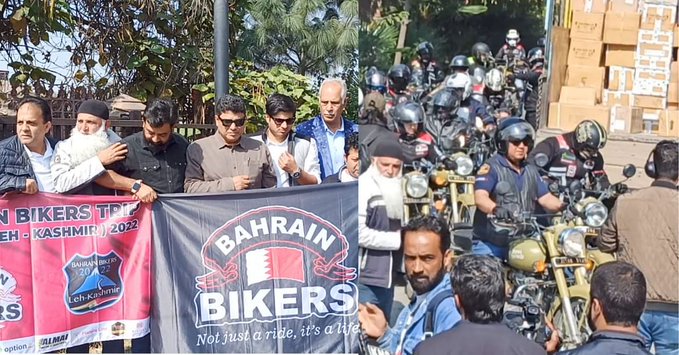 Bikers being flagged off from Srinagar downtown
"This is the wonderful beginning of winter tourism," he said. "Kashmir has the potential to become the biking capital of the world."
Director of, the Tourism Department, Kashmir, Fazlul Haseeb said that the Department was "targeting different countries to attract tourists to the valley".
The department has launched a campaign to promote different J&K destinations, economy, culture, architecture, and heritage in various countries. "This will be fruitful for us as the landscapes, nature, architecture, heritage are unmatched."
The Tourism department has identified 75 off-beat destinations in the J&K to be promoted as adventure tourism destinations. Most of these are being developed right now.
ALSO READ: Valley's Hijab-clad weightlifter Salbeena eyes Olympic medal
Fazlul Haseeb said that Gulmarg is an established winter tourism location and the department is trying to introduce places like Pahalgam, Sonmarg Yusmarg, and Dodhpathri (Budgam district) for winter tourism.