New Delhi
Taking advantage of the Russia-Ukraine conflict that is keeping the USA engaged, the Taliban Minister Sirajuddin Haqqani, who carries a 10 million USD reward on his head announced by the Federal Bureau of Investigation (FBI), appeared in public in Kabul for the first time.
The first full-face appearance of Haqqani, Interior Minister in the interim Afghan regime, has been noticed in the sub-continent. Even Afghanistan's media has projected the event as a surprising development.
Haqqani is also the deputy chief of the Afghan Taliban and the pictures released by the Taliban are the first ones in the public domain. So far, a couple of grainy images of this man who always hid his face with a wrap over his head were released by the Taliban officially.
Haqqani made his public appearance at the 13th graduation ceremony of students from the Kabul Police Academy in Kabul.
He told the gathering: "For your satisfaction and for building your trust ... I am appearing in the media in a public meeting with you."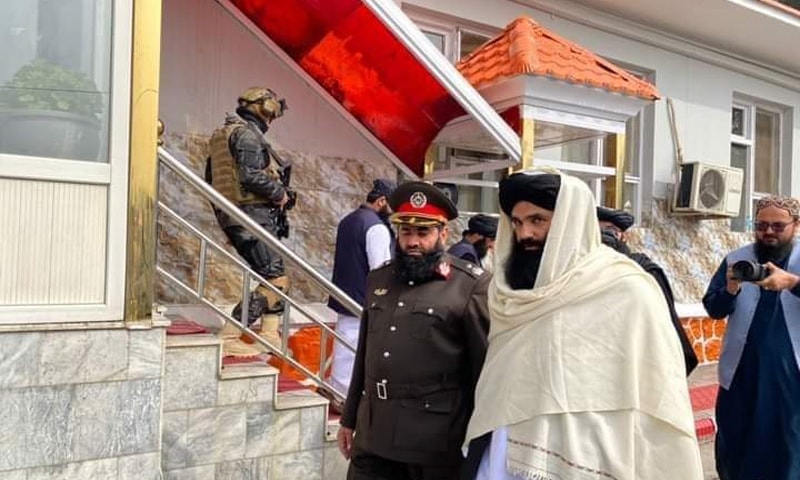 Sirajuddin Haqqani being ceremoniously ushered to the podium
"I appeared in front of the media for the first time because of your credibility and to value you," Haqqani heads his group called the Haqqani network, which has been designated a terror outfit by the US for carrying out several major attacks on foreign and Afghan forces during the 20-year-long war in Afghanistan.
Haqqani is wanted by America's FBI for questioning and the agency has announced an award of $10 million for information leading to his arrest.
Haqqani is believed to be close to Pakistan and was primarily carrying out attacks against the Indian embassy and consulates in the country before the Taliban stormed into power in August.
Now only Sheikh Hibatullah Akhundzad, the Taliban chief, has yet to appear in public. Although he now regularly meets other Taliban leaders in Kandahar, his photo or video has never been shared with the media since the group took over Kabul.
Haqqani asked the Afghans who have left the country to return and held out a promise to the world that the Afghan soil will not be allowed to be used against any other country.