India's National security Adviser Ajit Doval with Secretary of State Anthony Blinken (Twitter of Indian Embassy in Washington DC)
New Delhi
Officials from the United States and India agreed on Tuesday to expand cooperation on advanced weaponry, supercomputing, semiconductors and other high-tech fields, as the Biden administration looks to strengthen its connections with Asian allies and offset China's dominance of cutting-edge technologies.

The agreements followed two days of high-level meetings in Washington between government officials and executives from dozens of companies, the first under a new dialogue about critical and emerging technologies that President Biden and India's prime minister, Narendra Modi, announced in Tokyo in May.
Jake Sullivan, the U.S. national security adviser, told reporters on Tuesday that the goal was for technological partnerships to be "the next big milestone" in the U.S.-Indian relationship after a 2016 agreement on nuclear power cooperation.
He described the effort as a "big foundational piece of an overall strategy to put the entire democratic world in the Indo-Pacific in a position of strength." The agreements will be a test of whether the Biden administration can realize its proposal for "friendshoring" by shifting the manufacturing of certain critical components to friendly countries.
Indian Embassy in Washington shared pictures of the signing of the agrement on Teitter:
Biden officials have expressed concerns about the United States' continued heavy reliance on China for semiconductors, telecommunications parts and other important goods. In recent months they have clamped down on the sale of advanced semiconductor technology to China, in an effort to stymie an industry that the White House says could give China a military advantage. Many companies have found it difficult to obtain the factory space and skilled workers they would need to move their supply chains out of China.
India has a highly skilled work force and a government that wants to attract more international investment, but multinational companies seeking to operate there continue to complain of onerous regulations, inadequate infrastructure and other barriers. Both Mr. Biden and Mr. Modi are also propelling closer U.S.-Indian cooperation in efforts to build out the industrial and innovation bases of their countries, Mr. Sullivan said.
The partnerships announced on Tuesday include an agreement between the U.S. and Indian national science agencies to cooperate on artificial intelligence and advanced wireless technology, as well as in other areas. The countries also pledged to speed up their efforts to jointly produce and develop certain defense technologies, including jet engines, artillery systems and armored infantry vehicles. The United States said it would look to quickly review a new proposal by General Electric to produce a jet engine with India.
Officials also said they would work together to facilitate the build-out of an advanced mobile network in India and look for new cooperation in semiconductor production, including efforts to help India bolster chip research and production that would complement major investments in the industry in the United States.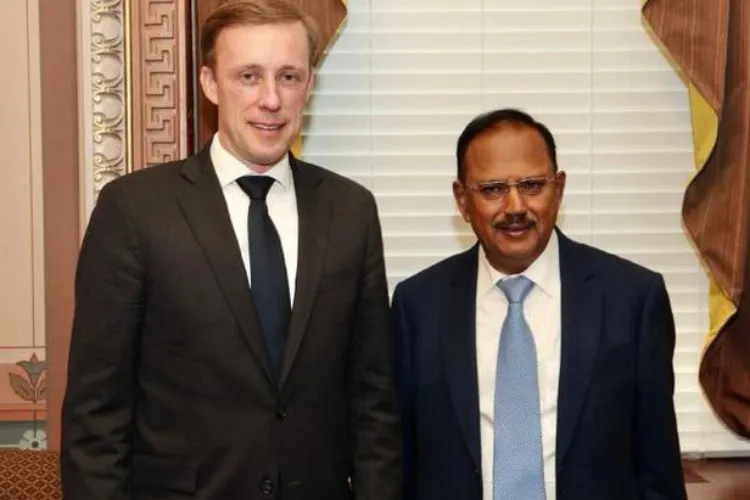 NSA Ajit Doval with his US counterpart Jake Sullivan

The new dialogue would include efforts to work through regulatory barriers, as well as visa restrictions that have prevented talented Indians from working in the United States, the countries said. But experts said India would need to continue to reform its permitting and tax system to lure more foreign manufacturing companies. And the United States would need to reform restrictions on transferring defense-related technology outside the country, they said, if it hopes to work with India to produce jet engines and other advanced weapons.
Analysts also noted that many of the technology partnerships would hinge on new connections between the countries' private sectors, meaning that the agreements could go only so far. India's frequent purchases of Russian military equipment and close ties with Russia also present another wrinkle to the planned partnership. But Biden officials said they believed that the cooperation could accelerate India's move away from Russia, to the benefit of its relationship with the United States.
On Monday, Mr. Sullivan, Commerce Secretary Gina Raimondo and India's national security adviser, Ajit Doval, met with more than 40 company executives, university presidents and others, including executives from Lockheed Martin, Tata, Adani Defense and Aerospace, and Micron Technology. A semiconductor event last year in Bengaluru, India. A technology partnership "has the potential to take U.S.-India ties to the next level," Tanvi Madan of the Brookings Institution said.
"It has the potential to take U.S.-India ties to the next level," Tanvi Madan, a senior fellow at the Brookings Institution, said of the initiative. The trick, she added, will be "getting from potential and promises to outcomes."
"Many of the decisions to collaborate or not will be made in the private sector, and companies will be assessing the business case as much as, if not more than, the strategic case," Ms. Madan said. India has traditionally been known as a difficult partner for the United States in trade negotiations.
In the talks that the Biden administration is currently carrying out in Asia, known as the Indo-Pacific Economic Forum, India bowed out of the trade portion of the deal, though it has continued to negotiate in areas like clean energy, supply chains and labor standards. But analysts said the Indian government was far more motivated on national security matters, and particularly tempted by the prospects of working with the United States to cultivate cutting-edge tech industries.
"We both have a common purpose here, which is the fear that China is going to eat our lunch in all the sectors unless we find areas to cooperate and collaborate," said Richard M. Rossow, a senior adviser at the Center for Strategic and International Studies. Washington Post: U.S. and India launch high-level defense and tech initiative Geopolitical concerns about China and Russia form backdrop of partnership By Ellen Nakashima image002.jpg The United States and India on Tuesday formally established a high-level initiative on defense and emerging technologies — what national security adviser Jake Sullivan called "a strategic bet" on the relationship between democratic partners.
The initiative on critical and emerging technologies, or iCET, follows on a commitment last May by President Biden and Indian Prime Minister Narendra Modi, and will, among other things, promote joint production of defense equipment — including military jet engines, long-range artillery and armored infantry vehicles. Sullivan met with his counterpart Ajit Doval at the White House on Tuesday to launch the initiative, which he said would serve both countries' deeper strategic interests.
The two aides are spearheading the initiative. It comes as Russia's war in Ukraine enters its second year and as India seeks to lessen its decades-long dependence on Russian military equipment. Beijing's regional provocation — including a rising tempo of Chinese economic and military coercion — also serves as a spur to increased partnership between New Delhi and Washington. Violent Chinese border clashes with India have escalated tensions between the two countries. Sullivan, in an interview with reporters, acknowledged the geopolitical dimension to the initiative.
"The backdrop of geopolitical competition with China has been a feature of the U.S.-India relationship now for more than a decade," Sullivan said. It has become a more acute feature of the relationship in the past few years, he said. But, he said, "a big part of the story is fundamentally about a bet on high tech and an industrial innovation policy. That's at the core of the president's entire approach to his presidency. So the China-Russia factors are real, but so is the idea of building a deep democratic ecosystem with high technology."
Much of the initiative so far consists of stated intentions to pursue cooperation in multiple areas, including semiconductors, 5G and 6G wireless infrastructure, and in commercial spaceflight, including lunar exploration. Officials did announce one concrete step. GE Aerospace has applied for an export license for jet engine production and phased tech transfer in India, according to a senior administration official.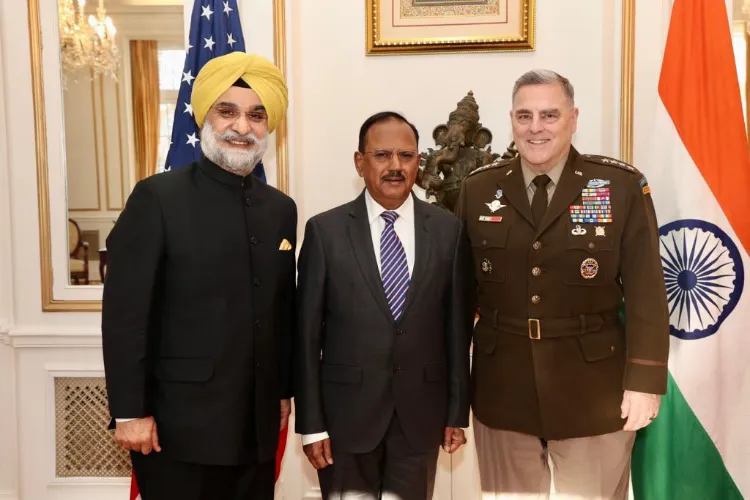 NSA Ajit Doval with General Mike Milley, Chairman of the Joint Chief of Staff, and Indian Ambassador Taranjit Singh Sandhu
"This is going to be a transformational opportunity for multiple aircraft and has potential to be a real game changer, to the extent we really haven't done this anywhere else," said the official, who spoke on the condition of anonymity to discuss internal deliberations. Other projects the two governments are exploring include the M777 howitzer and Stryker armored fighting vehicle, the official said. The idea would be to help India develop an indigenous defense industry for its own defense and export, officials said. There are hurdles, however, Sullivan said. Adjustments need to be made to U.S. tech release and transfer policies, and on the Indian side, changes are required in regulatory tax and customs policies.
"A lot of [American] business folks would say, 'We've got to have confidence that you're going to be a reliable buyer, that you have the money to pay for these things, and that the process is more transparent," said a second administration official. "So there's work to be done on both sides."
Another element of the initiative is semiconductor supply chain diversification, a concern that has become more urgent with Chinese threats to Taiwan, which dominates the global supply of high-tech semiconductors. Part of the U.S. plan is to help India grow its legacy chip-making capabilities while continuing the flow of top engineers that study and work in the United States, Sullivan said. Ambassador Atul Keshap, president of the U.S.-India Business Council, called iCET "a tremendous forum for our two democracies to coordinate on sustaining a free, open and secure global economy" at a U.S. Chamber of Commerce event Monday.
Technology has been "at the heart of the U.S.-India relationship" for decades, said Tanvi Madan, an India expert at the Brookings Institution. It was a major source of friction from the mid-1970s, when the United States imposed export controls after India conducted a test nuclear explosion, she said. But in more recent years, technology cooperation, including a seminal civil nuclear deal signed in 2006, has helped fuel closer U.S.-India ties, she said. The initiative's goal is to be "the next big milestone" in the relationship, Sullivan said. It "has the potential to be a takeoff point," Madan said.
But other observers urged caution, noting that the two fractious democracies haven't always worked in lockstep. "It will take time for outcomes to realize their full potential," said Rudra​ Chaudhuri, director of Carnegie India. "It will also require the private sector, the academy, think tanks, and thought leaders in both countries to work harder to accelerate emerging tech cooperation." India aspires to be a great power not allied with any one country, analysts said.
But there is a convergence of interests with the United States and its Indo-Pacific allies, as China increasingly presses its advantage in the region. Sullivan noted Japan's recent commitment to greatly increase its defense budget and to develop counterstrike capabilities, and Australia's agreement to acquire nuclear-powered submarines with the aid of the United States and Britain. "This [initiative] is another big foundational piece of an overall strategy to put the entire democratic world and the Indo-Pacific in a position of strength," he said.