New Delhi /Tripti Nath
Mohsin Khan Mansoori who recently earned Rs 6.4 lakh on 'Kaun Banega Crorepati' received a hero's welcome with drumbeats, marigold garlands, traditional Rajasthani 'saafa' (headgear) and sweets on returning home in Bhilwara, Rajasthan. A huge crowd greeted him and expressed joy that he had brought glory to the village.
Sunday Longread

Mohsin says he went to KBC "to earn respect, money and repay his elder sister, Naazneen a loan of Rs two lakh and set up his retail shop in the village." It took him nearly a decade of preparation to crack India's best -known Television Quiz show anchored by superstar Amitabh Bachchan.
A cancer survivor who earns a living unloading grain filled sacks from tractors in vegetable markets (Mandis) in Bhilwara, Mohsin was overjoyed to be face to face with superstar.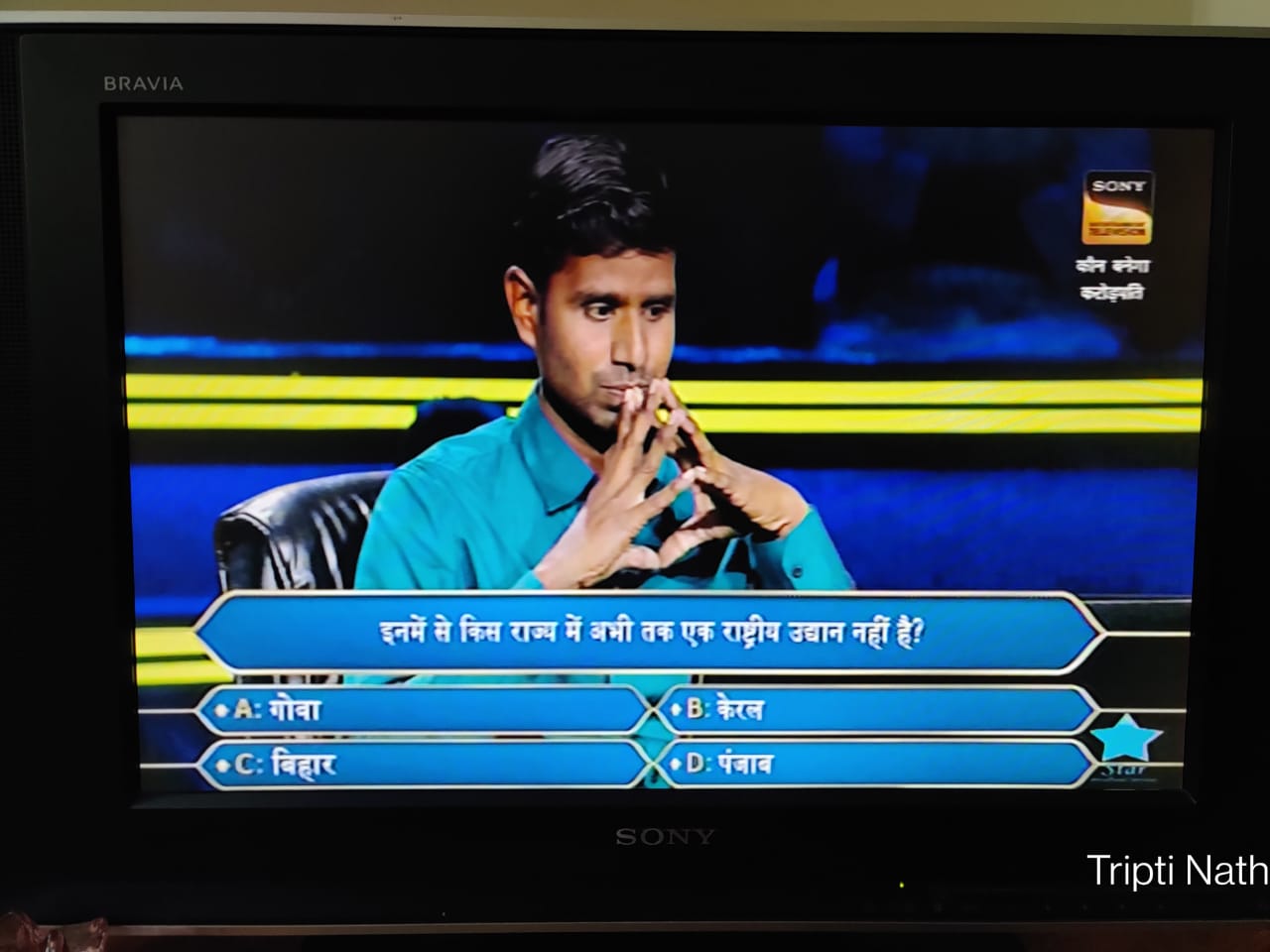 This was the question Mohsin could not answer and quit the game

Making it to the show and earning this amount is nothing less than striking oil for someone who earns only Rs 5 for lifting a 50-55 kg sack of Gehun, Jowar and Bajra. "For working eight to ten hours a day, I earn only Rs 300 per day and the wages fluctuate. I set out for the Mandi at 8 a.m. every day and wait for farmers to turn up with their farm produce. Our income depends on the appearance of farmers. We earn no wages on Sunday as the mandi is closed,'' he told Awaz-the Voice ove the phone from Bhilwara.
Describing the rousing reception he received from villagers in Bhilwara, he says, "Many old acquaintances tracked me on social media and began calling me. From the time the KBC promo was beamed, media persons began calling me. There has been no end to calls.''
Mohsin said, "Logon ka nazariya bilkul badal gaya hai." (The attitude of people has changed altogether)
Mohsin takes pride in mentioning that villagers watched and relished KBC on a mega screen installed in the village by MLC Usman Pathan.
A postgraduate in History, Mohsin Khan has been lifting sacks of grains for the last seven years. Altough he had completed his postgraduation in 2016, his family circumstances left him with no choice but to follow his middle-aged father, Mehboob Mansoori in lifting grain sacs at the Mandi. "We had loans to pay for building a two-storey house,'' he said.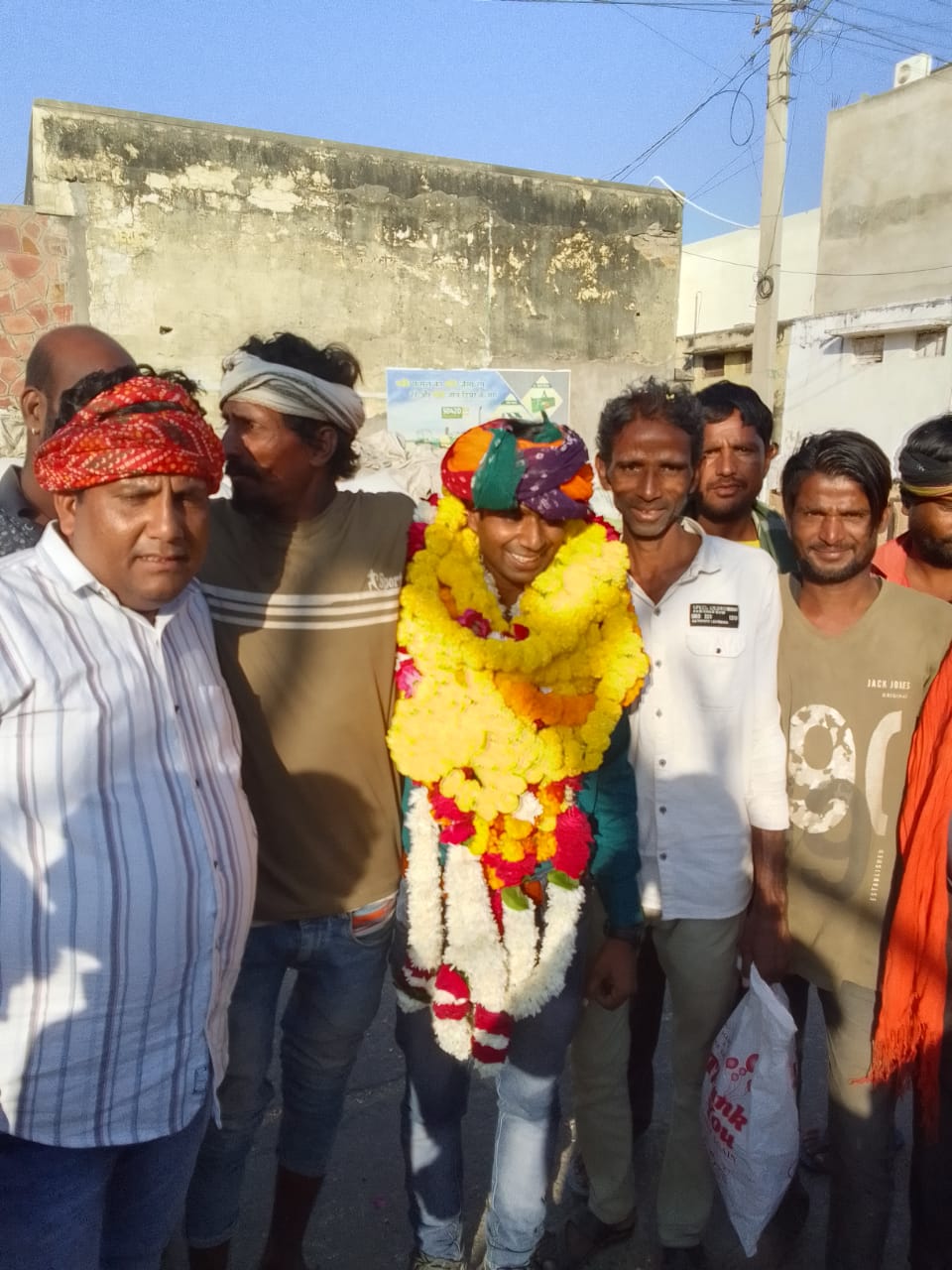 Mohsin being welcomed by villagers
Mohsin was barely nine years old when he was diagnosed with blood cancer and had to undergo treatment for two years. Although his paternal grand-father was supportive, Mohsin remembers the remark of one of his uncles that getting him treated was wasteful expenditure. This still hurts him.
From his days of treatment in the Ahmadabad Civil Hospital, he recalls an incident that has remained etched on his mind. "Doctors had told my family that they had done all they could to save my life and he needed prayers. Despite medicines, my vomiting and loose motions would not stop. A doctor told my grandfather to feed me lime water frequently. My grandfather stepped out at night and broke down. In Gujarat, people believe in a superstition that once shopkeepers shut down shops, they consider it inauspicious to sell lemons but one shopkeeper broke the rule and sold five lemons to my grandfather. The shopkeeper even told my grandfather that he could ring his door bell anytime for help.''
"Mujhe lagta hai ki religion se zyada badi cheez manavta hai kyunki us dukandaar ne manavta ki wajah se dukan kholi."(I feel that humankind is bigger than religion because that shopkeeper reopened his shop on humanitarian consideration).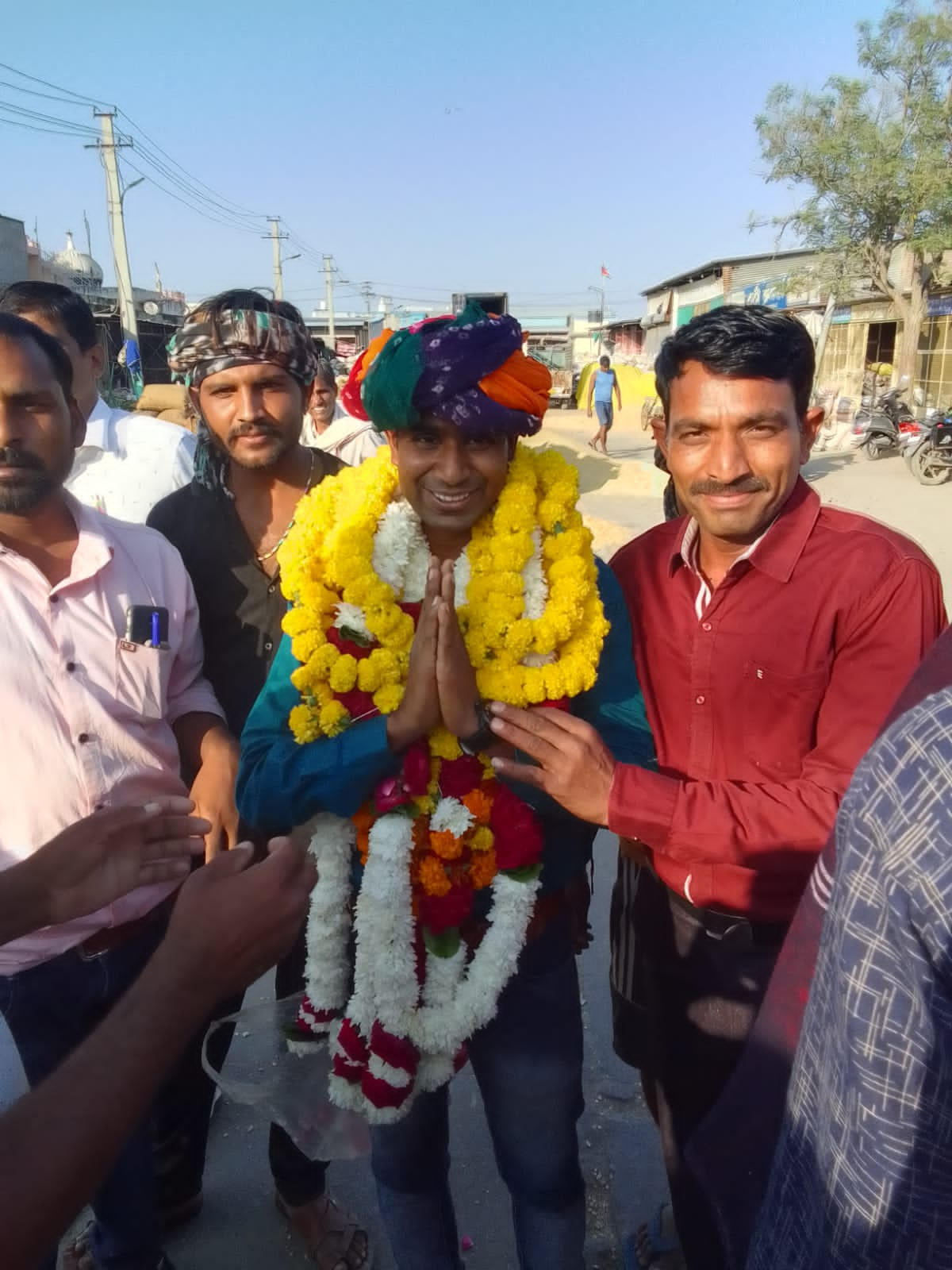 Mohsin being greeted by friends

He has painful memories of the time when some of his playmates stopped playing with him after his diagnosis. That is when Mohsin decided to use his spare time to prepare for KBC.
Around this time, a woman in his neighbourhood prayed for his recovery. She prayed that after if Moshin survives, his mother and he would walk to the Ajmer Sharif Dargah, on foot from Bhilwara. He distinctly remembers the day he and his mother set out on foot from their village for the tomb of revered 13th century Sufi saint, Moinuddin Chishti. This Dargah is considered one of the holiest Muslim shrines in India and also attracts many Hindus. Mohsin was about 16 then but he walked 135 kms with his Ammi (mother) for four days to reach Ajmer Sharif and express gratitude to the Sufi Saint, for his miraculous recovery.
Mohsin who impressed Amitabh Bachchan by answering diffcult quesions with exemplary calmness, has has very ordinary education. He studied in Chitragupt Shishu Gyan Mandir in his village and completed his postgraduation from M L V College, Bhilwara.
His mother, Naseem Ban accompanied him on the sets of KBC. Recalling his experience at the KBC Quiz show, Mohsin says, "I was very nervous and wondered how other contestants were responding so fast. Then, I noticed that they were using both fingers to give quick replies. When I was facing Big B, my feet were trembling. I felt, I was dreaming. For me, sitting in front of Big B is the biggest accomplishment of my life.''
Mohsin says that after he made it to the spotlight, his first reaction was to thank God. "Maine Sajda kiya aur Khuda ka shukar kiya ki ye Allah tune mujhe itne saal baad kamyaab kiya.'' (I bowed and thanked God helping me succeed after such a long time)
Mohsin says his admiration for Amitabh Bachchan has increased manifold after the KBC show. "So far, I have never met any celebrity who is as polite as Amitabh Bachchan. He was addressing me as Mohsin Bhai and treating me with so much respect that I can't describe it. All his films are good but I liked Bagbaan the most.''
He is looking forward to starting his retail store. "Insha Allah, I will soon start a retail shop for grains. I had decided that if I earn a good amount in KBC, I will buy a house for my mother. I agree that I have earned a lot of fame. I have got a cheque but it is only after tax deduction that I will know what I have actually got.''
ALSO READ: Unique autograph museum of Hyderabad's Imtiazuddin
Memories of the exciting flight from Udaipur to Mumbai, the city of dreams, his five day stay there and conversations with other KBC contestants, are still fresh in his mind. He is happy to have made friends who took part in KBC and is in touch with them on WhatsApp groups.