Nargis Sultana being felicitated by her neighbours after her she scored a distinction in her matriculation examinations
Munni Begum/Guwahati
The academic success of the daughter of a Maulana in Assam's Darrang district has revealed the determination of Indian Muslim women to defeat adversities and break stereotypes for giving wings to their dreams.
Nargis Sultana, the daughter of a Maulana who passed the High School Leaving Certificate Examination or Matriculation examination in 2022 with distinction despite facing various challenges, studies for more than 12 hours to fulfill her dream of becoming a doctor.
Nargis is the second daughter of Samsher Ali and Nasira Khatoon, residents of Kachari Bheti in Dalgaon in the Darrang district.
Born in a very backward and remote area, Nargis had to walk 5-6 km daily from her home and cross a river to reach her school for her primary education.
Being the daughter of a Maulana, many residents in her village asked her to learn Islamic textbooks including the Holy Quran instead of going to school for modern education. But Nargis was determined to go to school and her parents backed her.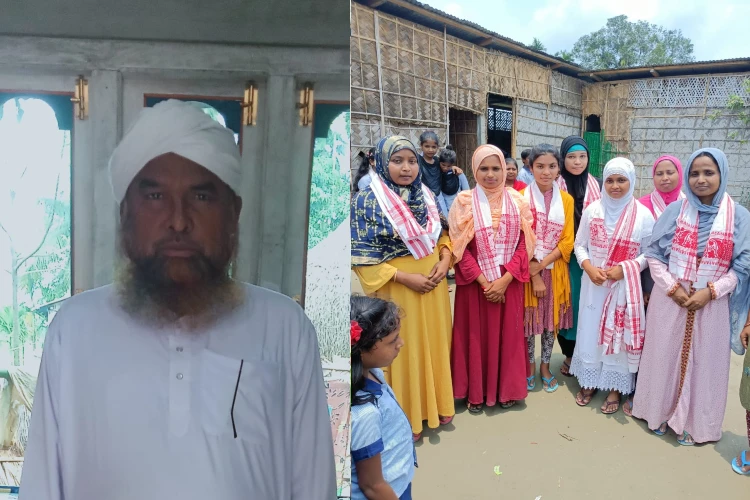 Maulana Shamsher Ali (Left), the father of Nargis (In white dress) and his family
Nargis Sultana told Awaz-the Voice, "I was a student of Anandaram Barua Academy in Siliguri when I appeared for the Matric examination or Class X final in 2022. Besides my hard work and dedication, I want to give credit to the teachers for my success. After knowing my poor financial background they (teachers) helped me to continue my education."
Anandaram Barua Academy did not charge any fee and provided free tuition from Nargis for her education from the Class ninth and Tenth.
In the Matric exam 2022 Nargis scored 96 (out of 100 marks) in Social Science, 95 in Mathematics, 92 in Assamese, 90 in Elective Subjects, 90 in English, and 78 in General Science.
Nargis got is studying at Ajmal College in Hojai and pursuing a science stream for her higher secondary examination.
"Many people and teachers have helped me financially to continue my education. They have pinned high hopes on me. So, I cannot disappoint them. I am studying more than 10 hours daily so that I can excel in 12th stands due next year. I want to become a doctor. I will try to become a gynecologist and serve the poor people in rural areas by reducing maternal and infant mortality rates among them," Nargis said.
Nasira Khatoon while expressing gratitude to the almighty Allah and those who have helped her daughter to continue her education, said she is hopeful that "Nargis will become a successful doctor in the future to serve humanity.".
Hafiza Begum (Left) being felicitated

Similarly, another Muslim girl student from Dalgaon in Darrang district Hafiza Begum has also proved that poverty cannot be an obstacle to academic excellence.
Hafiza, daughter of e-rickshaw driver Habib Ullah, has told Awaz- The Voice that she had passed the Matriculation examination from Adarsh Jatiya Vidyalaya, Dalgaon by securing distinction marks.
ALSO READ: Jamia Milia is like a mini-India with students, teachers from all over country: Prof Najma Akhtar
Hafiza is determined to become a doctor and later prepare for the Union Civil Service Examination.