Ehsan Fazili/Srinagar
In the Covid-induced lockdown for nearly a year, Kashmir's most popular folk singer Gulzar Ahmad Ganai has kept the music and the bonds between communities through it alive by taking his music to the online mode.
Ganai remains the crucial link between Kashmir's two major communities – Muslims and Hindus – even after the exodus of the latter some three decades ago. The musical session of Gulzar Ganai starting with aarti to invoke the blessings of Lord Ganesha is the key feature of the pre-nuptial ceremonies of many Kashmiri Hindu weddings outside Kashmir.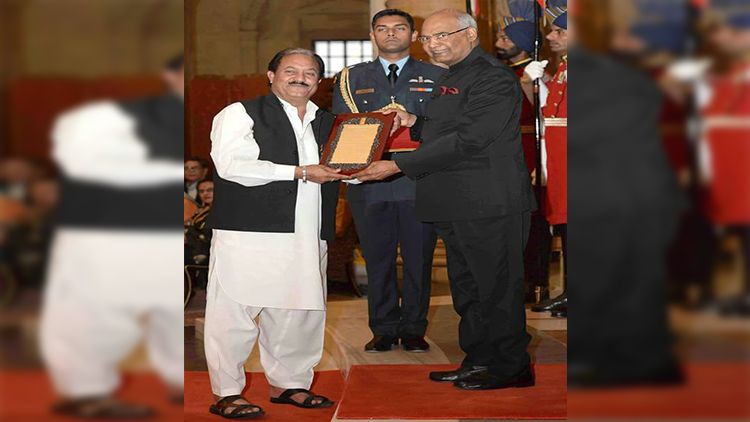 Gulzar Ahmad Ganai receiving award from President
Ganai told Awaz-the Voice that "As opportunities of playing music for the public have ended in the Covid pandemic, he purposely chooses to make meaningful music. His songs about the need to use a face mask, sanitisers and maintain social distancing streamed online have got traction.
The 60-year old Gulzar Ahmad Ganai's latest numbers like "Dil Gaemet Sakh Pareshan,(Covid awareness) Eid Az Maa chche basaan (Solitary Eid) and Jigro Pannis Panas waat, Virus phormut saersy jehanas (taking care in the pandemic) has been popular numbers on social media during this period.
Among the popular genre of Kashmiri music Sufiyana, Light Music and Folk, Gulzar Ganai has loomed large on the Kashmir's cultural scene as a folk singer for over three decades.
As the Chairman of Kashmir Gluakar Society (Association of Kashmiri singers) Gulzar Ganai led from the front at the Covid vaccination camp organized by the J&K Academy of Art, Culture and Languages recently.
Pockets in Kashmir are still facing vaccination hesitancy and hence the examples of popular people going for the jab have a salutary impact on the vaccination drive in the Valley.
Gulzar Ganai also made it to Bollywood with two Kashmiri compositions in the award-winning film Tahaan (2007), a story based on Kashmir, starring yet another legendry Kashmir Anupam Kher.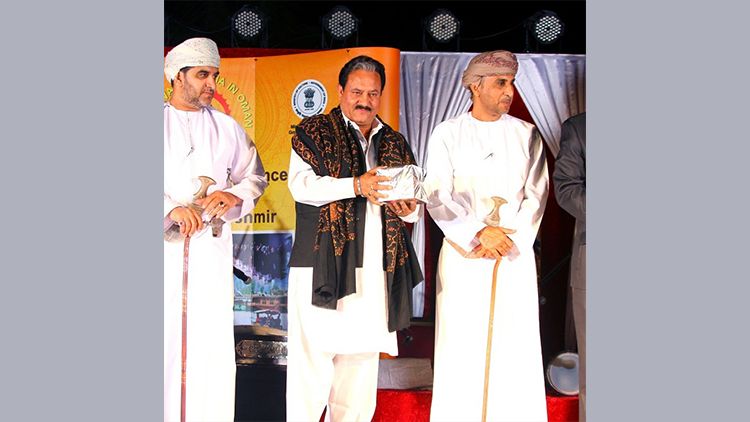 Being felicitated in the Gulf
Ganai's contribution of keeping Kashmir's district culture alive during social turbulence and terrorism years goes beyond the music. He has become the sole link between the Kashmiri Hindus living outside since their mass migration due to terrorism and their homeland.
He told Awaz-the Voice, "They (Kashmiri Pandits) have been calling me to conduct musical programmes on their marriage functions, especiallymehdiraat," He has been adding the Kashmiri touch to the pre-wedding functions of the natives in Jammu and also outside the Valley. He claims he has performed at weddings in Delhi, Mumbai, Bangalore, Gujarat and even Dubai.
He has also rendered the Kashmir version of Mahatma Gandhi's favourite bhajan Vaishnav Jan tou to commemorate the 150 anniversary of the father of the nation.
Besides, during the years of violence and unrest, Gulzar Ganai has been a cultural ambassador of Kashmir in the world. He has represented India in cultural fests in Dubai, Egypt and Central Asian countries, Turkmenistan and Uzbekistan.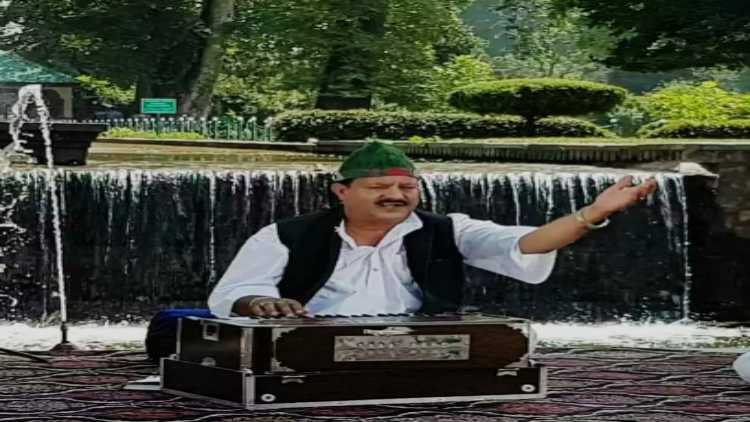 Gulzar Ganai singing in Shalimar Garden
His troupe represented India in Egypt where an international cultural event was organized in which 22 countries took part. He has the Sangeet Natak Academy award in 2016 and many international awards.
Ganai, hails from Mirgund village of Baramulla in north Kashmir. His father was a peasant yet for his love of folk music he wanted his son to learn it. Interestingly Ganai's mother wanted her son to be "a doctor or an engineer,"
He was known as a child artist in his school. He was awarded by chief minister Syed Mir Qasim when he was still a local child artist and he came to see one of the cultural events. Thereafter he joined the musical group of folk singer, Mohammad Abdulla Ganai and Ghulam Mohammad Bhat and learnt music from them for eight years.
At the age of 25, he joined Radio Kashmir, Srinagar,(All India Radio, Srinagar) and simultaneously launched his own music troupe also.