J&K Waqf Board chairperson Dr Darakshan Andrabi inaugurating the the Mimber at Srinagar Eidgah
Ehsan Fazili/Srinagar
The proposals of Darakhshan Andrabi, Chairperson, J&K Waqf Board, to name Eidgah after Shah-e-Hamadan, the Iranian missionary who introduced Islam to Kashmir 543 years ago, and to develop and beautify the ground before the Eid prayers have been hailed by people in Kashmir.
Andrabi said Eidgah will be developed in a manner that will make it useful for the public other than on the occasion of Eid congregational prayers.
The sprawling maidan remains useful only during the summer months and during the rest of the year remains open to misuse, digging of cricket pitches by children, and dumping of garbage. For this reason, when Andrabi announced a major beautification plan for this major Srinagar downtown place, citizens welcomed it.
Senior journalist Yusuf Jameel took to Facebook to express his thoughts. He wrote "The first step the Waqf Board should take is to control the heavy water runoff --both rain and waste--and use gutters and downspouts and possibly dig a drain around to stop it from going under Aali Masjid. The seepage has already caused dampness and even condensation in the historic structure.
"There is a huge chunk of land (of Eidgah only) between the prayer ground and the public park which can be used as a playing field by our youth and the portion of the Eidgah demarcated with Aali Masjid should be preserved for relevant use only".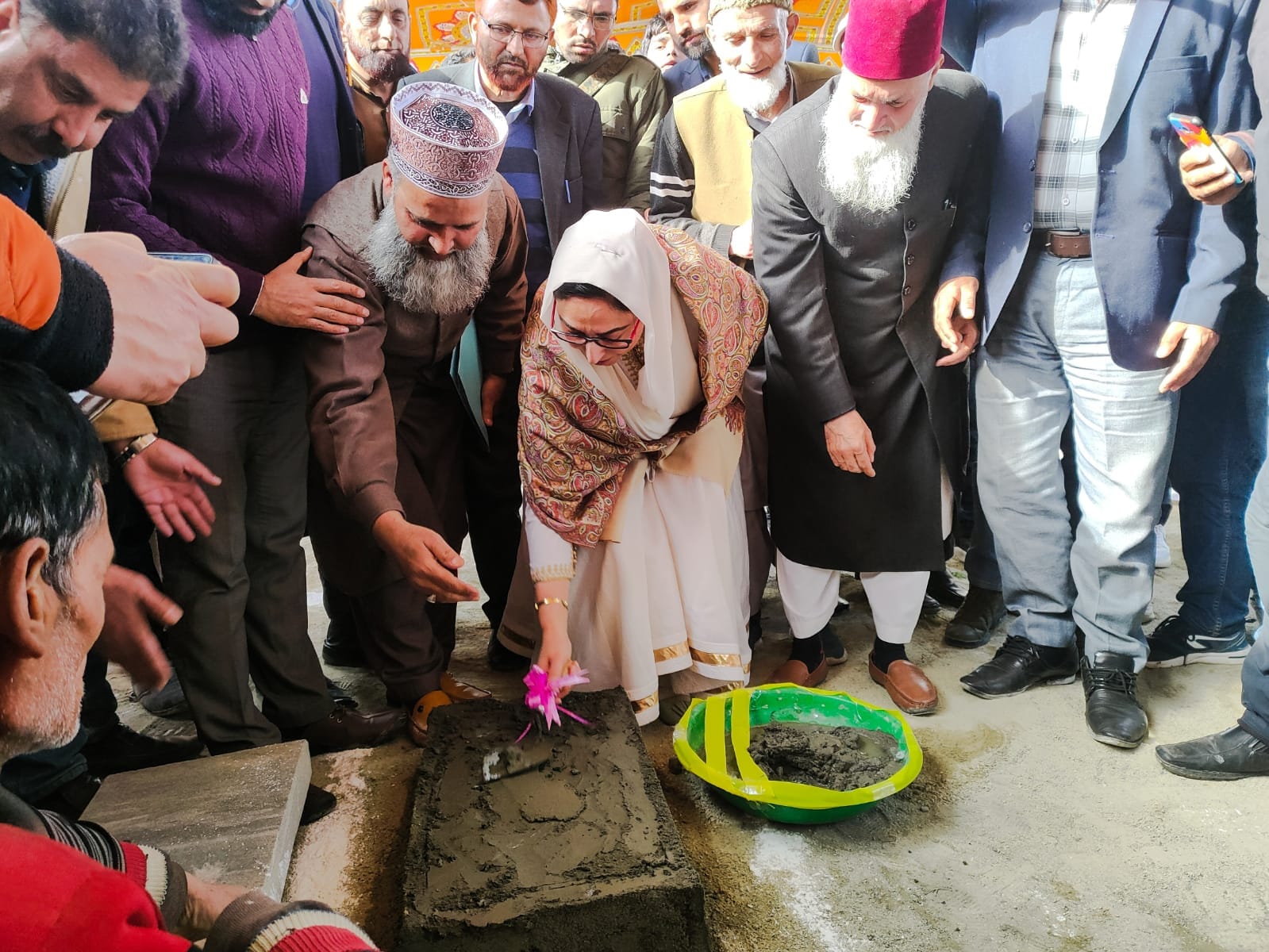 Dr Andrabi laying the foundation stone

Maintaining that the Eidgah was a "precious gift" from Mir Sayyid Ali (Shah-e-Hamadan), he said that "it fell victim to neglect and apathy of Waqf Board. "Even after huge sums of money having been spent on its makeover as per the official statements, its condition remains far from satisfactory".
The post has received many supportive views ``Steps should have been taken in advance for the beautification and restoration of this prestigious Eidgah to its original glory to enable people to offer Eid Nimaz over there. 'Eidgah ko har haal mein saaf aur pak rakhna logon ki bhi zimadari banti hai. Let us appreciate it if the Waqf Board is firm to restoring it", writes G M Bhat in response.
Syed Arshad Kashani wrote: "There is no harm if used for exercise-related activities and games etc., Just for two Eids in a year and leaving it idle for the rest of the year is waste of asset. Kashmir in general and Srinagar, in particular, has very less land holding….no space available for such activities that Islam has encouraged us to do…..".
During her visit to the Eidgah, Andrabi laid the foundation stone of a new state-of-art Mimber (pulpit) that will be constructed by the Waqf Board. She said the Eidgah will henceforth be known as Shah-e-Hamadan (Mir Syed Ali Hamadani) Eidgah.
She announced that the grandeur and majesty of the place spread over 650 kanals of land, would be restored by the Waqf Board in a phased manner. "Eidgah has remained the center for religious gatherings for centuries and now we need to restore its importance. After the completion of the state of art Mimber, the Board will take steps for leveling and beautification of the entire Eidgah ground. All required developmental works will be taken up soon", said the Waqf Board Chairperson.
"The stillness of Eidgah will soon end with the message of peace and harmony for the whole of humanity from this historic place that will resonate in all directions. This place will regain its importance and the message of spiritual excellence and peacefulness will echo from here", she said while speaking on the occasion. She said that this land was acquired by paying the 'Laal-e-Badakshan' in kind and "we have the responsibility of making it the real jewel in the crown of the historic city of Srinagar".
Some developmental works were taken by the Mufti Syed-led PDP-Congress coalition Government which took over in November 2002. "It was fenced for the first time. A park was laid, a playground and Nimaz area were earmarked", said Naeem Akhtar, former PDP Minister. "No construction that could affect primary use of the ground, Eid congregation", he added.
"Encroached lands were retrieved. Historic Aali Masjid, which was crumbling, was repaired and conserved in its original shape and regular Nimaz was resumed thereafter many decades", he told Awaz-the voice.
A part of the Eidgah has been converted into a "martyrs' graveyard", where about 1,000 graves of civilians, including terrorists, who died in three decades of violence lay.
ALSO READ: Maulana Azad searched rationale in religion and passionately pursued India's pluralism
If all goes well with the weather conditions permitting, Eid prayers would be held at Eidgah after a gap of four years. The congregational prayers at the venue have been taking place intermittently, either due to law and order situations or weather conditions as the ground remains wet or water-logged if the occasion falls during winter months.
J&K Police Chief, Dilbagh Singh has said that there was no law and order situation in any part of Kashmir, particularly Srinagar, and any decision to hold Eid prayers at Eidgah would be taken by the Divisional administration.