Nizami brothers singing devotional music in the form of Qawwali at Hazrat Nizamuddin Dargah, Delhi
Mohammad Akram / New Delhi
Azam Nizami, 25, sings Qawwali every evening at Hazrat Nizamuddin Dargah, the resting place of Hazrat Nizamuddin Auliya, which is revered by Muslims of the Indian sub-continent and also Hindus.
He says his art comes from his legacy: his father Khas Khalil Ahmed, grandfather Ustad Khas Qawwal Shafiq Ahmed Nizami, great grandfather Khas Qawwal Rafiq Ahmed Nizami all sang Qawalli at the dargah of Sufi saint of Chistiya order to pay obeisance to him.
Azam Nizami says that in 1946, many Muslims were leaving Delhi for the yet-to-be-made Pakistan, and then eventually during the partition in 1947, his great-grandfather Rafiq Ahmad Nizami visited the Mausoleum of Hazrat Nizamuddin Auliya in a dilemma of having to choose to stay on or move to the land of Muslims.
"Since that time our family has had an unbreakable relationship with the dargah. Our grandfather attended to the King (Nizamuddin Auliya) and today I sing Qawwali every evening with my troupe."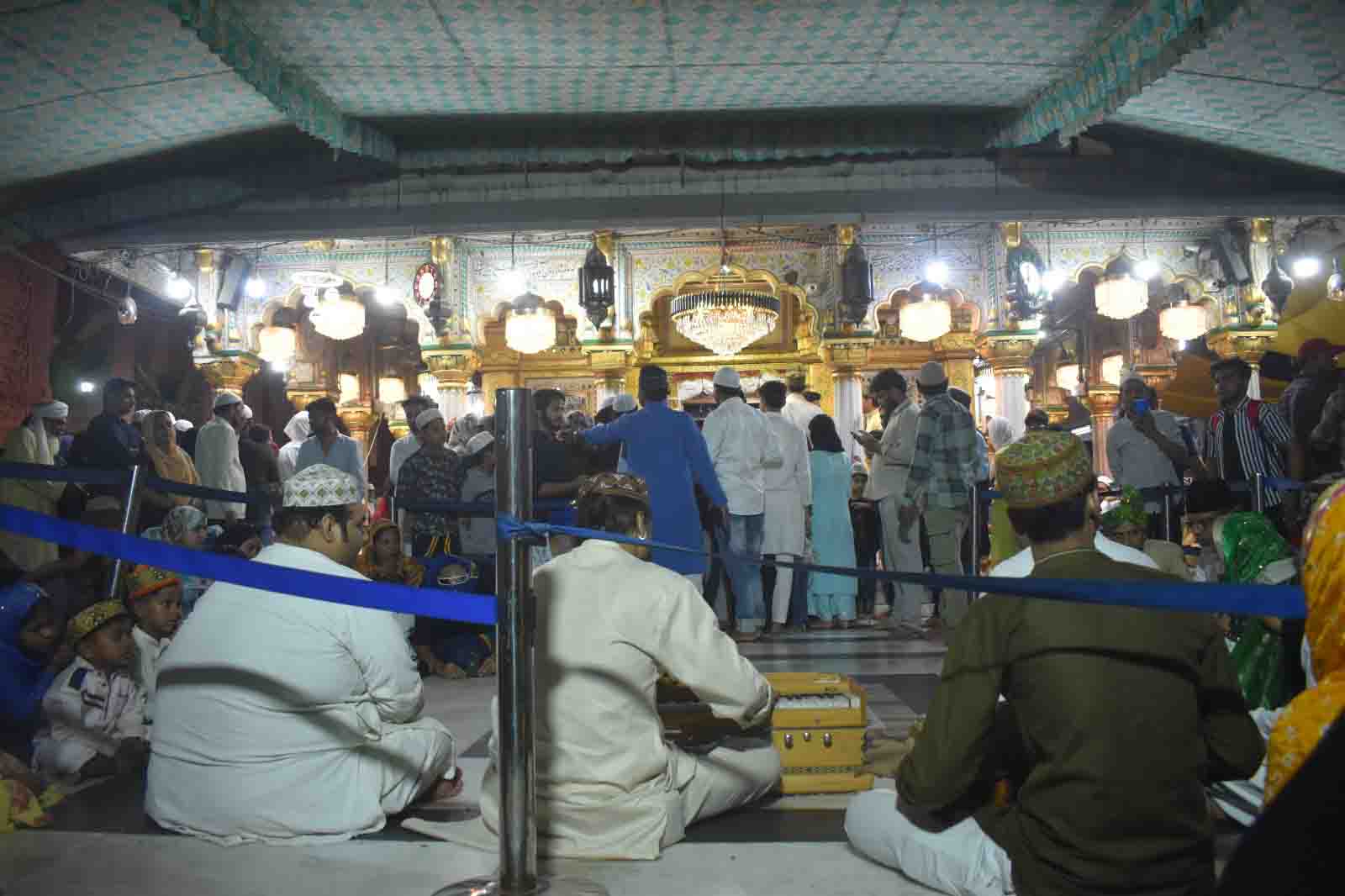 Qawwali singing at Hazrat Nizamuddin dargah

The 700-year art of Qawwali singing is part of Sufism. It is said that Sufis brought it in the 13th century from Iran and Afghanistan when they came to India to preach Islam.
Till date, Qawwallis are sung every evening at the dargah of Hazrat Nizamuddin, located in south Delhi. This dargah is referred to as the 'capital' of Sufis and fakirs.
Visitors to the dargah of Hazrat Nizamuddin sit here for hours listening to his Sufiana music and devotional lyrics. They are from all religions including foreigners and music lovers.
Azan Nizami says, "My life is going on smoothly with the money I get from singing Qawwali and I am very happy with it." Nizami lives in daryaganj area of the old city of Delhi.
Apart from rendering the services at the Dargah, Nizami, and his troupe are also invited to perform at the annual Urdu festival of Jashne Rekhta, and other festivals like Jashne Adab, Hunar Haat, and the prestigious concerts of the Indian Council for Cultural Relations (ICCR), All India Radio, etc.
Azam Nizami's younger brother Nazim Nizami also participates in Qawwali with him. He says, "I have been singing Qawwali here every evening since I was a child. People happily give money, which comes due to the kindness and blessings of Hazrat Nizamuddin. Our life is running smoothly with His blessings."
Azam Nizami doesn't take rendering a Qawwali at the Dargahg as a profession, "This is our family's work and responsibility. Our fathers and grandfathers taught us and we would also like our next generations to do the same."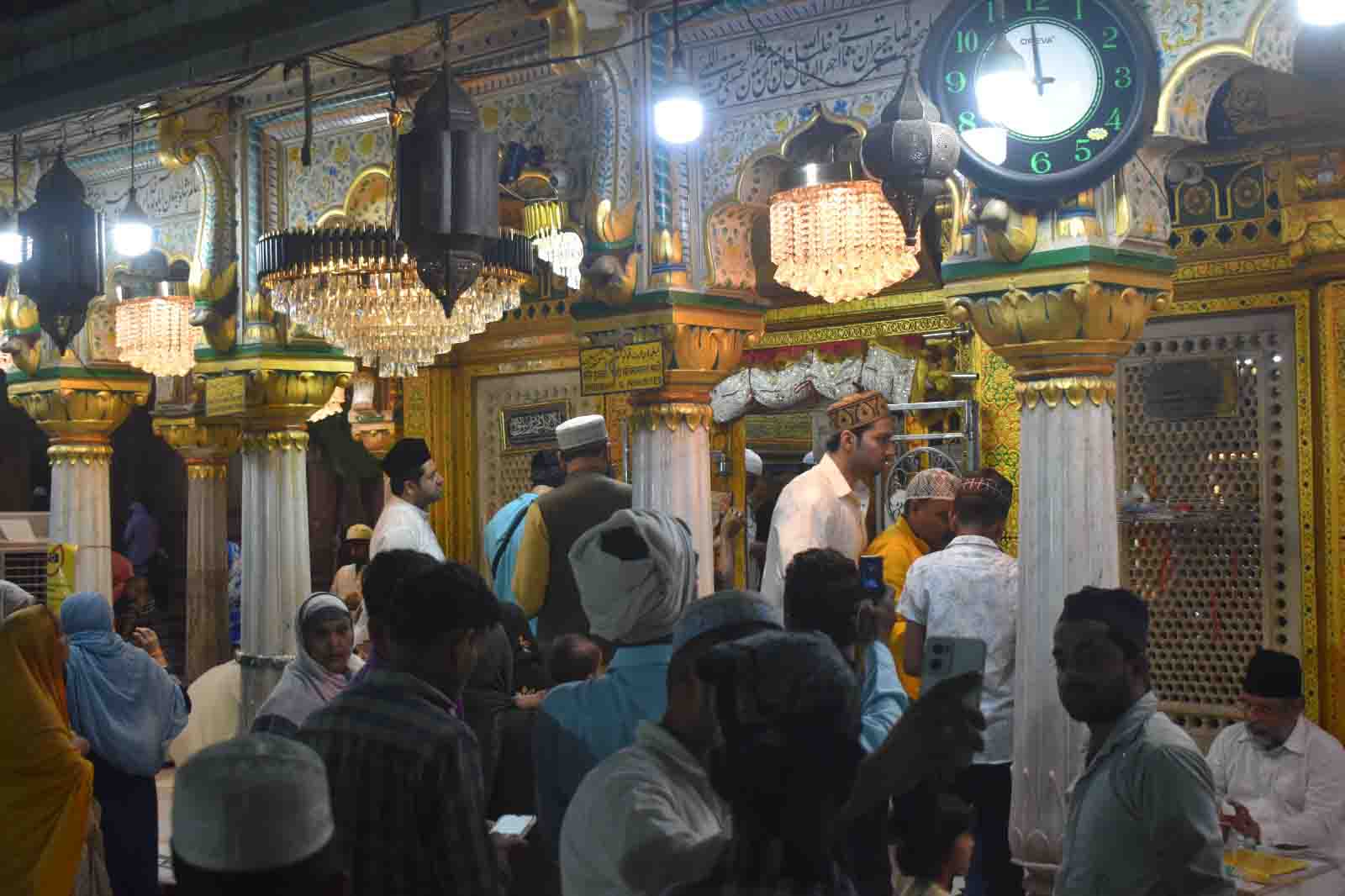 People immersed in Qawwali music at Hazrat Nizamuddin Dargah

He said the young children of his family get associated with the singers at an early age and therefore they don't need formal training. The children are asked to study at home and then sing Qawwali.
Nizami recalls says since nobody teaches a baby fish how to swim the family's children also take to the music in the normal course of life. He says the family earns about 40-50 thousand rupees in a month.
According to him, his great-grandfather Tandras Khan was a royal singer.
Hasnain Nizami says that the family is managing their lives with whatever they get paid by the visitors to the shrine. "One rupee we get after singing Qawwali there is equal to one lakh rupees."
Usman Niazi, who has sung qawwali in famous Hindi films like 'Jhoom Barabar Jhoom', also sings qawwali every evening at Dargah Hazrat Nizamuddin. He says that our father Sultan Niazi, grandfather Ustad Ghulam Hasnain Niazi, and generations before them have been reciting Qawwali at the dargah.
Like other Qawwals, Usman Niazi also wishes that his future generations will carry forward the tradition
He says, "This is our tradition, how can we leave it? This is where our family and needs go." He says the art of Qawwali singing is preserved because of them and today many others are also able to make this their profession.
ALSO READ: Sufi saint Ajan Fakir made Assam a symbol of the syncretic religious traditions
Mohammad Ali Nizami is a 10th-class pass. He also sings Qawwali with great gusto. He said," I have learned Qawwali from Father Ghulam Ali Nizami. We have spent our childhood amidst songs, ghazals, Sufi Kalams (poetry), and we feel very good sitting and singing with others."