Habib Tanvir (L) in a play at London Lyric theatre, Habib Tanvir (R) in a candid pose with his pipe
Shaista Fatima/New Delhi
"Habib Tanvir Saab was a fair, tall, suave man with a great base voice who held a pipe in pure Marxist style..", recalls Dr.M Sayeed Alam, a renowned theatre playwright-actor-director. Dr. Alam says, "Tanvir was a great loss to Urdu theatre... "

Habib Tanvir, a Padma Shri theatre playwright- actor-director-poet was born in Raipur, and is remembered for his work with the folk artists of Chhattisgarh in "Naya Theatre". Those belonging to the theatre background refer to Tanvir as the doyen of Indian theatre. He lived a long life spanning 85 years during which he not only became a household name for many but his plays like Agra Bazaar and Charandas Chor (originally written by Vijay Dandetha) are still enacted by groups nationwide.

He died on June 8th, 2009, leaving behind memories but sitting in the quarter of the 21st century a layman would ask, "Who was Habib Tanvir?" "What exactly was his niche?", "Is he still relevant today? Is he a forgotten hero, did he leave a legacy/ or maybe is he still relevant?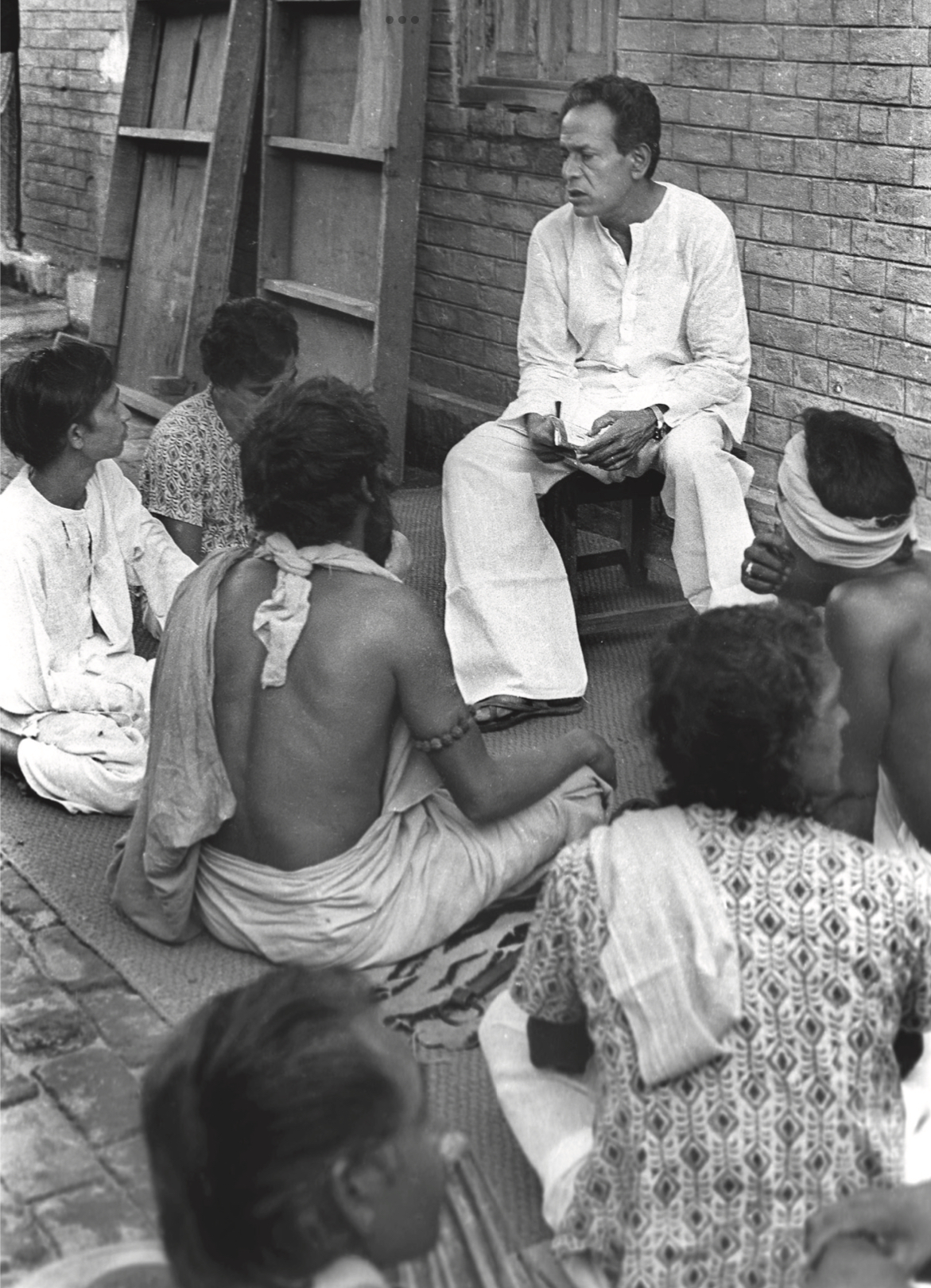 Habib Tanvir with his tribal artists, courtesy- Anjum Katyl's book Habib Tanvir-towards an inclusive theatre
Rajesh Chandra- a veteran theatre critic and a journalist told Awaz the Voice, "He was one of a kind, who took Indian art forms to Europe and West alike, won accolades and became an International figure…". He says, "His issues were very basic, ranging from common man's struggle to his everyday needs, greed and portraying them with a firm believe" Asked about Habib Tanvir's school of thought he says, "He had a chain of followers, many worked with him in his group and many were his contemporaries but not many were of his caliber or his girt…"
He adds, "I agree, after him, no one could carry his legacy, we still do not have anyone who could it forward, but still, I feel there are a few who are carrying his legacies, like Arvind Gaur, his nukkads (street plays) and plays all are very provocative and they portray life…." People may tend to disagree with Chandra as Tanvir's plays were neither provocative nor did they pontified, Tanvir was a rebel, a raconteur who worked with the tribal artists.

Veteran theatre critic and author Anjum Katyal in her book "Habib Tanvir-towards an inclusive theatre", quotes Habib Tanvir as, "the educated lack the culture which... the villages possess so richly though they are illiterate... being more than compensated by the rich oral tradition of our culture and who therefore are the more cultured…the rural sophistication is not understood by the urban people and vice versa. But I find the villagers much more sophisticated... in many, many instances. In the arts they are much more sophisticated…."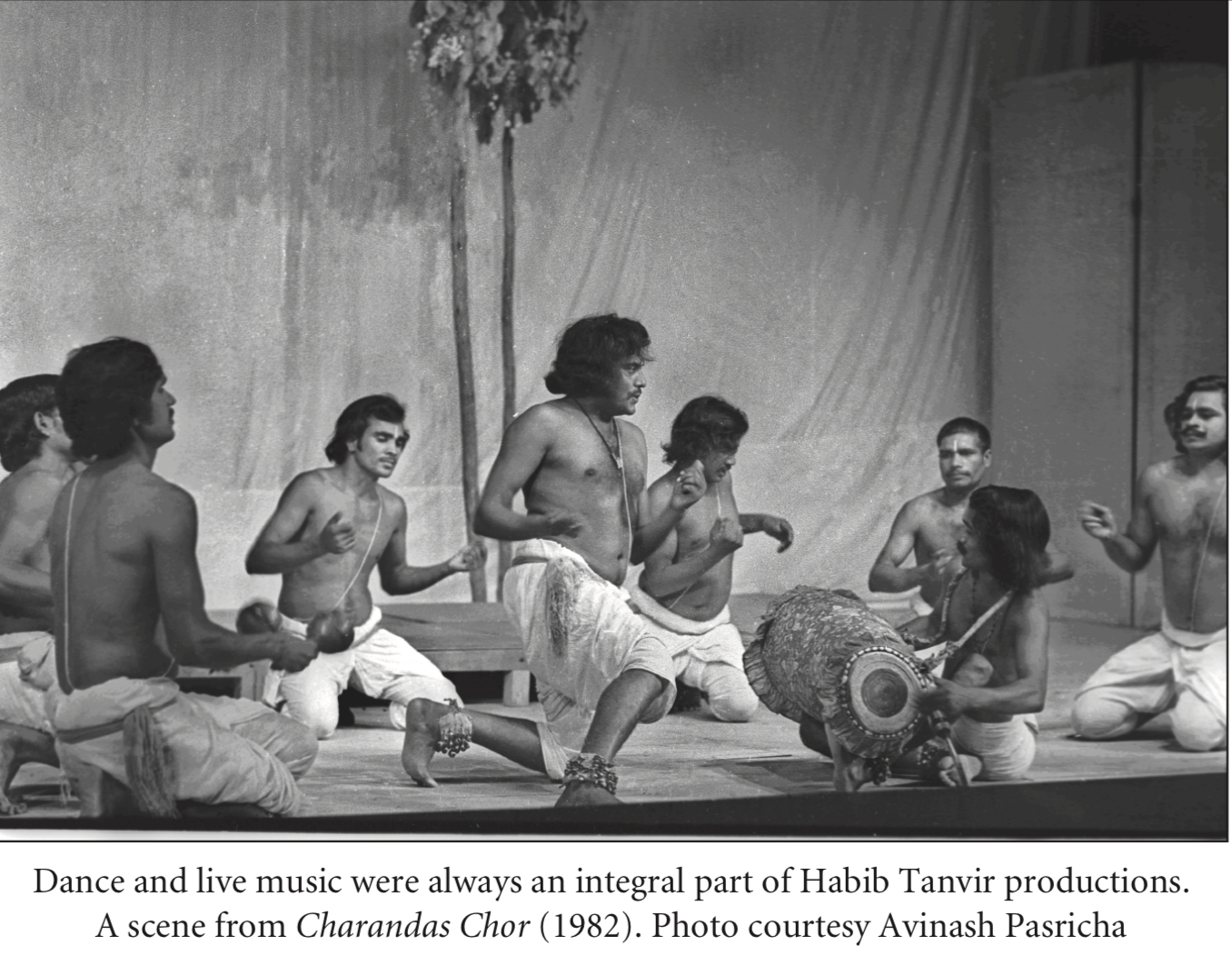 Pic Courtesy- Anjum Katyal's Habib Tanvir-towards an inclusive theatre
Unlike many parts of the world where theatre is a profession and is taken seriously, in India it is still a hobby and not much is at the artist's disposal, Rajesh says, "Of course, we do not have any funding for the theatre lobby, not much has ever been done for the upliftment of the theatre society…but the history of theatre has always been that about bringing a change, a revolution about the regime…"
Naseeruddin Shah once wrote about him, "He was a peculiar man who would pick up a corner to sit in a room and while looking down he'd know exactly the whole ambience of the space…one look and he'd know the whereabouts of everyone in the room…"
Peter Brooke, Tanvir's contemporary in theatres from the West, who passed away last month was in awe of Tanvir's skills of syncing folk theatre with modern art forms and creating a canvas that was larger than life. In an interview with Times, London he said, "Tanvir's work comes from the village viewpoint. It's comic and it does not attack big social problems. It sticks to day-to-day questions of greed, hypocrisy, and exploitation… Naya Theatre's position is closer to the socialism of Satyajit Ray's films: a clear-cut political line based on the simple facts of injustice." Brooke was apparently mentioning his iconic play "Charandas Chor" in which the protagonist, a thief, is a man of his words.

Chandra says that though Habib Tanvir and Safdar Hashmi created a change through theatres but according to him theatres can never be commercialized, "yes it should be self-sustained and independent, even Habib Tanvir said that theatre should be dependent upon society and not on the government else it may create havoc.. If theatre isn't a part of the ground problems then how can it totally display the underline cruelties…..theatre associations should come together to create a powerful front…"
According to Dr.Alam, Habib Tanvir was well versed in English, Urdu, and Hindi, he says, "he had seen the world, had been with RADA (Royal Academy for Drama & Art), studied even met Brecht…he became disillusioned with modern art, the superficiality of the western world and this was his greatness too…thus I think he went with folk art… "
Recalling his first encounter with Tanvir, Dr.Alam says, "I remember performing my first scripted play in Shri Ram Centre for Arts, Tanvir Saab was also present, I went there and humbly invited him over.." He adds, "He came over with his 17 other bhakts (disciples who were adulators) and in the middle of the performance walked out…I was irked and hurt…after that I never invited him over…
"Tanvir Saab with all due respect trained bhakts, he couldn't really groom anybody to carry forward his legacy...even today the artists who call themselves his "chelas" (disciples), are mere cushion and social media activists who hardly knew him as a person…"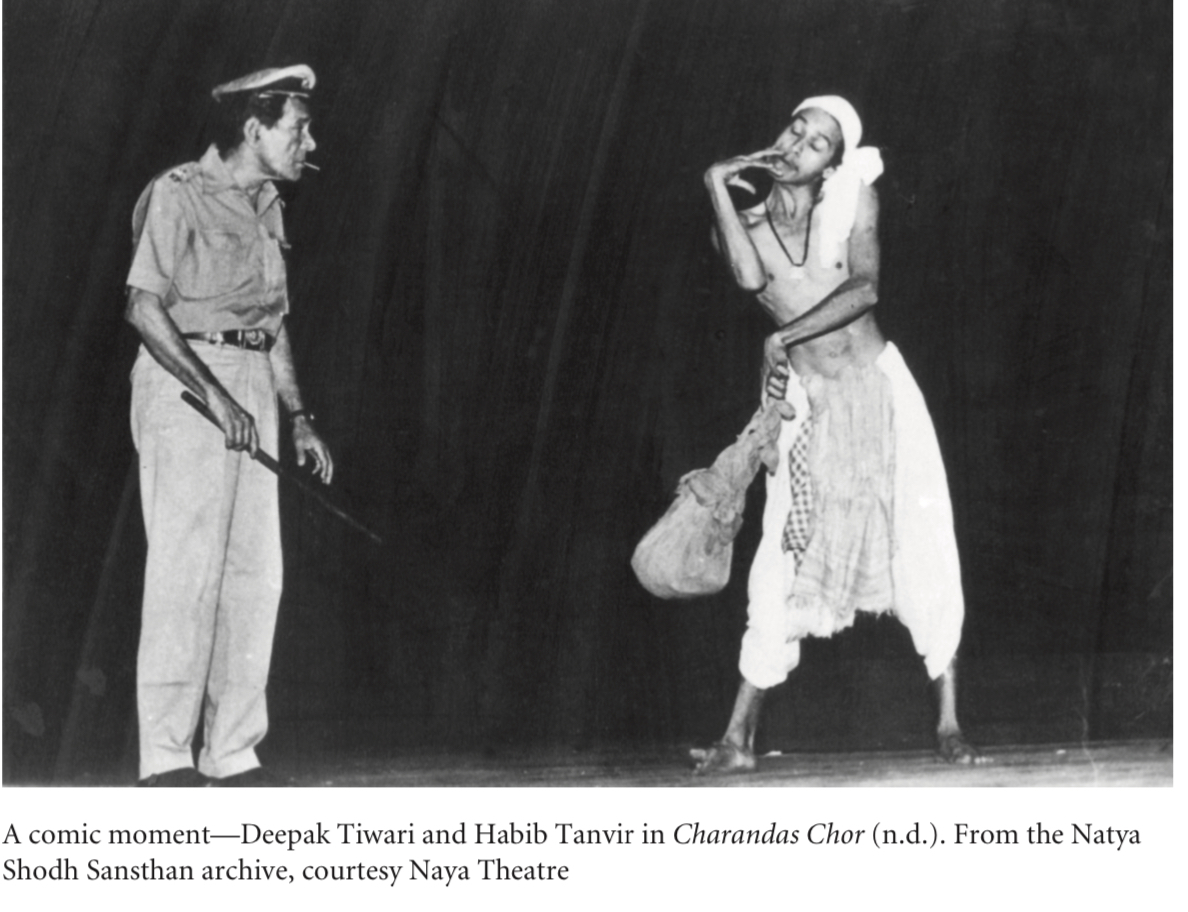 Pic Courtesy- Anjum Katyal's Habib Tanvir-towards an inclusive theatre
"But..", Dr.Alam continues, "his quintessential sense of creating gold out of nothingness was immense, for example—he could have easily penned a play on the lives of popular poets like Ghalib, Mir, Zauq..but he went with Nazir Akbarabadi who wasn't considered a poet in his life, but Tanvir Saab created a masterpiece called Agra Bazaar .."
Tanvir's reminiscence of penning his immortal play Agra Bazar, which is based upon the life of the common man's poet "Nazir Akbarabadi" can be seen in Katyal's book Tanvir says, "I went and lived in Jamia with Parvez (a writer friend of his and professor at Jamia) and there'd be food and a hookah and gallons of tea and I writing, reading, writing, reading all of Nazir's verses, all that was written about him, very little documented as hard facts. The one thing that did emerge was that the poetry of Nazir was spurned by the critics of the day who hardly considered him a poet, because they didn't like the people's language that he used; they thought it vulgar language because it was colloquial…"
According to the book, Tanvir found the simple language interesting, he even praised Nazir saying, "He was a man of great humility and never bothered to get his things published or collected. He was known to respond to anyone wishing to get something written; maybe a vendor saying tarbooz pe kuchh likh dijiye (please write something in praise of the watermelon we sell). So he would, and they'd sing it and sell their fruit. And all of it is beautiful poetry.
Nazir wrote about swimming and kite-flying tournaments; he wrote about all the indigenous flora and fauna of India. If you want to, you can trace them through Sanskrit literature, or through Nazir's poetry. Most Urdu poetry repeats Irani flora and fauna, at best trees which are found in Kashmir. Nazir has motiya , chameli, genda, all Indian flowers; tota, maina, baya, gilehri -all these animals and birds; references to all the religions-Guru Nanak, Hazrat Mohammed, Ali, Baldevji ka mela, Ram -a very eclectic, open-minded man. True poet. Very sensual, very amorous poetry with some unprintable words, but beautiful, calling a spade a spade-that sort of poetry...."
Also Read: Ajmer Dargah: Jannatul Darwaza opens after two years
The stature of Habib's work is humongous yet at present time "Naya Theatre" is a talk of yesteryears, Dr.Alam says, "Unfortunately, I have been a witness to his downfall for which he is responsible, he could have done a lot for the theatre industry, could have made it popular but...see if one is training a colloquial artist in his or her own language then nothing is added to their talent…his forte could have been a legacy but…he was a rebel.."

Dr.Alam winds up by saying, "he was a master of Modern Theatre, European Theatre, Modern Stage, Oriental Theatre.. he was an independent artist who decided to be original…even if that meant leaving behind no legacy…"