Nakul Shivani/ New Delhi
Ishaq Ahmad Magry is a man who epitomises grit, determination and the never-say-die attitude to win battles at all cost. This visually impaired scholar from Hindwara in Jammu and Kashmir recently completed his Doctorate in Philosophy (PhD) from the Jawahar Lal Nehru University in New Delhi.
Dr Magry is a wonderful example of an Inclusive India. Imagine, a visually impaired Muslim boy travels out from his home in Kashmir to be embraced by people from different religious and social backgrounds who then help him to walk on the steps of success. "It is this inclusiveness that will make us a superpower," he says.
He did his Doctorate over a period of nine years in Mughal Administration and Polity in Kashmir from the years 1605 to 1658. A student of the National Institute of Visually Handicapped, Dehradun, Magry came to Delhi in 2005 to do his honours in History from the Hindu College. After completing his graduation in 2008, Magry enrolled in JNU and then went on to do his PhD under Professor Heeraman Tiwari.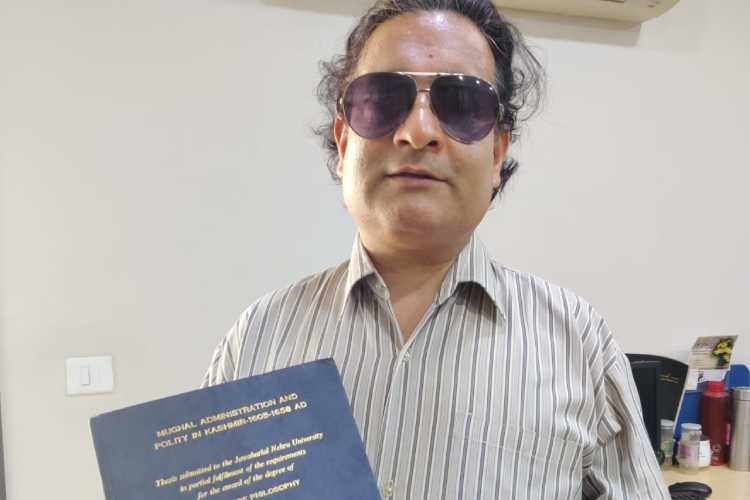 Dr Ishaq Ahmad Magry with his Doctorate work
Dr Magry's success story is a slap on the face of the naysayers in India who think people belonging to the minority community here are victimized and discriminated against. Rebutting any such perception, he says," The perception that Muslims are marginalised in India is completely wrong. I am a living example of the fact that Muslims are not denied opportunities in this country."
"This perception is completely wrong. India gives equal opportunities to all religions. There is no question of anyone feeling marginalised," he adds in a forceful voice.
Recalling his initial days in Delhi, Magry says, he is ever grateful to people who helped him and made him feel comfortable in an alien city. "Nobody looked at my religion or the fact that I was visually impaired or that I was a Muslim. Everyone came forward to show me the direction."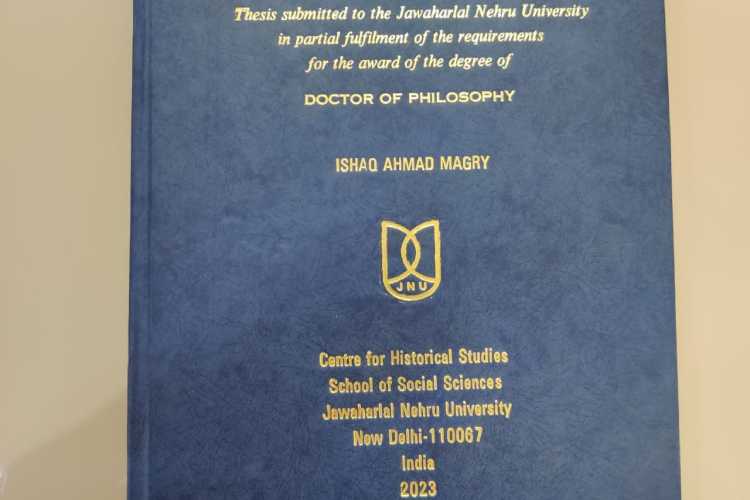 Dr Ishaq Ahmad Magry's thesis
Dr Magry also has a sound advice for the Muslim youth in India. He feels they should take the initiative to leapfrog in life, rather than wait for the government to come and handhold them. "Every Muslim person must look for the opportunities available. They must stop playing into the hands of the narrative that says Muslims don't get opportunities."
Now a prominent member of the Muslim scholarly community, he wants to be the torchbearer for youngsters from his community who wish to pursue their dreams. "India is a land of different religions and diversities. I want the youngsters to cut-out the negative surround sound and push themselves towards their dream."
ALSO READ: Farheen Naaz is out to change the way world thinks about menstrual health
Dr Magry's achievements are remarkable in no mean terms. He symbolises not only a fighter's attitude but also an inclusive India where despite coming from different religious and social backgrounds people live together and help each other in climbing the ladder of success. "This is what India is all about," he sums up before feeling his cleanly bound Doctorate ready for the world to read.