Schloss Elmau
Prime Minister Narendra Modi, who was on a visit to Germany to attend G7 Summit, presented its leaders with various gifts displaying India's rich art and crafts, particularly, those related to Uttar Pradesh's One District One Product scheme
His gifts included a hand-knotted carpet, carved matka, itr bottles, tea set, brooch and cufflinks.
PM Modi gifted a Metal Marodi carving matka to German Chancellor, Olaf Scholz. This nickel-coated, hand-engraved brass vessel is a masterpiece from Moradabad, which is also known as the "brass city" of Uttar Pradesh.
He gifted Gulabi Meenakari brooch and cufflink set to US President, Joe Biden. Gulabi Meenakari is an art form of Varanasi.
A platinum-painted, hand-painted tea set from Bulandhshahr, was gifted to UK PM Boris Johnson.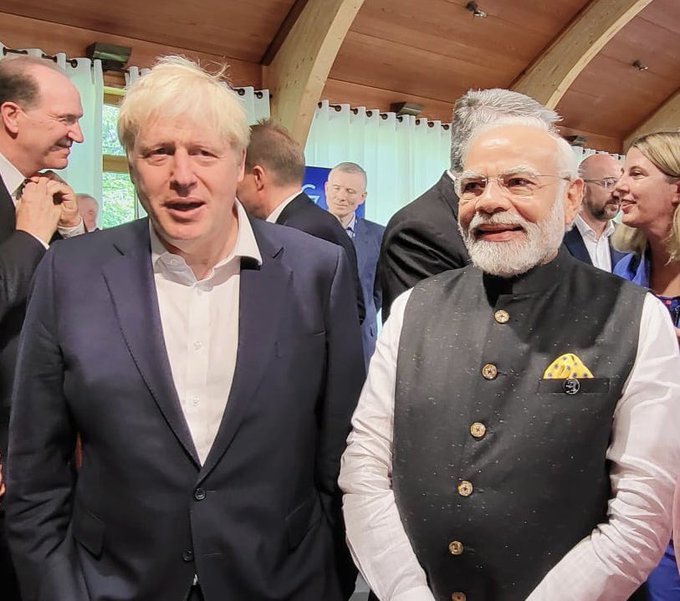 PM Modi with UK President Boris Johnson
To French President Emmanuel Macron, PM Modi gifted Itr bottles in the Zardozi box. The carrier box has been crafted in Lucknow.
PM Modi gifted hand-knotted silk carpets which are famous all over the world for their softness and craftsmanship to Canadian PM Justin Trudeau.
ALSO READ: Modi at G-7: 'Chai pe charcha' and warm handshakes
Other than G7 leaders from Canada, France, Germany, Italy, Japan, the United Kingdom and the United States, as well as the European Union, PM Modi also gifted items to leaders from Indonesia, South Africa, Senegal and Argentina.
ALSO READ: Kalanamak Rice: Buddha's blessing for hometown Siddharthnagar