M Mishra/Lucknow
A century ago, when the Prince of Wales was scheduled to visit the City of Nawabs on November 29, 1921, no stone was left unturned in extending the hospitality to the Royal visitor. Overnight, Hazratganj was converted into a beautiful park.
Fully grown trees and beautiful flowering shrubs were brought from Banaras to create a majestic hideout for the visitor. As the Prince had a reputation of being an animal lover, some selected animals were also housed in the hurriedly-created garden.
The place is today called the Nawab Wajid Ali Shah Zoological Park and it's celebrating its centenary.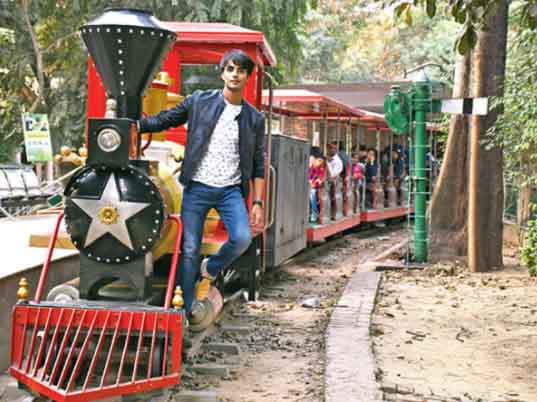 The Toy train is a favourite of visitors of all age groups
The park then stretched to three kilometers. Since the trees were brought from Banaras, the place acquired the nickname of Banarasi Bagh. However, after the arrival of the Prince of Wales, it was renamed the Prince of Wales Zoological Park. Over the years, it became the Nawab Wajid Ali Shah Zoological Park or the Lucknow Zoo.
This 5,000-plant garden is witness to the transformation of the city of Nawabs – from horse carriages, tongas being the only mode of transportation the city boosts of metro rail and umpteen number of privately owned luxury cars.
The Zoo was set up by the then British Governor Sir Harcourt Butler. Nawab Nasiruddin Haider of Lucknow laid its foundation and also built a Baradari, a typical Mughal era architectural feature.
Even today, that baradari stands; also the glimpses of the Nawabi art can be seen in the garden. Initially, the British officers used the place as a resort where they came with their families.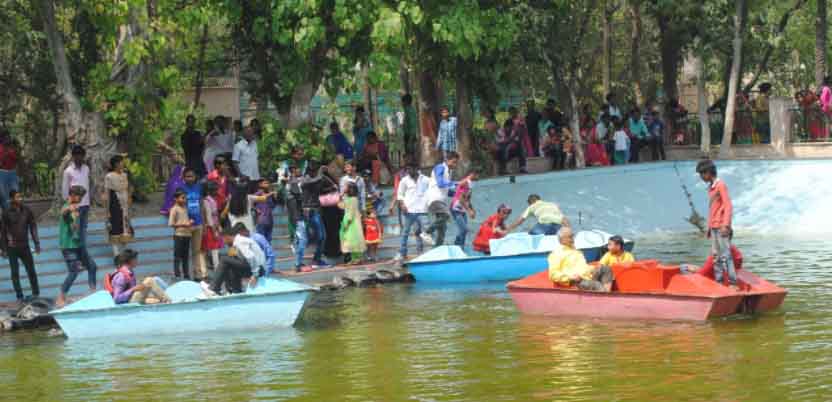 Local tourists enjoying boating inside the Zoo
Back then a common man was forbidden to visit it.
It was first named Banarasi Bagh; then changed to the Prince of Wales Zoological Garden Trust. Finally, in 2001, it became the Zoological Park, and recently, in 2015, it was renamed as Nawab Wajid Ali Shah Zoological Park in 2015 as a tribute to the Nawab.
The place is the choicest haunt of wildlife enthusiasts as it hosts more than 1,000 animals brought from all over the world and thousands of plant varieties.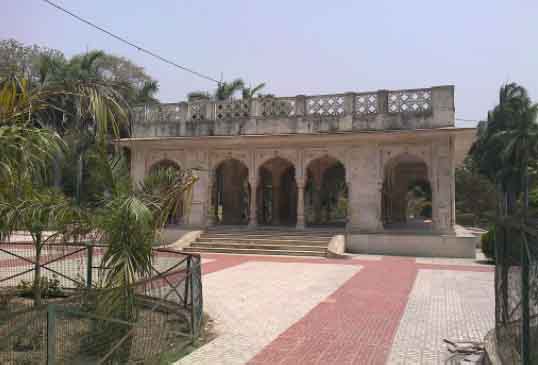 The Baradari of the Zoological Park
In 1925, Raja Balrapur built the enclosure for Asiatic Lion inside it; In 1935 Rani Ram Kumar Bhargava laid a special Parrot Lane. Today it has 100 enclosures for different animals.
The keepers of the zoo and citizens have painful memories of the deaths of elephants Sumit and Jayamala, and of Hukku Monkey. The zoo remained closed during the Covid-19 lockdown.
However, the moment the lockdown was lifted, the wildlife lovers rushed there in large numbers.
Also Read: The Varanasi hot air balloon festival
l