Shaista Fatima/New Delhi

As a child, Jehan hardly interacted with her classmates and other students in her school. She sat quietly in the classroom, observing the scenery outside, and often sketching her impressions on paper with her crayons.

She didn't join her peers in the playground too. Once home, Jehan sketched scenes of the playground on paper. Little did she know that she was a born artist who would turn her passion into a career.
Born and brought up in a Royal Family in Bhopal, Madhya Pradesh, Nawab Jehan Begum says that from her childhood painting and creativity "chose" her. "I started painting before I even started learning to write the alphabet".
"My paintings won me appreciation in school and later in college." However, it was a few years later that she decided to take the big leap and pursue a career as a full-time artist."
Speaking with Awaz-the Voice over the telephone Begum Jehan says, "Though I had decided to pursue the field of creativity yet I had my fears in pursuing a full-time career as an artist."
She says that she had no idea of surviving as an artist or even it being a lucrative career. "For me being an artist meant success at the age of 17 and so." Then came the era of social media and she started sharing her works in the digital space. Her works were well received. "I never painted for money but when suddenly I started getting orders and was able to sell my works for good returns. It was a new experience for me, it felt surreal and that made me decide on turning my passion into a career."

"People liked my work and were ready to pay a good amount for it, and it was beyond my expectations...", she adds. Her clients are the professionals like doctors, engineers, politicians, bureaucrats, etc. Her father is a distant relative of Saif Ali Khan's paternal family, "My father belongs to Nawab of Pataudi while my mother belongs to a Jagirdar family of Nashik.."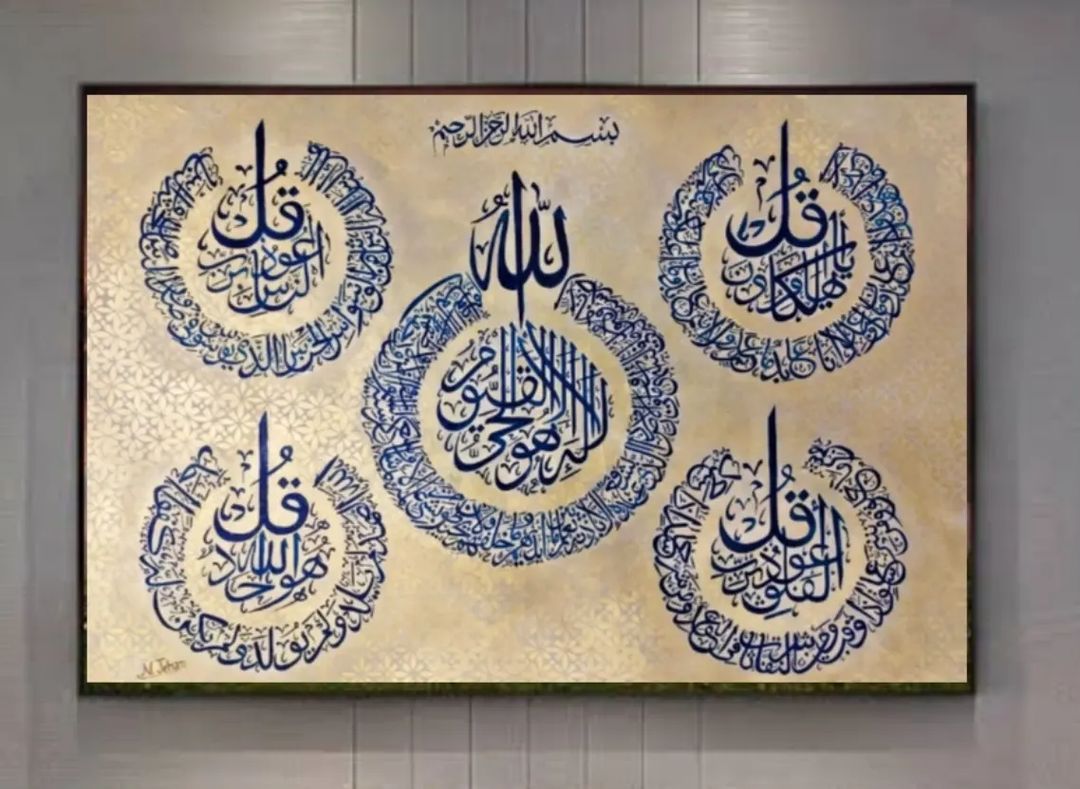 The art of Calligraphy of Begum Jehan

On her childhood spent in a royal household she says, "It was very normal but yes coming from an aristocratic background I and my siblings were restricted from traveling alone." Their parents were quite protective of their children. "My dad was into business, and my mom in politics, I never really got the direction as to shape my career."
Also, she and her siblings had to be careful of their family's image. However, her mother supported her. "Whenever I had my exhibitions or when I was invited to some other country for my work she accompanied me and stood by my side," she remembers. Jehan did her master's in drawing and painting. Her signature styles are abstract modern art, "I use palette-knife for my works and add real gold to it to give it a royal feel and look."
She is also passionate about Arabic calligraphy which she paints directly with a brush with her free- hand. Her calligraphic works portraying the Aytal Kursi and the four Quls (Surah Al-Kafiroon, Surah Ikhlas, Surah Al-Falaq, Surah An-Nas) are a few among many that are lapped up by the customers.Tawoon is a stance-like form where an artist paints freely and is often unaware of the outcome, Jehan says, "I remember waking up in the middle of the night and painting an abstract art form on the canvas with my bare hands, after finishing it I dozed off and when I woke up in the morning I couldn't believe that it was my work.."
She was invited by Ferrari World Abu Dhabi as a guest for her Ferrari car painting. She made paintings for the Taj Lake front Bhopal, one can see her work displayed at Bhopal airport and Cymroza art gallery in Mumbai. She has also participated in several national and international painting exhibitions, "I have sold my paintings in every state of India and countries like the UK, Australia, Saudi Arabia, Dubai, Maldives, and Abu Dhabi."

Her recent painting of the tricolour flag released on Republic Day went viral on social media. It portrayed Jai Hind written in 12 different Indian languages that not only portrayed unity in diversity but also became a symbol of syncretic India. "It was a fusion of calligraphy and freeform", she adds.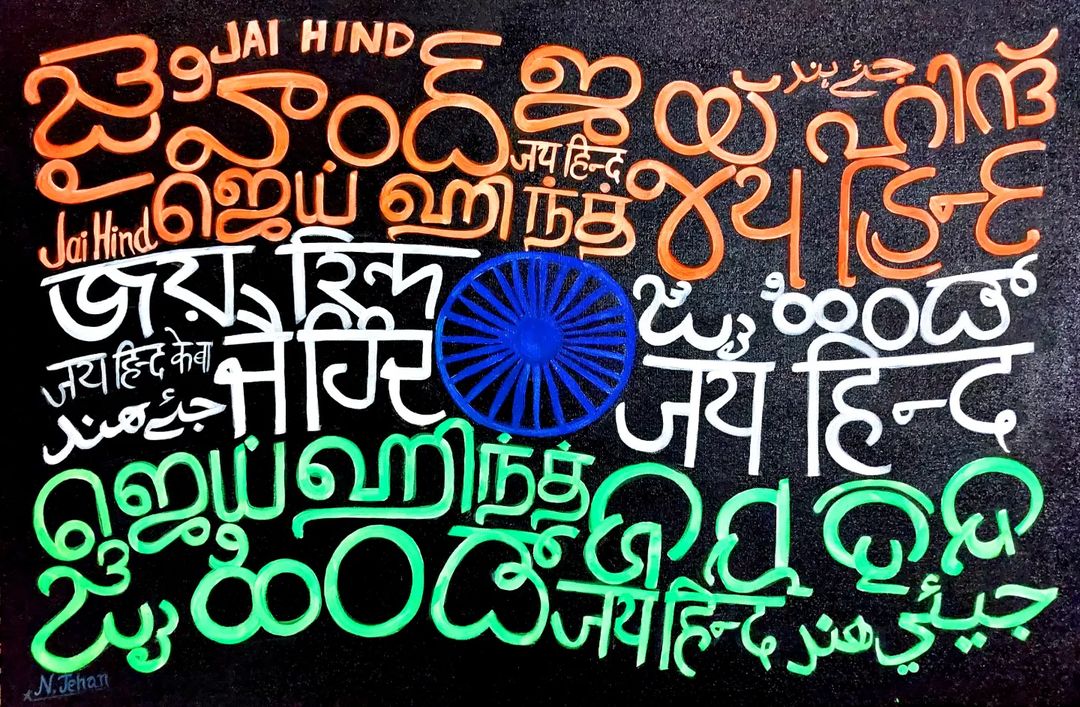 One of the iconic paintinings of Begum Jehan

She also has the world record for making life-like real Gold abstract art paintings using palette knives that have been certified by Harvard world Records London. Jehan lives in Mumbai where she and other senior artists hold regular exhibitions, "These exhibitions are free for all participants and are held to make the public appreciate the art form."
She says while they sell some paintings in these exhibitions, the appreciation of the public is their best return. She says generally parents come with their children to see our exhibitions; they are so excited to see the paintings, colors, and everything". Jehan says given a chance she would hold an exhibition in every country and every city.
Recently the artists have started painted public places like subways, railway stations, underpasses, and sidewalks in many Indian cities, Jehan however, feels that that kind of artform is perishable. "Though I agree this form is easily accessible I prefer creating work that is everlasting and would be remembered even when I am no longer alive."
She hopes that people would understand that it takes one, two, three months, or even a year for an artist to complete a painting, "And these prints are also printed on the canvas, so it is very difficult to differentiate." Asking people to not compare a painting with printed fabric, Jehan says before purchasing an artwork one should "touch the canvas and feel the strokes of an artist or see the signature of the artist, that is the basic proof of authenticity." She considers Pablo Picasso and Collins as her inspiration.


A painting by Nawab Jehan (courtesy: Instagram handle of Nawab Jehan)
She says that art and politics can never be mixed, "It pains my heart to see these young kids splashing red paint over the timeless piece of art. I feel it is just for that instant fame and has nothing to do with protecting the environment."
ALSO READ: Abu Sufiyan's Purani Dilli Walo Ki Batein rejuvenates a culture on brink of extinction
Jehan wants to make a difference by helping the poor and needy with the funds collected from the sale of her paintings, "I want people to get positive vibes whenever they see my paintings."