Shaista Fatima/New Delhi
It was the year 1929, and the struggle for India's freedom was on the mind of every individual - from teenagers to adults and elderly alike - each one of them contributed to the mass movement in their way. A 13-year-old boy, Hardas Sharma was no different. Having run away from home to find his true calling, he somehow landed in Gandhi's ashram and attended Gandhi's lecture on the freedom struggle; was mesmerized and decided to join the national movement.
The Sunday Longread

He returned to his hometown and went straight to his 28-year-old mentor Ahmed Pehalwan in Uttar Pradesh's Lalitpur town. He told his Guru: "Gandhiji is fighting for India's independence, can we not do the same..?
Ahmed Pehalwan asked, "What does Gandhi say about Independence?" Sharma replied, "He preaches truthfulness, don't kill anybody even if somebody is being rude to you, don't force someone to work for free, no untouchability, not differentiating Hindu and Muslims and if possible then one must wear Khadi…"
The preaching sounded doable to Ahmed Pehalwan except for the one on Khadi". He said wearing khadi could be a problem but rest must be followed. "We'll get akharas open in different places and admit students who'd follow these principles…"
Based upon the same principles many akharas were formed that eventually gave birth to Satyagrahis.
In 1930, the salt march, or the Dandi March led by Mahatma Gandhi became a household rage that too in an era where there was no internet or mobile. Ahmed Pehalwan carried the movement from his village with his deputy Hardas Sharma.
As a result, both were caught and sent to jail. Since Hardas was a teenager he was let free whereas Ahmed had to serve some time. Ahmed and Hardas were bound by a father-son relationship. The teachings instilled by Ahmed in Hardas cemented the bond. No wonder the bond was passed on to his son Vipin Kumar who was born on 11 March 1948. Today, sitting on his study desk in Sarvodaya Enclave, New Delhi, Prof Vipin Kumar Tripathi reminisces, "Once Ahmed Pehalwan came to Delhi and it felt as if our grandfather had come to meet us, such was our bond, and such are our teachings.."
In free-wheeling conservation with Awaz-the Voice about what made him so much interested in the education of Madrassas children despite being a career teacher in IIT's department of Physics, Tripathi went down memory lane back to his childhood and said, "Our culture and traditions aren't just on paper,my father and his mentor (wrestling guru), me and my teacher (Maas Sahab Ahmed Baksh) were one... My father had studied till class 4 and was primarily a farmer, if it wasn't for my Maas Saab/Moulvi Saab (Ahmed Baksh) I wouldn't have excelled in the field of academics. I owe my knowledge of mathematics and Hindi to my Maas Saab.."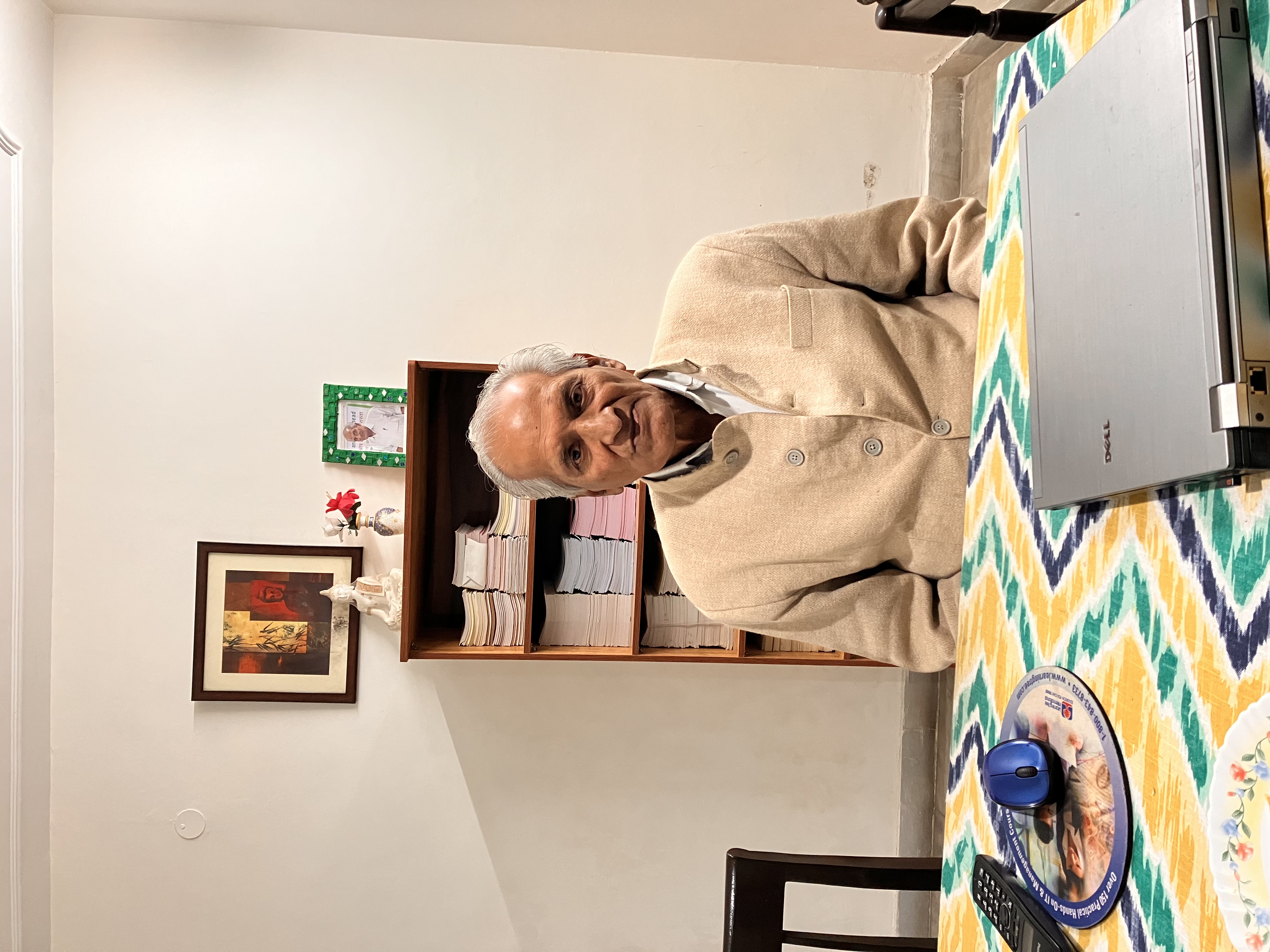 Professor VK Tripathi at his study desk at his home in Sarvodaya Enclave
Mention of his Maas Saab invokes memories of his childhood spent around Muslims and his mentor Ahmed Baksh, who continues to be his life coach. "Ahmed Baksh was a government school teacher who was posted in our village". This happened to be his last posting and he taught VK Tripathi in primary school in Piprai village of Lalitpur district in Uttar Pradesh. "He promoted me from 1st standard to 5th after teaching me the basics but he cared for me for another 40 years..."
Professor VK Tripathi who was eventually appointed as faculty of Physics at IIT-Delhi in 1971, says, "Maas Saab cared for me like his own son, he was there with us through our highs and lows. He taught me math and was known in the whole town for his excellent mathematics skills..he was an amazing teacher…."
However that wasn't it for Ahmed Baksh, Professor Tripathi goes on to tell about an incident as narrated by his mentor, "In 1947, Mass Saab was posted in a village 30 km from Lalitpur, while his family lived in Lalitpur in the middle of Hindus. He would visit home once a month or on special occasions. On one such occasion he (Ahmed Baksh) visited his place only to find the door was locked. On asking around, people told him that, "Muslims of the town, out of panic, have left for Bhopal, your family also went with them in the morning". Maas Saab went to the railway station and found his family. He asked members of his family why they were leaving their country, and told them "Nehru and Gandhi are still alive, India is our true nation and we must stay back..." He brought back his family and several others."
A while after my Abba/ Dau (Professor fondly calls his father Abba or Dau) got back other families as well, "there weren't any riots in our Lalitpur". "My Maas saab played a major role in it...", after the heroic act of bringing back the families, the Hindu community was in awe, "The whole village was like this man has bestowed us with the faith, he brought back his family from going away (to Pakistan), thus we must guard them now..."
Professor says that this was the overall impact of Gandhi during independence and that their families had faith in "Gandhi and Almighty Allah".
Jogging through his memory lanes, the Professor remembers yet another incident of syncretic India, He narrates, "My father once brought back the picture of Bhagwan Ram and as a kid, I went to Maat Saab and told him.." Ahmed Baksh made a garland out of some red and green paper, went to Professor's place, and offered the same to the idol of Lord Rama. "He was a thorough Namazi and offered prayers five times a day but his sheer act of care touched my heart..."
Remembering his father figure is not easy, the Professor gets dewy-eyed and continues, "Beta (child), my aqeedah (etiquette) in Qur'an and syncretism is not only because of my teacher but also an incident that completely changed my life.."
"Once my sister caught cowpox that too the big moles and didn't eat for four to five days, my father checked her pulse and declared her death till afternoon..." Professor then went to Ahmed Baksh and said, "Maat Saab Meri behen aaj dopahar tak mar jayegi (Professor, my sister will die by afternoon today).."
Ahmed Baksh took his abulition utensil and came to the professor's home, he called out Vipin's mother, "my mother came and touched his feet my mother was teary-eyed and said "Meri Beti ko Bacha lijiye (please save my daughter)...and for the first time he entered my home, earlier he has just visited the verandah of my home to offer the garland..."
Ahmed Baksh sat on a stool near Professor's sister's bed and recited some verses of Quran, "unhone wazoo ke lote me pani ko dum kiya aur woh paani meri behen par chidka..(after reciting the verses he blew the water and charged it with good intentions and sprinkled the same), my sister fluttered her eyes...Maat Saab came back again after the afternoon prayers and again after recitation he sprinkled some water, my sister opened her mouth for the first time in 5 days, Maat Saab asked my mother to give her some milk or water..."
"....and my sister survived. You see beta, my veins may have the blood of my parents but my psyche is framed by my teacher... (Humare rago me hindu ka khoon hai par di-dimagh mein musalman ki Aqal hai..)
He says that similarly many Muslim students have been taught by Hindu teachers and the day his professor saved his sister, Ahmed Baksh became their family. "He became my teacher for life. And he looked after one and all..." he said.
Professor says that there were around five classes in the school and he looked after one and all, he cared for everyone. He used to say "you may be a Hindu, a Brahman, or a Muslim in your home but here you are students and you are equal.."
"So If I am secular and I do not have bifurcation or fundamentalism in my mind, it is partly because of my father since he was a freedom fighter and majorly because of Ahmed Baksh...my mentor.."
Professor says that he was an ordinary kid at school. It was Ahmed Baksh's extraordinary teachings that inspired him to work hard and achieve something in his life, "There was a time when I was in B.Sc, I had some financial difficulties and Maat Saab gave me his whole salary to go ahead and study…".
"How can I have any other thoughts apart from respect for a man like Ahmed Baksh who cared for me a lifetime..", he adds. Professor says that "I read the Qur'an Sharif from a different perspective. I interpret it in a different way for me Qur'an Sharif says, "Allah looks after all and there shouldn't be any differentiation…"
During his first tenure (1971-1976) at IIT-Delhi as a lecturer, Prof Tripathi got an offer from an American university and shifted to the USA in 1976. The reaction of Americans to the bombarding in Beirut on Palestinian camps by the Israeli forces in 1982 broke his heart. "Some 20,000 innocent Palestinians were killed and when I wished to discuss this with fellow scientists and professors , they were reluctant to talk, I realized that there the people had the liberty of eating and sitting with legs raised in the classrooms but somehow they lacked the strength to speak about the more important matters…"
The incident became a driving force for the Professor to quit America and he came back to India in 1983 and re-joined IIT-Delhi as Professor in the Physics Department, "Weapons seldom are used for a good cause, normally they are used for injustice. Thus I decided to develop a doctrine of non-violence among my students so that students can speak up against wrong. For the next six years, till 1989, I used to lecture my students against non-violence…", he adds.
Professor then talks about the Bhagalpur riots in 1989 and how Muslims lost their lives in the majority, he told Awaz-the Voice that the riots claimed 950 lives (900 Muslim and 50 Hindu), "they were then followed by the temple movement of 1992…"
He says, "Gandhi was deeply etched in my veins since my childhood, I knew I had but secularism with me as my aid to fight my battle, the communal disharmony ached my heart, and the only way in which I could help the community was through education and resistance against fundamentalism.."
Talking about the juxtaposition of Muslims with terrorism Professor says that it was the Russian (then Soviet Union) invasion of Afghanistan in 1979 that prompted America to build allies like the Taliban and create terror forces (millitants) with the help of Pakistan, "You see the people from humble backgrounds just need their bread and butter, and American forces used them and created Osama Bin Laden who later on became their biggest enemy...I believe the anti-Muslim theory started from there itself.."
The love for imparting knowledge was injected in him by his mentor and thus the Prof kept teaching the underprivileged students near his locality as and when possible but that was not all, "I was desperate to give back what my mentor had given me, thus I helped in establishing Sadbhav Mission in 1989..", he adds.
Today, though, Professor Tripathi is known for his work with the Madrassa students and teachers but it was in the year 2000 that the Professor visited a Madrassa for the first time, "After crossing ITO (Delhi) and just beyond the river Yamuna was a madrassa, I went there and observed the methods of the teaching, their style of teaching was very basic as they weren't exposed to the new techniques of teaching.."
According to the Professor, Madrassas are a ray of hope for the destitute who have no hopes for a formal education or a regular job, "the teachers teach them with limited resources, they keep their families in villages and they stay here as the salaries are very low…"
Recently when a security guard of his locality nonchalantly used the word "Madrassa-chhap" for some students studying in Madrassas, Professor felt deep anguish and made an explanatory video on the same. His daughter Rakhi Tripathi shared the video on various social media platforms and it went viral in no time.
Professor believes that not a single student or teacher from an Indian madrassa has ever been involved in any kind of terror activities, "they are simpletons coming from humble families.."
Professor kept teaching the students once a while but was not satisfied with the efforts, "Having everything and yet feeling unsatisfied was what I often felt, I had a debt from the Universe, the imparting of knowledge had to be done and thus came the year 2004 when I finally launched the mission of grassroots education or education for all under Sadbhav Mission..", he adds.
A workshop with the madrassa students
Prof Tripathi started workshops for the Madrassa teachers. He organized his first workshop in 2004 under the "teach the teachers initiative", "It was a 10-day Mathematics workshop in Sangam Vihar's Taleemabad, and it was made possible due to the efforts of Syed Hamid (a retired IAS Officer, the then VC of AMU and later on Jamia Hamdard)…"
He says that it was in 2004 only that Mulayam Singh's government had called for Urdu teachers recruitment, "It was an opportunity to train them in subjects like Math and Science as then more non-Muslim students would get an opportunity to have them as their teachers thus this may eradicate the feeling of fundamentalism in them…"
He says, "The madrassa teachers whom I taught were extremely simple, the total opposite of extremism…since 2004 I have been to various madrassas all over India and I'll say I found the meaning of true India there"
"Many Madrassas taught the syllabus of NCERT, the students and teachers made me remember the Gandhi Ashram and I felt blessed to have met them.."
Throwing light upon the basic infrastructure of the madrassas Prof Tripathi said, "See, in India, we have two kinds of madrassas.." He went on to explain the difference between the elite-well established madrassas like Nadwa, Deoband, Darul Uloom, and Islah and the ones found in the local mosques. According to him, the students from Nadwa and Deoband have excelled in the fields of science, math, media, and much more, "During my lectures at various universities I meet students, professors who hail from madrassas background, it feels good to see them there…", he adds.
He then throws light on madrassas found in localities, "Now the other section is economically weaker, it lacks the basic structure of sustainability.." He says that although the small-time madrassas have teachers, they do not have salaries for them or basic amenities like computers and other modern-day equipment for the students.
Professor said, "There can be no lie bigger than this one ki madrasah are a terror hub—(there can be no lie bigger than "Madrassas are a terror hub..") He believes in connecting with people on a grassroots level, "Logo se dil se judein and math and science padhaien, woh dil me utar jayenge—-(I try connecting with people on grassroots and try establishing a heart to heart connection, that is how my teaching reside in their hearts).
Tripathi's two sons live in the USA and his daughter Rakhi Tripathi lives in Delhi. "Papa has been into communal harmony and grassroots education for as long as I remember…", says Rakhi Tripathi who studied math honours from Jamia Millia Islamia and is an Associate Professor at a reputed B-school in India.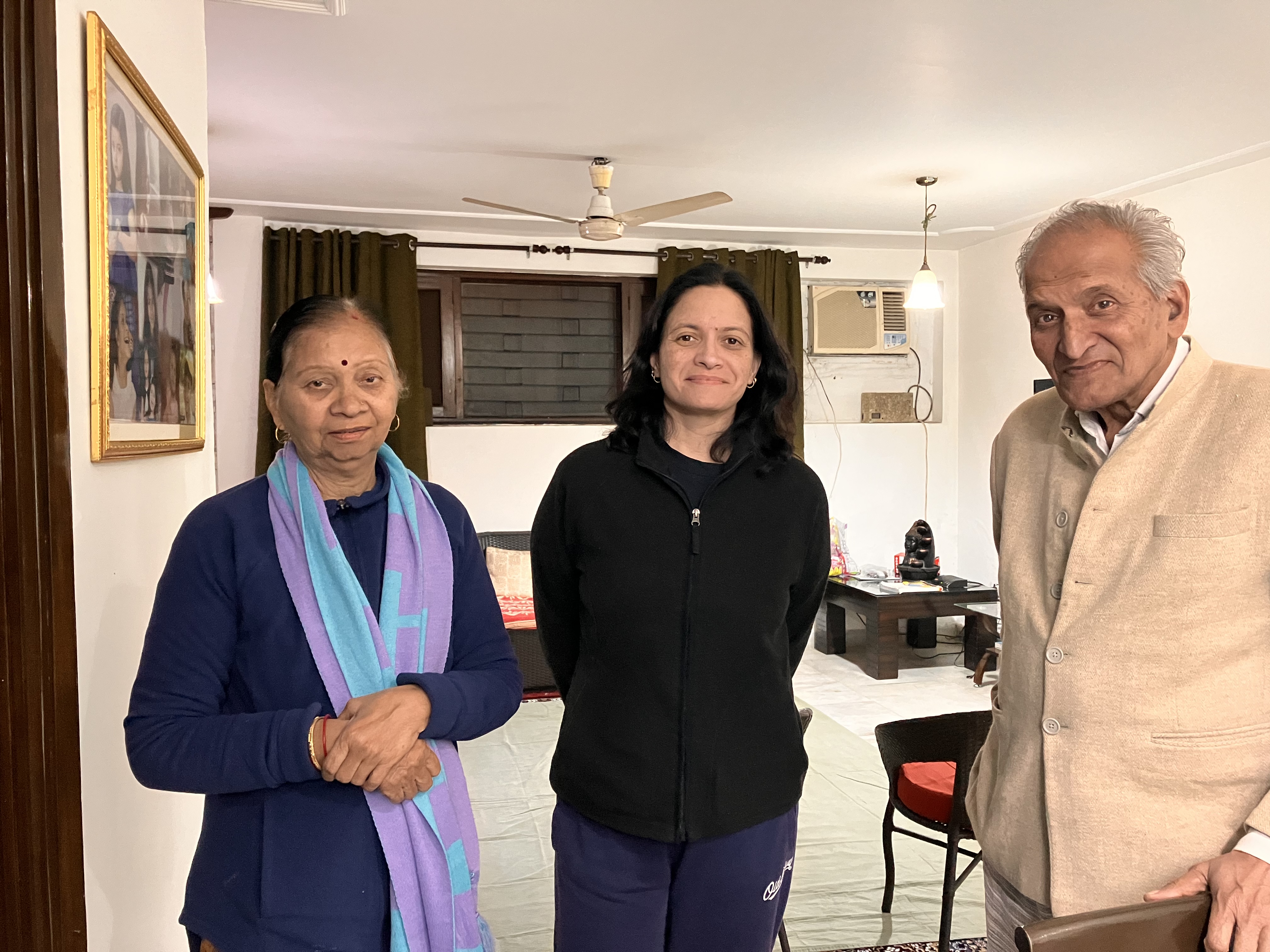 From L-R: Mrs Tripathi, Rakhi Tripathi, Professor VK Tripathi
She says that one day,"I saw my father working on some study material and some pamphlets at 3 am in the morning.."
She wondered why he was working till so late. "Beta, my campaign starts from 9 am and I have to distribute pamphlets for creating awareness.." he told Rakhi.
She said that day "I always knew my father was into selfless act of serving humanity but that day I realised his zeal to work for the masses come from within...as a human being he is flawless and selfless.."
After this incident Rakhi started spreading his father's ideas on various social media platforms as well, she says that in 2019 Brut did an interview of the Professor, that went viral and since then more and more people know about his work and ideas.
Prof Tripathi retired from IIT-Delhi in 2013 and since then has been devoted to his Sadbhav Mission activities. The mission members include a handful of friends and Prof Tripathi is the caretaker of the NGO. Rakhi told Awaz-the Voice, that growing up all the three siblings were exposed to learning the Urdu language, "We were hooligans, we irked our maulvi sahab a lot, though we all three have read Urdu it was our mother who learned the knick and knacks of the Urdu language.." Apart from knowing the intricacies of the Urdu language, Mrs.Tripathi also teaches the kids of domestic helps and skilled workers of the society for free.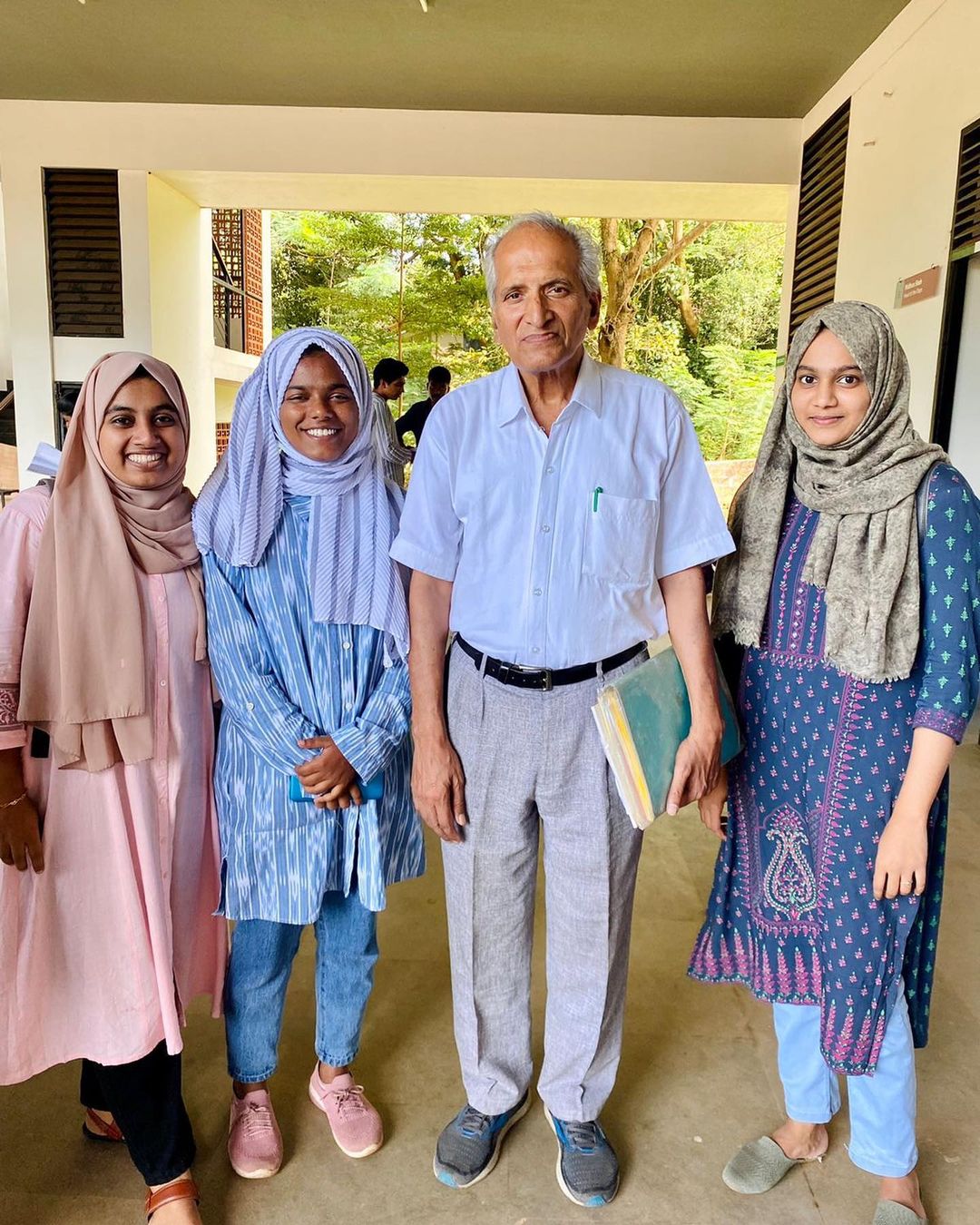 Professor with the students after the lecture
Rakhi said, "I was at this restaurant today and this manager there spoke to me in a friendly tone and asked me about my family. I thought he must have been a student of Papa but then he asked about Maa and said he was the son of a dometic help whom Maa had helped clear his 10th and 12th.."
On being asked as to what can be done to improve the conditions of madrassas, Prof Tripathi says, "salaries of madrassas teachers should be at par with normal teachers, a madrassas teacher gets 2000 to 4000 per month which is nothing…" He went on to say that the madrassa teacher must be trained to also teach the regular subjects, "This will act as an opportunity for them to study more and thus teach more, the best thing is to invest in the teachers as they are building bridges between the students and the world.."
He believes that the madrassas are for those students who cannot afford regular schooling, thus teaching them in their mother tongue is what these teachers are doing, "Children who have seen a lot of turmoil are normally stubborn and have a lot of complexes, thus dealing with them with care is also a big task for these teachers…" He says that a teacher's personality comes to the fore when there are fewer restrictions, "Madrassas do not have a grant, it normally survives on alms and donations, Government should recognize the madrassas and they should invest in them.."
On his present project, he says, "I teach those who had once left their education, so I am building their basics so that they can educate their children, and if they know the basics of math and science it also increases their chances of employability if they wish to find work…" Professor can be seen taking workshops at Shaheen Bagh, Okhla Vihar Patti near Iqra Masjid in Jamia Nagar, he says he likes teaching the teachers, "Sunday and Thursday from 3 to 5 pm, I teach them.."
He adds, "Currently I am teaching 10 girls and a few women school dropouts. A girl named Shaheen runs a school in Shaheen Bagh for kids who cannot pursue regular education due to poverty.."
Professor Tripathi feels that the education system in India has taken a toll in the past two years due to Covid and lockdowns, "A lot needs to be done to improve the quality of education, according to my research the countries who spend on research produce good academicians, America spends around 3.5 percent of its GDP and China spends around 2.4 percent of its GDP in research, we spend around 0.7 percent. Out of this the main chunk goes to labs and thus universities and engineering labs don't get any money for research…thus until we spend some money on research we cannot compete on other levels…"
Professor says, "We must not differentiate based on religion, caste, sex, religion, upper class, and the middle class. The well-reads must get over fundamentalism, any human born in India is a Hindustani by birth, nobody can question the integrity of a person.." He adds, "we need to teach humanity in today's day world and not look down on others… I don't understand why students protest so violently against any government order. I wish genuine protests stick to non-violence, they would succeed under heavy odds. There is a way out and I am sure that much can be achieved…"
ALSO READ: Prof VK Tripathi: Madrassas are highly misunderstood