Areba Ashraf: Varanasi
"It is my heartfelt wish that our Prime Minister Narendra Modiji and Chief Minister Aditya Yoginathji wear my handmade turban," said Mohammad Ghiyasuddin, creator of 'Akbari turban' becomes a rage around Holi in the ancient city.
Ghiyasuddin is the only turban artist who can create the turban that we see in miniature and other paintings of that time worn by the great Mughal emperor Jalaluddin Akbar.
Interestingly, Ghiyasuddin becomes the cynosure of the city folks for his Akbari pagdi also because of the tradition that the first rurban he makes out of five yards of fabric is offered at the ancient temple of Vishwanath, Lord Shiva.
The ceremony of offering the turban to Lord Shiva at the Vishwanath temple on the bank of the Ganga is performed on Ekadashi, the new moon day of the fortnight of the Phagun month of the Samvat calendar.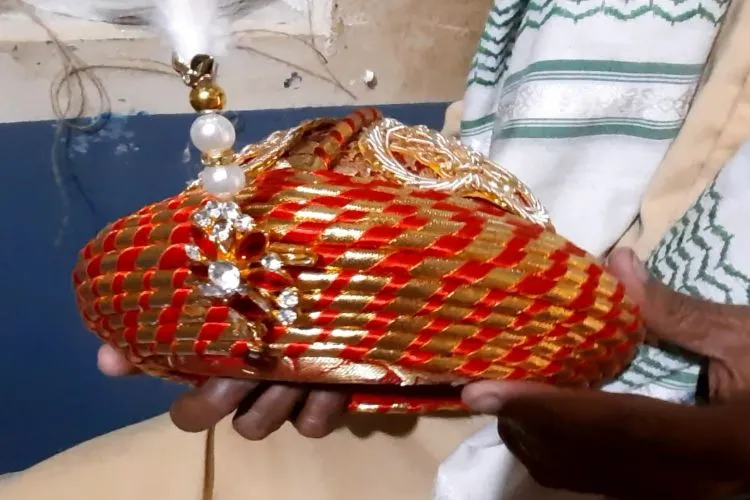 Ghiyassuin showing Akbari pagri

The statue of Baba Vishwanath is taken on a special pedestal – this year it was of Walnut wood specially crafted in Kashmir – to fetch his bride Parvati home.
In Varanasi, the locals celebrate Holi as a celebration of the wedding of the Lord and Shakti. This ritual triggers the grandiose holiday celebrations that continue for days in this city.
The special turban that Lord Shiva has been donning for nearly 250 years is a specialty of Ghiyasuddin's family. Several generations of his family have been making it and therefore he has mastered the art of making Akbari pagri.
Though a seat of Hinduism, the city of Varanasi is as much known for its inclusive, Hindu-Muslim culture. Several eminent Muslim personalities like Bismillah Khan did their practice in a temple.
Ghiyasuddin's family is now part of the festival, known as Ekadeshi in Varanasi.
Muhammad Ghiyasuddin lives in the Lalapura area of the city. Besides making a beautiful Pagri for Lord Shiva, he also makes one for Lord Krishna on the occasion of Janmashtami.
Besides this, the family sells pagris (headgear) for special occasions like weddings or religious functions.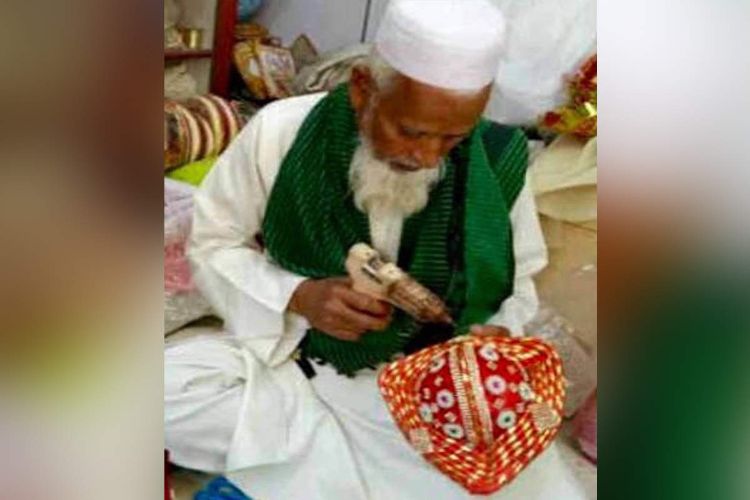 Ghiyasiddin working on a Pagri

Speaking with Awaz-the Voice, Ghiyasiddin said making the turban for Baba Vishwanath (Shiva) is a responsibility and also a matter of honour. It's his privilege to carry on the legacy of something that was started by his ancestors.
He said, "my great-grandfather Haji Cheddi brought this art from Lucknow. He liked the city and decided to settle here. Soaking himself in the spirit of harmony, he decided to offer a turban to Baba Vishwanath and it was accepted by the priests."
Hajji Cheddi's son Haji Abdul Ghafoor continued this tradition and over the years and decades, it is now with Haji Ghiyasuddin Ahmad.
His four sons Manwar Ali, Abdul Salam, Muhammad. Kalim, Muhammad. Shahid and his grandson Muhammad are also involved in pagri making.
At times Ghiyasuddin's wife Amina Bano also chips in. Ghiyasuddin says, "We all make turbans together, someone cuts cloth, someone sews, and someone works on working on embellishing a piece."
Ghiyasuddin says this royal turban is made of silk cloth, zari (gold or silver thread), gota, and cardboard and takes a week to complete one piece.
He says the Akbari turban is specially made for Baba Vishwanath and it's priceless. "It's a unique piece only kept for this occasion."
Ghayasuddin says "it is priceless and he will not agree to make it for anyone even if he is paid lakhs of rupees."
He says this turban is made in the spirit of service and not for profit making and he considered it to bring him and his family divine blessings.
"We serve Bholenath (by offering turban). We do not consider Hindu-Muslim as separate, everything is our blood relation, people often speak of Ganga-Jimuni tehzeeb but we do not prove that Hindus and Muslims are related through blood through our actions," says Ghiyasuddin.
ALSO READ: Pakistani expert Uzair Younus sees digital, inclusive India in ancestral Gujarat village
Ghiyassudin feels his act not only brings him loads of happiness in his work, but he also believes this tradition connects hearts.
While he prays that the Ganga-Jamuni tajhzeeb should remain alive and flourish, he says he eagerly awaits the next Holi.