Aasha Khosa/New Delhi
What kind of images come to your mind when you think of Kashmir? Beautiful lakes, snow-clad mountains, boatmen ferrying tourists in their colourful shikaras inside the Dal Lake; horsemen helping tourists take a ride in the tourist resorts of Pahalgam and Gulmarg?
Another image, perhaps, is that of Wazwan, the multi-course mutton-chicken food extravaganza thrown by people at an astronomical cost for guests, weddings, and special occasions.
Dr. Hamidullah Marazi, also known by his pen name of Hamid Naseem Rafiabadi, is upset with this imagery of the Kashmiri society for the outside world.
"Kashmir has 5,000 years of history; we have given Kalhana (author of Rajtaragini), mystic and spiritual leaders like Nund Rishi, and Lalleshwari, political leaders like Pandit Jawahar Lal Nehru and Allama Iqbal to the world. We have a rich tradition of Sufism, mysticism, and spiritualism. I wonder why we do not have a single place to project these aspects of Kashmir to the outside world."
Prof Naseem is an expert in religious studies, has written books and research papers on inter-religious matters, and travelled across the world to study religion and societies and teach in Universities. Till recently, he was the Director of the International Centre for Spiritual Studies of the Islamic University of Science and Technology, Awantipora, Kashmir.
He is credited with reviving the International Centre for Spiritual Studies, introducing elective courses for students and organising several conferences at the centre.
Currently, he is associated with the National Academic Accreditation Council (NAAC) of the University Grants Commission (UGC),a visiting professor at many international educational institutions and convenor of the Forum for Inter-religious Understanding, New Delhi.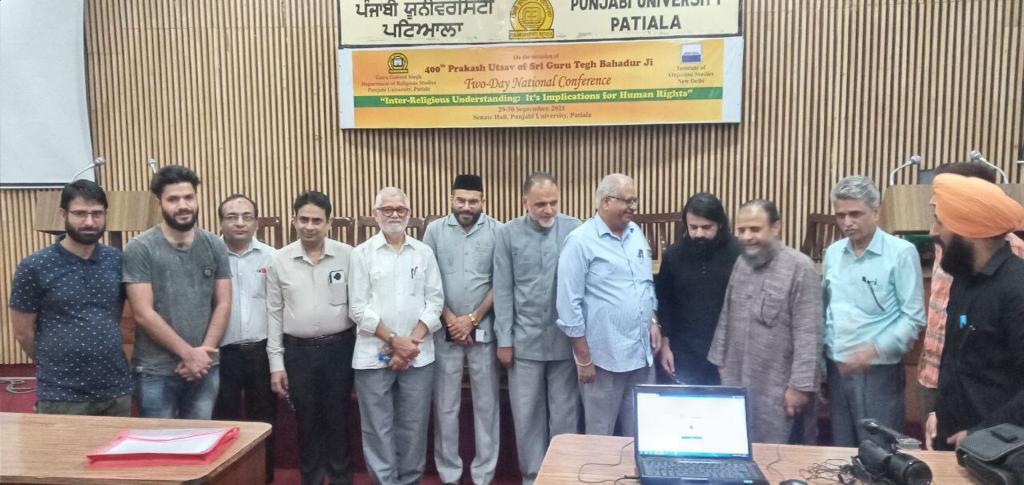 Dr Naseem attending a conference in Patiala, Punjab
Naseem is a Kashmiri who did his studies at the University of Kashmir, JNU, and the AMU, Aligarh. He quit his job as Dean of the School of Social Sciences at Central University Kashmir to rejuvenate the International Center for Spiritual Studies with an international ambience in Kashmir's only Islamic University.
In the University, he started elective courses on Sufism, Rishi cult, Indian mysticism, and Kashmiri culture, Sufi traditions (rivaiyat), Vedanta, and Shaivism. "The students showed a lot of interest and I had 100 of them enrolled for these courses."
He offered one hour class twice a week and it was quite a hit among students who were otherwise pursuing professional courses.
Prof Naseem felt encouraged to propose that the University set up an International Center for Spirituality, have a designated meditation hall, and Zikir retreat corners on the lines of Sufi traditions. The proposals are before the University and could be considered, he said.
Kashmir's spiritualism is more important and lasting than the ephemeral images of tourism and commercial activities, says Dr. Naseem. He says countries like Malaysia and Indonesia have religious and spiritual centers as the center of their tourism policy and there is no reason why Kashmir should only be known for "Shikara, houseboat, and wazwan."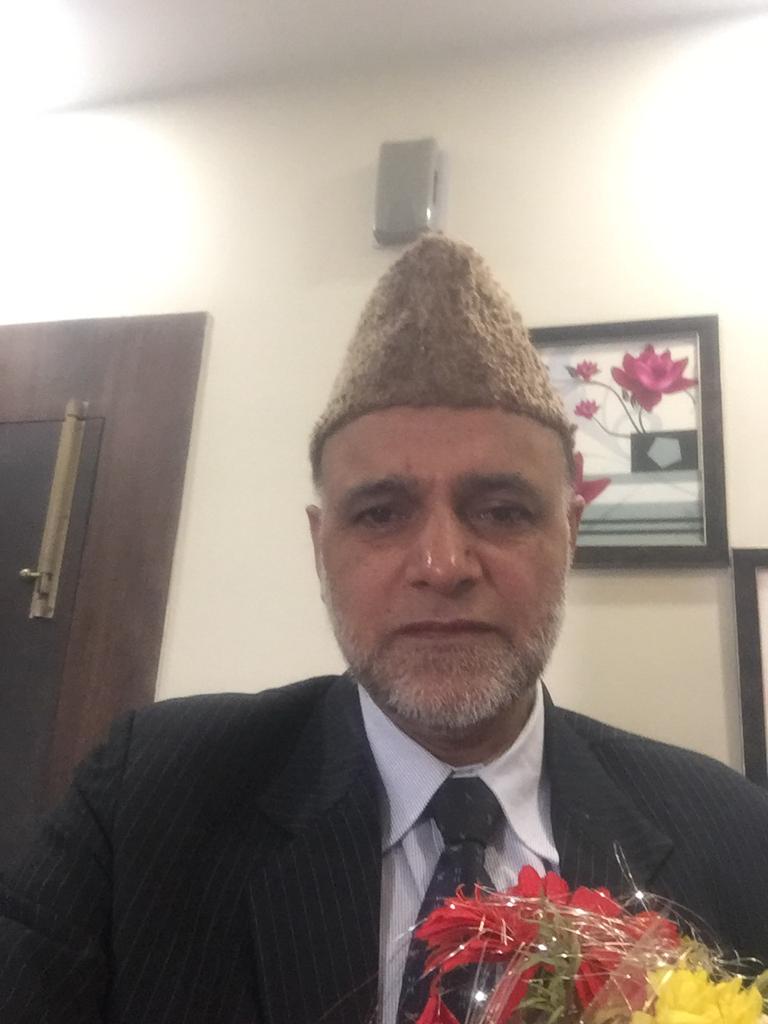 Dr Hamid Naseem Rafiabadi
Dr Naseem has also floated the idea of creating an encyclopedia of mystic Saints of Kashmir like Lalleshwari, Nund Rishi, and many others to the Union Ministry of Culture.
He visualizes Kashmir having its culture and Sufi tradition as the center of attraction for tourists on the lines of academic and research centers at Mahabodhi in Leh, Haridwar, Rishikesh, Pondichery, Amritsar, and even Banaras, etc. He says spiritual and cultural center at these places are attracting people from all over the world."
"In Kashmir, we have shrines of Rishis and saints all over the Valley but not a single institution to project and propagate their thoughts," he told Awaz-the Voice over the phone from Kolkata where he was attending the NAAC peer team visit for assessment of a college.
"Kashmir has a 5,000-year written history and this should also be an attraction for the world."
He says religion is a personal practice; moral tranformation, culture, spiritualism and traditions are seamless and have no boundaries. In today's world, the tourists don't only come for material things and pleasure but also for experiences to nurture their souls."
Dr. Naseem says he has a dream of setting up an international center for inter-religious studies at Shey village of Leh in Ladakh.
The village located 13 km from Leh town has an imposing Buddhist monastery and also a magnificent mosque at a place where the great mysic and Sufi belonging to the Kubrawiyah Order of Sufism in Kashmir, had visited and meditated for long and established the mosque. ago.
"I have visited the Shey village so many times. It's a perfect place for being developed into a global center for inter-religious dialogue."
He says during his visit to Malaysia and Indonesia to teach at the universities and to attend conferences on religion and spirituality, he found such centers in both countries.
ALSO READ: Sufi saint Ajan Fakir made Assam a symbol of the syncretic religious traditions
Dr. Naseem is encouraging women and children in Kashmir to take up spiritual practices and learn about the rich culture of Sufis and Rishis through his NGO Shamma Foundation. His NGO also supports women and children suffering from cancer; educates them about playing a positive role in society and fighting against drug menace, domestic violence and moral degradation.