Tripti Nath/New Delhi
Iqrar Ahmed, a tailor from Uttar Pradesh who has been stitching clothes for over two decades, derives satisfaction from the love, affection, trust and respect he has earned across communites.
Iqrar was only ten years old when he came to Delhi in 1986 to make a living. It took him a lot of hard work and perseverance to be able to buy a tiny shop in South Delhi's Niti Bagh market.
In his late forties now, Iqrar still remembers the stiff resistance he faced from neighbouring shopkeepers when he bought a 36 sq ft shop in the small DDA market in 2008. Were it not for the support of his friend, Giri Raj Giri, a RSS karyakarta who has an electrician's shop there, Iqrar would not have been able to fulfill his dream of being self-reliant.
Giriraj and Iqrar are like brothers and share an exemplary bond.
Giriraj brings sweets for Iqrar every Diwali and Iqrar treats him to seviyan (an India desert) on Eid. This Diwali, Iqrar carefully chose the best available fabric from his shop for Giriraj and stitched a pink silk Kurta for him. Iqrar wrapped the Kurta nicely and carried the present to his shop. Giriraj was touched by his gesture and wore the kurta on Diwali; Iqrar celebrated their friendship by making his friend's picture in the kurta, as his WhatsApp DP (display picture) during the festival.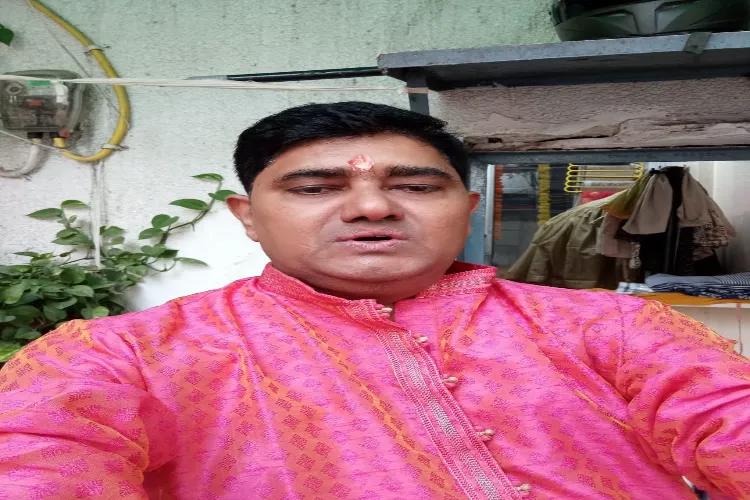 Giriraj acknowledged the Kurta stitched by his time-tested friend by wearing it on Diwali
Iqrar is one of the most sought-after tailors in South Delhi. He explains that he learnt social graces in the company of elderly people and good clients. Iqrar who went for Haj with his mother in 2019, cannot thank Allah enough for helping him meet benevolent people. "Hamari zero qualification hai. Khuda me mujhe lajawaab logon se milwaya. Humne kabhi tasavvur nahi kiya tha ki aisa hoga.'' (I have no educational qualification. God connected me to wonderful people. I had never imagined that my life will shape up like this.)
Born in Sitapur's Bilwa Bahadurpur village blessed with an abundance of mango trees, Iqrar saw his family battle financial hardships at a very early age. The fourth among eight siblings, he is the only one who could not even go to a Madarsa. "I was only 20 when I lost my father. My family really had to struggle for survival. In my village, I would long to go to school like other children and even went to see the village school but did not muster courage to step in.'' he recalls.
Iqrar is beholden to his elder sister Shehnaz who persuaded him to come to Delhi. "Both my sister and brother-in-law made me feel very comfortable in their home in Jamia Nagar but I really missed home. I would hide and cry thinking of my mother back home. Shehnaz Appi loved me a lot but I could not bear separation from my mother. I would request people to write postcards to my mother. My sister had five children. All of them went to school.

"I really loved them and was happy offering to take care of them. I too felt like going to school but reminded myself of my family circumstances. Going home to my village was a luxury and I could afford to meet my mother only once in two years."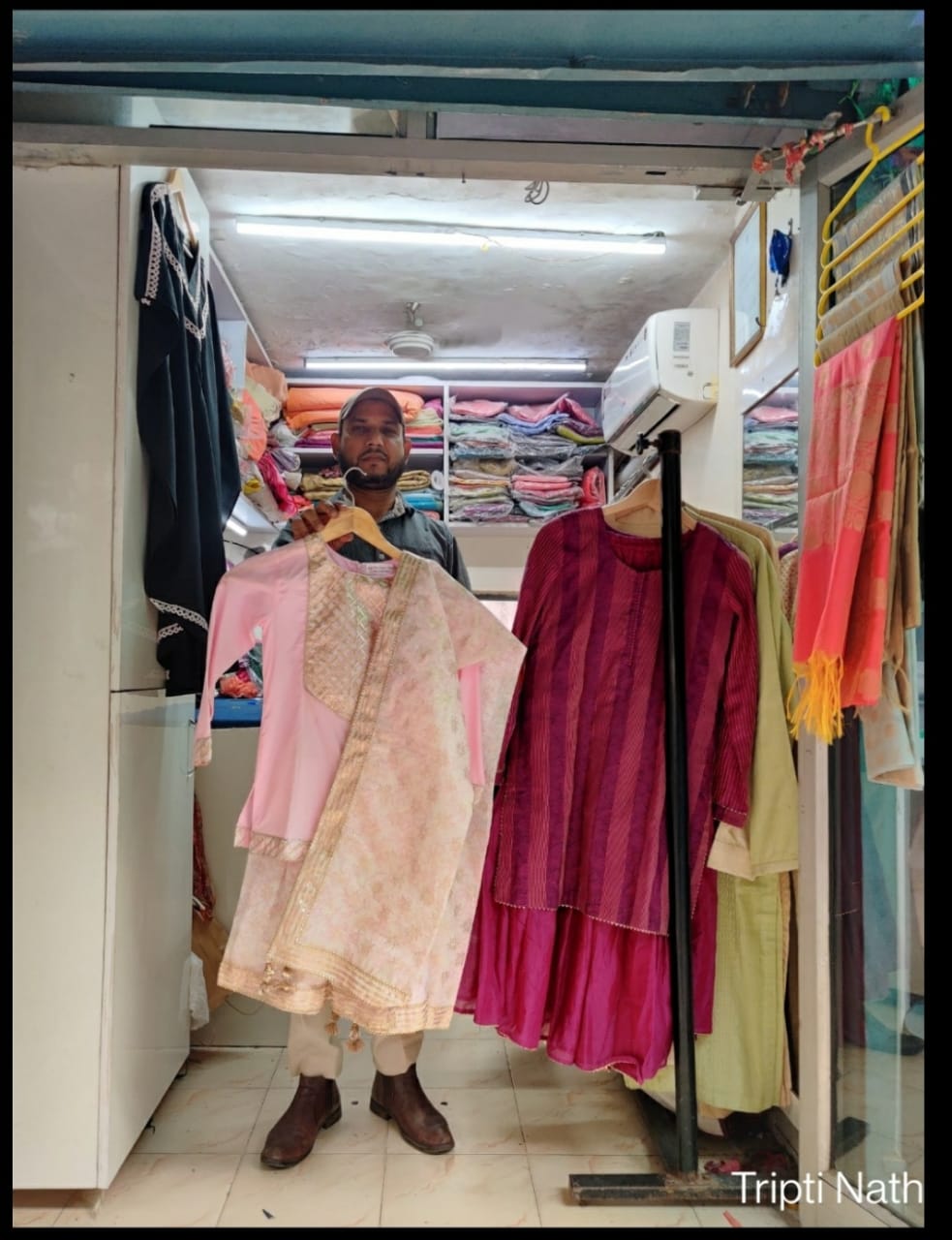 Iqrar Ahmed at his shop
Iqrar stayed with his sister for six years till 1992. During this period, he learnt stitching from his brother-in-law, Mehboob Ali. Later, he worked in a boutique in Defence Colony. After four years, Iqrar was designing clothes in a boutique in South Delhi. "For five years, I worked with a boutique owner in Gulmohar Park. Her husband, Mahesh Aggarwal, was a lawyer and liked my work so much that he allowed me to use his shop here free of cost. ''
It was at that time that Iqrar got to know Giriraj Giri who persuaded him to buy the shop. Iqrar considers Giriraj as his elder brother and cannot thank him enough for giving him the clarity on making the right investment and standing by his side. "Giriraj is always ready to help people -irrespective of what religion they follow. He volunteered all the cable work in my shop when I bought it and refused to take even a penny.''
Iqrar considers himself lucky to have always lived close to a mosque and woken up with the Azan every morning. He offers namaz five times a day. What gives him enormous satisfaction is that he took his mother for Haj for 46 days in 2019. "Wahan jaakar ruhaniyatr milti hai aur lagta hai jaise dusre jahan me aa gaye hon.( One experiences spirituality there and feels transported to another world.)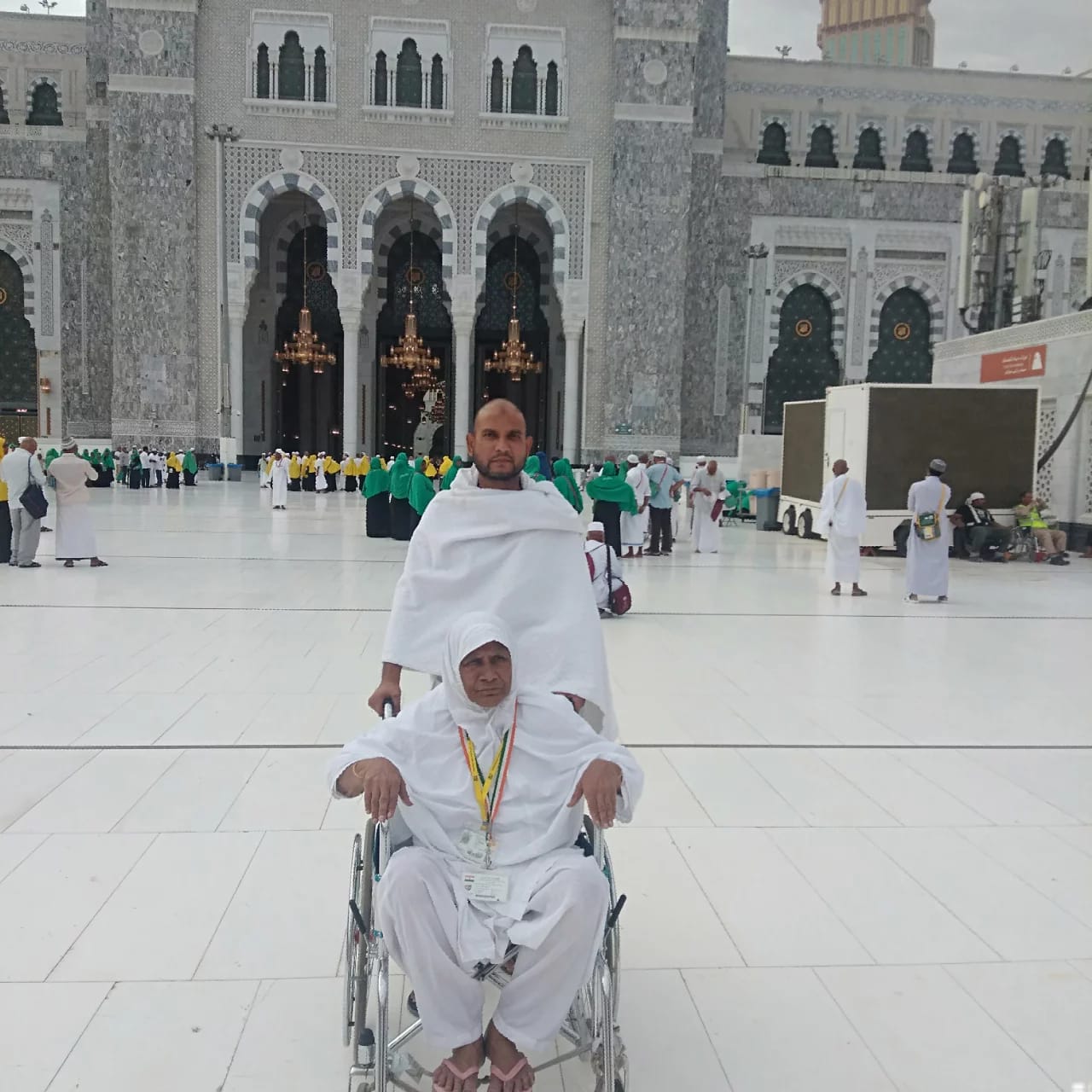 Iqrar with his mother at Mecca for the Haj pilgrimage
Iqrar has two sons, Sarfaraz Ahmed and Afsaar Ahmed and a daughter but he has chosen to name his boutique AD (Aafreen Design )Indian Outfit after his 20 year old daughter Aafreen. " Like our Prophet loved his daughters a lot, I too really love my daughter.''
Sarfaraz is a graduate, Aafreen is in the final year of post-graduation and Afsaar is preparing for his MBA.
This soft-spoken tailor also finds time to run an NGO called AUN Human Welfare Society. AUN is involved in distributing blankets to the poor every winter and notebooks to school children. "Mera maksad insaanon se hai naa ki musalmaan ya kisi aur mazhab se.'' (My intention is to help fellow human-beings not just Muslims or people from any particular religion).
Even though his income fluctuates every month, Iqrar has amazing clarity is his approach to work. "On an average, we stitch three suits a day as we focus on quality work.' He goes on to explain, "Agar Kaam zyada hoga to kaam kharab hoga aur agar kaam kharab hoga to naam kharab hoga. (Excessive work will impact quality which in turn may affect our credibility.''
He commands an impressive clientele of celebrities including ministers, actors and journalists. Commerce Minister Piyush Goyal and his wife depend on Iqrar's tailoring. Over the years, former Home Minister Shivraj Patil, Congress leader, Tariq Anwar, politician Akbar Ahmed Dumpy, former Home Secretary V.K. Duggal, TV hostess Mandira Bedi's family, the late journalist Khushwant Singh's daughters in law, former cricketer Mohd. Azharduddin and Ashish Nehra's family have also been his clients.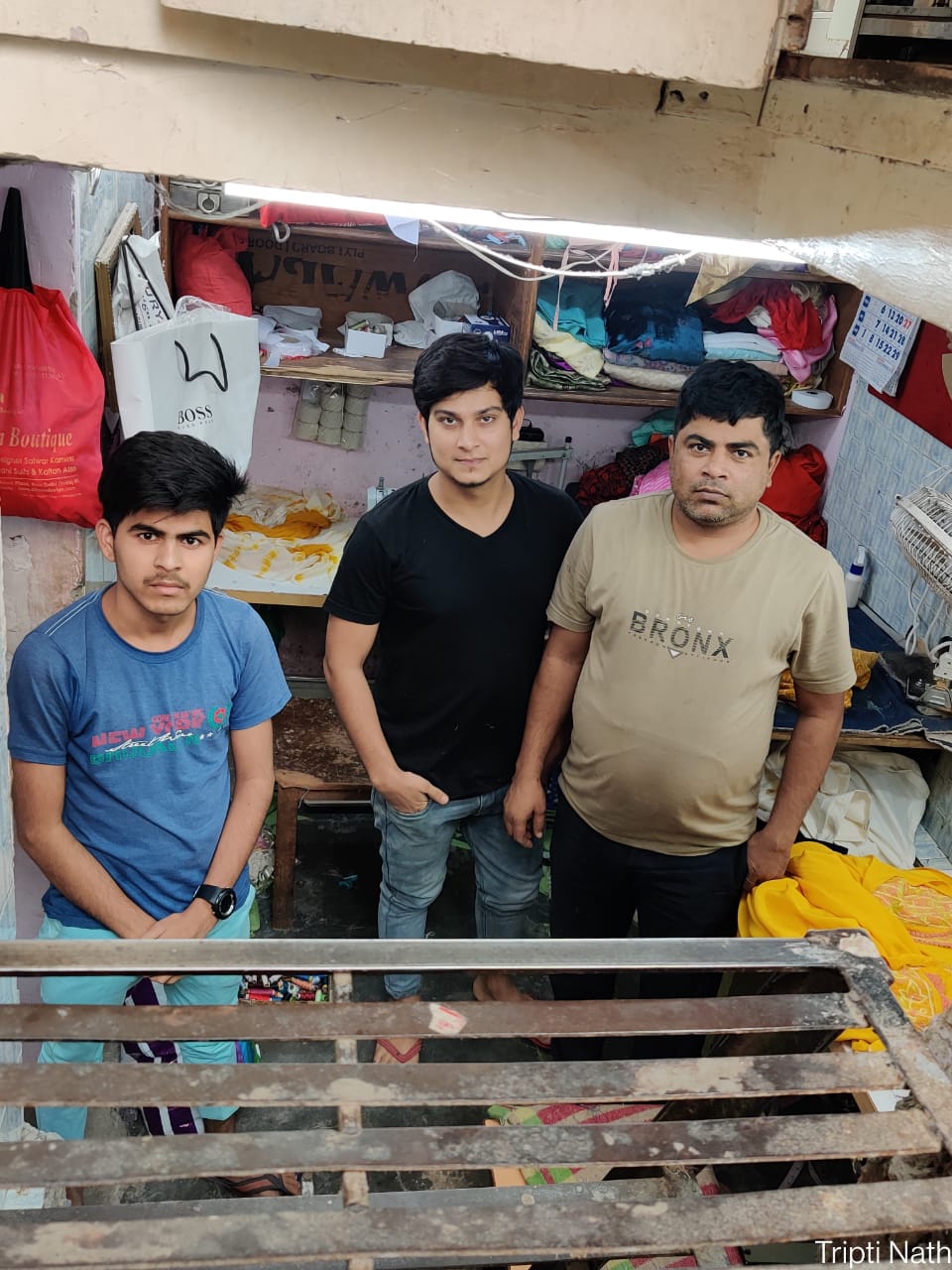 Iqrar Ahmed's staff: Saajid, Salman and Nafees
Veteran journalist Shubha Singh has been going to Iqrar for almost four years to get her clothes tailored. "His work is very neat and he is always ready with patterns. Every time I wear the clothes designed by Iqrar, people ask me who has stitched them and I am happy to refer them to him,'' she says.
Likewise, Iqrar's neighbour Vijay Khanduja who owns a stationery shop says, " My wife gets salwar kameez stitched from him and is very satisfied with his work.''
ALSO READ: Quilt-maker Mohd Nafees is all for inter-faith unity
Over the years, many shops have closed down in the DDA market. Clearly, Iqrar has proved that the fittest survive.