Tripti Nath/New Delhi
Gulfam Ahmad, a wheel-chair bound paralympic powerlifter drove his customized motorcycle 20 kilometers from Sundarnagri in north-east Delhi to Major Dhyan Chand national stadium, out of sheer curiosity about Jashn-e-Rekhta.
The three-day Urdu literary festival known as Jashn-e-Rekhta, concluded on Sunday.
Although 32-year-old Ahmad who was adjudged Mr Wheelchair India in Mumbai in 2015, does not know Urdu, he wanted to get a feel of the festival. "Being a Muslim, I was naturally curious that an Urdu festival was being organized on such a huge scale. I am delighted that I am here. Since I am a sportsperson, I am not connected to the world of literature but I thought that at least I should know about it. I was excited and decided to explore the attractive features of the festival including Sufi music. I am very fascinated by the way Urdu poets write poetry. I know Quran and Arabic but want to learn Urdu. Even law books in the British era were written in Urdu.''
Gulfam was surprised to see a huge crowd at the festival. According to sources in Rekhta Foundation, the registration for the festival touched 1,90,000 this time.
In the company of three friends, Gulfam looked happy moving around in his wheel-chair on a bright, sunny day in his winter wear.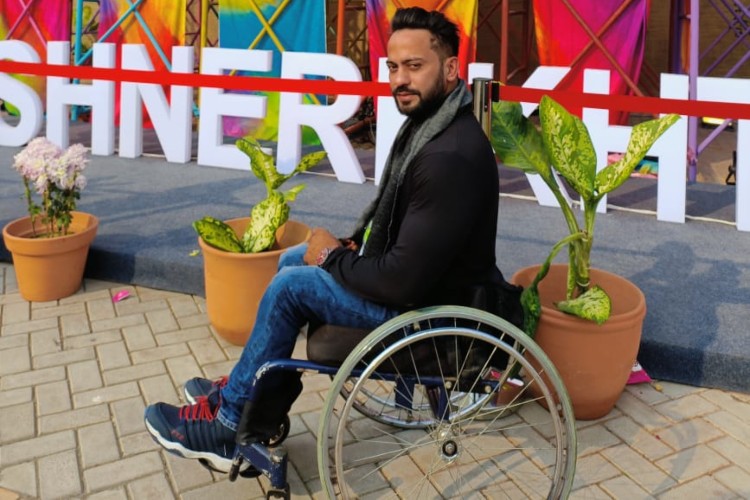 Gulfam Ahmad enjoying Jashn-e-Rekhta
Gulfam who has so far earned 28 medals in competitions, is determined to try his luck at powerlifting in the 150 kg category at the FAIZA World Para powerlifting championship in December 2023 and the Asian para powerlifting championship in 2024.
"I want to bring back home a medal for India. I have been practicing powerlifting from the time I was in school. At the national para-games in March, I earned a bronze medal in the 120 kg category. Participation in Paralympics has taken me to many places in India including Bengaluru, Jaipur, Kolkata, and Nagpur. At the moment, I can lift 140 kg; my target is 180 kg,"' says Gulfam who hails from Bijnor, Uttar Pradesh.
Gulfam said that government support is lacking in para-sports. " You would have noticed that whenever a sportsperson-even if it is Neeraj Chopra wins, he gets a lot of sponsorship. At the same time, when a sportsperson is struggling, he has to manage monthly expenses on his own."
A graduate in Social Work from IGNOU, Gulfam was afflicted with polio when he was only a year old.
Looking back at his life so far, he says, "I grew up watching Salman Khan's films and was inspired to build my body like him. When I was in Class VIII, I joined a gym in Ghonda near Shahdara (north-east Delhi). In 2004, I met a physically challenged social activist, Pradeep Raj. He was a para-badminton player and told me about para-sports. I was only 16 then and it was very motivating to know that a physically challenged person can win a medal at such an event.''
Gulfam gets moral support from his father but he is self-reliant. "I am a part-time gym trainer in DLF, Ghaziabad, and get support from my friends. I impart fitness training at the gym from 5 to 10 p.m. My day begins with a three-hour workout but I also take training two times a week from Olympian powerlifter Mukesh Singh Gahlot in his gym in Dwarka.''
This friendly para powerlifter has also been part of the disability movement led by Javed Abidi. "He is an idol for many of us. I was very young then but whenever I came to know that Javed Abidi was holding a protest to demand schemes for the challenged persons, I joined the campaign. It is thanks to Javed Abidi that the challenged persons have facilities clearly defined on paper.
On World Disability Day on December 3, a video showcasing his struggle and accomplishments, 'Kar ke dIkha' was released. Last year, he was featured in a Punjabi video album. Although Gulfam won the Mr. Wheelchair India title, he is yet to get modeling offers. " There is no dearth of brands. It is a pity that the companies don't prefer a physically challenged person to advertise their products."
ALSO READ: Zara Khan becomes the youngest trekker of Kashmir
Despite all the toil and trouble, Gulfam has an optimistic message for society. " It is true that we fail due to our weaknesses but succeed because of our abilities,'' he says.