New Delhi:
The newest Indian sportsperson to make a splash on the global scene and the world Boxing champion Nikhat Zareen was conferred the Arjuna Award by president Draupadi Murmu in a glittering ceremony at Rashtrapati Bhawan on Wednesday.
The President gave away the National Sports Awards 2022 and National Adventure Awards 2021. The National awards are given every year to encourage and honour outstanding sportspersons.
This time, 25 sportspersons were given Arjuna Awards. Telangana sportsperson Nikhat Zarin, who recently won the World Boxing Championship one among them.
She expressed her joy and gratitude at the award on social media.
President Draupadi Murmu awarded the Tenzing Norgay National Adventure Award, 2021 - to Neena Dhakad. She is the first Indian woman to climb Mount Everest and Mount Lhotse. She accomplished this feat in less than 10 days.
President Murmu presented Dronacharya Award 2022 to Sujit Mann, wrestling coach. He has trained many outstanding racing athletes including Bajrang Punia.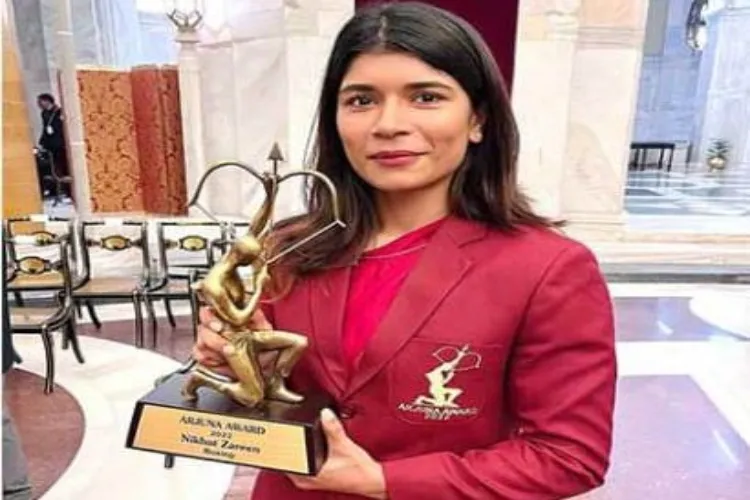 Nikhat Zareen displaying her award

Dronacharya Award was also conferred on Soma Siddharth Shrur, who has trained top shooting athletes including Oni Lekhra, Ishwari Pratap Singh Tomar, and Sunidhi Chauhan; Jeonjot Singh Teja, archery coach. The latter has trained Harvinder Singh, Raj Kaur, Rajat Chauhan, and Maskan Kher.
Raj Singh, the wrestling coach, who was honoured, has trained Yogeshwar Dutt, Sanjay, Ashok Kumar, and Umair.
Bimal Prafla Ghosh, the football coach has also been conferred the Dronacharya award.
Dinesh Jawahar Lad was awarded for his achievements in cricket coaching. He has trained Rohit Sharma, Shardul Thakur, Harmeet Singh Budhan, and Sudhish Lad.
BC Suresh received Dhyan Chand 2022 for his achievements in Kabaddi - Gold Medal in World Cup, 2004 and Gold Medal in Asian Games, 2002 -
Dharamveer Singh got the award for his achievements in hockey.
President awarded the Maulana Abul Kalam Azad Trophy, 2022 to Guru Nanak Dev University, Amritsar for best all-around performance in sports.
ALSO READ: Nikhat Zareen: Winning a bout on the small screen
Others who received the award are:
Dhyan Chand Award: Ashwini Akunji Chidananda (Athletics)
Arjuna Award: Jarlan Anika J (Deaf Badminton)
Arjuna Award: Sopanal Sanjay Patil (para swimming)
Arjuna Award: Tarun Dhillon (Para-Badminton)
Arjuna Award: Parveen (Wushu)
Arjuna Award: Sarita (Wrestling)