Vice Chancellor of JMI University interacting with teachers at the 103rd Foundation Day
Mohammad Akram/New Delhi
The Jamia Milia Islamia University launched celebrations of its 103rd Foundation Day with an exhibition on women teachers who played a key role in the growth of this premier Indian Institution in its early years. Titled 'Adaan: The Celebration of Jamia's Women' is an apt tribute at a time when the University is led by its first woman Vice Chancellor - Prof Najma Akhtar.
JMI was founded on October 29, 1920, in Aligarh, UP, and the campus later shifted to Delhi. The five-day celebration till October 31 will include various academic and cultural activities.
The Sarojini Naidu Center for Women Studies and the Premchand Archives and Literary Center organized the exhibition on women teachers including Sugra Mehndi and Saleha Abid Hussain.
Speaking on the occasion, Vice Chancellor Najma Akhtar said that it is a matter of happiness that the University alumni are contributing to all the sectors of society. Writer and women's rights activist Dr. Syeda Hamid unveiled her book "Jamia ki khwateen-e-awwal (Women leaders of Jamia Milia Islamia).
Sugra Mahndi (1937-2014) was home-schooled. She was among the first few girls to join the university when boys and girls studied together. She was encouraged to pursue education by her uncle Syed Abid Hussain and teacher Saleha Abid Hussain.
She started her career as a school teacher and worked her way up to become a professor of Urdu at Jamia Millia Islamia University. Her first novel Raag Bhopali was published in 1969 and her last book Hamari Jamia was published in 2014, a few months before her death.
An excellent humorist, she wrote short stories and translated many articles. As the author of more than two dozen books, she was honoured with other awards. Honored by UP, Delhi, and MP Urdu Academies for his outstanding contribution to literature. She was also the founding trustee of Muslim Mahila Manch.
Saleha Abid Hussain (1913-1988) was born in Panipat, then part of Punjab. She was a prominent and prolific Urdu writer and authored more than 50 works including novels, short stories, essays, letter collections, and translations. She inherited the zeal for literary work from her great-grandfather, poet Maulana Altaf Hussain Hali.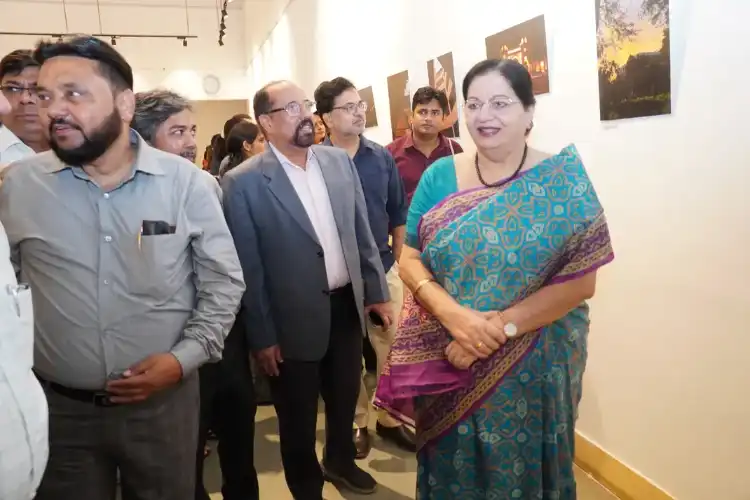 Prof Najma Akhtar at the exhibition

Najma Akhtar inaugurated the exhibition and in her speech emphasized the importance of gender inclusion. She said, "Women need to understand that leadership is not a position but a role."
This was followed by a panel discussion where Dr. Syeda S. Hameed spoke about the women involved in the exhibition.
Prof. Bulbul Dhar presented a slide show on more contemporary women shaping the modern university. The Department of Architecture, JMI organized a fascinating photography exhibition on the occasion of the University's Foundation Day, titled "Line Shapes and Space: A Visual Collection of Jamia. The event was inaugurated by Vice Chancellor Prof. Najma Akhtar and Chief Guest Prof. Farhat Basir Khan, a renowned photographer and founder in charge of the Department of Design and Innovation, Jamia Millia did.
Other dignitaries of the university also participated in the program. The exhibition aimed to explore the complex connections between architecture and photography and emphasize the fundamental elements of line, form, and space.
Dr. Zakir Hussain Library organized a book exhibition on the collection of rare books related to the history of JMI. The exhibition was inaugurated by Prof. Iqbal Hussain, Pro Vice-Chancellor of JMI in the presence of Prof. Tabriz Alam Khan, Prof. In-charge, Dr. Zakir Hussain Library, Dr. Sufyan Ahmed, OFG. University librarians, faculty members, and non-teaching staff members were also present.
The exhibition featured rare books, archival newspapers, and magazines that reflect the formation of JMI. During the exhibition, some important literary works related to the founders of the university are also on display.
The exhibition will continue till October 31, 2023. As part of the celebrations, blood donation, physiotherapy, and dental check-up camps were organized at Gate No. 7 of the university today.
ALSO READ: How Kashmiris forgot Maqbool Sherwani who failed Pakistani raiders' invasion in 1947
Prof. Mohd. Muslim Khan praised Dr. Ambedkar as a luminary whose presence in the discourse about India is indispensable. Director of the Center Professor Padmanabha Samarendra emphasized the need to see Babasaheb Bhimrao Ambedkar in the broader context of intellectual tradition and philosophy.