Onika Maheshwari/New Delhi
It was 50 years ago that Shahnaz Husain turned the ancient secrets of beauty and healthcare into a global business to become a pioneer Muslim woman entrepreneur of India. This Czarina of Ayurveda and natural care started selling her products made from natural ingredients from the verandah of her house to give big companies a run for their money.
Times may have changed with the mushrooming of cosmetics using natural ingredients but the Shahnaz Husain Group of Companies with its global network of franchise salons, retail outlets, beauty training academies, as well as 380 Ayurvedic formulations for beauty and health care, remains unchallenged in its range of products and purity of ingredients.
Today at 78, this business Czarina, is working on the use of artificial intelligence to customize products while her daughter Nelofar Currimbhoy looks after the company with an annual turnover of Rs 850 crores.
She is a recipient of Padam Shri and several national and international awards for her business.
Shahnaz has lectured at leading international universities on Ayurveda. She delivered lectures at Harvard Business School and is also a Harvard Case Study on brand creation. She is also a subject at Harvard for "Emerging Markets" in recognition of the international market for Ayurvedic beauty care created by her.
This poor Indian woman entrepreneur was a child bride by today's standards; she married when she was 15. As a young bride, she had to take up the responsibilities of a homemaker but she never let the fire of becoming an entrepreneur die down.
Years later, Shahnaz Hussain created a stir in the global market when she launched her herbal and Ayurvedic products. Shehnaaz had decided that she would not be limited to just the role of wife and mother at home. He has to do something big.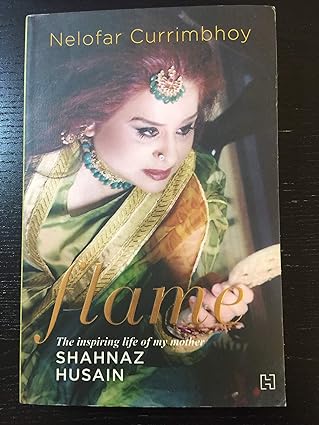 Biography of Shahnaz Husain by Nelofar Currimbhoy

His father Justice Nasir Ullah Baig was the Chief Justice of Allahabad High Court.
With the help of his father, she joined the Helena Rubinstein School in Germany. After completing her studies in beauty techniques from here, she did some other related courses.
On returning to India, she launched her cosmetic firm.
Shahnaz Hussain did her schooling at St. Mary's Convent Inter College, Prayagraj. She studied Ayurveda when her husband Nasir Hussain was posted in Tehran. She also studied cosmetic therapy and cosmetology.
On return from Tehran, Shahnaz opened her first herbal clinic in 1971. She established 'The Shahnaz Hussain Group' in the next few years.
Life is not always a bunch of roses and Shahnaz too faced her share of tragedies: her husband died of a heart attack in 1999 and their son Sameer Hussain passed away in 2008.
Her daughter Nieofar Currimbhoy , who has authored her mother's biography, Flame: The Story Of My Mother Shahnaz Husain, is also the President of the company.
Soon after the launch and without the facility like internet, her beauty products made of natural ingredients became a global rage and started being sold in many countries. Her products have been without chemicals and artificial fragrances much before this concept was known to the world.
Initially, Shehnaz started selling her products from the verandah of her house. She said in an interview that she didn't even realize that her startup would become a successful industry back then. Within no time, she became a well-known name in the beauty industry.
Gentle and soft-spoken, Shahnaz's study of Ayurveda, the Indian holistic system of herbal remedies, strengthened her faith in nature when she discovered that it could provide ideal answers for protective, preventive, and even corrective cosmetic care.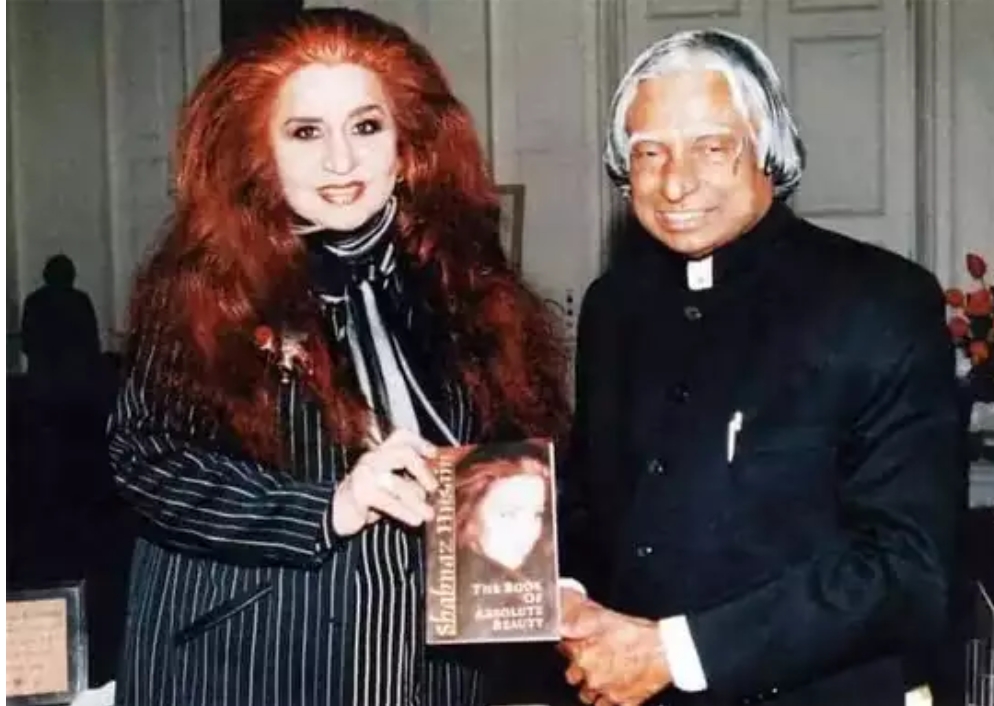 Shahnaz Husain with the President Dr A P J Abdul Kalam

What started as a dream of a young woman entrepreneur, Shahnaz Hussain Group is today one of the largest brands in the cosmetic care sector. Shahnaz Hussain is the CEO and brand ambassador of the group.
Today, the group has a chain of over 400 franchised clinics, shops, schools, and spas across the world, as well as ayurvedic formulations for skin, hair, body, and health care, covering approximately 138 countries.
What started as a small business at home at a time when the internet was not prevalent has grown to become one of the greatest brands worldwide in the Ayurvedic care sector.
The group has also gone global with some of its other ventures such as Shahnaz Hussain Forever Beautiful Lifestyle Shops, Beauty Training Institute, Ayurvedic Entrance, and Shahnaz Hussain Ayurvedic Spa, all of which are based on its franchise system.
This enthusiastic woman has recently expanded her base in the UK by opening two more franchise salons in Finchley and Middlesex in London as well as a Shahnaz Ayurveda Aesthetic Clinic on Harley Street.
Its products are sold across Saudi Arabia, Israel, Myanmar, and Bangladesh, and it is targeting revenue of $10 million from overseaasa sales this year. The group also plans to take advantage of the niche segment in the US, where interest in alternative therapies is growing.
Hussain's spirit of innovation and enterprise are well-matched.
ALSO READ: ACP Shabnam Shaikh's journey from a home-confined girl to the one who dared Mumbai's underworld is fascinating
While not ignoring the basic nature theory and Ayurveda, his contribution to his field is unprecedented.