New Delhi
On the International Yoga day, the world is a happening place as countries, cultures and society adopt the ancient Indian healthcare regime of Yoga. However, you would be surprises to see how fast Yoga has spread across Pakistan, a country that treats anything Indian as anathema.
Among many yoga gurus in Pakistan Riaz Khokar is considered the National level Yoga preacher. Through his relentless work he had made yoga popular across Pakistan in the past 18 years. He credits his initiation into Yoga to his 'guru' Professor Wasiq Mohammad for making this healthcare art acceptable among the Pakistanis. Every day in Lahore He used to encourage people to do yoga in the morning. After his demise, his two disciples Riaz Khokar and Engineer Azam are into continuing his mission.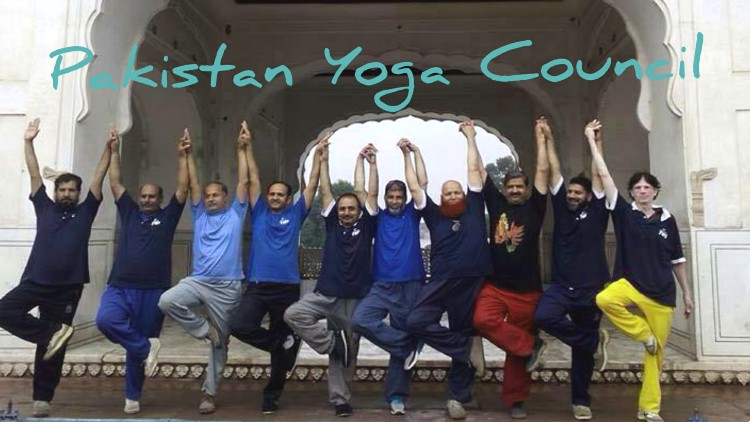 Yoga practice in a Lahore Park
Riaz Khokar set up the Pakistan Yoga Council and he was awarded the second highest civilian honor of Pakistan, the Legend Award. The council has about 200 centers that provide free yoga training to the public. Khokar see yoga not linked to a religious ideology but a pure exercise of mind and the body. At one point of time, they were labeled as 'Hindu agents' for their love of yoga. He was also called RAW agent, but there came a time when everyone recognized the virtues of this and also understood the good intentions of the Yoga practitioners in Pakistan.
Riaz Khokar, a resident of Burewala, 250 km from Lahore, is now known as Pakistan's Yoga Guru. He has written eight books on yoga. Mansoor-ud-Din Faridi, Editor, Awaaz-e-Voice, Urdu, spoke to him on phone about his advent into and his journey of yoga. Excerpts from the conversation:
How did you get attracted to yoga?
It's a long story, sir. It starts with pain and ends with healing. Praise be to Allah. In fact, I was a victim of schizophrenia in my youth. At one time I was treated by many doctors, but there was no success. A friend of mine had given me a book on yoga and I started studying it. You may be surprised, but the fact is that he was on his death bed; had throat cancer; his voice was gone and yet he guided me to read Yoga. He had read that those who do yoga regularly never get inflicted with cancer. So he showed me the way. He passed away and I followed the path he showed me and got rid of my pain.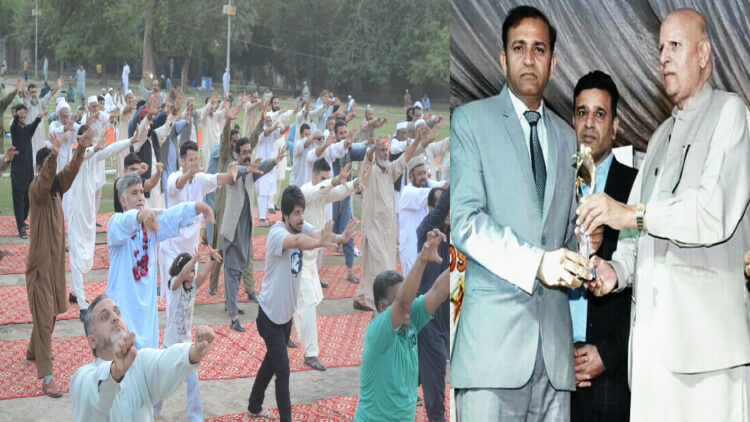 Riaz Khokar receiving Pakistan's "legend" award
When and how did the 'yoga' movement in Pakistan start?
Look! The Yoga movement started in 2006 from Lahore. I have founded Pakistan Yoga Council. Lahore, as you know, is called the city of gardens. There are ancient gardens and modern parks. It first started in Lahore's Central Park. I didn't even think that 'yoga' could become an epidemic one day; it'll spread like wildfire. Now there is no park in Lahore where yoga is not practiced after Fajr prayers. It is being continued in 80 parks under the auspices of Pakistan Yoga Council. In our biggest center, some 500 people do yoga every day.
What kind of clash do you see between yoga and religion?
In my opinion, linking yoga to religion is like eating sugarcane with tea. There is an exercise, it would be better if it is done with the intention of exercise. I know that yoga had a religious status in ancient times, but a few centuries ago it was used for peace of mind and longevity. It is believed that after years of exercise, experts have discovered places of energy in the human body that balance health and disease. These experts believe that the imbalance of these parts of the body makes a person sick.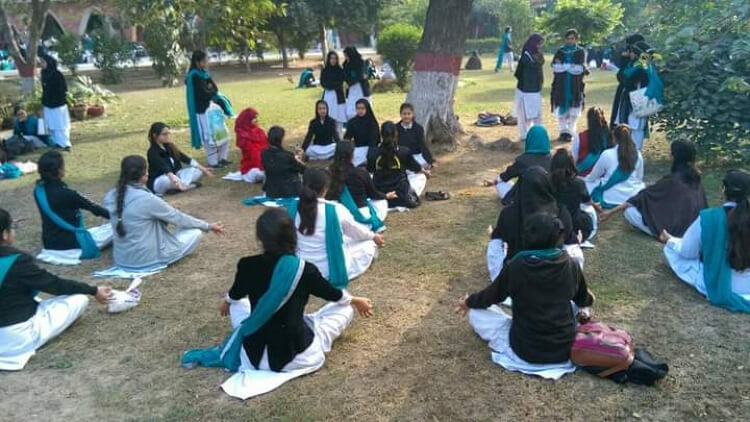 School girls doing Yoga in Pakistan
According to Hindu yogis, yoga originated 5,000 years ago in northern India and was first mentioned in the oldest Hindu religious book, the Rig Veda. The earliest teachings of yoga were engraved on stones or written on leaves, which are now extinct. Importantly, it is being used all over the world today as a cure for mental and physical ailments. Modern science has also confirmed the usefulness of yoga. It is believed that the energy generated as a result of specific yoga postures improves blood circulation and eliminates many diseases. Yoga has never become religious in Pakistan.
Has yoga ever faced religious opposition in Pakistan?
Look! Everything was going well till 2011. Shri Shri Ravi Shankar, Head of Art of Living from India had visited Pakistan.
At the time, one of their centers was opened, but a group of micreants burned it. The government was vigilant after the incident. There was a danger of attacks, so yoga was banned in the parks. Every morning police officers used to come to Shalimar Bagh and other parks. This went on for a few days. But then slowly everything was back to normal. Life has returned to normal. After this incident, yoga became even more popular in Lahore.
Have you ever faced personal opposition to teaching Yoga?
Yes! I managed to survive even after being called 'Hindu Agent' and 'RAW' Agent. People tried to defame me but Allah is great. People realized that yoga is not about religion, it is about health and it's the greatest wealth after faith. It was our obligation that we add something to it. Let's say we gave it an Islamic color; one should be scared of the Moulvi sahib.(Laughs) Now every five minutes during yoga, the yogi (Trainer) asked the gather loudly: How are you and they respond with enthusiasm Alhamd-ul-illah (Praise be to Allah)
What changes are you seeing socially?
Now everyone - religious and non-religious; general public and the elite – are on the same page on Yoga. Now, great scholars are also doing yoga. Maulana Tariq Jameel is also among them. Everyone has accepted Pakistan Yoga Council as a mission of health. It has been recognized and respected. This is my biggest achievement. Proof of this is that there are some 300 Yoga centers in different cities of the country and that too for free. We have to heal the people, not take anything from anyone.
The people recognized your real purpose and intention. What was the attitude of the government?
Of course! The government considered it a positive initiative. That is why in 2019 the second largest civilian award 'Pakistan Legend Award' was given to me. When I was introduced at the Governor's House in Lahore before the presentation of the award, I was overjoyed to hear the words: Riaz Khokhar Sahib is the person who brought yoga from the mansion to the house. From the special to the common and made an expensive hobby a free service.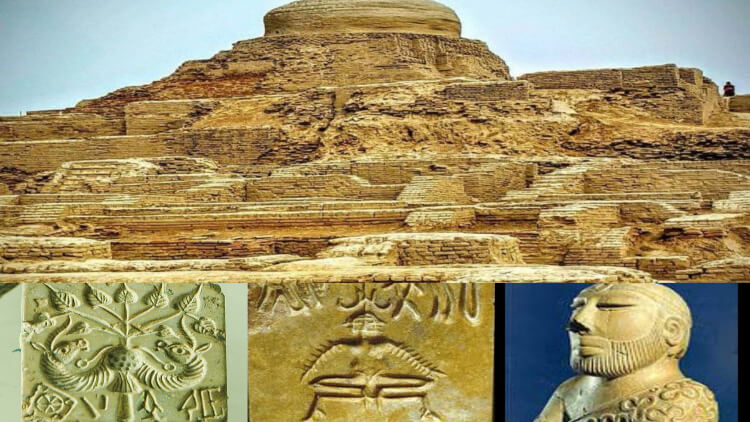 Statues and seals recovered from Mohenjo-daro in Karachi museum
How is Pakistan the birthplace of yoga?
Look! There are many claimants to every good thing. The same is true of yoga. Nepal has its own claim and India's own and Pakistan's own. It has been proved from history that the existence of the birthplace of Yoga is Mohenjo-daro because there are traces of Yoga here which proves that Yoga was born from Mohenjo-daro. A report by the British Geological survey has found marks and seals in the ruins of Harappa and Mohenjo-daro that suggest this.
This particular seal in which a yogi sits in an asana is called Pashupali.The seal can be seen in the Karachi Museum. We should be proud that the knowledge that originated from the soil of Pakistan today is helping in improving the physical and mental health of human beings in the world.