Tripti Nath/New Delhi
Master artisan Dilshad Hussain sat on a mat for two days carving intricate designs on brass pots at the Uttar Pradesh stall in the crafts bazaar at the G 20 summit venue here.
Seated right at the centre of the stall, Dilshad who has a snow-white beard could not be missed. At 76, Dilshad can easily be described as one of the fittest participants at the crafts bazaar.
Decorated with the Padma Shri in January 2023, this simple but super talented man from Moradabad has many admirers including none other than Prime Minister Narendra Modi.
It was some months ago that he received a phone call from an officer in Lucknow who told him that the Prime Minister had liked a pot while visiting his stall and wanted to present it to the German Chancellor. "The officer asked me to quote my selling price and send the pot to Lucknow by a State roadways bus from where they would take it. I sell it for Rs 26,000 but for me, the joy of sending a handicraft from my country, mattered the most and I never quoted a price. I thought, Modi ji does so much for us. Can't I do even this much for him?"
Recognized as a 'Shilp Guru', Dilshad has been practicing ' Nakashi' on brass from the tender age of seven. "I learnt this from my paternal grandfather and my paternal uncle, Kallu Ansari. When I got the Padma Shri, my paternal uncle said that I had done him proud and gone way ahead of him. In my own family, there are six State awardees but I had never thought that an artisan who earns a living sitting on the floor, could ever be honoured with the Padmashri.'' says Dilshad who wears his medal with great pride. He is the first person in his district to have received this award.
Dilshad has nine children- four daughters and five sons. "We have six State awardees in our family- two daughters, two sons, my wife and my daughter-in-law.''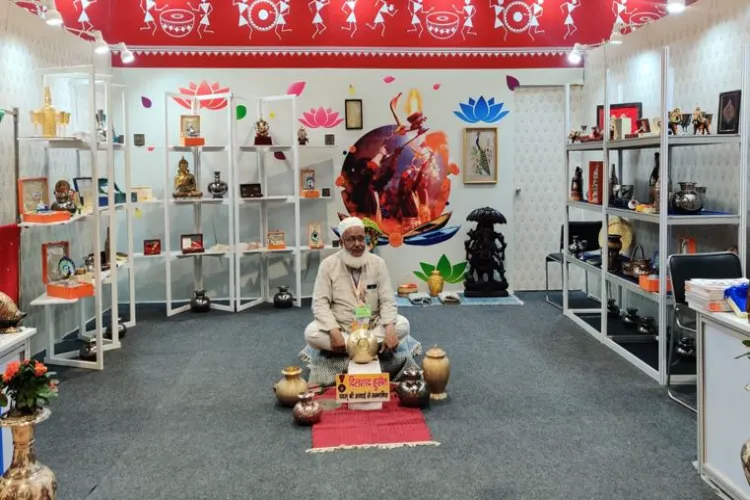 Dilshad Hussain in the U.P. stall at the Crafts Bazaar in Bharat Mandapam

Dilshad bought about 90 brass pots, jars, plates, and flower vases from Moradabad. Pointing to them, he says,"The plate costs Rs 1.75 lakh and a pair of these vases with a painting of a royal procession, cost Rs 1.50 lakh. Making them took nearly two years. I don't think I can make something like this again. I was able to sell half a dozen pieces like brass mugs, pots, and a flower vase. Besides the recognition that I received at the Crafts Bazaar, I earned some money. Now, I am back in Moradabad but am preparing to take part in another exhibition scheduled for September 21 in Noida.''
Dilshad took pains to demonstrate Nakashi to many visitors including Tsewang Morup, Superintendent Handloom, Ladakh, and Nisar Ali, an entrepreneur from Kargil.
The Uttar Pradesh kiosk has on display many handicrafts of Uttar Pradesh including Chikankari- traditional embroidery of Lucknow, silk scarves from Varanasi, perfume from Kannauj, and Zardoji from Shahjahanpur.
Like 'Shilpguru' Dilshad Hussain, many artisans said that they are thankful to the government for giving them an international platform in their own country to display their crafts and work.
Avaz Mohammad, a national awardee in Lac work from Jaipur, got a chance to interact briefly with Prime Minister Narendra Modi when he visited the bazaar after the end of the summit. The 76-year-old lac worker says that it is a matter of pride for him that the Prime Minister came to his stall and asked him how he is faring in his traditional business. "My family has been doing lac work for seven generations. The Prime Minister placed his hand on my shoulder and told me to carry on the work I am doing. His gesture was very encouraging. Mr Modi asked me to give a demonstration of my work. I told him that nearly 30,000 Manihar families belonging to the OBC community in Rajasthan, are engaged in making lac products. I also told the Prime Minister that the exposure that we got at the Crafts Bazaar would save this dying art. ''
Avaz who also runs a workshop and training center in Chini Ki Burj on City Palace Road in Jaipur, says that he has been doing lac work- making colourful bangles, jewellery boxes, and Lac Gulal Gota for sixty years. Over the years, he has also taught students of IIT, Powai, NIFT, and Pearl Academy. "Allah ka bahut bada inaam has ki mujhe G 20 jaisa manch mila hai.''(Getting a platform like G 20 is a big award from Allah), he says.
Avaz says that he studied till Class X, did a course from ITI, and even got a job as an instructor in a government institute in Kota and Udaipur but his father suggested he give up his job and focus on lac work. "Many lac workers have given up this work to take up jobs as masons in Dubai. In Rajasthan, Lac bangles are traditionally worn by brides and by married women. In my family, all of us-seven brothers made lac products. I heeded my father's advice and got a chance to travel the world. So far, I have been invited by the government to exhibit my work in at least 20 countries including China, Denmark, Italy, Sweden, South Africa, and the U.K.''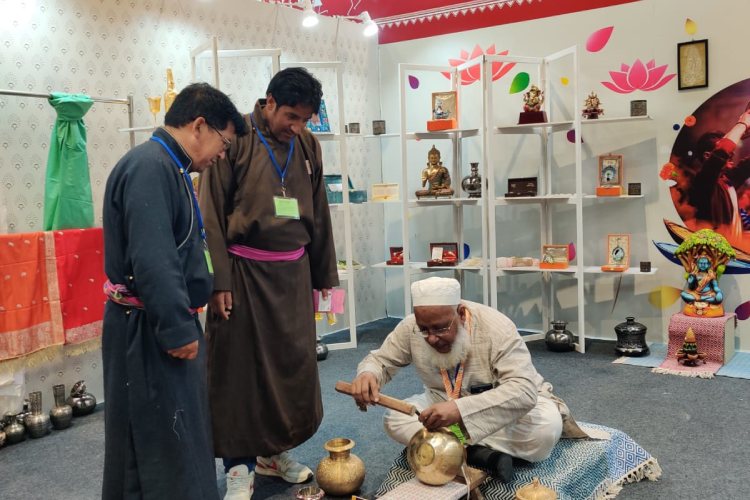 A bureaucrat and an entrepreneur from Ladakh interacting with Dilshad Hussain

Avaz has motivated his children to continue his family tradition. While he lost a son to Corona, his son, daughter-in-law, and three daughters work with him. His youngest daughter, Gul Rukh Sultana, runs a self-help group and teaches this craft to empower women. She has won many awards.
The Crafts Bazaar showcased indigenous art and crafts from all the States and Union Territories. The focus was on displaying products that have earned the distinction of ODOP (One District One Product) and GI (Geographical Indication) tags.
Visitors to the Madhya Pradesh stall got a chance to see Zardosi's 'gold embroidery' crafts which were introduced in Bhopal by Nawab Shahjahan Begum, the ruler of Bhopal from 1868 to 1901.
Shreya Patel, a designer from Mrignayanee, Madhya Pradesh government emporium drew attention to Gond art painting from Mandala district, Bagh print fabric from Dhar district, Nandna fabric from Neemuch district, Batik from Ujjain, Maheshwari, and Chanderi saris
Kishan Rao, Liasion Officer, Sant Ravidas M.P. Handicrafts & Handloom Development Corporation Ltd. Bhopal, explained that the Gond paintings have a 4000-year-old history. " These paintings are done by tribal artists. Prime Minister Narendra Modi carried Gond paintings for presenting to world leaders at the BRICS Summit in Johannesburg in South Africa, last month.''
The Department of Industries and Commerce from the Union Territory of Ladakh, also showcased products that were much appreciated by the visitors. These included the Pashmina, recognized as Ladakh's pride, and GI-tagged woodcarving. Derived from the Changthangi goat breed in Ladakh's eastern high-altitude region. Pashmina holds the distinction of being both the One District One Product (ODOP) and a Geographical Indication (GI) tagged treasure within the Union Territory.
The crafts bazaar was a center of attraction for dignitaries, delegates, diplomats, mediapersons, volunteers, and those on duty at the G20 Summit venue. A sheer delight for shoppers and craft lovers, it had something for everybody from all corners of India.
All the seven Sister States of the north-east had displayed products at the bazaar. The stall of Arunachal Pradesh had a rather cordial Chinese visitor. Some of the products on display here were the War 'Etondrey', a GI-tagged textile product, cane and bamboo baskets, Monpa bags, Adibadu (cotton blankets), carpets woven in Bomdila and Tawang, wooden sculptures from Longding district and handmade paper, beed jewellery (Litrien) made by Wancho and Nocte tribes.
Naz Pertin, Assistant Director, Department of Textiles and Handicrafts from Arunachal Pradesh, held up an Etondrey jacket to emphasize that traditionally, it was woven only by men. The middle-aged officer said that the crafts bazaar provided her an opportunity to visit the national capital for the first time. "In Arunachal Pradesh, we have 26 tribes and around 100 sub-tribes. We cannot represent the work of all the tribes but we have tried to make sure that we get a little bit of everything.''
The stall from Assam could not be missed as the GI-tagged Gamocha occupied a pride of place at the entrance to the stall. The world-famous Assamese tea, cane furniture, bamboo products, and water hyacinth products were also well showcased.
The Nagaland stall had the much-dreaded Naga king chilly 'Bhooth Jholakia' known as the hottest chilly in the world besides organic green tea, popped rice, white tea with hibiscus, spicy ginger powder, dry prawn and dry fish chutney, and honey.
The Goa stall attracted visitors as it was selling GI-tagged Bebinca- a Goan sweet made out of flour, coconut milk, and eggs. Cashews and Kunbi cotton sarees also had many takers.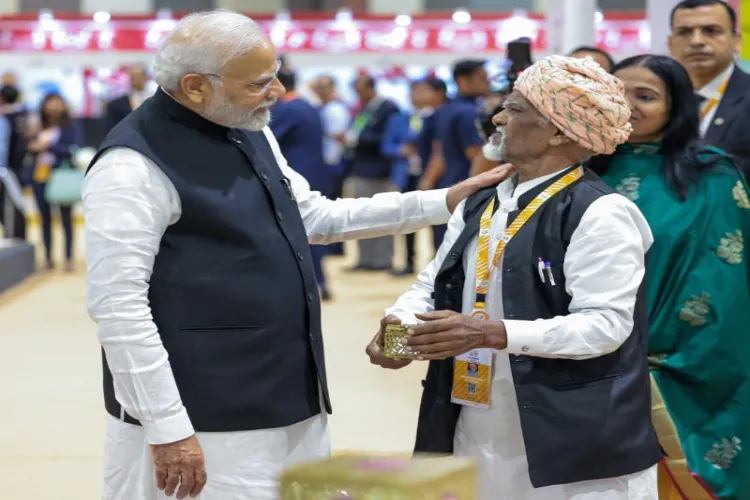 Prime Minister Narendra Modi has a word with the Jaipur-based lac artisan Avaz Mohammad at Bharat Mandapam

The Khadi stall had a prominent spot. The presence of a weaver from Gandhi Darshan in Rajghat who demonstrated Gandhi ji's 'Charkha' fascinated many visitors especially the foreign delegates.
The colourful Phulkari also commanded a lot of attention in the Punjab kiosk. The presence of 67-year-old Lajwanti, a jovial Phulkari (flower work embroidery) artisan from Patiala who was decorated with the Padamshri in 2021, added immense value to the stall. Lajwanti's family has been making Phulkari for seven generations.
The adjoining State of Haryana had displayed Terracotta pottery from Palwal, brass from Rewari, and Punja Dhurrie from Panipat. These handwoven dhurries are a traditional item made by village women and used in almost every village household.
Other items that were sought after were tribal jewellery from Bhagalpuri silk and Madhubani, paintings from Jharkhand, Chamba Rumal from Himachal Pradesh, Kashidakari-famous embroidery of Kashmir, bell metal work and spices of Kerala, Kolhapuri chappals, Paithani saris and Warli paintings from Maharashtra.
The Kanchipuram silk saris, Thanjavur paintings and Pathamadai fine mats from Tamil Nadu, bamboo mats and lamps at the National Bamboo Mission stall, Pattachitra paintings from Odisha, also drew many visitors and buyers.
ALSO READ: Ultra runner Sufiya Sufi preparing for running around the globe
The one awe-inspiring piece of art that stole the limelight at the Bharat Mandapam was the 27-foot magnificent Nataraja. According to the Indira Gandhi National Centre for Arts (IGNCA), the 18-tonne Nataraja statue is the tallest statue made of Ashtadhatu (eight metals). Sculpted by Radhakrishnan Sthapaty and his team from Swami Milai in Tamil Nadu, the statue was completed in seven months.