Srinagar
In a year when Srinagar is hosting the Miss World Beauty Pageant, reigning Miss World Karolina Bielawska of Poland is visiting Kashmir and has fallen in love with the Valley's mesmerizing scenic splendor.
This will be the high profile event after the G-20 meeting on tourism held in Srinagar two months ago. The contest is being held on December 9.
Karolina Bielawska arrived in Srinagar on Monday and attended the 71st Miss World 2023 press conference during which Karolina said, "I am grateful for the opportunity to see this beautiful place (Kashmir) in India. I didn't expect it at all, but it just stuns me with its beauty.
She is accompanied by Miss World India Sini Shetty and Miss caribbean Emmy Pena.
"We've been talking about Kashmir and I knew there would be beautiful scenery. But what we've seen today was really blowing our minds... And everyone welcomed us so nicely, so warmly that I cannot wait to welcome 140 nations and all my friends and family to bring them here to India and to show places like Kashmir, like Delhi, Mumbai. This is my third time in India, I am so happy not the last one. Every time we come here we discover something new and India is very diverse. However, in every state there is something common, which is the wonderful hospitality."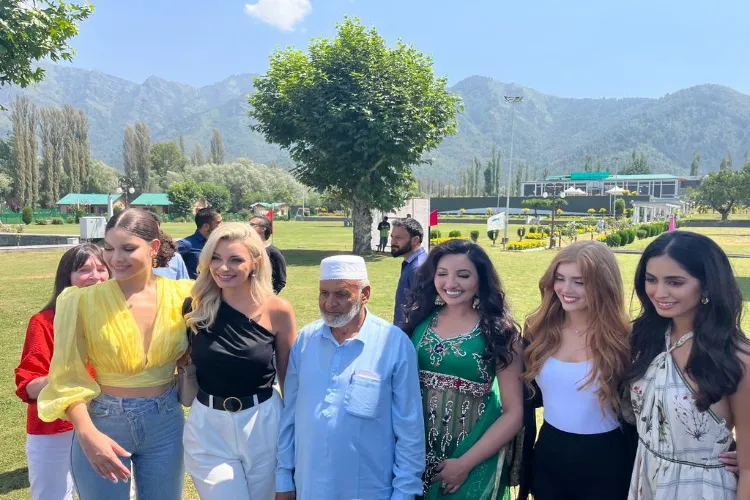 Miss World Karolina Bielawska, Miss World India Sini Shetty, and Miss World Caribbean Emmy Pena posing with a local in a Mughal garden in Srinagar (Basit Zargar)
Karolina along with Miss World India Sini Shetty and Miss World Caribbean Emmy Pena visited and explored Kashmiri handicrafts and art.
Kashmiri handicrafts, which have long been revered for their exquisite craftsmanship and rich cultural heritage intrigued Karolina, Sini and Caribbean Emmy that all of them visited to Sher-i-Kashmir International Conference Centre to see handicrafts.
They all were seen dressed in traditional attires of Kashmir with their crowns.
Not only that, they also enjoyed the view of the Jhelum River.
Speaking about the visit, Jamil Saidi, Chairman, PME Entertainment, "Kashmir, the crowning jewel of India, has a special place in my heart. My encounters with its warm people and majestic landscapes remind me of what India truly stands for - unity in diversity. We extend our gratitude to the LG and the wonderful people of this region for their kind-hearted welcome."
Miss Julia Morley, Chairman & CEO Miss World Organisation said "I thank the Rouble Nagi Art Foundation for a great experience during the visit to the valley and applauded them for the great work the organization is doing. It's been a breath-taking experience to visit Srinagar with the pageant holders and we have enjoyed every moment here"
On Monday, Karolina enjoyed lunch and visited Dal Lake for shikara ride with other dignitaries.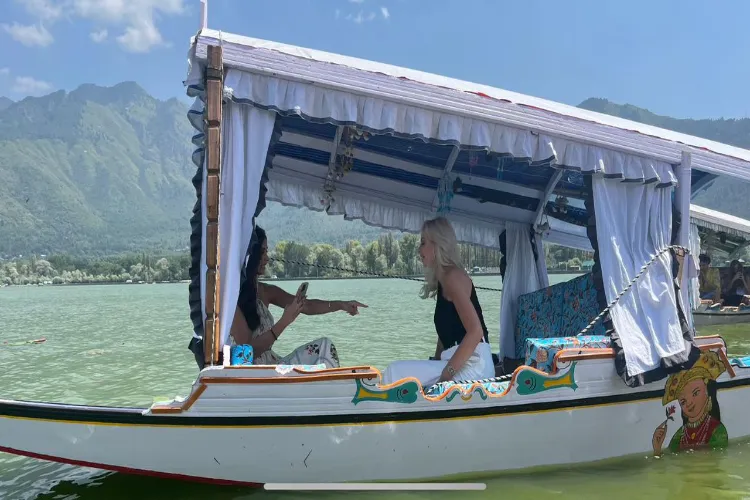 Miss World Karolina Bielawska taking a shikara ride in Dal lake, Srinagar
Karolina Bielawska from Poland won the title of international beauty pageant Miss World 2021. She is a Polish model, TV presenter, social activist, UN Messenger of Peace Goodwill Ambassador, philanthropist and publicist.
Earlier, Miss World 2022 Karolina Bielawska shared her excitement about India becoming the venue for Miss World 2023 and said that she wanted to explore India's values and culture.
Talking to the media, Karolina Bielawska said, "I would love to visit Goa, to explore beach life. Go to Manipur, to see all the nature. I am also interested in business, I would like to go to Bangalore and meet intellectual people and learn about your businesses. There are so many places in India and one month is not enough to explore. I would love to travel and learn about people because they are an important part of every country."
India will host the 71st edition of Miss World.The prestigious international pageant will be hosted in India after 27 years, the last being in 1996.
ALSO READ: Pakistan-born Maulana Ghamidi says Quran doesn't prescribe punishment for blasphemy
India's stint with this pageant has always been exceptional. India has won the Miss World contest six times - the first in 1966. While Reita Faria won the Miss World title in 1966, Aishwarya Rai Bachchan was crowned in 1994. Diana Hayden won the Miss World title in 1997. Yukta Mookhey bagged the title of Miss World in 1999. The year 2000 saw a Miss India World again with Priyanka Chopra winning the crown. Manushi Chhillar became the sixth Miss India World.