Ehsan Fazili/Srinagar
The growing specter of late marriages of women, a socially alarming situation for traditional society, has set off the trend of mass weddings in the Kashmir Valley.
For the Helping Hands Foundation which recently organized weddings of 31 couples in a community hall at the Baba Demb area, it turned out to be its fourth such event in a year. Umer Wani, founder of the NGO told Awaz-the Voice that this year he has arranged 150 weddings.
"According to a survey report of Ministry of Statistics and Programme 2022, J&K has recorded a higher percentage of unmarried youth," Wani said, President of Helping Hands Foundation told Awaz-the Voice.
"With this (October 27 event) we have organized 150 marriages this year. Next year we have a target of 200 marriages", Umar Wani said. "We initiated the mass marriage (Wedding) programmes by the end of 2019 considering the terrible situation wherein women who cross 30 years of age are not able to get married because of the prohibitive cost of weddings," he said.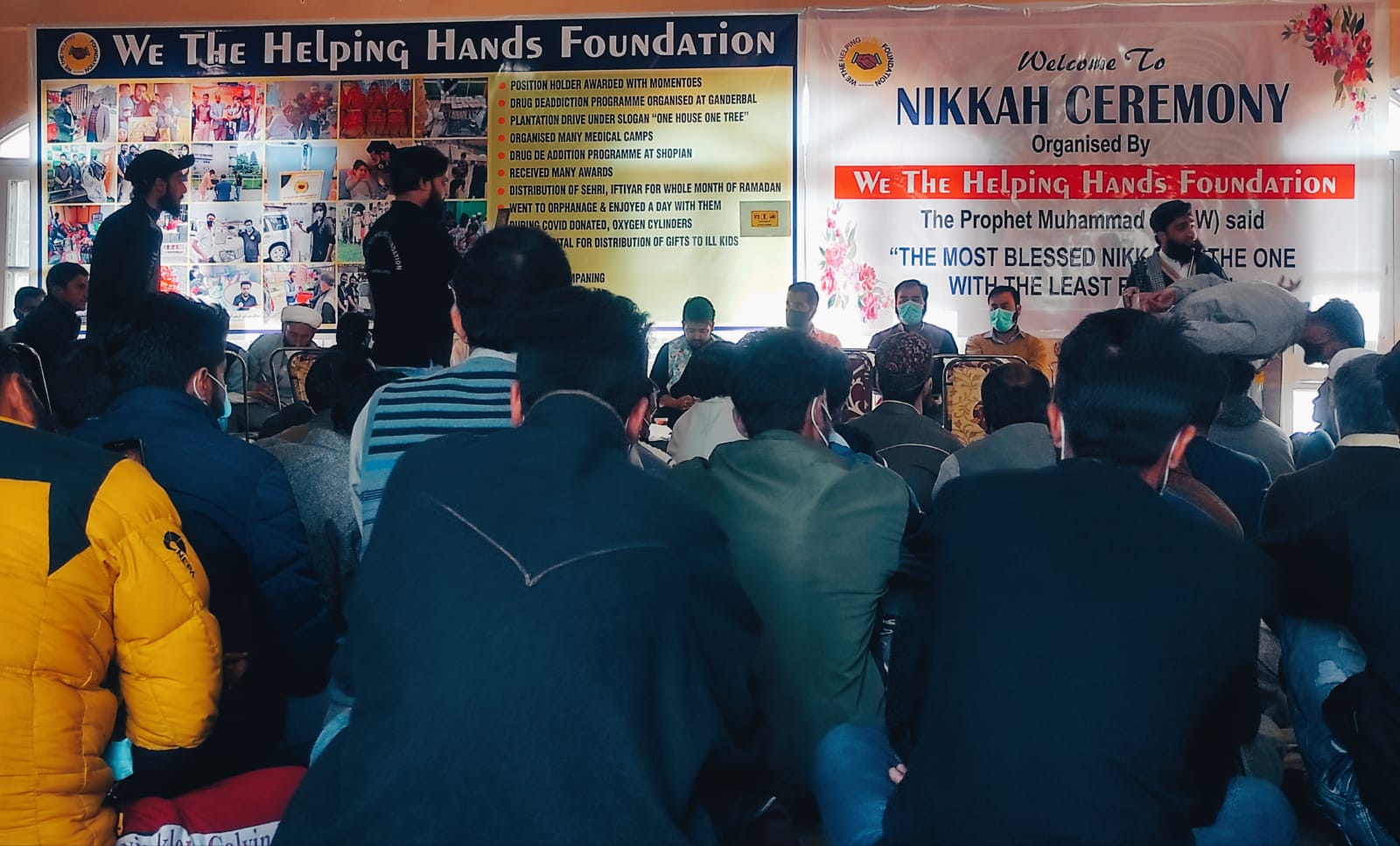 A Mass wedding function in progress in Srinagar
He said the NGO "not only helps in organizing the weddings but also gifts basic things to the couples to start their marital life so that the trend of late marriages ends,"
Wani's NGO gifts couples with "marriage kits which constitute suits, slippers, sandals, hosiery items, khan dresses and electric appliances including irons, rice cookers, and gas chulhas".
Given the turmoil that Kashmiri society faced due to terrorism and unrest, many families faced poverty and were headed by women folk. This all, according to Bilal Sultan of Aagosh Orphanage said led to the late marriage of both the men and women.
Bilal is in charge of the orphanage run by Sultan-ul-Arifeen Yateem Trust (NGO) at Parimpora on the outskirts of Srinagar.
"We are supporting orphaned girls and providing them financial assistance", Bilal Sultan told Awazthevoice.
Bilal says many orphaned children do not get financial support and it leads to late marriages. "We felt the need to provide financial help and to arrange weddings of many poor boys and girls five years back and it led to the mass wedding programme."
Another NGO, "Mooj Kasheer (Mother Kashmir) Welfare Trust, running for the past three years, with the main focus on health and education, this year launched a mission titled "Let us support simple Nikahklth", according to the youth founder, Amir Rashid Wani. The mission helps poor girls, whose marriages are solemnized by providing all the requisite items. It has helped the marriages of 69 girls get married this year while it helped 67 couples tie the knot the last year.
ALSO READ: How Pune's Shaheen Mistri is ensuring all children go to school
The practice of organizing "mass marriages" was introduced by Jaffri Council of Kashmir in 2015, after it had recognized the necessity of extending help to many poor girls and boys having the least financial strength to go in for marriages. It organized mass marriages of 38 couples in 2015.