Saltanat Fazil aka Saltanat Didi to the author, passed away in the wee hours of Friday at her Panchkula house. Feeling uneasy, she asked her 22-year-old daughter Nooreen to give her a white Duppata. Nooreen played a Naat online to calm her. Nooreen says that after listening to the Naat for some time, her mother breathed her last. The author pays tribute to her Saltanant Didi by sharing the story of the bond between their two familes.

Tripti Nath
Saltanat didi, my mother's student from Kashmiri Mohalla Municipal Girls Inter College in Lucknow, Uttar Pradesh, was the first Muslim I met rather early in life. She was a descendant of Aga Meer, Prime Minister of Awadh during the reign of Badshah Ghazi-Uddin Haider but she was so modest about her background that she mentioned it to me only recently.
Sometime around 1973, my mother and her student ran into each other while crossing a street in Chandigarh. My mother quit her nearly nine-year teaching job around 1964 to move to Nepal after her marriage. Both of them were overjoyed to have reconnected and often relived the magical moment of their chance reunion during family gatherings. It was surely extraordinary and they cited it as an example of Providence.
And in no time, Saltanat didi became a regular visitor to our home in a Punjabi-dominated neighborhood. Our Punjabi friends admired her 'Lakhnavi tehzeeb' (etiquette of Lucknow) as she acknowledged greetings with 'Jeeyo' (blessing to live). She stood out with her simplicity and beauty.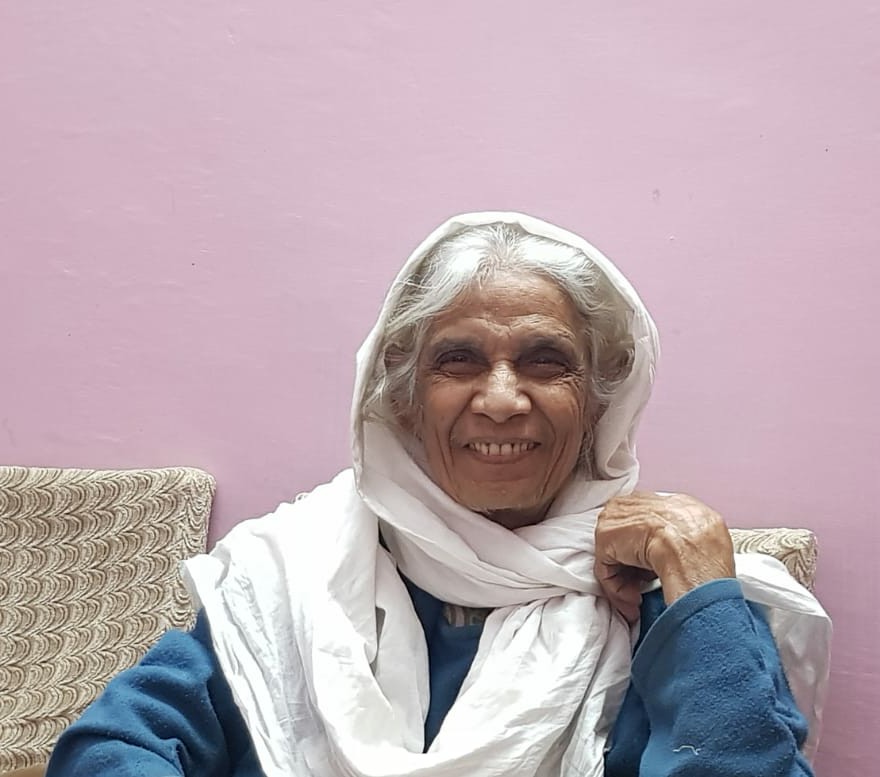 Saltanat didi at her house in Panchkula in December 2021. Picture taken by Antje Stiebitz, a German radio journalist in the course of an interview
For us, three sisters, the forever young at heart Saltanat didi was like an elder sister who was always there for us. Laughter filled the living room the moment this charming and jovial lady stepped into our house and looked amused as we struggled to imitate our father greeting, 'Aadaab' and ' As-Salam Alaikum' to her husband. While my mother enjoyed reliving her teaching days with Saltanat exchanging notes on the whereabouts of long-lost colleagues and students, my father and her husband kept busy discussing news developments. My father would always keep aside a Haryana government Urdu journal for her husband.
Saltanat didi had a special talent in embroidery and we would run up to her to seek approval for embroidery homework assigned by our crafts teacher in school.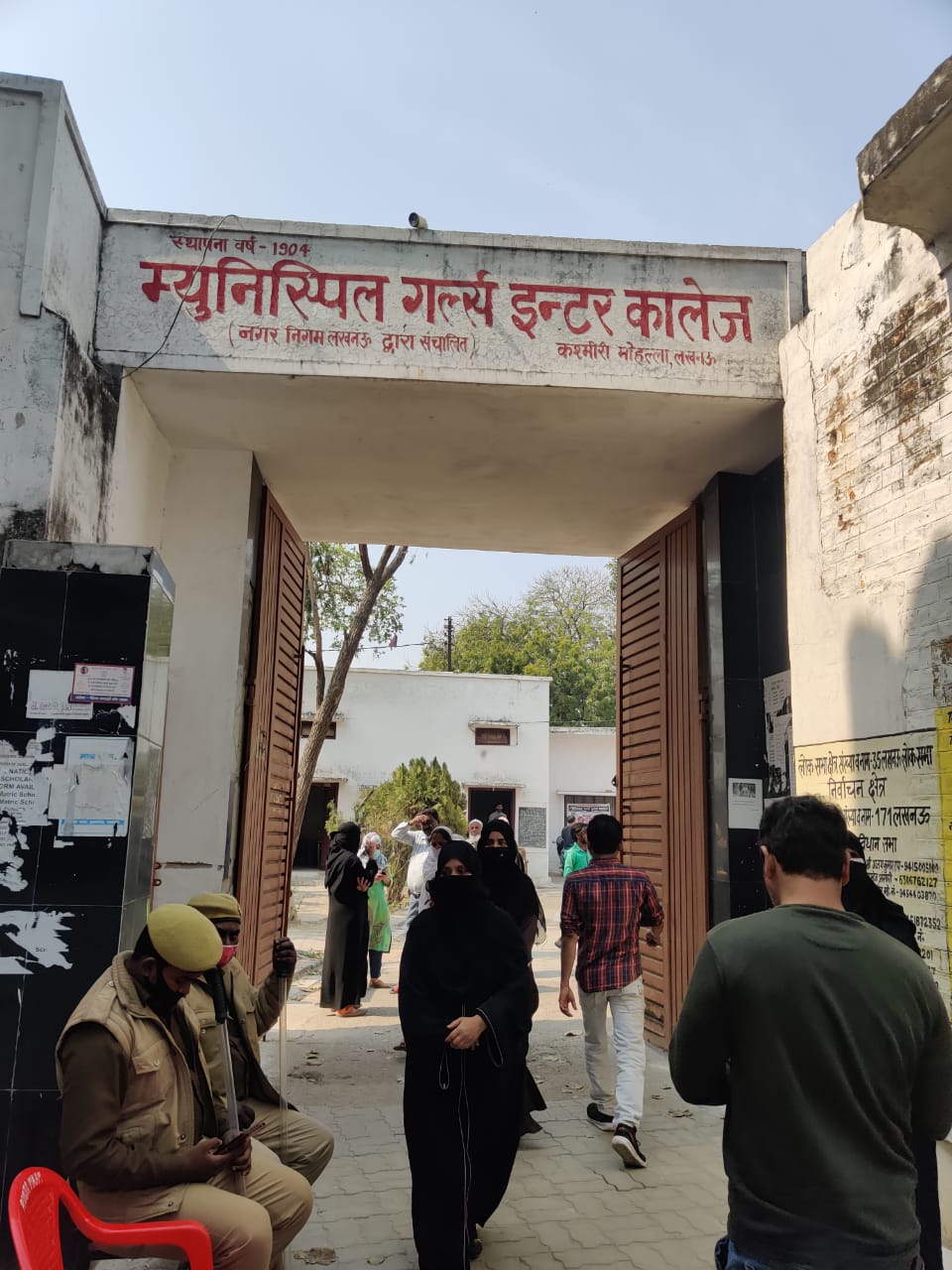 The Lucknow school where Sarla Behenji and Saltanat Didi met for the first time
Diwali and Holi were no less a festival for Saltanat didi just as Eid was no less a festival for us. The taste of Kebabs, Nargisi Koftas, and sewaiyan she cooked for us with so much love during the festival, are unforgettable. She made sure she attended our birthday parties and even turned up once at my school to watch my puppet show. And of course, we would drag her to the badminton court in our compound and she would enjoy playing with us.
On days she would drop in unannounced with her husband and my mother would insist they stay back for dinner she would go to the kitchen and roll out what she called Dosti roti (Friendship bread).Never did religion come between us.
I remember that when my father was in hospital in 2008, Didi went around his bed reciting 'Alhamdulillah', the first Surat from the Holy Quran.She had been tying Rakhi to my father and she could not bear to see him in pain.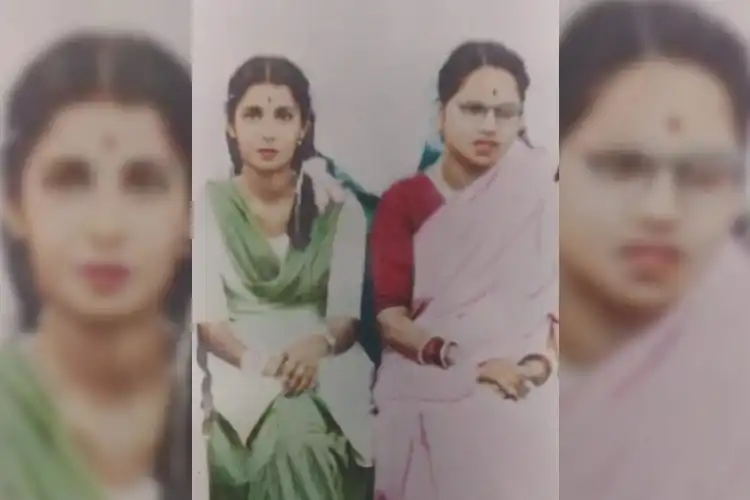 Saltanat Didi and Sarla Behanji
I remember how Saltanat didi once pulled out a tiny bottle of Ittar from her purse and presented it to my pleasantly surprised father.
At 76, Saltanat didi vividly recalled her chance meeting with my mother. She said that she could not contain her excitement at spotting my mother and stepped ahead to exclaim, "Sarla behenji'. Her husband, a scientist, dissuaded her saying that it could be a case of mistaken identity but didi was sure that it was one of her favorite teachers from school. Looking back at her school days, she told me, "There were times when we were not in a mood to study and request Sarla Behehji to allow us to sing. Sarla Behenji had an ear for music and would accept our request. I recall her singing ' Aasoo bhari hai yeh Jeevan ki raahen.' We were very fond of Sarla Behenji. She was mild-mannered and never really scolded us. We would run around to fetch the register and chalk for her. She was my class teacher and taught us English and Hindi for almost six years. ''



Saltanat didi who hails from a Shia Muslim family of Lucknow, often remembered her days in Akbari Gate where she lived with her family. She recalled that her family had a very secular outlook. Interestingly, Saltanat didi was a descendant of Aga Meer who was Prime Minister of Awadh during the reign of Badshah Ghazi-Uddin Haider. When I would tell her that she came from a very illustrious background, she would laugh it off.
She would go to school escorted by domestic help in Kashmiri Mohalla, one of the oldest areas of Lucknow established way back in the 1770s, during the regime of the then Nawab Asaf-ud-Daulah.
"We would wear a burqa to school near Nakkhas. I remember my grandmother telling me not to pick up quarrels with any Hindu classmates. At the same time, our parents never stopped us from sharing food with Hindus or people belonging to any religion. My best friend from school, Humaira, is a Sunni Muslim. I am still in touch with my Hindu friends and I send Rakhi to their brothers. One of my friends from Class III, Sushila Jaiswal died a couple of years back. Her husband had no sister and he asked her (Sushila) to suggest the name of a friend who he could treat as his Rakhi sister. I have been sending Rakhi to her husband and her brothers since then. I am also in touch with my classmate Beena Sharma who is now in Jaipur. For years, I have been sending Rakhis to her three brothers. There are hardly any Muslims in our neighborhood in Panchkula in Haryana and my daughter only has Hindu friends.''
The extraordinary bonding my mother and Saltanat didi shared is a great example of religious harmony that needs to be cherished. After all, she was from the first batch my mother taught.
A picture of hers taken with my mother at the time of her class X farewell in 1963 adorns the wall of the lounge in our family home in Panchkula. The picture was framed and gifted to us by her husband, Mirza Mohamad Fazil who retired as Deputy Director with Central Scientific Instruments Organisation. The pride of place the picture occupies in our home is significant as it is a celebration of the deep and rock-solid friendship between my mother and Saltanat didi. Although my mother passed away in 1992, the goodwill she left naturally paved the way for second-generation friendship with Saltanat didi's cheerful college-going daughter, Noorin.
"I always felt very close to Sarla behenji. When I reached your home to check on her well-being, she had just breathed her last,'' she laments to this day.
Also Read: Hindus contribute 70 pc funds for Ayodhya mosque
Didi was optimistic that her pure friendship with my mother will continue with her family for generations to come. She was not wrong, I could not stop crying after I heard of her demise on Friday morning. Nor can I believe that she is gone. I feel that when I visit her house, she will insist on making a cup of tea or Roohafza with lime and bring out the most tasty biscuits from the kitchen.I will miss her laughter.
Memories of didi's kind hospitality will always remain etched on my mind. Last December, a German radio journalist, Antje Stiebitz was working on a radio feature on 'Spirits possession in Islam'. So, I suggesed that we go to Saltanat didi's house to know her views on the subject. Saltanat didi and Nooreeen greeted us with unforgettable hospitality. She was articulate and spoke on the subject very confidently.
Antje is sad to know about Saltanat didi's demise and recalls the meeting with her as an impressive experience. Antje remembers Saltanat didi as mild, clear and beautiful. She says, "Her observation of spirit possession in her community was psychological- very much on point. Besides, her hospitality was tremendous.''