Aasha Khosa/New Delhi
In mid-December, when Suman and her husband Diwan Arora of Sonepat, Haryana, left for Rameswaram in Tamil Nadu, for performing the pilgrimage to one of the holiest sites of Hindus, little did they know that their journey would also take them to another sacred place – a memorial to the son of the soil Avul Pakir Jainulabdeen Abdul Kalam aka Dr. A P J Abdul Kalam.
"I didn't feel like leaving the place," said Suman, a retired central government official of her experience of visiting the National Memorial for the 11th President of India A P J Abdul Kalam, located in his native city of Rameshwaram.
Suman said that the moment she removed her shoe to enter the National memorial she experienced a surge of positive energy inside her. She and other tourists paid obeisance to the People's President at his resting place inside the memorial.
"I was visiting the place after I visited the temple; there I felt I had entered another sacred place," she told Awaz-the voice.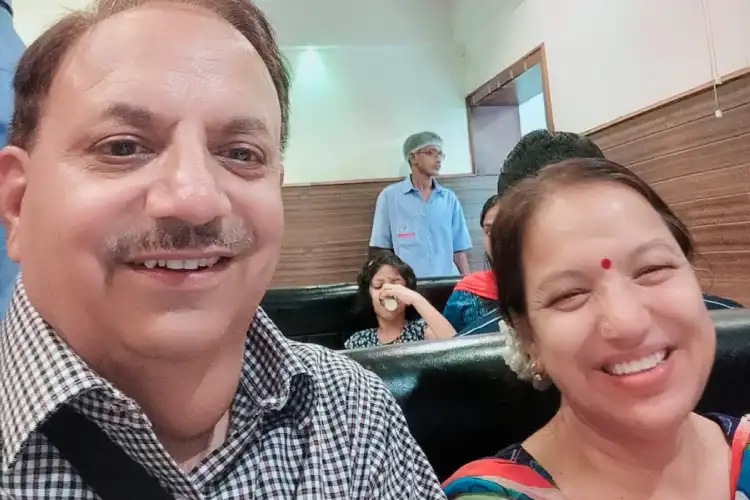 Suman and Diwan Arora in Rameshwaram

On her maiden journey to South India, Suman said she was as much awestruck by the grandiosity and architecture of temples – Rameshwaram, and Meenakshi at Madurai as with the simplicity and grandeur of the life of the great Indian - A P J Abdul Kalam.
"Seeing the incredible architecture of the temples was a great experience. Visiting the museum of President Abdul Kalam was no less. It was also like a pilgrimage."
Though not hyped as much as many other places, the museum is on the Tourism map of Rameshwaram city. According to Aroras, even the local auto-rickshaw drivers who offer tour packages to visitors, recommend the museum as the first place.
Suman said although their tour was in connection with the seven-day Bhagwad Gita path (Narration of the Bhagwad Gita) and was organized by a religious group, a friend had advised her to visit the museum at any cost. "After visiting the place, I can never thank my south Indian friend enough," Suman said.
Dr A P J Abdul Kalam's memorial, Rameshwaram

Kalam's grand-nephew APJMJ Sheik Saleem told Awaz-the voice that so far one crore people have visited the museum that was set inaugurated by Prime Minister Narendra Modi on July 27, 2017.
Sheik Saleem who recently joined the BJP runs his business and a Foundation for social work. He says he is privy to people's devotion and love for his ancestor as they visit his memorial.
"The museum is visited by at least 7,000 visitors per day and so far about one crore have paid their obeisance to the people President," Saleem told Awaz-the Voice.
"Earlier people came to our city for pilgrimage to the (Rameshwaram) temple but now the pilgrimage is combined with the visit to the national memorial for APJ Abdul Kalam," he said.
"I have seen people coming to the place and feeling there is something great there. Many visitors do stand silently in front of the memorial, some bow their heads, and others simply go in the prayer mode as if they are seeking His blessings," the former President's grand-nephew said.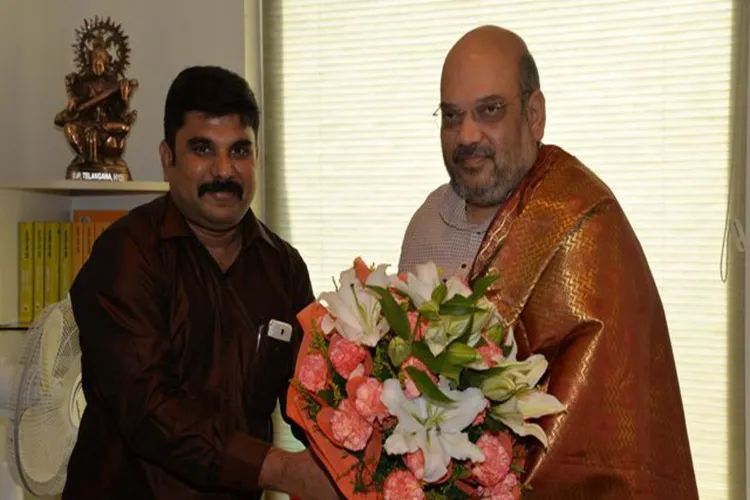 APJMJ Sheik Saleem with Home Minister Amit Shah

He said it's touching and a humbling experience to see how much Indians cutting across religions or other barriers loved Dr. Kalam.
Suman and her husband and many in their group spent nearly two hours inside the memorial. The visitors have to enter barefooted and also not use cameras or mobiles to click the pictures. All this adds to the sacredness of the space.
Saleem said since the place sees a high footfall, the cameras are forbidden simply because if everyone starts clicking there will be chaos.
Diwan Arora said the pilgrimage jatha comprised 300 people from Punjab and Haryana who visited Rameshwaram for "Bhagwat sapthah' the weeklong narration of the Bhagwat Gita.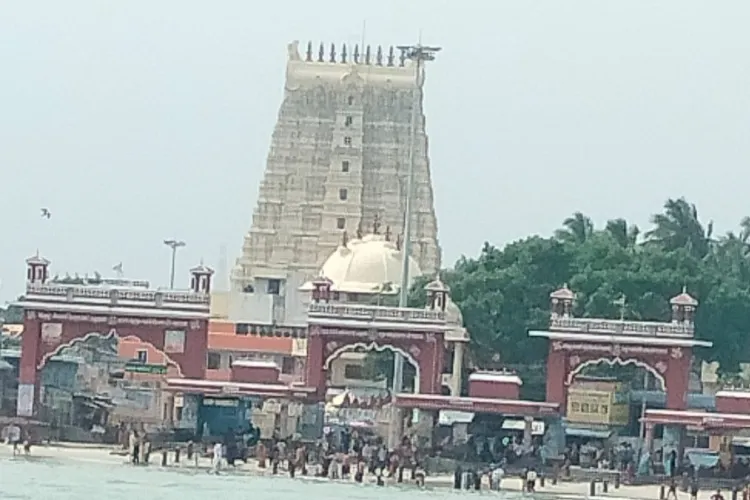 Meenakshi Temple and the Sea at Rameshwaram

Besides the museum, A P J Abdul Kalam's childhood home has also been converted into a museum that his elder brother maintains. "It's a smaller collection of photos and family memorabilia. The place is visited by at least 4,000 persons per day," Sheik Saleem said.
The national museum maintained by the DRDO narrates story of the life of India's missile man from a newspaper hawker in the coastal city to India's missile man and the most popular President. It showcases pictures and models of missiles, rockets, and the Pokhran Nuclear test that Kalam was involved in. His favourite Veena that he played every morning sitting on the bare floor even in Rashtrapati Bhawan is also displayed in the museum.
Dr A P J Abdul Kalam lived in the Rashtrapati Bhawan from 2002 to 2007. He became the most loved and respected head of the nation to get the sobriquet of People's President.
Kalam was a respected scientist specializing in aerospace engineering. His simplicity and dedication to serving the country motivated many youths to follow his path and he became a inspirational figure for the youth of India.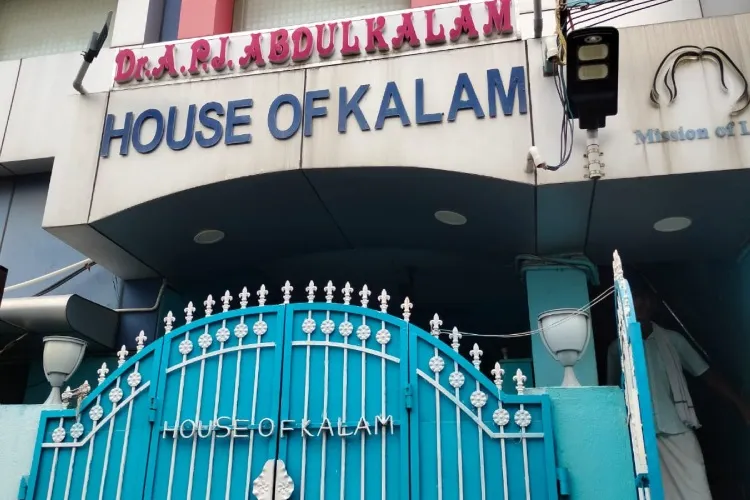 House of Kalam : the private Museum dedicated to the memory of Dr APJ Kalam inside his ancestral house in Rameshwaram

Inside the memorial, one can see the selected photos, paintings, miniature models of missiles, etc. The memorial is less than 1 km from Rameswaram.
The museum's exhibits narrate the story of his life and achievements. It's located on Mosque Street and is open from 8 a.m. to 7 p.m.
A. P J Abdul Kalam was born and brought up in Rameswaram and became a scientist and worked for DRDO and ISRO before being chosen to become India's 11th President by the then NDA government headed by Atal Bihari Vajpayee.
He passed away all of a sudden while attending the convocation of the IIT Shillong on July 27, 2015, and was laid to rest at Pei Karumbu, Rameswaram on 30 July.
According to the statement of the Museum, Dr. Kalam always reflected the simplicity, depth, and calmness of Rameshwaram throughout his life, and it's showcased in his memorial. Dr. APJ Abdul Kalam National Memorial was inaugurated by Prime Minister of India Narendra Modi on 27th July 2017.
The memorial is spread over 2.11 acres of land, the memorial is constructed on the gravesite of Dr. Kalam, where his mortal remnants were put to rest on July 27, 2015. To pay tribute to India's missile man, The Defence Research and Development Organisation (DRDO), with which Dr. Kalam had been associated for several years of his life, came up with an initiative to construct his memorial.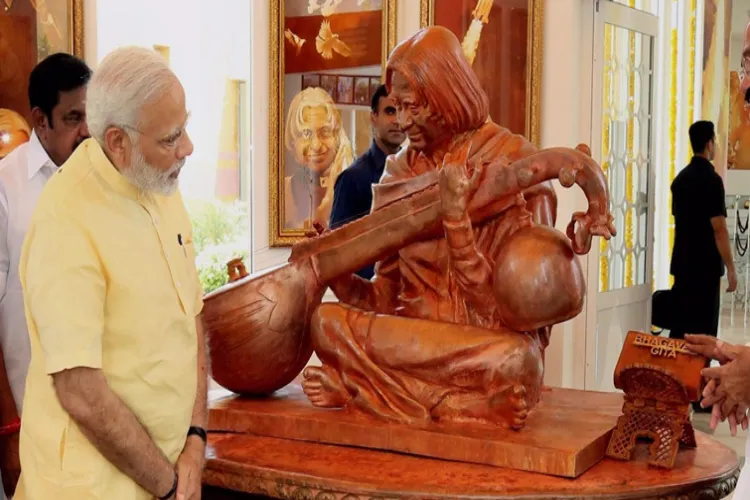 Prime Minister Narendra Modi admiring the statue of Dr APJ Abdul Kalam after he inaugurated the memorial

The memorial was constructed in a record time of nine-month at the cost of Rs 120 crore,
The Museum is also included in the recommended place in Rameshwaram by the Trip Advisor company.
On its website, people who visited the place have rated it very highly. Their comments in the review section show that the People's President continues to be in the heart of Indians even after his passing away. For example, Saurabh from Patna, Bihar, says:
..must visit place for everyone. I'm a huge follower of Bharat Ratna Late APJ Abdul kalam sir. It was inaugurated by Our prime minister in 2017. Here you can learn many things about Bharat Ratna APJ Abdul Kalam sir.
I visited this and will recommend every people to visit this place and should remember the person who shape and sculpt the Indian defense and space research organisation.
A Tourist from Bangladesh wrote in the same section: "A scientist and leader has been honoured in the best way in his birthplace "
Another tourist to the museum from Hyderabad wrote:
.. A fitting tribute to the great son of India. Amazing that a man with such humble origins and from a very small town rose to the highest office in this country. A must-visit for students and youth who can take inspiration from the great man's life. Plenty of Photographs, a peek into the life of Dr. A.J.P. Abdul Kalam.
ALSO READ: Kalam was a great man-manager
A visitor from NCT of Delhi wrote on Trip Advisor's website :
Not only a memorial but a temple or place of worship where you can motivate yourself how an innocent boy who was used to distributing newspapers in a nearby area has become India's first citizen. The place is full of photographs, a replica of missiles, statues, Samadhi, and many more ... a calm environment despite of rush of school children.. A must-visit place at Rameshwaram.