Mansooruddin Faridi/New Delhi
Maratha Warrior King Chattarpati Shivaji was not against Islam but against the Mughals who invaded his country. Not only has the reality about Shivaji's life been distorted by vested interests, but his image has also been presented in a manner to make him look like an anti-Islam and anti-Muslim personality.
"The truth is that Shivaji Maharaj probably respected Islam more than the Muslims did. Those who are aware of this reality celebrate Shivaji Jayanti." Said Paigambar Shaikh of Pune, Maharashtra, a Muslim by faith, who is at the forefront of organizing Chhatrapati Shivaji Maharaj Jayanti.
Talking to Awaz-The Voice, Praigambar Sheikh said that a section of Hindus project Shivaji Maharaj as against Muslims and many Muslims also fall to this propaganda. The Muslim organizations which celebrate Shivaji Maharaj Jayanti know the truth or why would he have at least 13 Muslims in high positions in his army."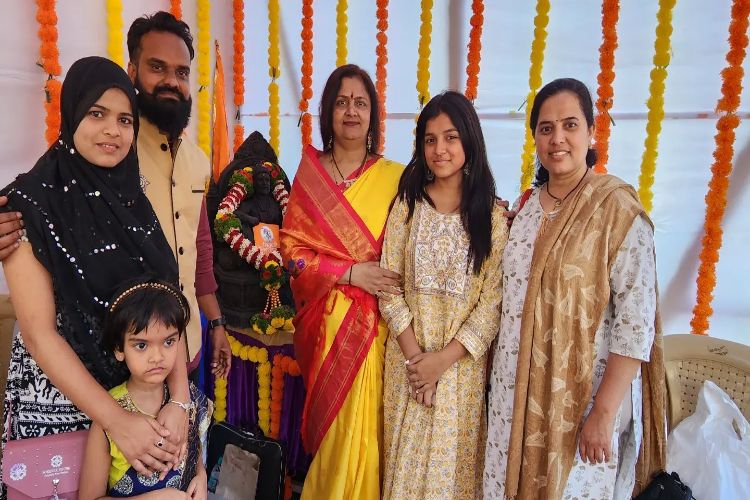 Paigambar Sheikh with his family at a celebration

Paigambar Sheikh says that Shivaji Maharaj was born inside a fort with a mosque. Read his accounts in history to know that Shivaji did not only respect Muslims he never even spoke against their religion.
He stood firm against the invaders and Muslims too supported him.
Paigambar Sheikh is not only active in addressing the misconceptions about Shivaji Maharaj but also launched an "Aarthik Qurbani movement" that encourages Muslims to donate the amount kept for buying an animal for sacrifice on Eid festival and using the same for the education of all communities.
Aarthik Qurbani Movement (Financial sacrifice movement) collects money from Muslims and others too and uses the same for helping the needy with the education of children.
Paigambar says he has only two goals in life: one is to remove the misconceptions about Shivaji Maharaj among Muslims and the second is to raise the funds for the education of the poor through his "Aaarthik Qurbani Campaign."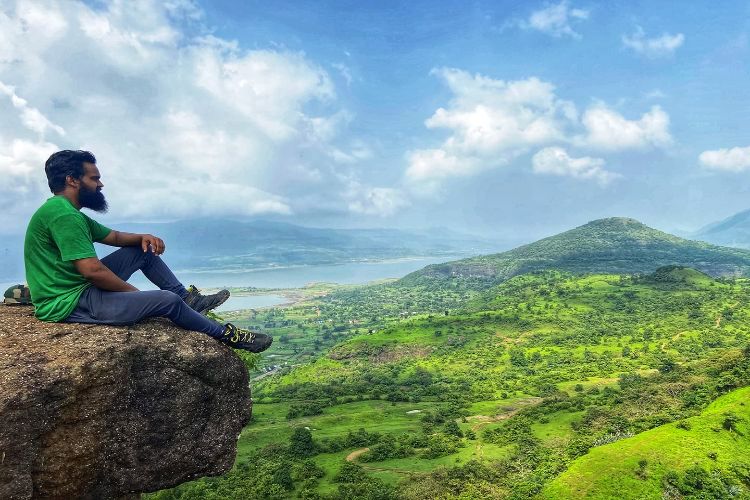 Paigambar Sheikh

Speaking with Awaz-the Voice, Paigambar Sheikh said he is happy to notice that the realization of Shivaji's role in history is dawning on Muslims.
Each year more Muslims join the Shivaji Maharaj Jayanti celebrations. It's a grand festival celebrated with fanfare and gaiety.
"I attend about 20-25 events a day. I am also the speaker at the function which are hosted by Muslims and non-Muslims. I try to explain my study about Shivaji's many wars to Muslims that these were against invaders.
This year too, Paigambar was extremely busy on Shivaji's Jayanti. His engagements started in the morning.
His attachment to Shivaji is an interesting story.
He says, "As I pass through each stage of age, my love and devotion to Chhatrapati Shivaji is increasing. I don't quite understand why this is happening. I have matured on the subject of Chhatrapati Shivaji Maharaj during the last 5 to 10 years. My morning started with blood donation."
He is often joined by his wife in this campaign
Paigambar Shaikh says that when he was young, he enjoyed reading about the forts built by Shivaji Maharaj. "I used to feel I should know more about him, I then studied history, read, and understood a lot. I am determined to visit all Shivaji's forts in Maharashtra,; The number is 53.
Paigambar Sheikh and his friends have managed to give feet to their campaign "Aarthik Qurbani movement.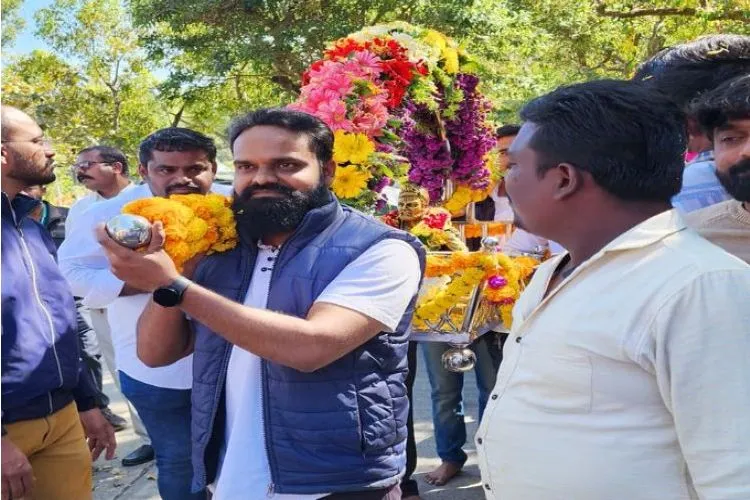 Paigambar Sheikh taking out the statue of Shivaj Maharaj in a ceremonial procession

He says that even in Bengaluru some of his Muslim friends succeeded in persuading others to work for the education of children. Not only this, but after the Kerala floods of 2018, social media prompted many people across the country to donate at least a portion of their earnings to the flood victims.
However, the financial sacrifice movement of the Paigambar Sheikh is different from all of them because it is not limited to Muslims only.
His Facebook campaign received more support from Hindus than Muslims. When he started his campaign in 2014, he could not attract many Muslims. Of the 117 people who donated that year, only 50 were Muslims. Last year they collected about Rs 95,000, which was less than previous years but more than expected given the financial blow from the two lockdowns.
Paigambar Shaikh says, "The Qur'an says that man should sacrifice what is dear to our hearts. How can an animal which is bought with the express purpose of sacrificing be the closest thing to our hearts?" They say that this verse of the Holy Quran seals my belief that "Neither its flesh nor its blood will reach Allah, but what sacrifice teaches one is piety on your part."
To the orthodox Muslims who insist that sacrificing a live animal is the only way out as it can give meat to the poor, Paigambar Sheikh says that "intention" is the most important thing in religion.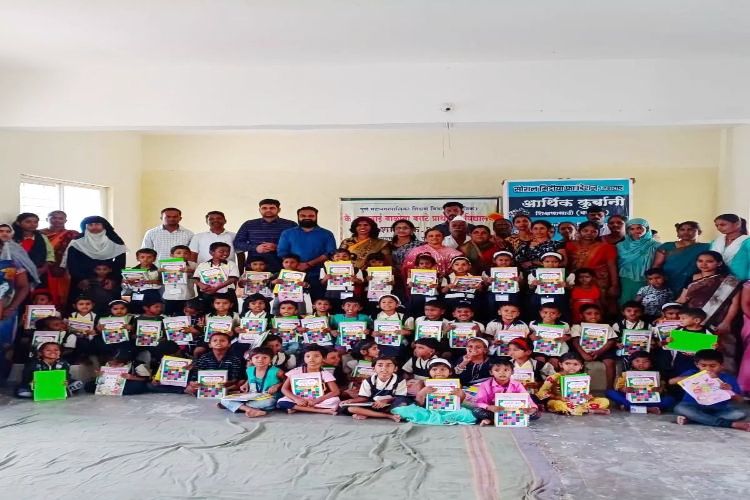 Paigambar Sheikh with beneficieries of Aarthik Qurbani movement

He says what is more important - eating mutton or eradicating poverty? Those who go around distributing mutton in poor households will be surprised to know this. that some of these families cannot even afford to buy half a dozen notebooks needed for their children's school.
Rafiq Sheikh, a companion of the Paigambar Sheikh, says, "We do not ask anyone to abandon animal sacrifice." We just suggest that instead of spending all that money on an animal, why not keep some of it for people who need it."
Paigambar Sheikh feels "We have to change the way we celebrate our festivals; follow the spirit, intention, and purpose behind these. If we divert the unnecessary expenditure toward education, a lot will change. Due to his educational campaign, he faced a lot of opposition in society, he also received threatening calls. But he says that when faced with such opposition, he draws inspiration from two figures."
ALSO READ: Shivaji's army had 60K Muslim soldiers; calling him a Hindu ruler is distortion of his image
He says that Muslims have to lead an educational movement. As Sir Syed Ahmad Khan had undertaken, he did not compromise on education without worrying about anyone. He had to endure a lot at the hands of time but did not lose his heart. Today, we people are doing something off the beat for education and hence the opposition.