Abdulla and Khadeeja with Rajeshwari, her groom Vishnuprasad and his parents after their wedding
New Delhi

After the real life story of Subaida, a Muslim woman, who raised three Hindu children as her own made it into a feature film in Malayalam, another similar story of human bonding has come from Kerala's Kasaggod district.
A Muslim couple of the village at Kunnariya, Kanhangad in Kasargod, Abdulla and Khadeeja had adopted Rajeshwari, the 10-year-old daughter of their farm labourer who died some 12 years ago.
As she was a born Hindu the couple raised her as one and recently married her to a Hindu in a temple.
The story got revealed to the world as the images of a Hindu couple seeking blessing from an elderly couple wearing clothes that make them look like Muslims was posted on social media. It turned out that the Hindu girl Rajeshwari are getting married with the blessing of Abdulla and Khadeeja.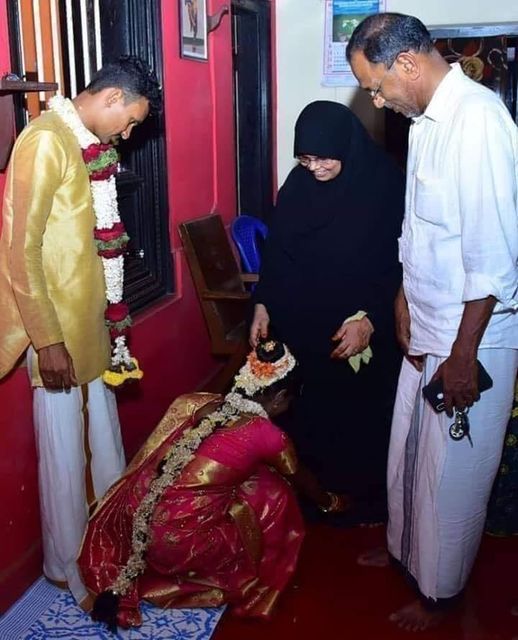 Rajeshwari seeking blessing from her parents Abdulla and Khadeeja (Facebook)

Rajeshwari's family had come from Tanjavur, Tamil Nadu, to Kerala for work. He father Sharvanan worked as a coolie and sometime as a farm hand to make ends meet. Sometime before his death he had worked at the field of the Muslim couple.
Rajeshwari's mother had passed away earlier and now she has no one to fall on when the Muslim couple adopte her. She was 10-year-old at that time.
She joined the Muslim family and was raised with three of their three children Shameem, Najeeb, and Sharif By Abdulla and Khadeeja. She was educated and taken care of by the family.
In the village Rajeshwari was known as Abdulla's daughter.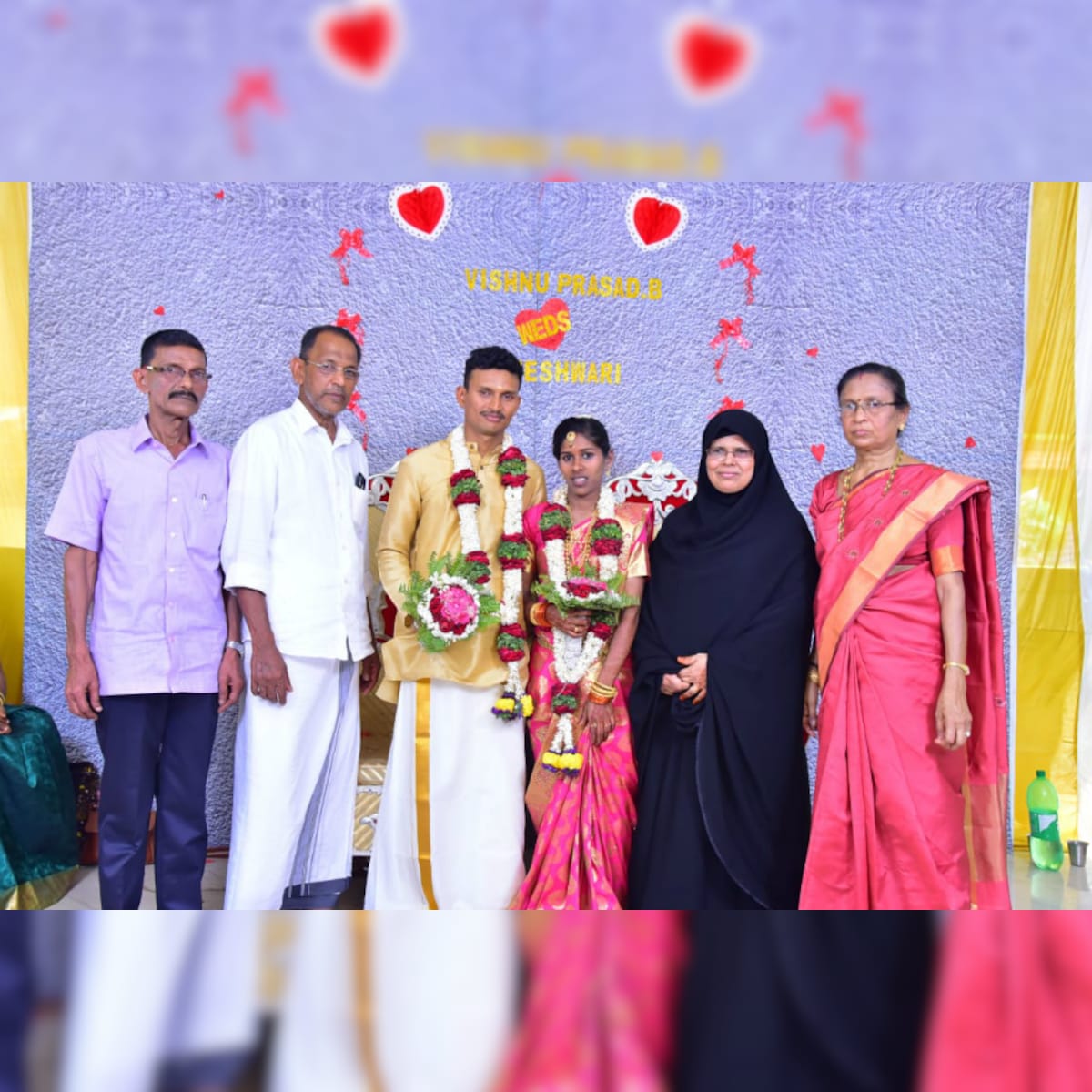 Rajeshwari and Vishnuprasad with their parents after the wedding (Courtesy Dajji News)

When she turned 22, her adopted parents started looking for a Hindu match to her satisfaction.
They found Vishnurprasad to whom they married their daughter in the local temple with all Hindu rituals.
According to local media, the marriage was performed at the local temple in Kanhangad and the satisfaction of having discharged their duties was writ large on the faces of Abdulla and Khadeeja as they blessed the newly married couple on the day of the marriage.
ALSO READ: Story of Kerala Muslim woman Subaida who raised 3 Hindu kids is a film
Chief Tantry of the temple guided the marriage rituals. Abdulla-Khadeeja couple participated on behalf of the bride, while parents of groom, Vishnurprasad, his relatives, and well-wishers were present in good numbers.