Aasha Khosa/New delhi
A real-life story of a Muslim couple from Kalikavu village of Nilambur, Malappuram district of North Kerala, who raised three children of their deceased Hindu housemaid along with her own three, is now a feature film in Malayalam language being shown across theaters and the OTT platforms.
The film, Ennu Swantham Sreedharan (With Love, Sreedharan'), was premiered at Edapally on January 9. Made by renowned filmmaker Siddik Paravoor, the film is being talked about and appreciated for the extraordinary strength and courage of conviction of Subaida.
It's named after Sreedharan, the youngest of the children of Chakki, who worked as a housemaid with Subaida some 50 years ago. It was Sreedharan's post on the Facebook after Subaida's death in 2019 where he addressed her as Umma, a Kerala Muslim way of calling a mother that generated curiosity about this relationship and eventually it became public knowledge that a practicing Muslim couple had raised three Hindu children along with their biological children and never converted them.
Sreedharan, who at the time of his mother Umma's death was working in the Gulf and couldn't arrive for burial due to Covid restrictions, had posted a heartfelt note on his grief. Netizens asked him how come a Hindu addressed his mother the way Muslims do.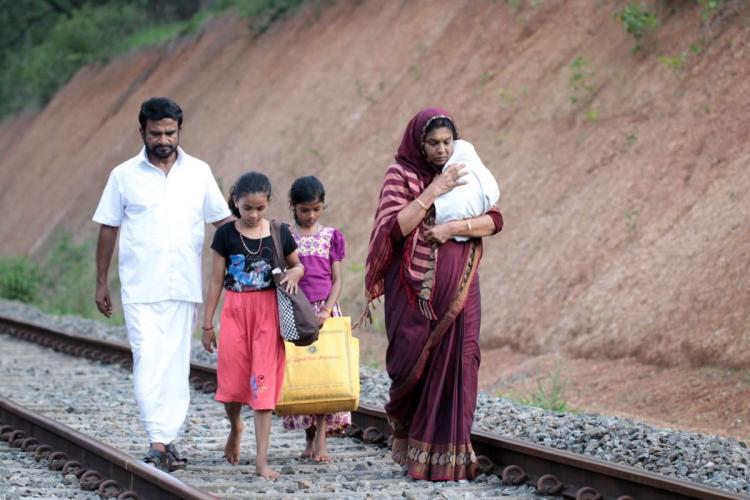 A poster of the film Ennu Swantham Sreedharan
His explanation revealed the story of extraordinary humans boned in love and not through religion.
According to The News Minute, it was 50 years ago that Chakki, a housemaid separated from her husband, died, and her three little children – the youngest one Sreedharan a toddler - were picked and brought to her home by a tearful Subaida.
Three of them were ushered into the house where three children were growing. The eldest one Shanavas, 7. was told by his mother that Chakki's children will stay at their house. Subaida informed her husband Aziz Haji about Chkki's passing away and that she had brought her three children home.
Shanavas remembers his mother's return from Chakki's house with her youngest, baby Sreedharan, in her arms, and two young girls Ramani and Leela. That day Shanavas welcomed three new siblings into his life.
Subaida passed away due to a kidney ailment in July 2019, and her husband Aziz Haji followed two years later. The family's heartwarming story has now been adapted to screen.
Sreedharan said that Umma and Uppa (father) had three biological children, including Joshina, who was born a few years after he and his sisters joined the family. They were never made to feel like outsiders there. "That is the only home I have known. I have heard that Umma used to breastfeed me and Jafer together," Sreedharan told the News Minute.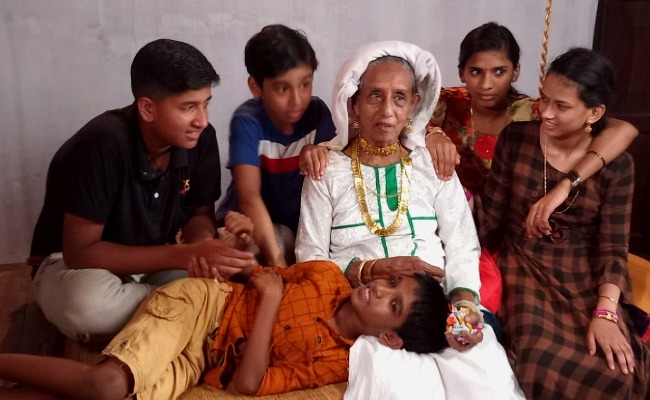 A scene from the movie: Umma Subaida with her children

As netizens made uncharitable comments about the "Hindu son of a Muslim mother" in response to his post, Sreedharan responded:
"This post is to clear your doubts about who I am. When I shared the news of my Umma's passing, some of you had doubts. Even when I posted a picture of me wearing a taqiyah (a Muslim way of trying lungi), there were doubts if a Muslim man could be named Sreedharan. My mother died when I was about a year old. I have two sisters. I had a father too. The very day my mother died, this umma and Uppa brought us to their house. They educated us, just like they did for their children. When my sisters reached a marriageable age, it was Uppa and Umma who married them off. Having kids of their own did not stop them from taking us in. They had three kids. Even though they adopted us at a young age, they did not try to convert us to their religion. People say that an adoptive mother can never match up with one's biological mother. But she was never an 'adoptive mother' to us, she was truly our mother."
His post was followed by people calling him. He told the News Minute: "Suddenly we were getting calls from activists and media persons to ordinary people, all of them wanting to know more about the story behind that post," he says. "In today's political climate, where religions are constantly pitched against each other, the fact that this family took us in and raised us to believe in god, believe in our faith, seemed almost unbelievable for some."
Shanavas said all six siblings were surprised at the public reaction to their story. He says: "We grew up as brothers and sisters. We had never thought of our family as different from the others," says Shanavas, the eldest of Subaida's biological children.
"Of course, when Umma first brought Ramani, Leela, and Sreedharan into our home, I had asked her what she was planning to do. She then told me that these children will now grow up in our house, and that was it. We never questioned it. Our father, who was in the Gulf at the time, was also equally supportive of Umma's decision," he says.
Sreedharan told the media that he once asked his Umma and Uppa why they didn't convert them. "Their first response was a concern. They asked me if someone had said something bad to me. After I reassured them, they explained to me that we should not let religion define anyone. They said that all religions were essentially preaching the same thing — to love and help people and that it was human beings who were interpreting these teachings wrongly."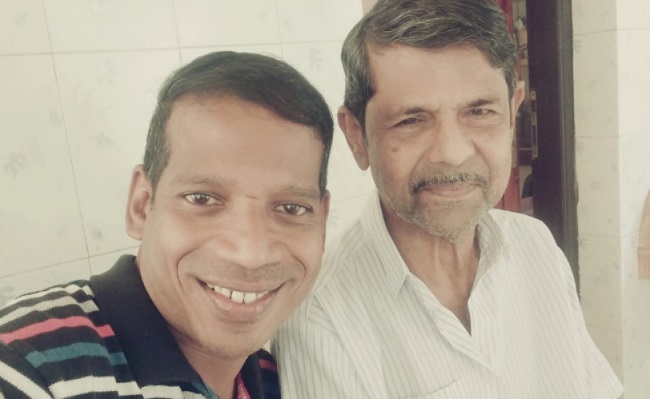 Real Sreedharana with his Uppa Aziz Haji (Image courtesy: The New Minute)

He said his parents taught the children to have faith, no matter what the religion. "My sisters and I used to go to the temple, and walk around with sandal marks on our foreheads."
He says their parents encouraged them to practice our religion. "All they expected from us was to ensure we don't lie, steal, or hurt others. And we also took care to never do something that would hurt their reputation," he told the News Minute.
Sreedharan says after he became the father of a son he realized the true depth of his parents' love. He now appreciates all the more his parents' efforts in bringing three of them. "I can only imagine how big of a task bringing up six children would have been."
Director Siddik Paravoor, whose previous film Thahira had featured in the Indian Panorama Feature Film section of the 51st International Film Festival of India (IFFI) in Goa, first heard of Subaida through a social worker and orator AP Ahamed.
"Presumably after Sreedharan's Facebook post went viral, I read a note Ahamed master had written about Subaida and her life, which deeply affected me. I wanted to bring her story to more people's attention. I wanted to let them know that there are people who live like this. People who put love and kindness over religion and prejudices," he says.
When Siddik was researching for his project, he came across more stories of this extraordinary woman called Subaida from people in her village.
He told local media in interviews after the release of his film that everyone in the village Kalikavu loved Subaida. She is known to have spent all her ancestral money to help the poor. Subaida had donated all 12 acres of her land to the needy over the years. She even took loans to help others.
In Kalikavu after Subaida passed away, the nearby church rang the church bell, usually reserved only for the Christians, and held a prayer meeting for her.
Dancer Nirmala Kannan plays the role of Subaida, and journalist and writer Suresh Nellikode, also the producer of the film, plays her husband Aziz Haji. Actor Nilambur Ayisha and writer Shihabuddin Poythumkadavu also appear in prominent roles, alongside Sachin Roy, Vaibhav Amarnath, Harsha Arun, and Rajitha Santhosh.
Interestingly, the first scene of the movie was shot with the appearance of Aziz Haji in front of the camera. He died later due to the Covid-19. He and his children were all glad that more people would now come to know about their Subaida and the benevolent woman that she was.
The director says. "People are inherently good. But sometimes we need stories like these to remind them of that goodness. Subaida deserves to be remembered, and her story repeatedly told."
The audience lapped up the movie.
Member of Parliament Shashi Tharoor wrote about the movie on Twitter:
Ex-serviceman Col Reji Koduvath wrote from, Ontario, Canada: "Ennu Swantham Sreedharan (With Love, Sreedharan), is a must-watch movie in the present society where sectarian strife and conflict still exist.
It's a great movie-watching experience – the best movie I watched in the past 12 months. While drawing the life of an unsung and unrecognised person or a family on screen, there is a tendency to go overboard and portray them as super-humans.
This movie effectively tackles that difficult task and brilliantly tells the story of a do-gooder – a true good neighbour – a great family. All are based on real-life, sincerely and honestly.
The story and situations in the movie brought back memories of my grandmother who too had a troop of oldies across castes, creeds, and religions. I used to enjoy them reminiscing about their good old days. When our grandmother came to live in our home which is about 12 km away from the ancestral one, these oldie troopers dropped in to spend time with her. What is depicted in the movie in the life of Amina Umma and Subaida is close to what I experienced in my childhood."