Sajjad Lone/Kupwara
A young woman stitching the national flag in a center run by the Indian Army in Dardpura village of Kupwara in north Kashmir says, "I had never touched the national flag; only seen it. Today, I feel happy that the ones I stitched will go to many people."
The unidentified woman who covers her face with her dupatta is among many young girls working at the Skill Development center 'Vajra' run by the Indian Army for imparting skill development training to locals.
Vajra Cutting and Tailoring center was established by the Indian Army in Dardpura, also known as the 'Village of Widows' due to its history of militancy.
It may be recalled that this village saw a lot of male members getting killed in insurgency and ins the initial days and for this reason, the village has many women heads of the families. This village was also called the "Village of half widows for many of the male members never returned nor was there any confirmation about their whereabouts.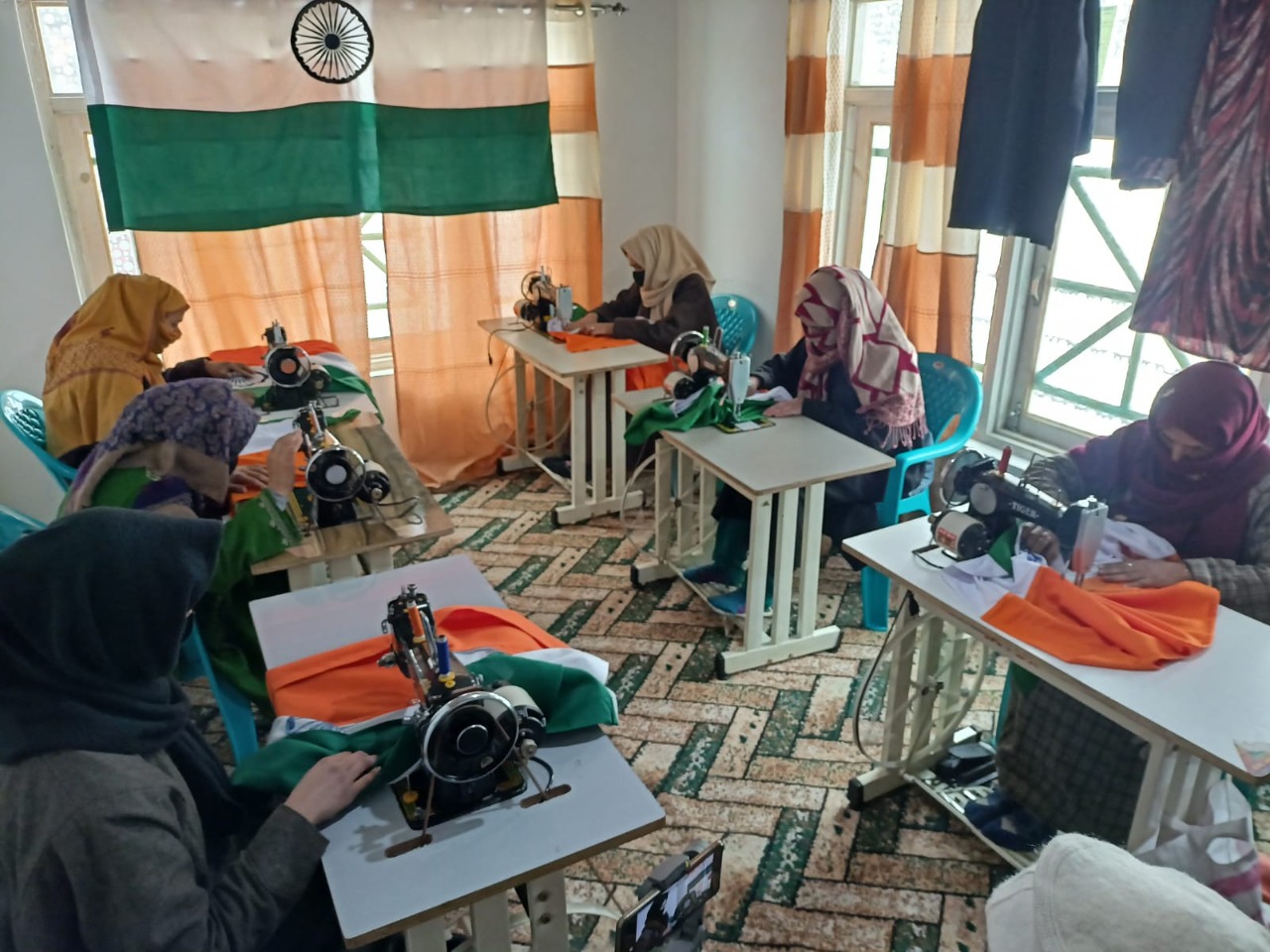 Women in village Dardpura in Kashmir stitching tricolours
One of the girls at the center told media persons," I was sitting at home. Not interested in studies and my parents would bother me by reading my course books. It's boring in winter."
She said the Army men who were on patrol casually asked her and other girls how were they biding their time in winter.
"I told them I am bored to death; there is nothing to do," she said.
The army officials asked the girls if they are interested in learning stitching and other skills.
"We are very happy doing it," said the girl who looks excited and happy as she uses her feet to run the sewing machine on which she is sewing a tricolor.
She stitched 300 flags for distribution among people of her locality for use on the 74th republic Day.
The girls are doing this work in the bone-chilling cold ahead of Republic Day.
After seeing the positive response to Har Ghar Tiranga campaign which was launched by the Government of India to encourage every citizen of our great nation to bring home the tricolour and hoist it with pride on 75th independence Day, women and young girls in Kupwara are determined to celebrate Republic Day even in harsh weather conditions.
The centre is aimed at developing cutting and tailoring skills to the village folk to make them self-reliant and to promote entrepreneurial skills.