Guwahati
Mahbubul Hoque, founder-chancellor of the University of Science and Technology Meghalaya (USTM) is setting up a chair in the name of the Srimanta Sankardeva, the 15-16th century social-religious reformer of Assam, to preserve and propagate his Neo-Vaishnavite philosophy and culture.
The Assam government is going to set up chairs in name at Viswa-Bharati, Banaras Hindu University, the University of Delhi, Jawahar Lal Nehru University, and Hyderabad University.
The USTM is a leading private sector university in the Northeast that has taken the initiative to emulate the Assam government's efforts to promote and propagate the Srimanta Sankardeva. It may be recalled that Sankardeva was a 15th-16th century Assamese polymath; saint-scholar, poet, playwright, dancer, actor, musician, artist, and social-religious reformer.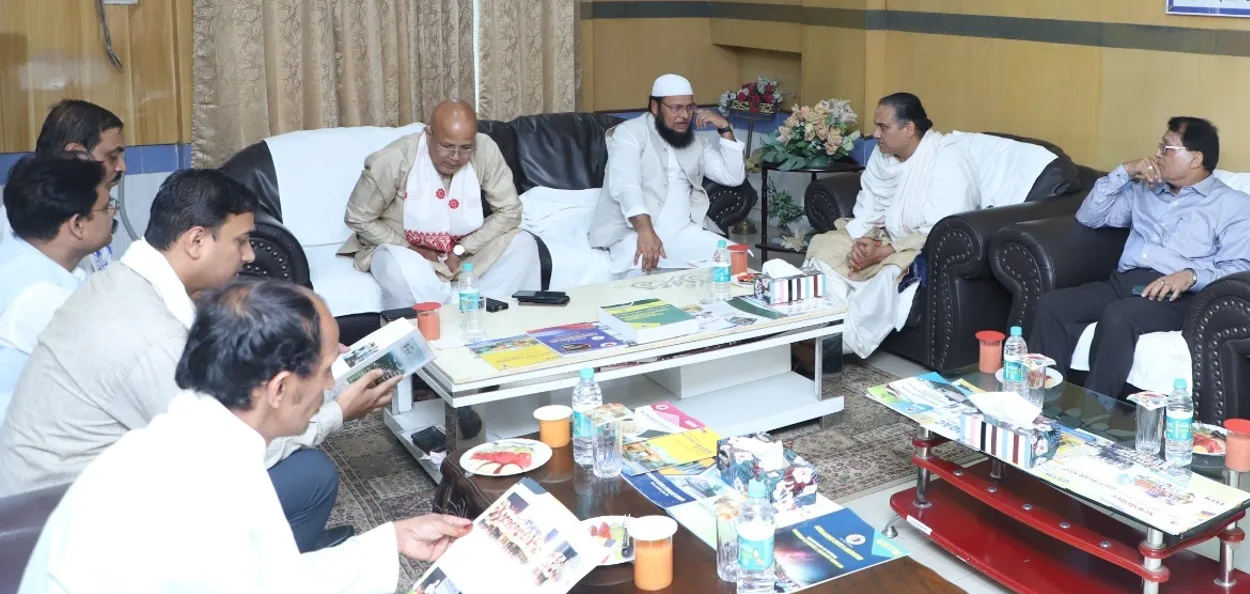 Sri Sri Janardan Devgoswami holds talks with Mahbubul Haque
Sankardeva's Ekasarana philosophy and teachings are considered the basis of Assamese society and culture.
Mahbubul Hoque is a Muslim educational entrepreneur from the Barak Valley in Assam – a predominantly Bengali majority part of the state where Neo-Vaishnavism has hardly any following.
After Jawaharlal Nehru University in Delhi set up a Srimanta Sankardeva Chair recently, the University of Science and Technology Meghalaya (USTM), on the outskirts of Guwahati, is all set to set up a similar chair on its campus to encourage study.
Mahbubul Hoque's initiative is supported by the Satradhikar (supreme monk) of Uttar Kamalabari Satra in Majuli, Sri Sri Janardan Dev Goswami. Satras are Neo-Vaishnavite monasteries and Uttar Kamalabari Auniati Satra is one of those set up by Sarkardeva and his disciples.
Satradhikar visited the USTM recently and held detailed discussions with Hoque.
Dev Goswami also addressed the students and faculty of the university. He said Uttar Kamalabari Satra will collaborate with USTM for research on Satriya culture, for which discussions have already been held between the two institutions.
On Srimanta Sankardeva and his Neo-Vasihnavite movement, Dev Goswami said the people of Assam are well aware of the philosophy and 'Ekasarana Dharma' principle of this saint-reformer.
"Therefore, it is necessary to spread the devotional movement of Sankardeva, which is based on the principle of universal brotherhood." He said the philosophy and literature of Neo-Vaishnavism have universal acceptance.
He said that Srimanta Sankardeva introduced a dance long before the advent of Zumba dance. "If one practices Mati Akhora (a dance form), there is no need to go to a gym for fitness. These are things we need to propagate and they require research and publicity. Today we talk about climate change and plantation, but Srimanta Sankaradeva focused on vegetation and the environment 600 years ago, when he said that a tree is worth 10 children."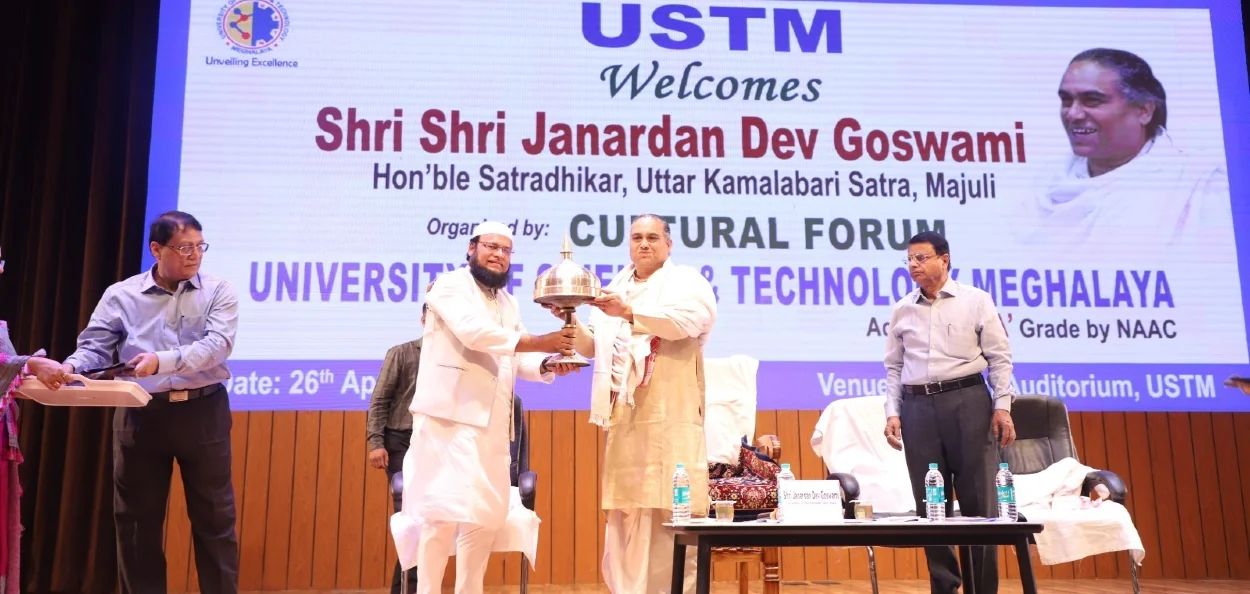 Sri Sri Janardan Devgoswami being felicitated at the function

Chancellor Hoque said that USTM is already discussing research on Satriya culture in Majuli. A meeting was held among Satradhikar, other representatives of Majuli, and USTM where they discussed the outline of the course.
"We are going to establish a Srimanta Sankardeva Chair in our university to spread and study the philosophy of Srimanta Sankardeva and Madhabdeva. We will meet in a final discussion soon," Hoque added.
ALSO READ: Rahmatullah Hotel: A heaven for poor to have scrumptious food
Hoque felicitated Satradhikar Sri Sri Janardan Dev Goswami with traditional cheleng chadar, and sarai on his arrival at USTM on Wednesday. After the ceremony, the dignitaries lit the ceremonial lamp. The event was attended by USTM students who presented Borgeet and performed the Satriya dance.