Virat Kohli scored his 75th international ton in the 4th Test against Australia in Ahmedabad on Sunday
Nakul Shivani/ New Delhi
With his trademark wristy flick towards square-leg on the fourth day of the fourth test match between India and Australia for the Border-Gavaskar Trophy in Ahmedabad, Virat Kohli brought up his 28th century in Test cricket.
This was Kohli's first century in the longest format of the game since November 2019, when he scored 136 runs against Bangladesh at the Eden Gardens in Kolkata.
With a single off Nathan Lyon on a dry pitch in Ahmedabad, when India was on 395 for the loss of five wickets, Kohli not only ended his drought of tons in Test cricket but also recorded his 75th 100-run mark in international cricket.
He was not content merely reaching this milestone, his hunger for more was evident as he added another 86 runs before becoming Todd Murphy's third victim. Had he scored another 14 runs he would have recorded his 8th double century in Test cricket.
Kohli's celebrated his latest achievement in a very muted fashion. There was no trademark Kohli swaying his bat in the air, pumping fists or venting out anger with a scream. He quietly raised both his hands, smiled at the relieved dressing room, before putting down his helmet and bat to kiss the locket on the gold chain around his neck.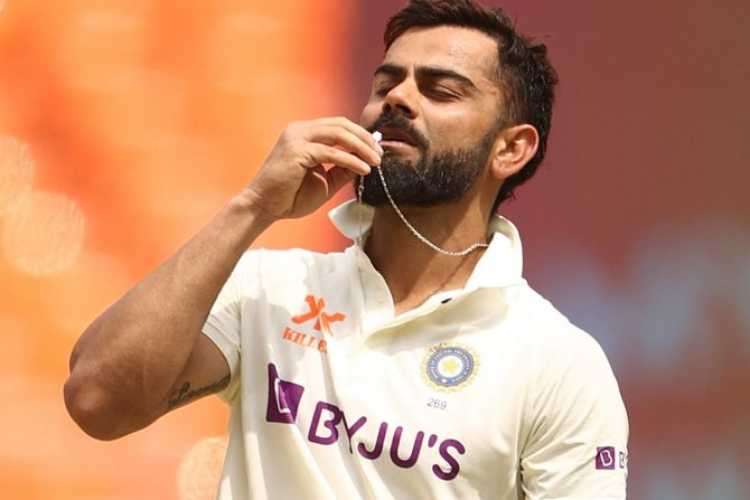 Virat Kohli after his 28th Test century
BCCI too must be as relieved as Kohli himself is with this performance.
Kohli who had been much under the scanner of critics for his lack of high scores in Test cricket in recent times, finally got the critics and fans applauding his innings on Sunday.
Ravi Shastri formerly his coach at the Indian team, during match commentary said, "finally a 600-kilo gorilla is off his back. He will grow a couple of inches taller by this evening."
Often touted as Sachin Tendulkar's successor, though he still has 25 centuries to reach that feat of a hundred international hundreds, many former greats of the game feel that Kohli is still the best bet among the present crop of cricketers to come anywhere close to Sachin's colossal record.
Of the 75 centuries he has scored in international cricket, 46 have come in the 50 overs a side format and a lone century has come in the shortest format – T20 – against Afghanistan in 2022 in the Asia Cup in Dubai. Even rivals on the field were quick to applaud this classy innings from Kohli.
Having finally broken his drought of centuries, fans are once again backing 'King Kohli' to scale newer heights. After three years and four months, a hundred in whites from Kohli is what cricket fans had been yearning for. Having got that, the greed to expect more from him continues. The wait now is for his 29th Test century, which cricket lovers are hoping will come no later than in the World Test Championship final against Australia in June at the Oval.
ALSO READ: Cricket: India qualifies for WTC final after New Zealand beat Sri Lanka