Daulat Rahman/Guwahati
Six months before the launch of Chandrayaan-3 Naznin delivered a baby and had to come to her husband's home at Abh
Born in a remote village in central Assam's Nagaon district, Naznin Yasmin had harbored the dream of becoming a scientist. Her dream was shaped by the scenes of airplanes in the sky and rocket launches on television. In 2021 when Assam and the rest of the world were hit by the COVID-19 pandemic, Naznin's village erupted in joy after she was selected and appointed as a junior scientist by the Indian Space Research Organization (ISRO).
Naznin Yasmin, a scientist at the Satish Dhawan Space Center at Sriharikota, Andhra Pradesh, under the ISRO, was associated with the launch and successful landing of Chandrayaan-3. ayapuri in Assam's Bongaigaon district on leave.
She cancelled his long maternity leave to go to her workplace at ISRO as she was a member of the team of India's second Moon mission Chandrayaan-3 launch.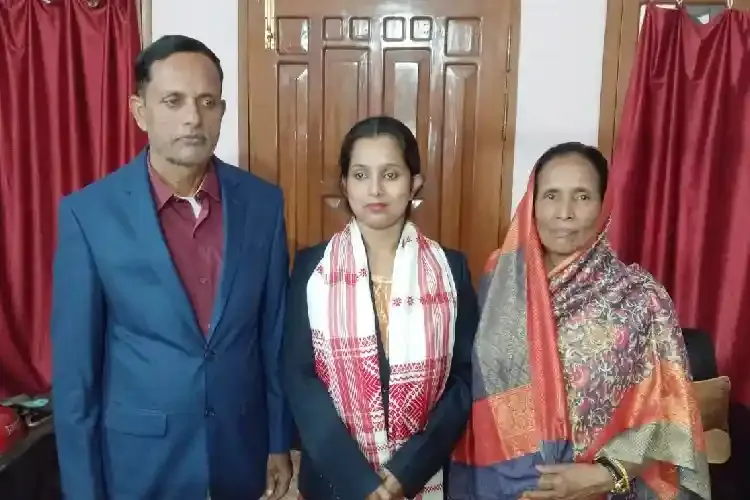 NazninYasmin with her parents
aznin did her primary education at Nuruddin Furkania JB School at Juria in Nagaon district. In 2007 she passed her Class X final examination from Kadamani Town High School by securing first division with Star marks in several subjects.
She again shined bypassing the higher secondary or Class XII final exam in the science stream from Alphabet Science Junior College in Nagaon by securing first division with letter marks in many subjects. She then obtained her B.Tech in Electronic and Communication Engineering from Nitz Mirza College, Guwahati in 2013 and her M.Tech in Electronic Design and Technology from Tezpur University in 2016 by securing first class.
Along with working in various private scientific institutions, Nazneen passed the National Eligibility Examination under the University Grants Commission in 2018 and also qualified for the Junior Research Fellowship of the Government of India.
Naznin sat for the national-level written examination held at the Assam College of Engineering for research and recruitment at the ISRO. She cracked this examination with distinction. She sat the interview and viva examination held at the North Eastern Space Application Center in Shillong. She passed the examination with distinction.
Naznin Yasmin is the only scientist from the North East to be appointed to the Indian Space Research Organization (ISRO).
"If you have patience and concentration, you can climb the highest peak of success in all fields. No challenge can be an obstacle to achieving success," Naznin, daughter of teacher couple Abul Kalam Azad and Manjila Begum, told Awaz-The Voice.
Naznin was inspired by the life of India's missile man and former President of India Dr APJ Abdul Kalam, and India's first female astronaut Kalpana Chawla.
ALSO READ: Seyed Ehtesham Hasnain: scientist who changed the course of TB diagnosis in India
Naznin wants to promote Assam in the field of science and technology and also plans to work for the National Aeronautics and Space Administration (NASA) in the future.