Farhan Israeli/Jaipur
Maimuna Nargis Zaidi of Jaipur, Rajasthan, can infuse life in a torn dress once worn by an Emperor or bring alive a manuscript that has outlived its life and is decaying. She can be seen working on scaffolding while working on a wall as, perhaps, the only woman professional in the field of conservation of ancient arts, personal belongings, heritage buildings, books, murals, etc. It's no surprise that people call her the doctor of inanimate things.
Maimuna's Jaipur-based company Art Conservation & Restoration House offers services to companies, individuals, and the government for the Conservation and Restoration of antiques, artworks including of Paper, Painting, Wood, Textile, Metal, Coins, Jewellery, Stone, Leather, Skin and Bone and Ivory.
Maimuna Nargis has not only conserved the rare art and artifacts of India but also contributed to raising awareness about India's heritage art and heritage construction. She writes and organizes workshops, and seminars to make common people aware of their role in conserving the rich heritage of India as seen in buildings and exhibits kept in museums.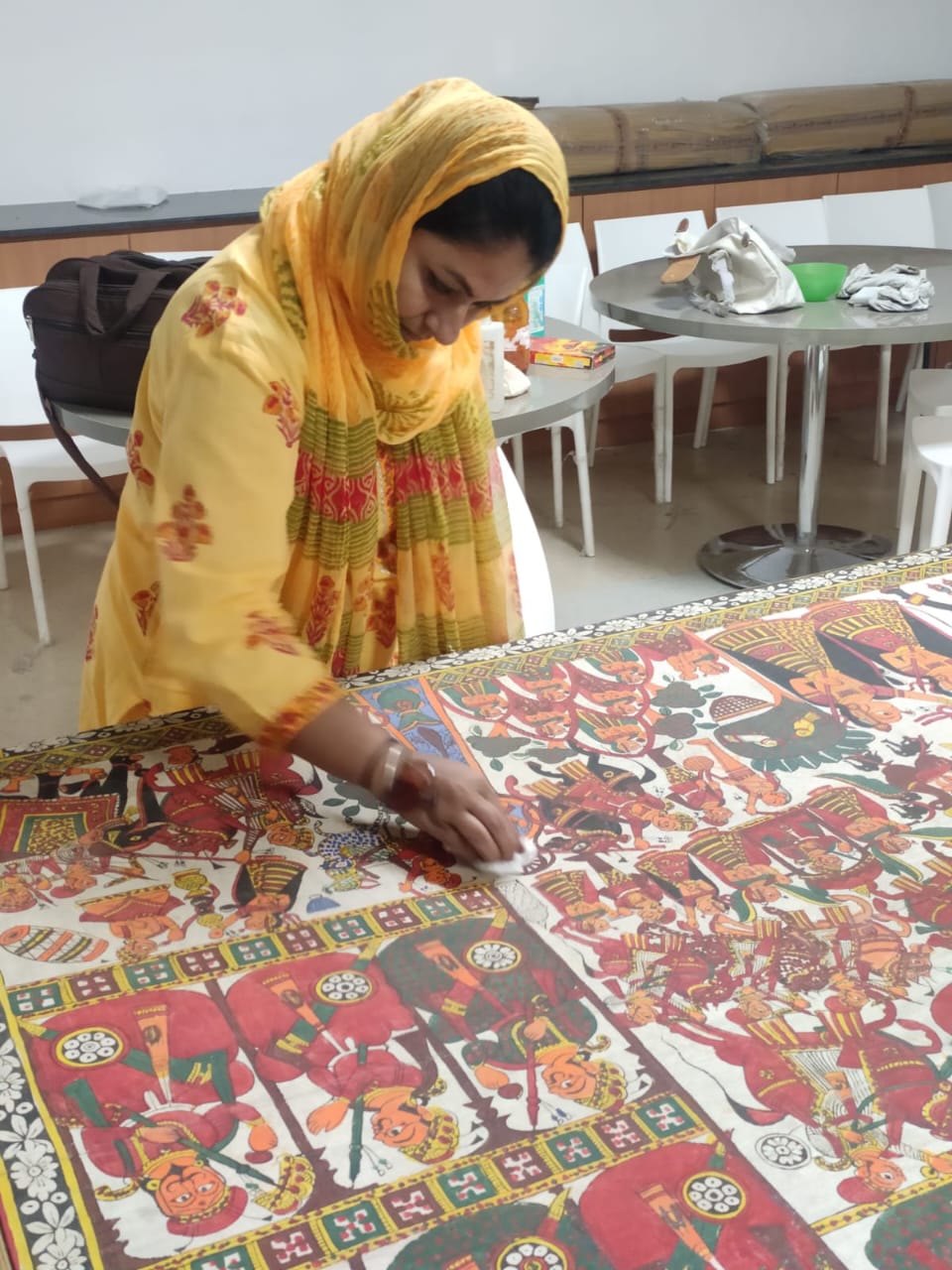 She has undertaken the conservation of exhibits in 16 museums in Rajasthan.
Maimuna Nargis told Awaz-the voice that she joined the pieces of a broken 400-year-old and 67-feet- scroll of Bhagwad Gita and fixed the 700-year-old Quran written in gold. She also did the work on the conservation of Mughal period manuscripts in the National Museum, New Delhi.
She restored the 400-year-old chariot kept in the famous Jain temple in Ludrava, Jaisalmer, which was damaged by termites. Its wood had turned to mud. Maimuna didn't have to depend on carpenters to fix this.
Among some of her spectacular projects is the joining of the 200-year-old and 15-foot Palitana canvas painting which was torn in small pieces at the Mumbai airport.
She did a conservation of miniature paintings made on mica kept in the Kota Museum, taxidermy preserved animals, birds, and reptiles. In which there were lion, python, crocodile, crocodile, deer, leopard, bear, monkey and orangutan.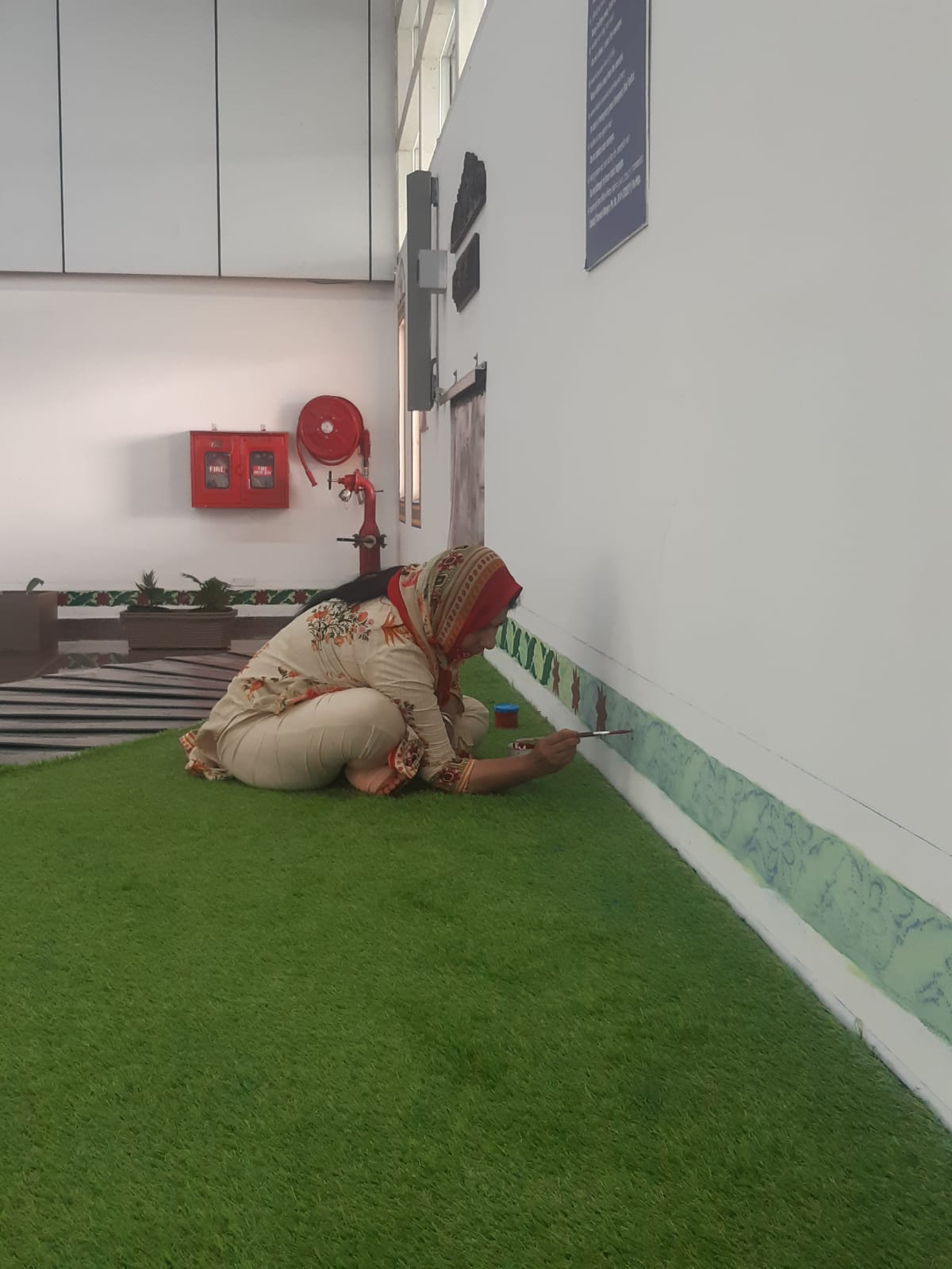 Be it manuscripts or rare books, Maimnna Nargis has given life to all of them.
Be it the walls of the iconic Amer Palace, the art rooms of Nahargarh fort or the doors of Hawa Mahal, the frescoes of Albert Hall or Mummy's belongings, the miniature paintings displayed in the museums of Rajasthan or the paintings on the walls or the artificial plaster or stones - Maimumna has infused life into all of them.
Maimuna says that it is a matter of pride for her to be the only Muslim woman art conservator in India. "I am prouder to think that I became a medium to save the heritage art of my country," she says.
After her recent assignment on the conservation of art and artifacts at the Mumbai and Delhi airports, Maimuna Nargis is working on another major project.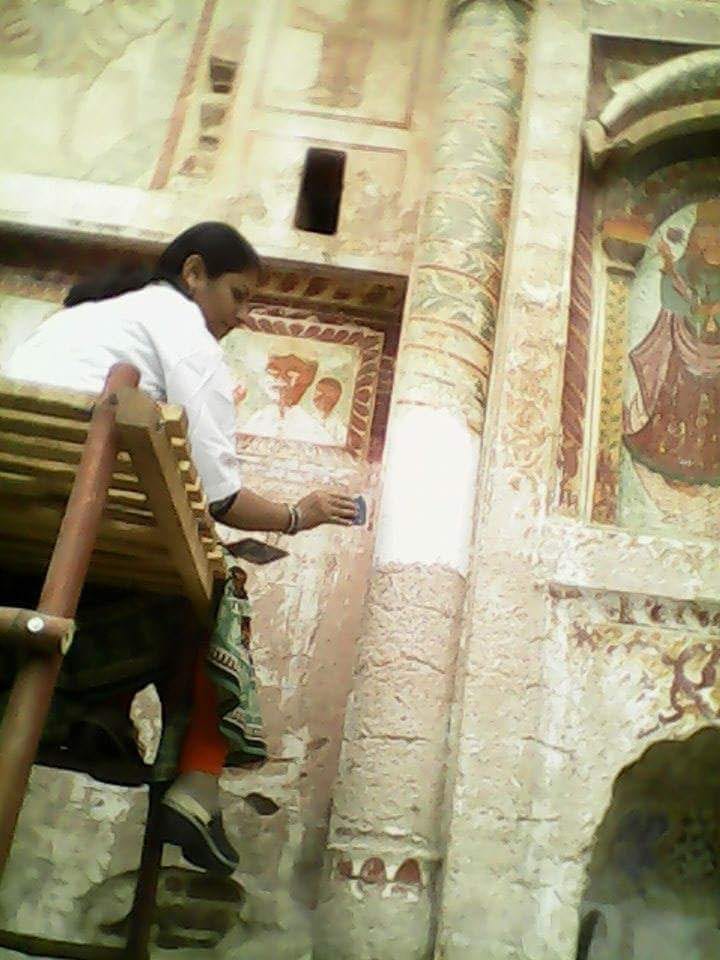 Impressed by her work, big businessmen and industrialists, now prefer the use of surkhi, plaster, lime plaster, araish plaster instead of plain cement. Buildings made of cement remain hot and warm, but those built-in heritage styles provide coolness.
Maimuna Nargis says the more people use modern materials, the more the houses are getting hotter and weaker. "If we look at the buildings made of natural materials, they have been strong for hundreds of years."
Maimuna Nargis is also working to promote Indian handicrafts as she prefers hand-made artifacts to machine-made ones. She has so far worked in 16 museums of Rajasthan and did the conservation of stone sculptures dated between the 5th and 13th centuries. Besides, she also restored and conserved the clothes work by the kings which are displayed in museums.
Her firm has undertaken the conservation of heritage Jain temple, Buddhist monastery, Hindu temple, Gurudwara, church and mosques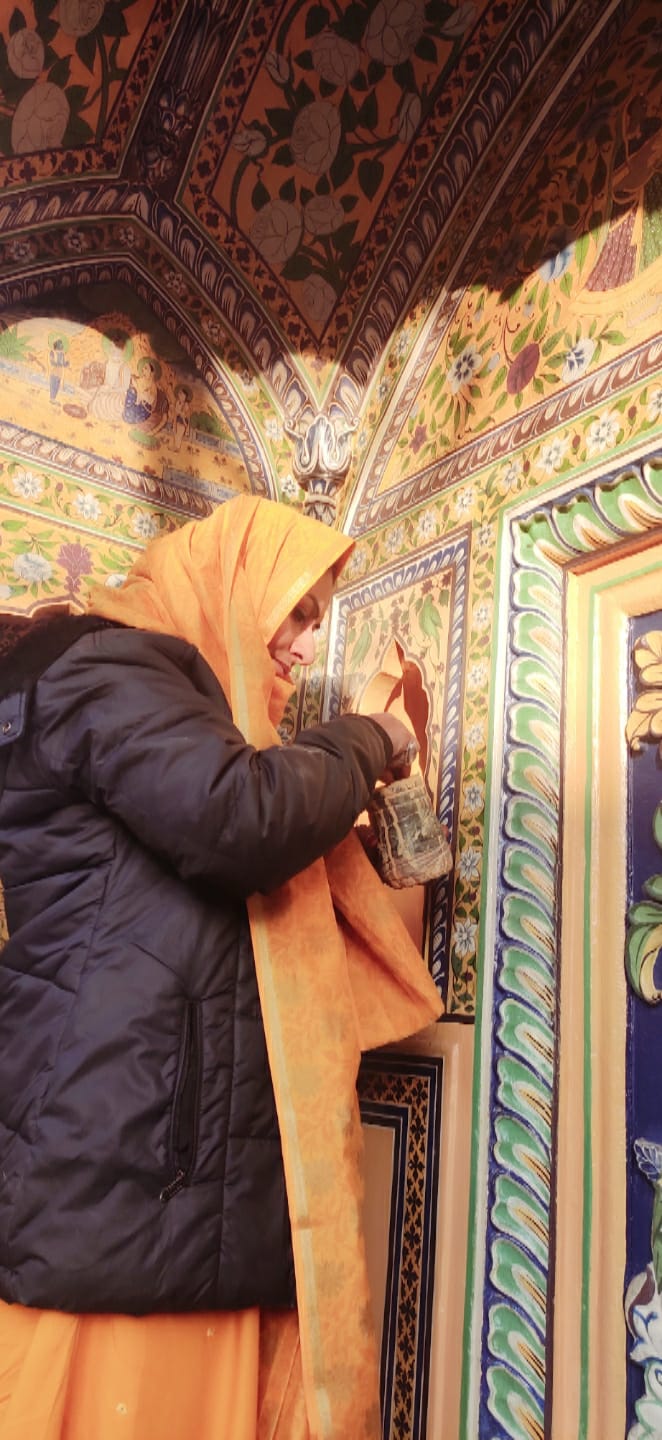 Maimuna Nargis worked on the art of Rajasthan with the Adani Group at Jaipur Airport. "Be it glass palace art or mural painting, glass painting, I have made the art of the palaces of Rajasthan a part of Rajasthan by depicting it at the airport", she says.
Maimuna Nargis has received two National Awards and 24 Rajasthan-level awards.
Maimuna Nargis says responsibility for the upkeep of the heritage monuments is not only the responsibility of the government; the common people who come to see them after buying tickets also have the responsibility for their safety and cleanliness. They can avoid littering, spitting, or scribbling notes on their walls.
ALSO READ: Waheeda Rahman revived traditional Assamese jewellery and started a venture
"This is the heritage of our country; ancient objects and buildings are the identity and beauty of our country and also employ many families. We have to preserve them for our future generations so that our children can also know our art culture."Maimuna Nargis Zaidi said.