Aasha Khosa
"Wajahat, sabse mushkil jeena hai; sabse aasan hai marna. (Wajahat, life is a challenge; ending life is an easier option)," these words of a police officer took Wajahat Farooq Bhat to change the course of his life. As he sat in the office of the SSP Baramulla Imtiyaz Hussain waiting to be reprimanded for pelting stones at security forces, he was surprisingly treated as a guest, offered a seat, and tea and snacks. During their conversation, what the top cop said to him was to remain with Wajahat for the rest of his life. "It may be mad but quite easy to jump into a river or consume poison to end life but to live through the challenges of life and to be of use to others is difficult."
Sunday Long Read
Wajahat Farooq Bhat couldn't believe his ears. He had entered the office of Imtiyaz Hussain with trepidation and in a combative mood. It was way back in 2018 that this student of Degree College Baramulla met Hussain as an NCC cadet at the Republic Day parade.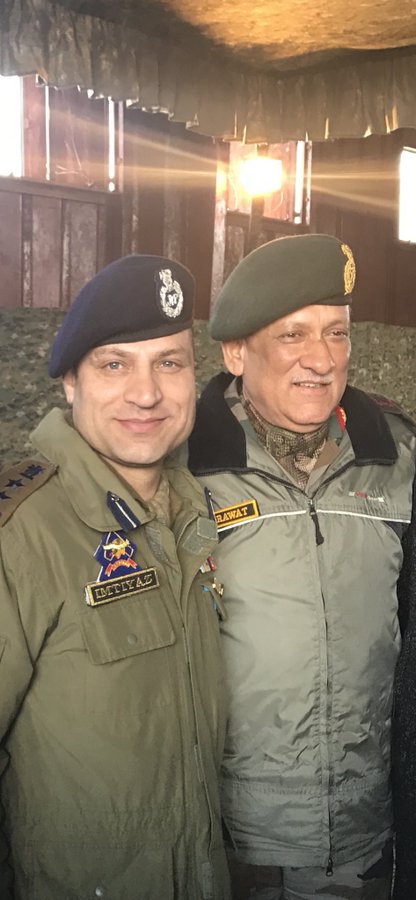 SSP Imtiyaz Hussain with late CDS General Rawat
"While growing up, we thought of all policemen as cruel and enemies of Kashmiris; we hated them," Wajahat reminisces today. "We also believed the whole world was looking at Kashmir."
Soft-spoken Imtiyaz Hussain's words acted as a catalyst in the mind of young Wajahat. "I suddenly realized I wanted to be like him; he was my role model," the 27-year-old Wajahat told Awaz-the Voice over the telephone.
Wajahat, a confessed stone-thrower of yesteryears, has since transformed the lives of hundreds of hundreds of Kashmiri youth. He and people like Imtiyaz Hussain – currently posted as SSP, Anantnag – are the real foot soldiers who changed the minds of hundreds of angry stone-pelting Kashmiri youth, brought them from the brink of an abyss, and ended a gory chapter in Kashmir's history.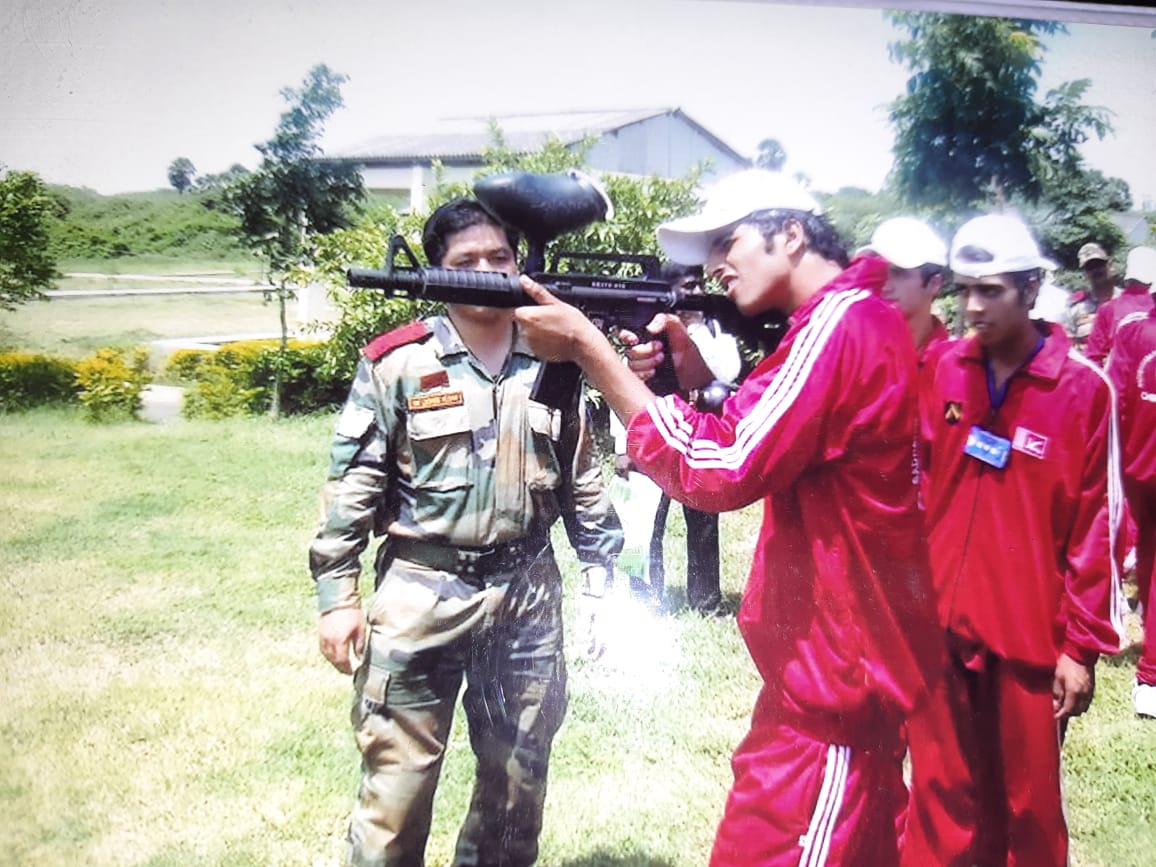 Wajahat Farooq Bhat training as an NCC cadet
He narrated the story of his transformation from an angry Kashmiri who believed he was born to do jihad and become a martyr to one who aspires to work in conflict zones like Syria and Afghanistan to help radicalized youth come back to normal life, to Awaz-the Voice.
Wajahat says while growing up in Sheeri, a village 7 km from Baramulla, he and his two younger brothers were always angry and agitated. "We were shown the video clips of zulm, (tyranny) motivational speeches asking young Muslims to do jihad in mosques; TV and radio screamed of atrocities on Kashmiri people. All these made us seek revenge and dream of becoming shaheed fighting the oppressor."
Wajahat belongs to a middle-class family of orchardists. His father runs a Sufi madrasa in the village and he would be upset with his sons. "You never think your family is your well-wisher at that stage of life," he said of his father.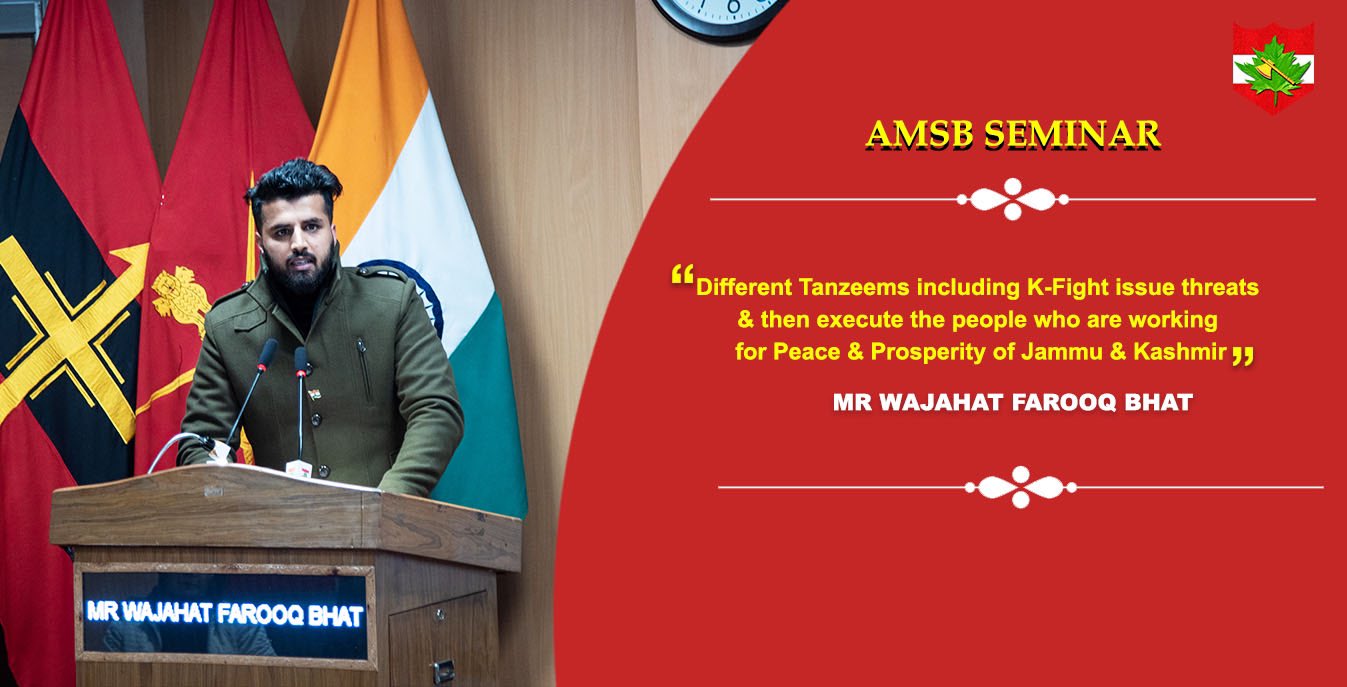 Wajahat Farooq Bhat delivering a speech on Drug Menance in Kashmir
"There was no hero in our lives. I and others of my generation believed throwing a stone on a security force vehicle was the most heroic thing to do. We took it as a kind of career and knew that after graduating from a stone-pelting stint we would have to pick the gun, join the jihad and become shaheed one day. We saw heroism in dying while fighting others.
"The first time my stone landed at the window of a Casper (an armoured anti-riot vehicle) of the CRPF that was carrying troops returning from an election duty outside my village in 2014, I became an instant hero. For at least one week people came to me and patted my back for having done what I did. It was my moment of glory; I was proud of myself and thought of myself as a hero.
"Each Friday, we would hear speeches of Imams and Moulvis, who were outsiders, asking us to wage jihad and become martyrs. The discourse in Taravi (special late-night prayer) was the same. We came out of the mosque charged with hate and energy and pelted stones on all security force vehicles.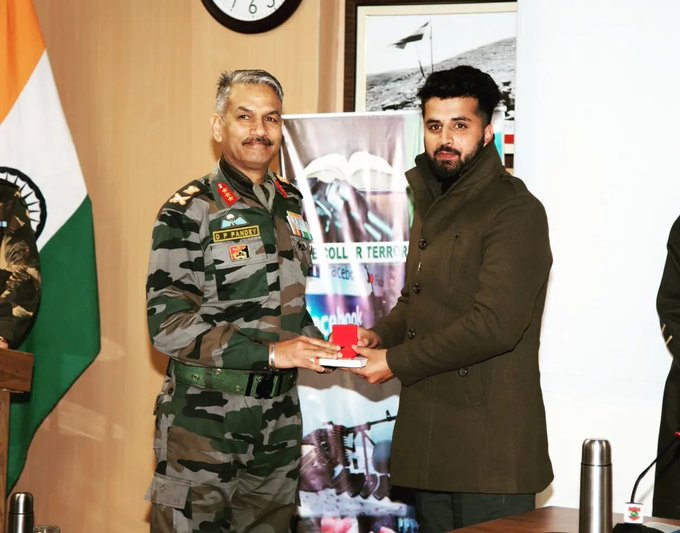 Wajahat Farooq Bhat being felicitated by Corps Commander Lt Gen D P Pandey
"One day an incident interrupted the course of my life. On a Friday, we had just come out of the mosque and had split ourselves into two groups. Stone pelting was done under a proper strategy and planning. One group will be replaced by another as the former got tired out. While we, a group of boys, were waiting for our turn, suddenly, the Moulvi sahib - a rich man owning orchards whose son and a daughter were doing MBBS - suddenly emerged from nowhere and planted three slaps on his son's cheek.
"He had just delivered a long lecture to us in the mosque about the need for the young men to join the jihad.
"Everyone asked him the reason for his aggression. He shouted, "This fellow is preparing for his NEET (medical entrance) examination, and if he is caught throwing stones his life will be ruined."
He dragged his son inside the home. While others took it lightly, Wajahat was shaken by this experience. "I suddenly looked around for my brothers and felt responsible for them. Why can't we too have dreams in life? Why does only a rich man's son deserves to have a dream while the same man coaxes us to die in jihad?" All these thoughts popped into his mind.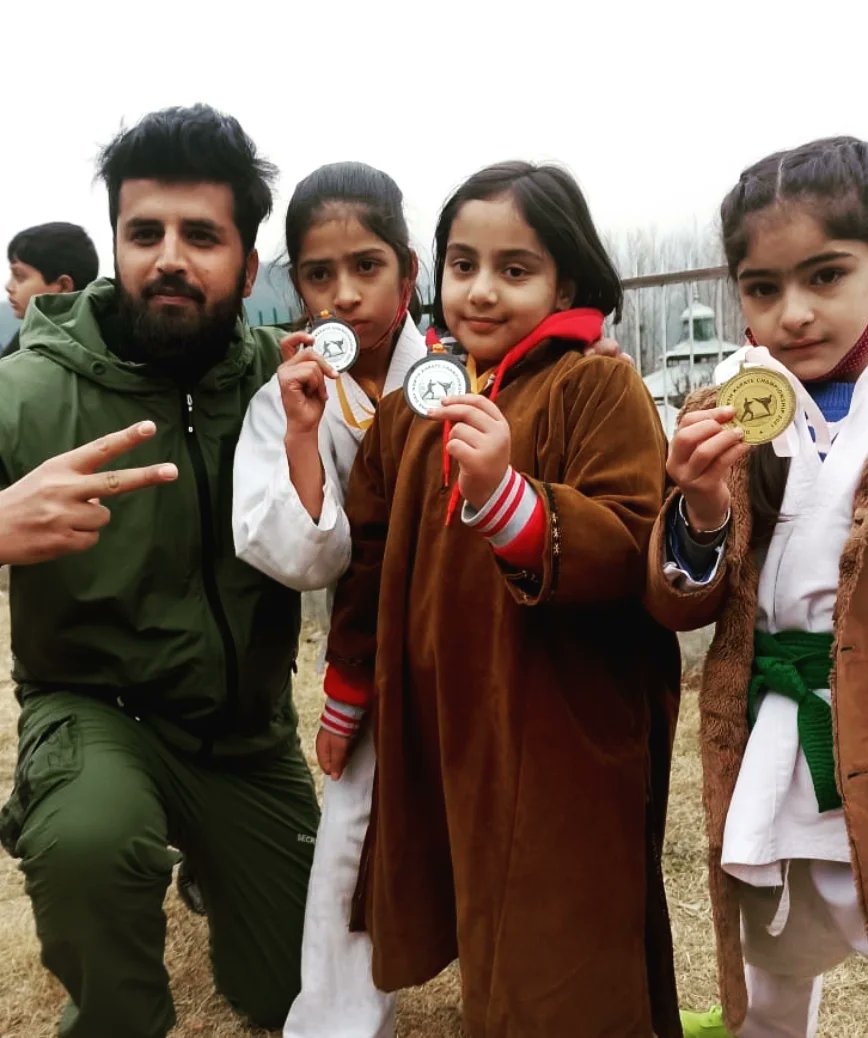 Wajahat Farooq Bhat with the young winners of Karate championship
Wajahat was disturbed by the hypocrisy of the Moulvi; he asked his brothers not to venture out yet he had no clue how to deal with his dilemma.
In 2017, he was in college when a teacher asked him to join NCC. "He told me since I was a tall person it would be good for me to join, Out of no particular reason, I joined NCC and got to do the training and learn discipline and regimented life. It was not a bad experience."
On the last day of the NCC camp in Baramulla on the occasion of Republic Day, the handsome-looking Imtiyaz Hussain walked to them and took a selfie with the cadets on his mobile. He started chatting with students and Wajahat also joined the conversation. The top cop invited him to his office for a chat.
He remembers the day he met Imtiyaz Hussain in his office; it was 28 February 2018.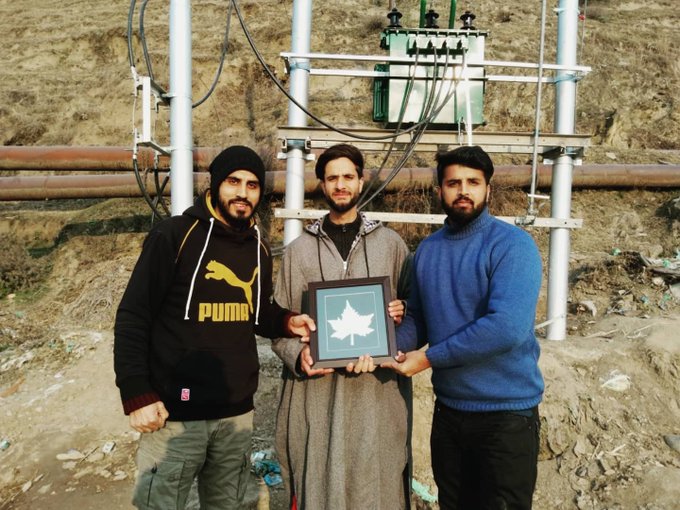 Wajahat Farooq Bhat felicitating a local youth who campaigned to get power Transformer repaired at village Sheeri
Imtiyaz asked him to dream big and be of use to others. In his heart of hearts, Wajahat knew he was looking for something positive in his life. It was his Eureka moment.
Imtiyaz spoke to him about the situation and when Wajahat candidly told him about the anger and sense of revenge among the youth, he asked him to call his friends and others for direct interaction with him.
:"There were 400 young men and women in Sherwani Hall who came for interaction with Imtiyaz sahib. Some of them were hardcore stone pelters, others were ANEs (anti-national elements). It was a heart-to-heart talk; everyone spoke before finally Imtiyaz sahib telling us that the youth must do something good for others and that is the will of Allah too."
The session transformed the situation. Some 200 youth got ready to work for the change and today Wajahat heads an organization Jammu and Kashmir Save Youth save Future that works with young men and women.
Wajahat who narrated his experiences on Josh Talks, said besides Imtiyaz sahib, Brig Girish Kalia and his two officers Major Susheel and Capt Ankur helped him firm up his ideas. "They gave me kinds of literature and books on Kashmir and asked me to first know about my history."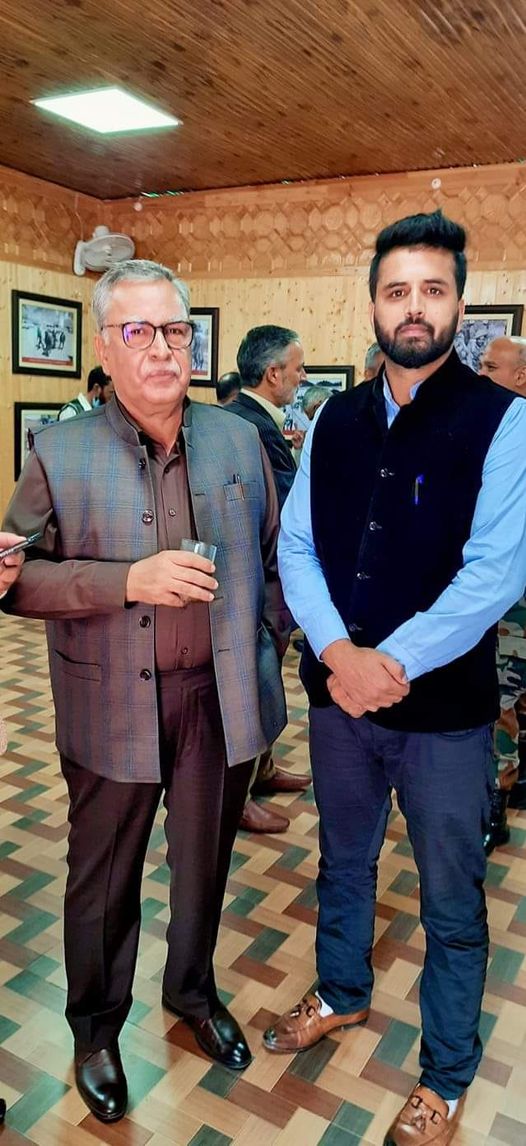 Wajahat Farooq Bhat with Advisor to Lt Governor Farooq Khan
"I realized, stone pelters like me were just pawns in the hands of big fish behind the violence. They made money out of the deaths of the youth. Kashmir- the Vajapee Years (By former RAW chief A S Dullat) enlightened me on the business of violence in Kashmir," he said.
His organization held the first-ever sports meet in north Kashmir; it was a huge success and the enthusiasm of young boys and girls was too great to be true.
There was nothing to stop Wajahat and his friends from passing on the message of life and positivity to the youth. His other achievement was to hold a Chila-e-Kalana youth festival in Shopian, South Kashmir, wherre young musicians rendered soulful music.
However, everything was not hunky-dory for him; his youngest brother's mindset remained unchanged and Pakistan-based Hizbul Mujahideen issued naked threats against him. The WordPress blog that had named Kashmir journalist Shujaat Bukhari as a "traitor' and who was killed 14 days later, also had Wajahat's name.
"Yes, I was terrified and thought it was the end of my mission. Surprisingly, some of my friends came forward to motivate me and said since I was helping people I should not get intimidated.'
He was worried about his youngest brother who had told a journalist in an interview that he was "addicted to pelting stones the way addicts are to drugs." Finally, the family sent him to Banglore to be with their other brother who had joined an engineering college there.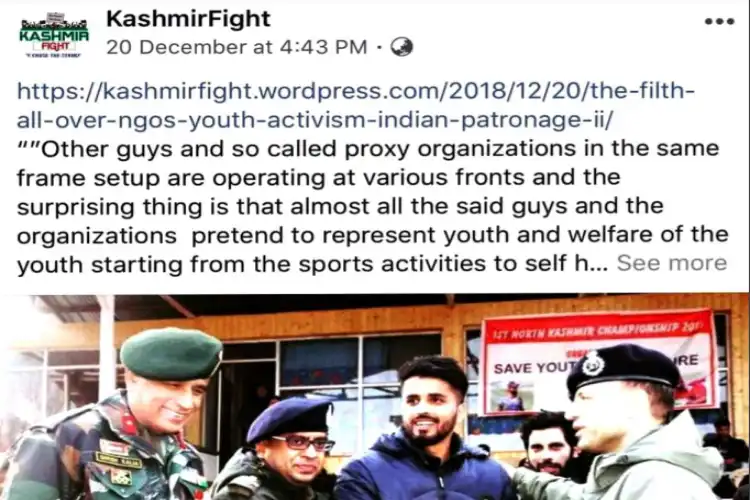 The threat issued against Wajahat Farooq Bhat by the since banned website
"There he saw a bigger world, played sports and especially snooker and it changed his perception of life; he realized that Kashmir was not the center of the world and there is so much to do in life."
Today his brother is a college student in Baramulla and supports his work. "My family is very proud of me," he says. Wajahat is pursuing his master's degree in international relations from IGNOU and is working with the European Union project on deradicalizing the youth. "We have held 12 workshops with radicalized youth in Pulwama, Baramulla, and other places. There are a lot of people who are leading a normal life today; some of them have been elected in the panchayat elections.
He particularly mentions a young man from north Kashmir who was the first stone-pelter to be detained under the Public Safety Act (PSA) and is now an elected deputy sarpanch.
Also Read: How Altaf's bees from Kashmir boost Rajasthan farmers' crop
Wajahat's organisation has transformed the lives of some 3,000 youth who have attended his workshops so far.
"One day, I will carry my mission across the world and would love to work with youth in Syria and Afghanistan," he said.