Aasha Khosa/New Delhi
Unlike most Indian musicians who are picky about people when it comes to passing on their legacy, Kashmiri Sufi and Folk singer Gulzar Ahmed Ganaie is inviting young boys and girls to learn from him. He had promised to pass on this unique art form to the next generation at his Music school in Sonwar, Srinagar, free of cost.
"I have been showered with blessings of success and fame and must give it back," Ganaie told Awaz-the Voice during a recent interaction. He said since he has learned the Sufiyana and folk music from many Gurus including teachers in his school in the village Mirgund, Baramulla, he says " I owe it to them and must pass on the legacy of to the next generation."
"I want to leave my memories with the next generation."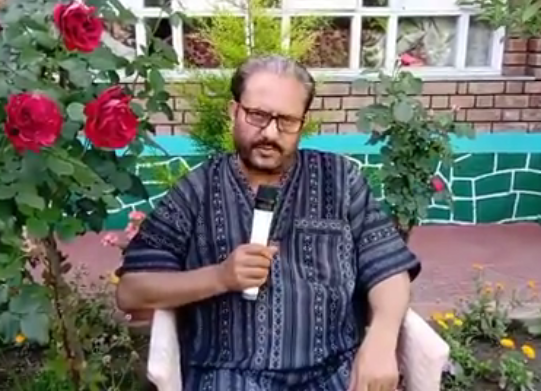 Gulzar Ahmed Ganaie speaking to media during Covid wave

Ganaie, a popular and leading musician who has also sung the Kashmiri version of Mahatma Gandhi's favourite Bhajan Vaishnav Jan tou..says, "A Guru is very important; we can reach nowhere without one," he said while mentioning the names of Mohammad Abdullah Ganaie, Abdul Rahim Bhat and significantly a neighbour Ghulam Mohammad Bhat and many others as his mentors and Gurus in the musical journey.
Ganaie has become a bridge between Kashmir's Hindus and Muslims who got split due to the exodus of the former from the Valley some 30 years ago due to the fear of death after some targeted killings of prominent members of the community, by terrorists.

His troupe is often invited by the Kashmiri Pandits for Sufi music concerts on the occasion of weddings.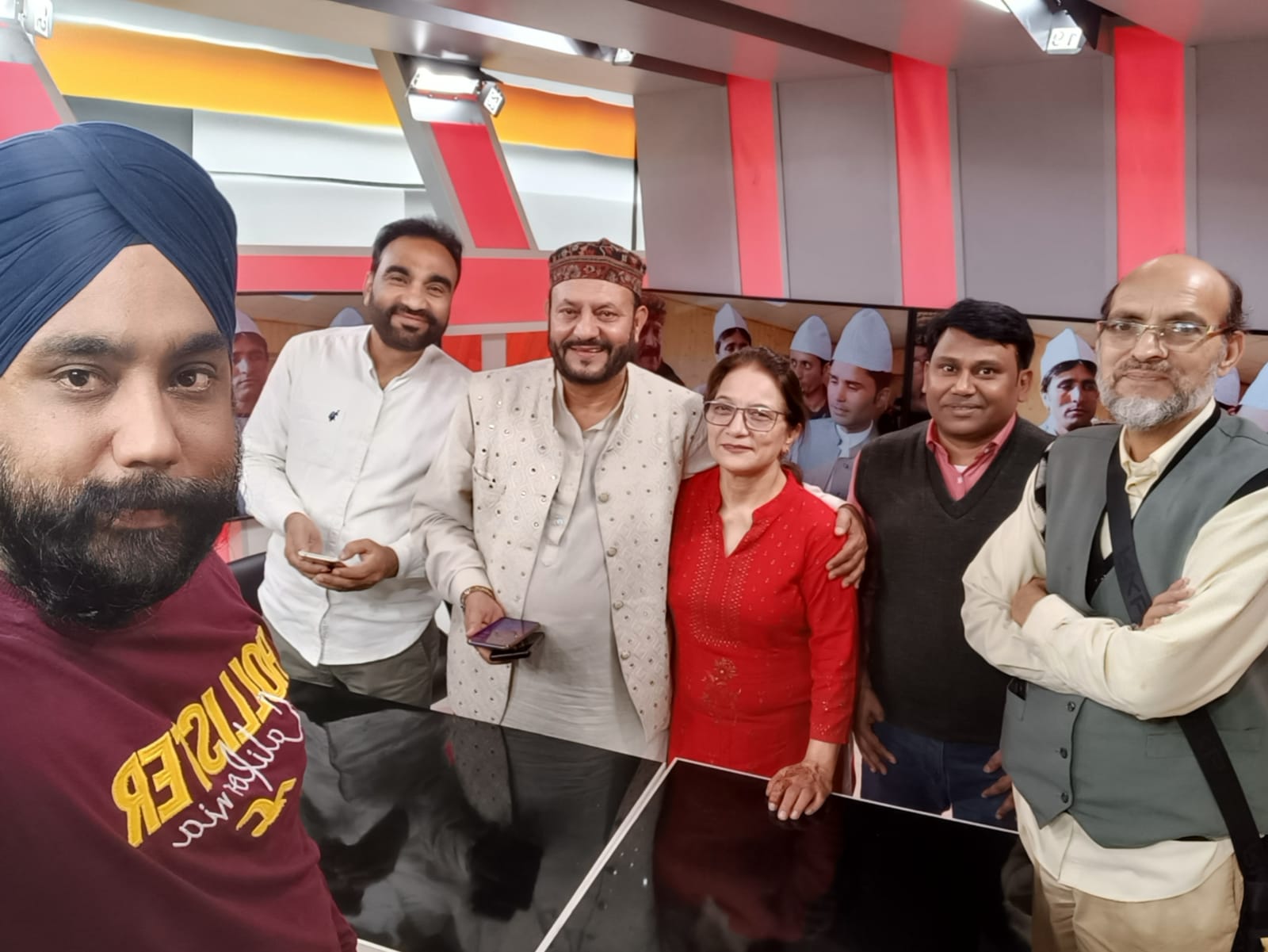 Gulzar Ahmed Ganaie in the office of Awaz-the Voice in Delhi
"It's painful to even think of my sisters (Kashmiri Pandits) from villages who had never seen Banihal (Boundary of Kashmir and Jammu regions) going and living in far-off places," he says through his music, he believes, he is keeping them connected to their native land. "Many tell me that I have brought Kashmir to them."
He spoke to Awaz-the Voice in Delhi while he was invited by a Kashmiri Pandit entrepreneur for the inaugural function of a convention center in Manesar Gurugram. "He has established such a big convention hall and I was invited to the inaugural function; I was treated like family," he said.
Similarly, he says during one of his visits to Dubai to perform at a wedding in a Kashmiri Pandit family, the hosts saw to it that he is served home-cooked food. "The breakfast, lunch, and dinner were all from their home." He said the hospitality of the hosts was an emotional gesture that made the staff of the hotel wonder why he was not eating from their place.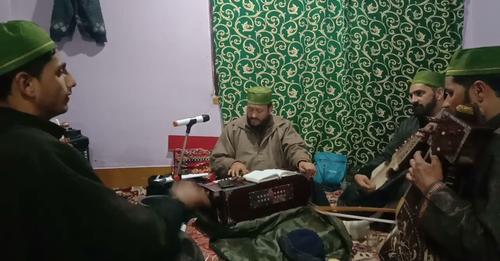 Gulzar Ahmed Ganaie singing in praise of Khwaja Moinnuddin Chisty at Ajmer

"It is amazing to see that when I share love through my music; I also get the same in return," he said.
On Kashmiri Sufiyana music, Ganaie says, "This is divine music. You sing with your soul and it's for the soul."
He said Kashmir's Sufi bards set up the tradition of Sufiyaana music. "The Sufiuyana parampara has given rise to many Sufi ulemas making Kashmir an abode of Rishis and Munis."
"I am carrying on that tradition that was set up by Lala Arifa, whom, we also call Lal Daed and Sheikh Noorudin Noorani, Alamdar-e-Kashmir. We, Sufi musicians, sing their songs in praise of the divinity. This tradition has given us legends like Shamas Fakir.."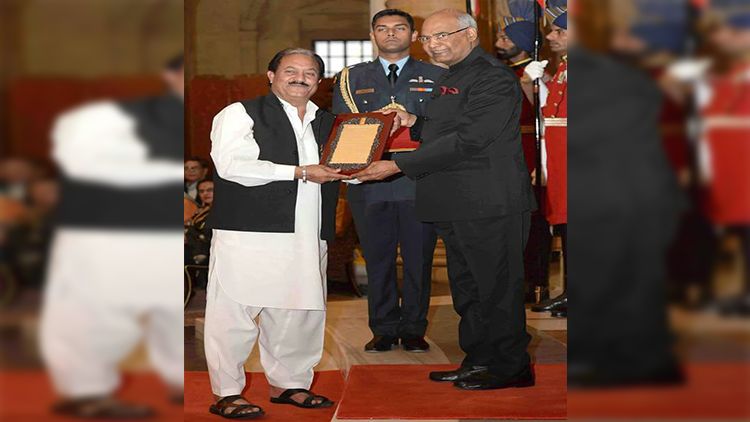 Gulzar Ahmed Ganaie receiving award from President Ram Nath Kovind
Like many artists, Gulzar Ahmed Ganaie also faced extreme religious intolerance and radicalism in the initial years of his career which coincide with the rise in the insurgency.
"It was a very, very difficult phase," he says. Some people came and asked him to desist from the un-Islamic ways of pursuing music.
"Luckily for me, this group had some members who were willing to listen to my logic," he says with a chuckle.
Ganaie quoted the Quran and Hadith to explain to them that he cannot even think of doing anything against the teachings of the Prophet of Islam.. He told them an anecdote from Prophet Mohammad's life to make his point.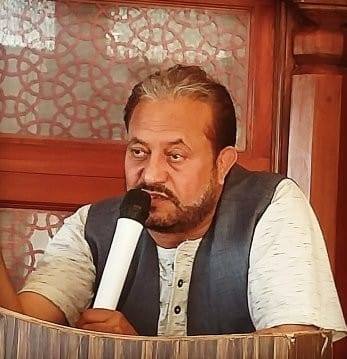 Gulzar Ahmed Ganaie
The story is: One day when the Prophet was taking a rest, his wife Ayesha was sitting with their two daughters. The girls were singing and practicing some tunes when their maternal grandfather came. He objected to the girls' getting into a "vulgar act."
"At this Hazrat Ayesha asked her daughters to leave the room and the Prophet woke up and told him ' let them be. This, to me, means that the prophet of Islam didn't disapprove of music as a form of art" Ganaie told them.
He said a devout Muslim will never dare to go against the Prophet's teaching. he too had struggled to explore the truth behind this popular notion peddled by the radical people that Music is banned in Islam.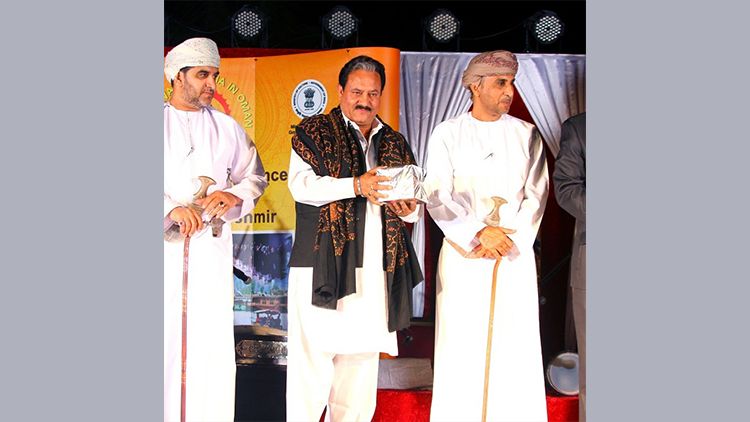 Gulzar Ahmed Ganaie being felicitated in a Gulf country
While carrying on the message of Kashmiri Sufis to the world, Ganaie says all the folk culture of India is fascinating. "I listen to Urdu, Punjabi, late Kishore Kumarji Mohammad Rafi sahib to get inspired. All our states have different folk and it's very rich."
On a philosophical note, Ganaie says the terracotta drum and tumbaknari used in the Sufiyana music are made of the soil of Kashmir by the hands of Kumhars who are pasmanda. Wherever we fly we carry the matka in our lap. It's us and we will one day go in the same soil of which it's made of."
Ganaie with his team of musicians has travelled across the world. "I work hard on preparing one song in the local language and also give the translation of the songs that we perform to the organizers to run it on the screens."
He says though the key instruments used in Sufiyana Music like Rabab have come from Afghanistan and Sarangi from Iran, these have been incorporated into the folk and Sufiyana music of Kashmir.
About the present situation in the Valley, Ganaie says Kashmir has come a long way from the days "when nobody could speak the truth.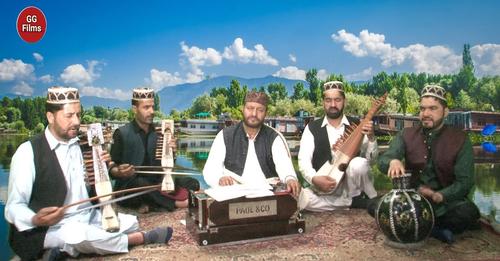 Gulzar Ahmed Ganaie with his team during a recording with AIR, Srinagar

I see a seachange in Kashmir and more importantly, it's heartening to see the young and dynamic district commissioners working for peace and progress.
"Progress and well-being of being are directly linked to peace," he says. He quotes an incident of the terrorism days when he asked a worker engaged in the construction of the Rambagh bridge in Srinagar how long will it take to complete the bridge. "He told me you end this hartal culture and see how we get it ready quickly."
He says there is a lot of all-around development in Kashmir under the current regime of Lt Governor Manoj Sinha. "I haven't met him so far. Yet I get a lot of support from Army and district administration."
ALSO READ: Gulzar Ahmad Ganai sings his way to unite Kashmiris
"All of us on the mission – of spreading peace. The DC's do it by pushing development and I through my music."