Ahmed Ali Fayyaz/Srinagar
Coming from a modest family of furriers in Srinagar's Chattabal area, Dilafroz Qazi laid the foundation of the Srinagar School of Management (SSM) in 1988—exactly when the seeds of separatism and violence were sprouting across the Kashmir valley. Investing in management, engineering, and technical education was virtually sailing against the wind.
With a bachelor in Law—and no money in hand—Dilafroz set up a small training center of short-hand, typing, cutting, and stitching at Rajbagh. Soon it grew into the valley's first private polytechnic operating from a tiny space of a hotel. Parallel to the militancy's meteoric rise, SSM spiraled into Kashmir's first private engineering college in 1996. It is now a full-fledged engineering college alongside its school of management and a polytechnic.
Thirty-five years later, SSM boasts an impressive alumni base of more than 30,000 students—a number of them have reached top positions in management, corporate, and government sectors. They include Bisma Qazi of Indian Administrative Service (IAS), Naveed Tramboo of Indian Revenue Service (IRS), Ursilla Tabassum, Iqbal Hassan Mona, Abidah, Wajeeza, Adeel Aslam and Gowhar Shamim Mir of Jammu and Kashmir Administrative Service (JKAS) and many others like Auditing Officer Sheikh Muzammil and Executive Engineer Umar Jan.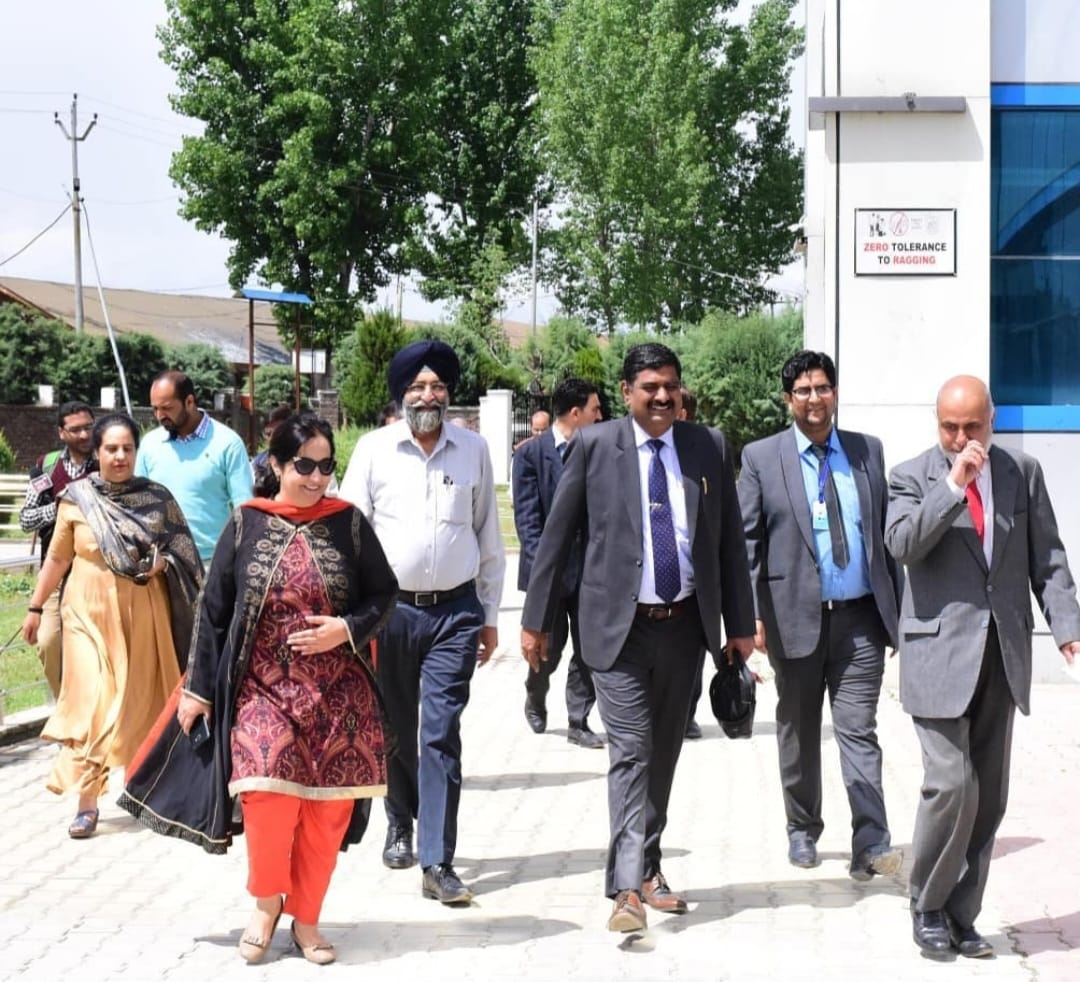 Dilfaroz Qazi (Extreme left) in her college
Established on a plateau close to the archaeological site of Parihaspora, SSM still carries the distinction of being Kashmir's only private engineering college imparting technical education at both undergraduate and postgraduate levels. It conducts degree courses in civil, mechanical, computer, electrical and electronics, and communication engineering and postgraduate courses (M.Tech) in mechanical engineering and electronics and communication engineering.
SSM also conducts the courses of Masters in Computer Application (MCA) and Business Administration (MBA) besides Bachelors in Business Administration (BBA). Diploma courses in six engineering disciplines are conducted at the SSM Polytechnic which, in 1988, was the first step towards privatization of technical education in the erstwhile State of J&K.
A massive infrastructure, including teaching blocks with smart classrooms, libraries, computer and science laboratories, playfields, auditoriums, and two hostel blocks have come up at the campuses, 20 km from the capital city of Srinagar.
The governing council of the institute comprises eminent educationists, administrators, technocrats, and professionals. Similarly, the faculty comprises highly qualified and trained teachers. SSM has to its credit several awards and recognitions in capacity building, education and communication, sports, and cultural activities.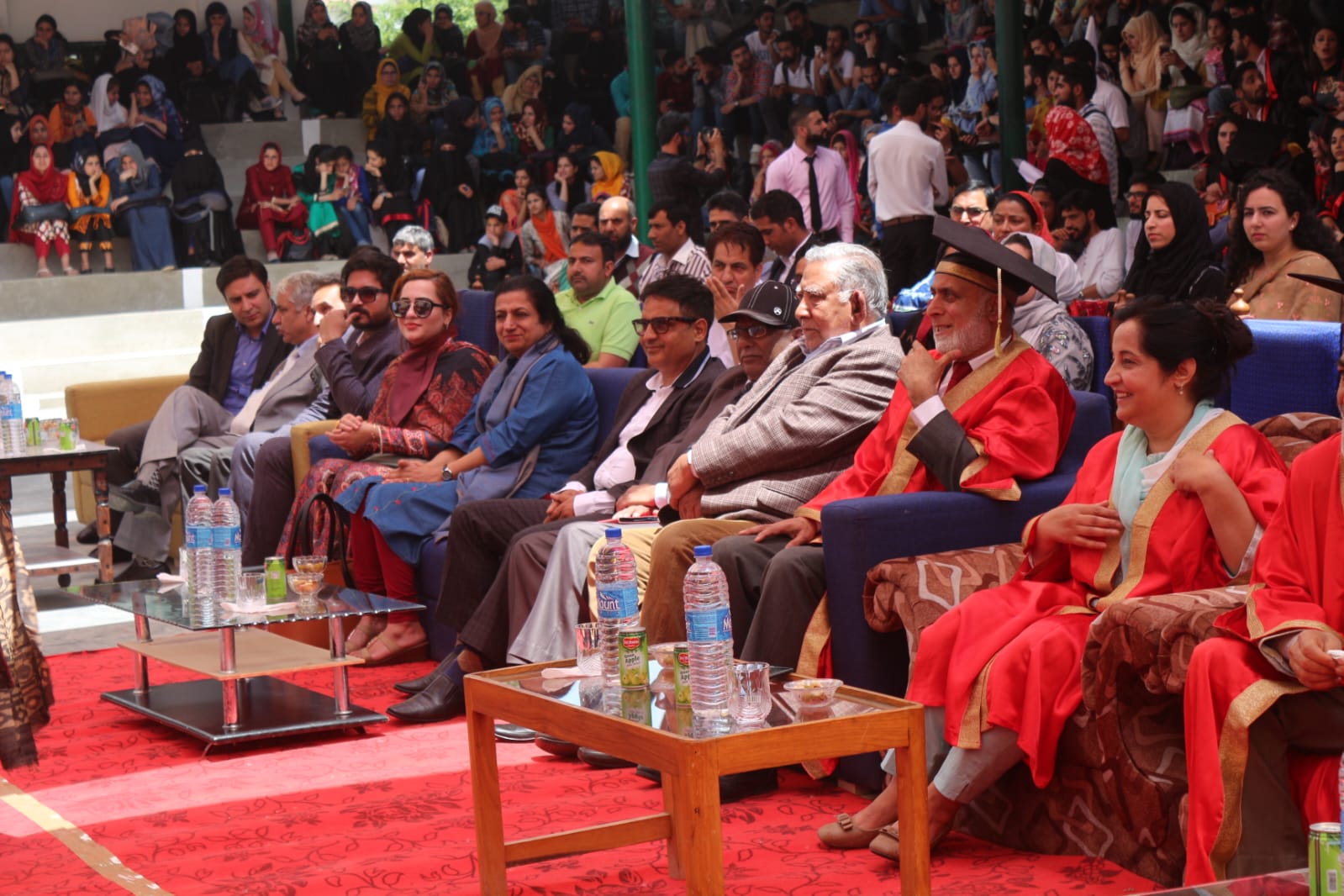 Dilfaroz Qazi (in Red gown) at the convocation of her college
The embryonic stage of Dilafroz's ambition ran parallel to an era of death and devastation across the valley. She got married to the Srinagar resident Qazi Shabir who came in as a support in the early 1990s but the environment of education was hugely disturbed by curfews, hartals, encounters, and operations by the security forces. These were the days when militants burned down a large number of the valley's educational institutions, including schools and colleges.
As the situation began to show some semblance of improvement, Dilafroz acquired a chunk of land at the hillock of Parihaspora to set up her dream college of engineering. But she landed in an unexpected trouble.
"Ironically, the biggest hurdles were created by a prominent mainstream leader who perceived my college as a threat to his conventional vote-bank even as I had nothing to do with politics. He engineered and encouraged several attacks on my construction workers; his musclemen torched a number of our structures. I put up resistance by way of refusing to surrender and got FIRs registered over every single attack. It was not easy those days to file an FIR over a grenade attack", Dilafroz narrated to Awaz-The Voice.
After the 1996 elections, the said leader was back in power - this time as a minister -. Dilafroz claimed that the entire administrative and Police machinery acted on his instructions. "There was never an action over the FIRs we filed. The official machinery sabotaged our plans. Everyone from DC's and SP's office to Tehsildar and SHO sided with the politician and created untold hurdles. I am sure any other man, let alone woman, would have abandoned it and bought peace. But I thought I must fight it out until I break completely", Dilafroz added.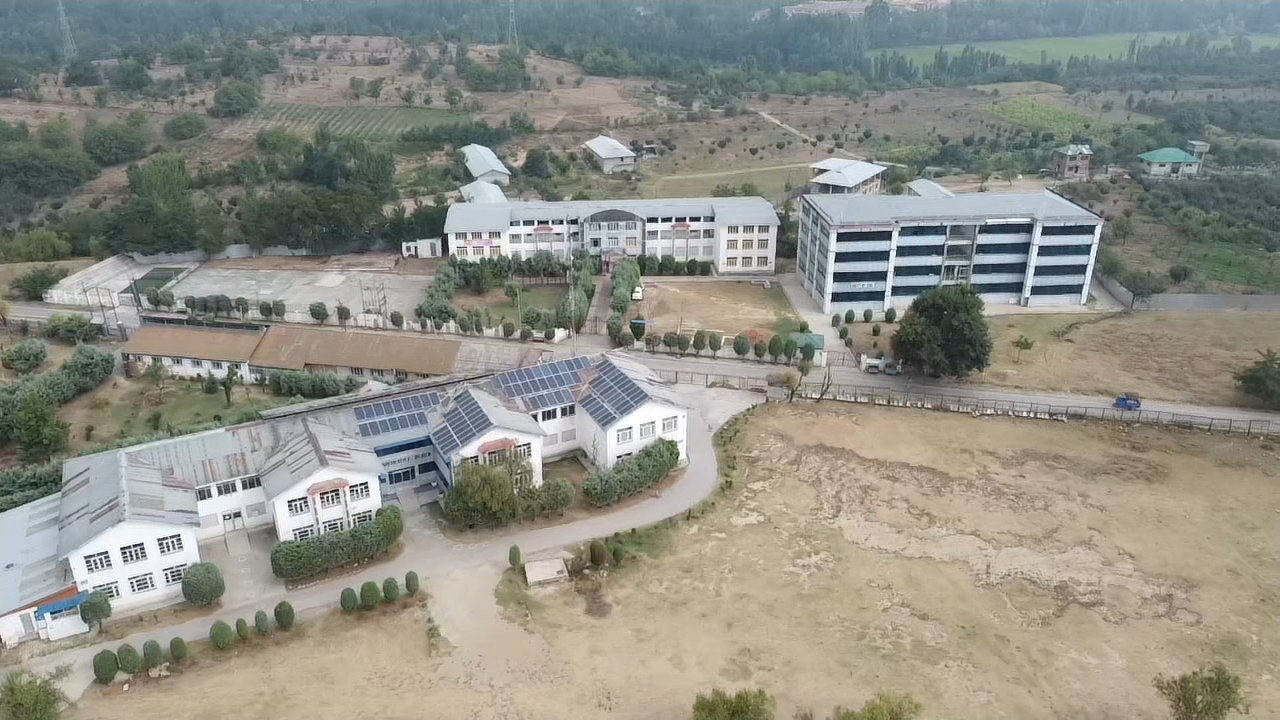 The campus of SSM College, Parihaspura
When we applied for the University recognition and affiliation and t officers, deans, and registrars from the University of Kashmir and the State-run Regional Engineering College (REC) visited our infrastructure, their behaviour was completely hostile and demoralizing.
"I experienced male chauvinism and misogyny. They raised irrelevant and irrational questions. They asked how a woman with no engineering background and qualification could operate an engineering college. But, notwithstanding all these adversities, I managed to get recognition and affiliation to the SSM as I set up the best infrastructure and employed the best possible faculty", Dilafroz added.
"One day, while I was shuttling between the government offices in Srinagar for the recognition of my college, I came across a local lady IAS officer namely Tanvir Jehan. I learned from her that the entire government machinery and bureaucracy was pitted against me. Are you the woman, she asked incredulously. When I narrated my story of ambition and struggle to her, she empathized and provided every possible support. By the grace of Almighty, I am now heading a full-fledged engineering college with management courses and I am struggling to set up J&K's first University in the private sector", Dilafroz asserted.
Over the years, the competition as well as the procedure of admissions has changed drastically. When Dilafroz began to raise the valley's first private engineering college, even the government had only one—the REC which subsequently became the National Institute of Technology (NIT) Srinagar. Now, in addition to several private engineering colleges, six engineering colleges are run by the University of Kashmir, the Islamic University of Science and Technology (IUST) Awantipora, the Central University of Kashmir, and the Cluster University Srinagar. The Union Territory government operates one more engineering college at Ganderbal.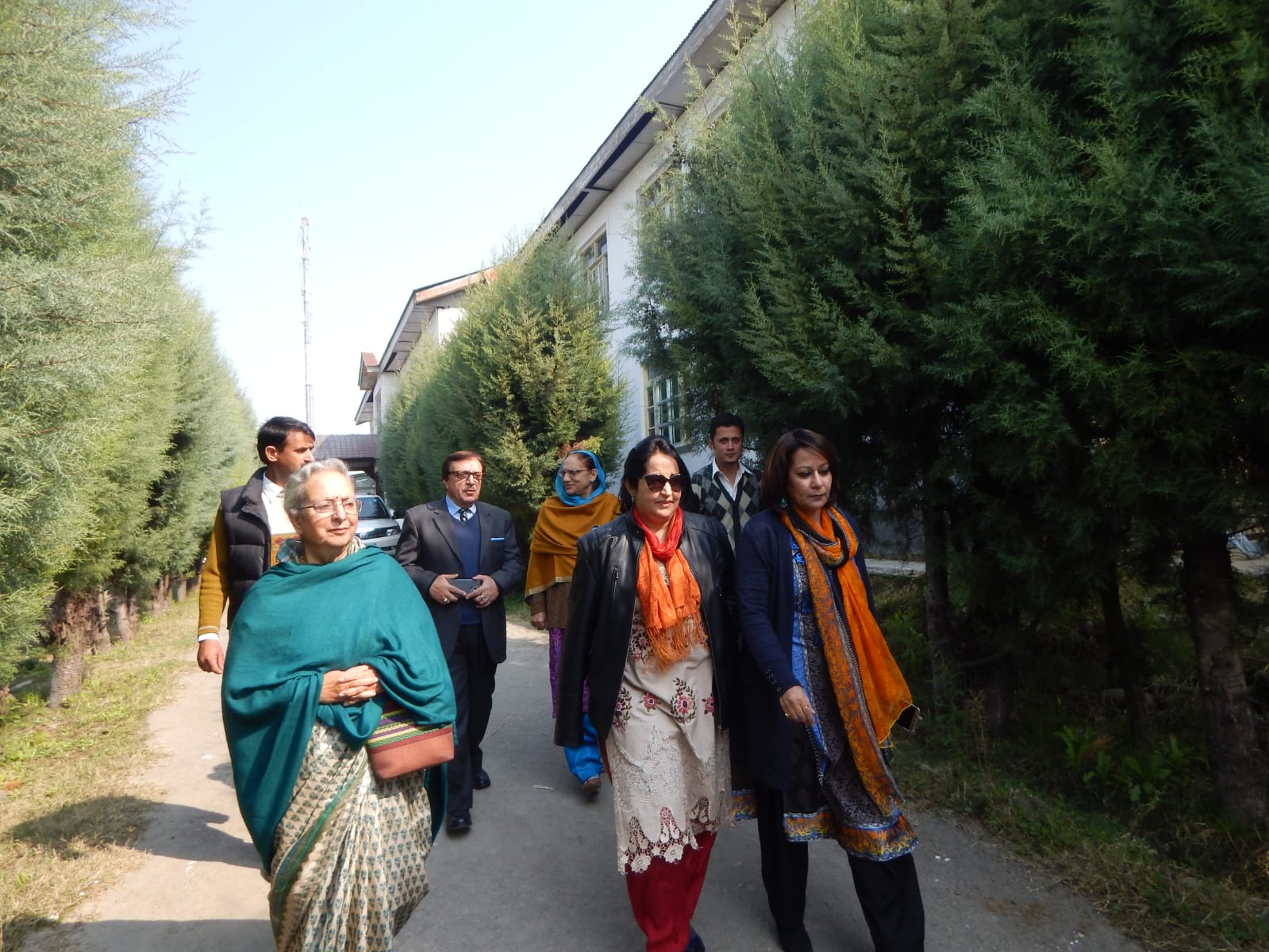 Dilfaroz Qazi with eminent educationist Prof Neerja Mattoo
"With the expansion of the private and government polytechnics and engineering colleges, our roll of students has fallen phenomenally from 3,000 to just 1,300. Until recently our intake limit was around 666 seats. Now we can't admit more than 115 students in a year. And, contrary to the procedure outside J&K, all admissions here are done by a State-run authority. We are also barred from taking the students under the Prime Minister's special package for the J&K students. All the beneficiary students of J&K are distributed among the colleges outside. The stepmother's treatment is still unabated", Dilafroz added further.
Dilafroz pointed out another irony. According to her, the University of Kashmir is charging a fee of Rs 80,000 for B.Tech courses. IUST is charging Rs 75,000. Her SSM is charging only Rs 38,000 to Rs 40,000 per student. "Still our allocation of seats is reduced and we are made to renew the University affiliation every year", she lamented.
"We have two times B+ NAAC accreditation and we figure in the top 10 engineering colleges in India. Still, the University of Kashmir didn't grant us permanent affiliation in the last 25 years. There are biases and prejudices which can't be explained. J&K is the only State/UT in the country where engineering admissions are done by a government-run authority called BOPEE. Whatever I have earned, I have invested in this institution. I don't have dreams of making billions for my luxurious life. I am just pursuing my dream of establishing a full-fledged private university in J&K in which the Union and the UT government should support me", Dilafroz said.
ALSO READ: Padma Shri G M Mir who helped forces end terrorism in Kashmir lives a modest life
According to her, as many as 18,000 J&K students of her college have got high-salary jobs in the government sector and the private sector across India and abroad.