Ariful Islam / Guwahati
Poverty can never be a hurdle for talented and spirited persons This is proven by a Guwahati teenager Sarjik Alam, who is pursuing his dream of conquering the world with football.
At the age of 14, he is set to travel to Portugal to participate in the 2022 International Youth Cup as the goalkeeper of the India Under-14 team.
Sarjik Alam was interested in football since the moment he could kick a ball - he used grapefruit, locally called Pomelo - to learn the skills of the game in his village Dekarkuchi, Kamrup district.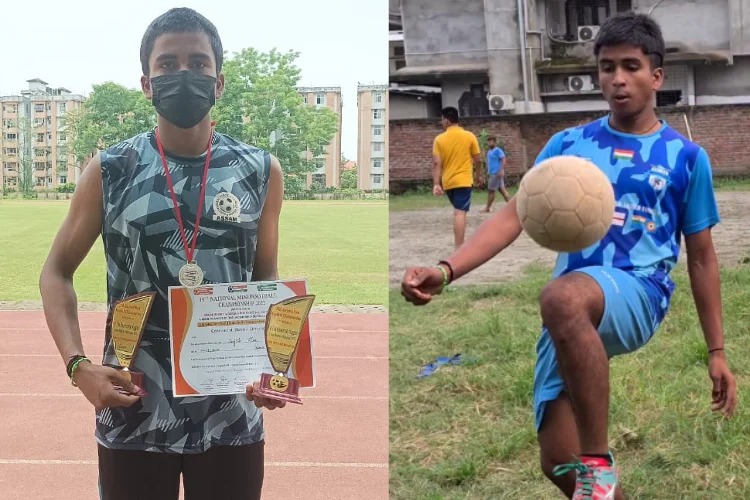 Sarjik Alam displaying some of his awards and during the practice session
He has since shifted to the capital city where he lives in rented accommodation with his mother. A class IX student, Sarjik had to shift to Guwahati to practice football on proper infrastructure. Every day he walks 5 km from Hatigaon to Sarusajai Sports Complex.
Speaking with Awaz-the Voice, Sarjik Alam said, "The International Youth Cup 2022 in Portugal has been deferred for a while due to Covid-19. Meanwhile, a former player of England's Westham United Club saw me during my national camp and says he is impressed by my performance. He has invited me to join the Westham United under-15 team as a goalkeeper."



"I can't say when I'll have to go until the new date for the International Youth Cup 2022 in Portugal is announced. Before that, maybe I'll go to London. I have almost done all the arrangements to go to London, only the visa is yet to come."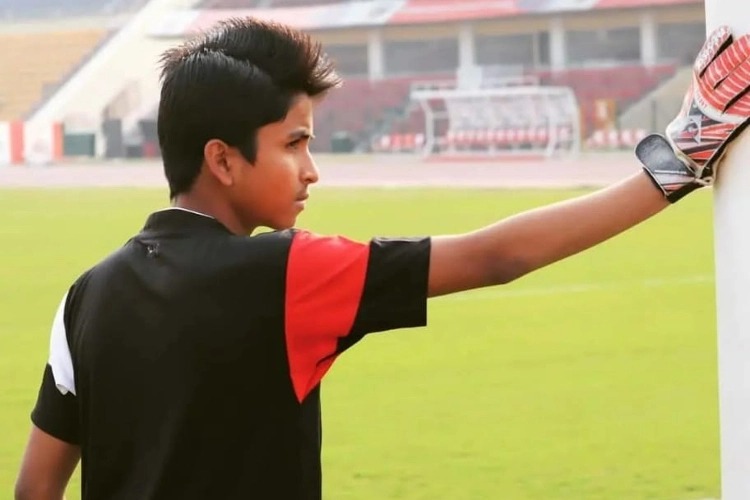 Sarjik Alam during NEUFC training session
Sarjik Alam has played for the Assam team and represented various clubs. He is a member of the Assam football team and has won the hearts of football fans with his performances in various places. He has also played for Punjab's leading football club Minerva Punjab FC Academy. The budding player played as a goalkeeper for Minerva Punjab FC Under-14 team.
"Earlier, I had the opportunity to train with NorthEast United FC.I often train with them. (Head coach) Khalid Jamil Sir allowed me to play with NorthEast United FC. He is currently the head coach of ISL team Bengaluru FC. I didn't have a good pair of boots. Jersey and boots were provided to me by Khalid Jamil Sir," Sarjik said.



"NorthEast United's training has been suspended due to the outbreak of Covid-19. Then I joined Guwahati City FC for training. GCFC's coach Bitupon Sonowal Sir helped me a lot. He also trained me out of personal initiative during the pandemic time," Sarjik added.
Sarjik, admires and follows footballers like Pele, Ronaldo, and Lionel Messi. He is confident his life will change. Despite being on the national team, Sarjik still does not have a pair of boots for practice, and neither can he afford to buy one for himself. All he possesses is a strong will to be a successful footballer.