Saquib Salim
In popular notion, the freedom struggle of India is often seen through the lenses of political agitations, armed revolutions, and public strikes. It is believed, by the common people, that the arts like music especially those featured in films had nothing to do with the freedom struggle. This popularly held opinion is nothing but a myth.
Hindustan Meri Jaan; 75 years of Independence
Music, songs, and poems played an important role in encouraging our freedom fighters to take up arms against the foreign rule. There is ample evidence that during the 19th century Hindu and Muslim mendicants would roam around the cantonments singing poems in praise of national heroes who fought against the British. These songs, according to the English investigators, became an important factor in instigating Indian sepoys for mutinies in Vellore in 1806, Meerut, Ambala, and elsewhere in 1857. The singing of Vande Mataram and Kala Sha Kala at public meetings to form a public opinion against the foreign rule is well documented.



The 1930s and 40s were the decades when the national struggle was in full swing. It was also the time when films and their music captured the public imagination more than anything else. The nationalist leadership understood that film music could carry the message of freedom to the last person. It is a pity that, for reasons unknown, the contribution of film music in our freedom struggle has not been talked about much.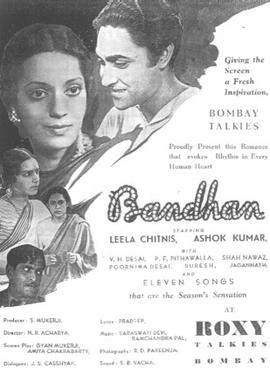 Poster of movie Bandhan
Mohammad Rafi, one of the most popular male singers to have ever sung in Indian films debuted with a patriotic song in a film, Pehle Aap, in 1944. The independence was still three years away, Azad Hind Fauj led by Netaji Subhas Chandra Bose was still marching towards Delhi, Indian politicians were still imprisoned and divisive politicians like Jinnah were propagating two-nation theory when Rafi sang the song written by D. N. Madhok and composed by Naushad. The song goes like this:
Hindustan ke hum hain, Hindustan humara
Hindu Muslim dono ki aankho ka taara
(We belong to Hindustan, Hindustan belongs to us
It is dear to both Hindus and Muslims)
It does not need rocket science to understand that a theme of Hindu-Muslim unity was being taken to counter the propaganda of the Muslim League that Hindus and Muslims were separate nations. At another point, the song made an explicit mention of Indian soldiers, most probably, of Azad Hind Fauj. The lyrics go like:
Lo chale sipahi ban ke Bharati ban ke Bharati
Ab aaye saamne himmat kiski himmat kiski
Har maidaan jita, har maidan maara
Hindu Muslim ne milke jab hai lalkara
(Look soldiers are marching as Indians
Who will dare to stand in front now
Won every battlefield and came out victorious
When Hindus and Muslims fought as a united force)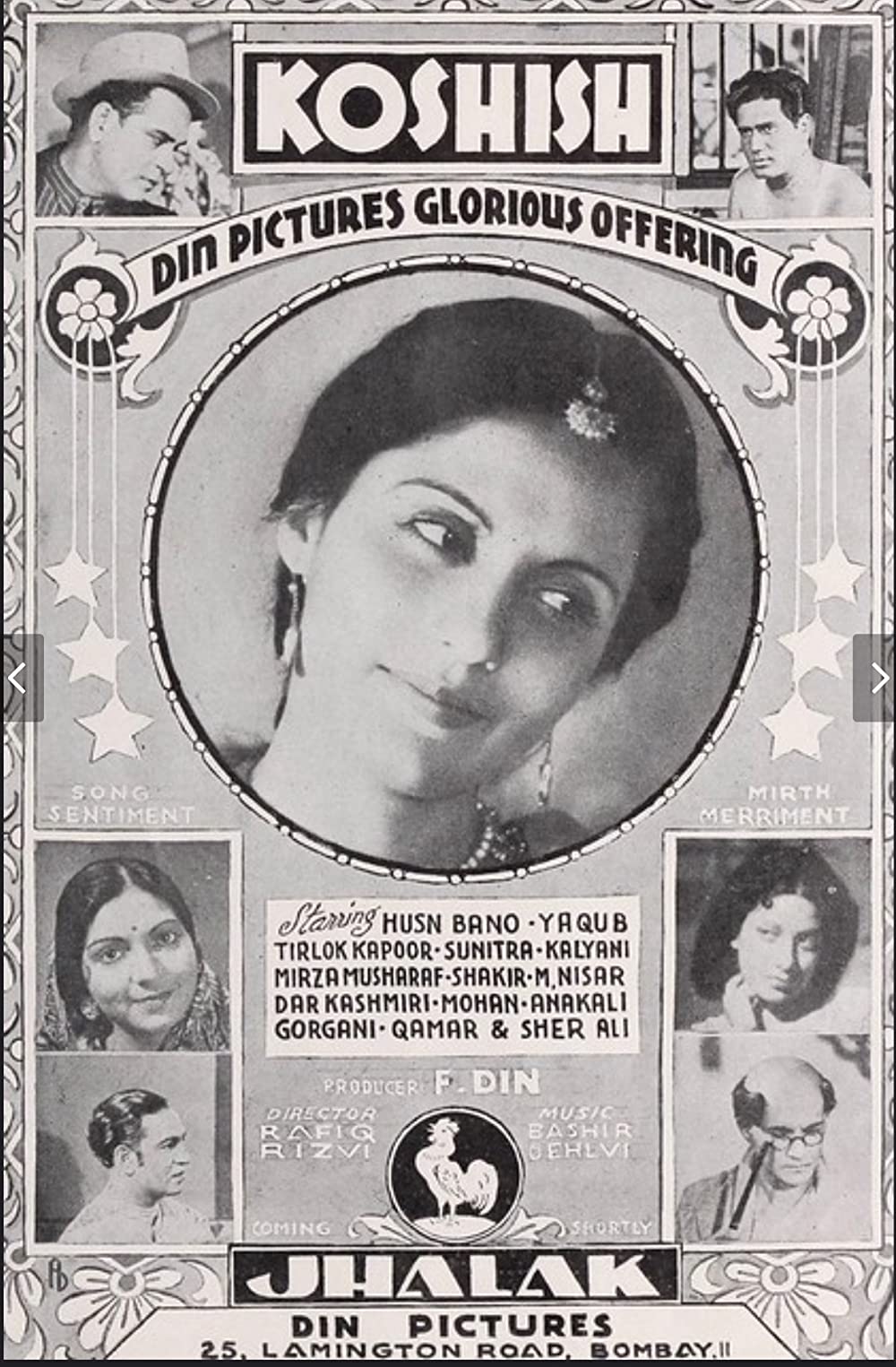 The mention of soldiers fighting as an Indian force and calls of Hindu Muslim unity is undoubtedly pointing toward the message, mission, and army of Subhas Chandra Bose. At a time when newspapers could not print any nationalist news because of censorship and Azad Hind Fauj was completely silenced by the media, film songs tactfully delivered the required message to the Indian people.
This was not the first time that during the Second World War a film song was written challenging the English authority. In 1942, when Subhas was trying to form an army in Germany and Sardar Ajit Singh and Iqbal Shedai had gathered one in Italy, Kavi Pradeep, came up with an immortal song Aaj Himalaya ki Choti se phir humne lalkara hai. This song was part of the movie Kismet and when the song was shown to the director and producer they were shown that such a nationalist song would never pass the strict censorship.
Kavi Pradeep was a wordsmith par excellence and he strategically altered the penultimate sentence of the lyrics as "Tum na kisi ke aage jhukna German ho ya Japani'' (Never bow down before anybody, be it German or Japanese) hence making the British officials believe that the song was actually against the Japanese aggression during the World War. The public knew the message of the song and it soon became a kind of anthem for the Indians against British rule.
Kavi Pradeep had already made a mark for himself in 1940, with an immensely popular song Chal Chal Re Naujawan for the film Bandhan. The song was adopted by the nationalist leaders as a marching song and when a young Indira Gandhi formed a 'children's corp' during the freedom struggle this song was chosen as its marching song. Several leaders later noted that this song inspired them to join the national struggle.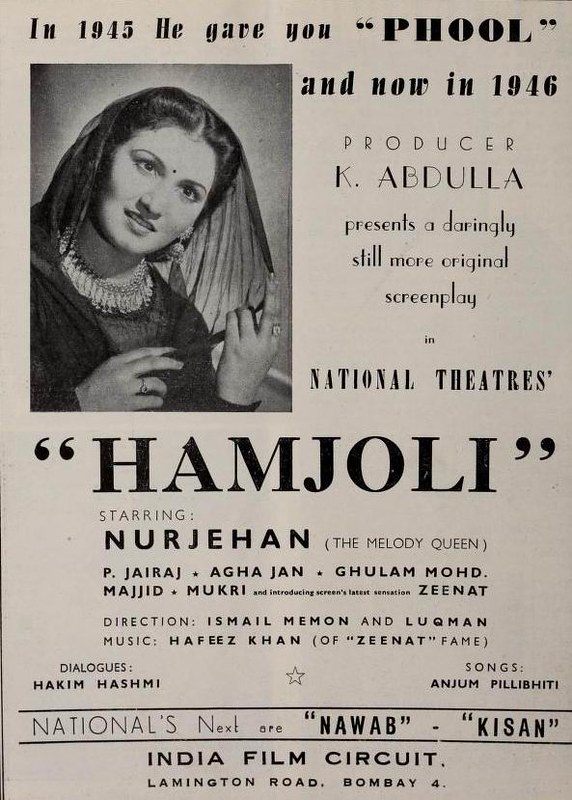 Hamjoli film poster
In the 1940s, several films were appealing to Indians to as not to get swayed by the divisive communal politics which later resulted in the partition of India. Koshish, a 1943 film directed by Rafiq Rizvi, had a song sung by GM Durrani, which appealed to Indians to stay united. The song goes:
Hindustan walo, Hindustan walo
Gita ke waraq ulto, Vedon ko dekh daalo
Quran se mashwara lo, Quran padhne walo
O Indians, O Indians
Turn the pages of Gita, read Vedas
O readers of Quran, consult the Quran)
The song ends with the appeal, Aapas mai ladne walo, girta hai ghar sambhalo (You are fighting with each other, your house is falling apart, please try to hold it).
The list, though, is much longer, I would like to conclude this with one of my favourites. The song, "Ye desh hamara pyara, Hindustan jaha se nyara" (This nation is beloved, India is the best in the world) written by Anjum Pilibhiti and composed by Hafiz Khan was sung by Noor Jehan, who later migrated to Pakistan, for a 1946 film, Humjoli.



Why is it my favourite? Because, of all the songs it had the most explicit call for freedom from British rule. The song ends with, "le ke rahenge hum azadi, wo din aane wala hai, jhanda apna sari duniya par lehrane wala hai." (We shall snatch the freedom, the day is arriving soon, our flag will hoist atop the whole world)