Sayyed Taleef Haider
After the failure of the first War of Independence in 1857, the scholars who were behind it faced punishment while others felt dejected over to see that the idea of Islamic rule was a distant dream. Many others were not reconciled to the reality that it was the end of the Mughal Sultanate; Many started resorting to corruption as a sign of their deep animosity towards the new English authorities.
However, the silver lining in this otherwise dark cloud came from someone who let go of the past, embraced new educational standards, learned how to live under non-Muslim control, and yet planned for a good future. This model was given and followed by Sir Syed Ahmad Khan.
In the book Asbaab-e-Baghawat-e-Hind Compiled by Hali, Sir Syed for the first time described the reasons why the Indians failed. He also told Muslims that the rule of Muslims was a thing of the past and that they must adopt the new educational standards and commits their lives to learning.
At this point, Sir Syed distanced from the traditionalism in which he was brought up and pursued new educational standards and a modern lifestyle. He sold his library to raise funds for his mind-grooming. He visited London to acquaint himself with the academic trends. Sir Syed says he became aware of the environment and academic pursuits there. Soon he launched a mission for Muslims.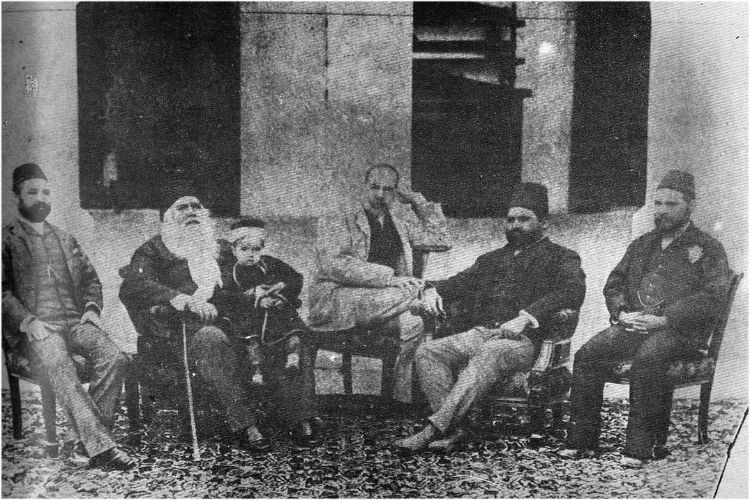 Sir Syed Ahmed with his contemporaries

He wrote Assar-us-Sandeed, which helped Muslims and the new government understand the role of the community and their intrinsic link with India. Muslims have constructed structures and ornamented the land of India in a way that only a homeowner would do so. On the other side, he used the writing of books like Sarkashi-e-Bijnor, and Asbab-e-Baghawat-e-Hind to deal with the rising rumour mongering going around.
Sir Syed published various sermons to combat the illogical beliefs held by the majority of Muslims. He purposely avoided issuing statements. He also penned a commentary on the Holy Quran to protect the next generation of Muslims from antiquated Quranic interpretations and to encourage them to embrace a contemporary mindset.
His empathy for Muslims inspired him to write resolute declarations to preserve their distinct identity and to convince them only by becoming knowledgeable and enlightened would they succeed. He established a Madrasa to rid Muslims of illiteracy. He was so involved in its growth and his efforts turned that modest Madrasa into a famous educational institution -Aligarh Muslim University.
Sir Syed sought to gradually instill in the Muslims the idea that the only way to live in India after 1857, was by working hard to embrace the new education system. He didn't make many friends in his lifetime because his mission challenged the conventions of that time. However some of his friends included Maulana Altaf Hussain Hali, Deputy Nazir Ahmed, Maulana Shibli Nomani, Maulana Muhammad Hussain Azad, Chirag Ali, and Nawab Mohsin Mulk.
ALSO READ: I can live without anything but music: Maulana Abul Kalam Azad, who played sitar
Sir Syed worked to bring Muslims closer to the idea of a new India in which Hindus and Muslims can happily coexist. He made Muslims aware that they are not superior beings to others in the world, for the greater people are those whose minds are enlightened. He also showed them how to be useful to others through education.