Nakul Shivani/ New Delhi
26-year-old Nikhat Zareen scripted history at the Thyagraj Sports Complex in New Delhi on Sunday by becoming the second Indian after MC Mary Kom to win two gold medals at the World Boxing Championships.
With this feat she was also richer by USD 100,000 she received as prize money and a Thar SUV gifted to her by the Mahindra group. The latter helped her drop her plans to buy a Mercedes Benz car from the prize money.
Hyderabad born Nikhat defeated Vietnamese boxer Nguyen Thi Tham by a unanimous 5-0 verdict in the 50 kg category. She had last won in the gold medal in the world championships in 2022 in the 52 kg category.
Nikhat joined the likes of Lovlina Borghain, Saweety and Nitu Ganghas to win gold for India at this championship and make it a golden weekend for the country. While Lovlina won her 75 Kg final bout on Sunday, Nitu and Saweety opened the medal count for India on Saturday winning the 48 kg and 81 kg finals.
Taking to social media, Nikhat thanked her fans for their support and wishes.
After her win on Sunday, the Telangana girl revealed she now wants to send her parents for Umrah to Mecca with the prize money she has got. At the post-match press conference, Nikhat revealed that "Since I have got a Thar as a gift, I am thinking of sending my parents for Umrah since Ramazan are going on."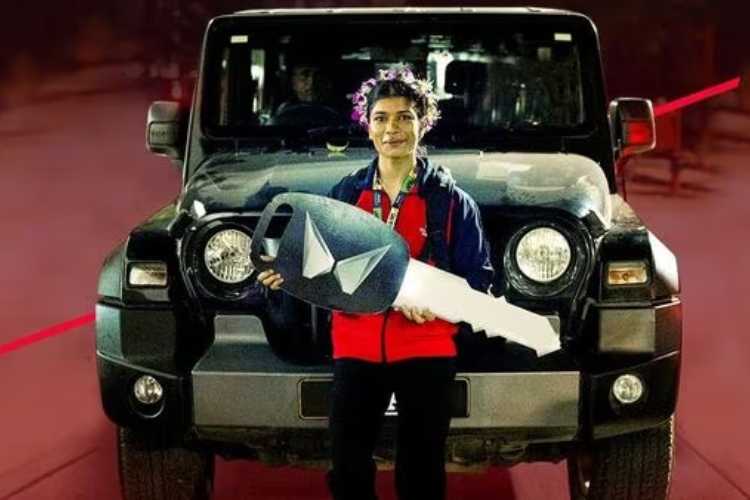 Mahindra gifted Nikhat Zareen a Thar SUV for winning the World Championship gold medal on Sunday
Among the first messages Nikhat received after her win on Sunday was from Prime Minister Narendra Modi who took to twitter to congratulate her on her outstanding achievement.
Nikhat's passion for Boxing started at an early age. She announced her arrival at the international stage by winning the AIBA Youth Women's Championship in 2012. Ten years later she won a gold in the senior category in Turkey defeating Thailand's Jitpong Jhutamas. A year later in 2023 she added one more gold to her ever-rising career.
In the post-match conference, Nikhat said, "It's a special day, my second world championship medal. Today's bout was my toughest so far, facing an Asian champion. My next target is the Asian Games."
ALSO READ: Nikhat Zareen is world champion for the second time
That does not look a difficult challenge going by the tough mettle she has shown so far. But for now she is planning her parents trip for Umrah.