Nafees Sherani
Some 15 years ago, the girls in Muslim families of Shekhawat – a semi-arid region of northern Rajasthan rich in history and culture – were happy living in their homes, not venturing out even for education. This kept the community at disadvantage.
Some Muslim organisations and community members took up the task of bringing girls to schools and changing the situation. Today, the morning scene in any small town or village of Jhunjhuna and Sikar, two districts that comprise the Shekhawati region, groups of girls carrying school bags and talking animatedly, is common across the region.
Shabina is a teacher in a girls' school in Jhunjhunu. She feels she is part of the change in the education of Muslim women. Shabina says, "Earlier girls used to stay at home. Now every family sends their daughters to school. Having a good school and then having no fee helped a lot."
She says, "We have started imparting education in English so that they can compete with the rest of the world. We are also giving religious education."
The region draws its name from Shekhawati Rajput. The bias against the girl child was rampant. Sabina says the gender gap is narrowing down. Sabina says often it's either a mother or a grandmother who supports the girl child's right to go to school.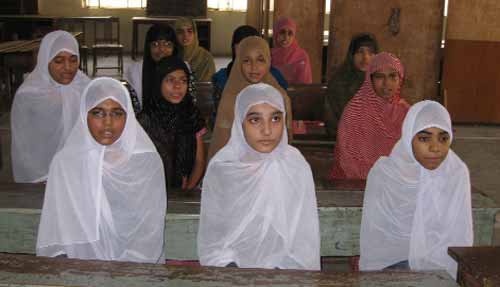 A classroom

Sabina says, "Earlier a grandmother wanted a grandson (from their daughter-in-law), now she is proud of her granddaughters."
Mohsina is a class 10 student in Sikar. She wants to become a doctor. She says, "Earlier only boys went to school. Now girls are also making their families proud by studying."
Shekhawati is a part of the desert area where life is difficult. That's why people have been going to Mumbai, sometimes to Gulf countries for work.
Sikar's Wahid Chauhan says he went to Mumbai to make his family's life better. However, his innate wish to see the girls in his hometown of Sikh joining schools pulled him back. About a decade ago, Chouhan established a school for girls in Sikar that proved to be the game changer for women's education.
Chauhan said, "There was resistance initially, some thought that girls might go in the wrong direction. But slowly attitudes changes and things got better. Today, I feel very happy to see girls studying."
His school charges no fee; provide uniforms at no cost. Sajid of the school's management committee says, "Initially some people protested against the school and there were only 27 girls in the school."
Today the school boasts of an enrolment of 3,000 girls and has since been elevated to an intermediate college.
Chauhan set an example that Muslims or any community can help themselves without seeking the government's help in talking about the Sachar committee report.
Aftab of Sikar says, "It was very difficult for a girl child to even become a teacher in our society. Today my daughter is going to become an architect. This was beyond our imagination once." He says earlier the opposition to sending the girls to school started from her family while some families provided home tutors to their girls." He says now the rush of girls to schools is a big change in society.
The change has touched the lives of girls even in villages. The Sophia School in Kheerwa village of Sikar district is run by a Muslim and its Principal Kesar Singh is a Hindu.
On this change, Hasan Mahmood Qasmi of Jamia Arabia says, "There has been a very good change in the education of Muslim girls in this decade and a half. Earlier the condition of society was not good. Ulema Ikram has played an important role in education.
Fatehpur town of Shekhawati also did not lag in the education of daughters. Jamiutal businessmen set up four schools there. Yusuf Khokhar of this institution says, "A large number of girls are coming to school. We believe that if a girl studies, she teaches the whole generation."
Mohammad Hussain Pathan used to work in Gulf earlier when he felt the call of his native land. Today he runs a secondary school in a village where 350 girls are studying.
ALSO READ: 2022: 10 must-read stories on Muslim women
Hina Sheikh, a student, says that earlier girls were married off at a young age, now parents consider it necessary to first educate their daughters.
The Author is the District President of the Muslim Students' organization, Nagaur